Ekk2 vs Ekk1 kits.
Ekk1 no modifications are needed, but the kit, buy ek axles your done. Bolt up kit.
Ekk2 FAQ
Why buy the ekk2 kit?
-Simple, what the ekk2 kit does it moves the motor back slightly in order to have a better axle angle. Shifts the weight back as well, and gives more engine bay and ground clearance.
What axles do I use?
-You can use an axle that is used for an eg/dc kswap. Basically if you use ekk2 kit, your front end is now an eg/dc.
What lower control arms do I use?
-Ones from an eg/dc.
What hardware do I use?
-You should use the hardware from the eg/dc but some are the same on ek. Most of the hardware from EK and EG are interchangable. The front bolt (connects the LCA to the cross member in the front) is 17mm on EG and 19mm on EK, other than that everything else is pretty much the same.
Can I use sway bars?
-Yes, but you need to use eg/dc sway bars.
What shocks can I use?
-Shocks interchangeable for eg/dc/ek. So ek shocks will work. You will need donor forks though. See pic below.
First of all, As a general rule; use PS racks with PS crossmembers. And manual racks with manual crossmembers. You can mix and match PS racks from eg and dc. For example a dc rack will fit on an eg crossmember.
Pictures:
Taken from realek4
Taken from JDM Mike
Here's the bay after I removed the EK cross member and rack.
EG cross member is on the top, EK on the bottom.
EK left, EG right
The lca's (they weight a ton, probably more than the cross member, can't wait for the omni forged aluminum lca's for come out) Left is the EG, right the EK
And heres the EG cross member and lca's installed in my 00 EK.
Taken from drmikey
Here is a pic -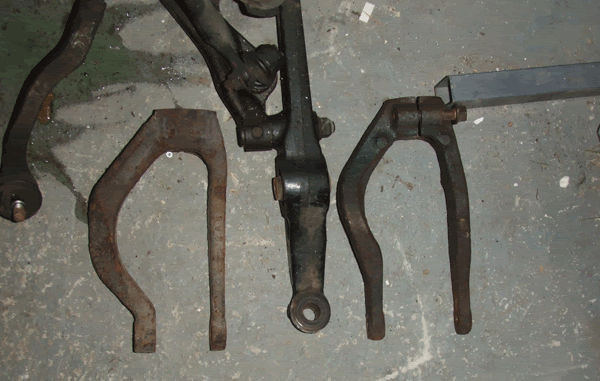 The DC2/EG fork on the left and EK fork on the right. The DC2/EG lower arm is in the middle. You can see that the EK fork is about an inch or so too wide for the DC2 lower arm.
**IF I am incorrect in any information please correct me, or if you would like to add something or pictures, I will add it.**
If you have any questions, ask. If you post a question that is answered above, I will ignore it and delete your post.
Referenced Threads:
http://www.k20a.org/forum/showthread.php?t=2911&highlight=ekk2+install&page=2
http://www.k20a.org/forum/showthread.php?t=11043&highlight=ekk2+install