Discussion Starter
·
#1
·
Since the AEM plug and play is still a few weeks-months from the release date, I decided to try a Apex i VAFC.
I know they are out dated and wont work as good as a real management system but some thing is better than nothing at all right? I gained power on the entire band by just adjusting the air fuel ratio and changing the VTEC transition. My J motor ran really lean from 1100 Rpm to about 3700, then ran rich from 3800 to 6300. The bonus part is bought the VAFC for $25 so say what you will but I saw and felt the imporvment all motor and on nitrous.
Big thanks to Erick and willy at Erick's racing engines for the long hours of tuning sqeezing every last bit of power, Brian @ Hasport for making such great mounts, KRIZN Industries, John @ M&H tires, Mike @ High end auto sports, Frank @ F&S Clutches (everything breaks but the Clutch Frank) Fonzee for all the help and putting aside his V6 to finish mine.
This is the all motor Horse power differance.
Before VAFC With VAFC
125 3000RPM 125
160 4000RPM 177
205 4500RPM 215
230 5000RPM 252
275 5500RPM 280
283 6300RPM 290
This is the all motor Torque differance.
Before VAFC With VAFC
200 3000RPM 211
203 4000RPM 237
220 4500RPM 243
240 5000RPM 263
253 5500RPM 270
230 6300RPM 241
Apex i VAFC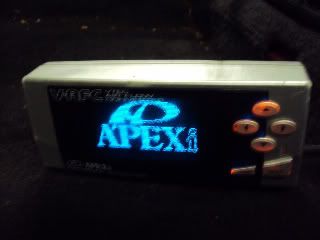 Dyno graph with stock ECU.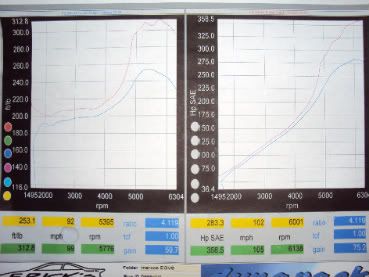 Dyno graph after VAFC tune.