Discussion Starter
·
#1
·
So, to make a long story short, some how my engine ingested some sort of metal piece which was large enough at one point to simply get stock in the intake manifold. Overtime, the metal piece broke apart into shrapnel and a single piece was sucked into the combustion chamber. This did cause some damage to the cylinder head, which is pictured below. I am without a doubt replacing the head with a built one I already had.
We pulled the head and plugs out and the cylinder(4) walls themselves and the piston top appear to be fine. oem crosshatching is still visible and no melted shrapnel on the piston top. The shop and tuner where the car is currently at beleive there could have been rod bearing damage resulting from the piston attempting to compress the metal piece. Although, it does seem possilbe Im unsure because of how weak the metal was that was in there and no visible damage to the bottom end. A beat up chamber and spark plug with no gap lol.
My question is this: Should I just clean the block up and throw the new head on it? or should I not chance it and pull it apart to rebuild? The whole engine itself only has 20k miles on it and Im currently on a limited budget, so cutting costs where I can is key, but I still want to be smart about it.
Does anyone one have some better advice to check if the bearings are fine? Can I simply pull off the oil pan and visually inspect any damage I should be worried about?
Thanks in advance,
Rhett.
Found in the Intake manifold: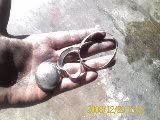 Number 4:
Number 3:
4 again: