UPDATE: Needs an inner tie rod, ball joint and raised and realigned. The car is simply put... Too low. Steering has a little play in it, so a inner tie rod will need to be installed (will include both sides, and a ball joint). Also needs tires. all 4 are kinda whooped. Price has been adjusted for these reason. 8500! pretty much taking loan payoff at this point. I have 2 car payments now and need to move this and my 93 prelude si ($1000 pm for more details on that). Lets make a deal!
Originally was asking 10.5k... I would take 9.5k
SPECS:
2004 Honda Civic Si EP3
103k on body
5xxxx on motor
plenty of new parts and mods done right!
Contact:
724-396-9375 is my direct cellular contact device
Texts or PM's will work
Not looking to trade too much since this is a debt relieving maneuver. Going to be 25 soon so its time to grow up and by a house. I OWE $$ to one main financial. Just throwing that out there.
Going to regret doing this... Butttttttt up for sale is my k24a2 tsx swapped 2004 ep3. I have probably close to 15k in parts alone in the car, but its time to grow up and move on. Ive had the car for 3 years and it is originally a southern car. I bought the car with something around 40k miles on it. Currently sitting with 103xxx on it. Motor is out of a 2004 acura tsx with around 50k on it. Receipt from LKQ available. 6 speed tranny out of a 04 rsx type s.
Motor:
2004 k24a2 Acura Tsx motor with ~50k. Will do the math on exact mileage when i find the receipt. -$2200
2004 Acura rsx type s 6 speed transmission -$1300
Hasport 94a solid motor mount kit - $400
Password JDM Carbon Kevlar power chamber intake - $250
Password JDM battery re locator -$100
Password JDM Carbon Kevlar spark plug cover- $150
DC raceheader- $400
Competition stage 4 6 puck clutch & ACT prolite flywheel (less then 100 miles)- $700
Hondata kpro- $1000 (cookie cutter hondata tune but runs goooooood)
Ebay catback installed (sounds like balls)
3" kteller stainless piping kit. vibrant resonator with a vibrant muffler (not installed brand new)
Brand new em2 clutch master cylinder
Brand New OEM clutch slave cylinder
Suspension:
D2 32 way dampening coilovers less then 1k miles -$1100
27 mm hotchkis rear sway bar with brand new bushings and adjustable hotchkis endlinks up front too -$700 (including endlinks)
brand new axles (lifetime warranty) -$150
brand new wicked front and rear camber kits - $150
05/06 rsx type s wheels no rash, just a few scratches but nothing major -$600
Progress subframe brace-$250
Omni lower control arms
Exterior:
taffeta white Paint is pretty clean. Couple dings and dents but nothing major
Type r replica lip that is cracked and since im lowered i just stitched it up.
type r rep rear lip
Hood was vandalized and stabbed apparently but nothing major
Issues:
Interior is a little beat up. Tiny hole in driver side carpet from not having floor mats.
Interior door panel handle fell off. not the part that opens the door, but the part to pull the door shut.
Tiny hole on the steering wheel (pictures of all those available upon request)
a little rough pulling out because of the new clutch and shakes a bit (6 puck what do u expect?)
I know there is plenty of stuff im missing, but you get the point. No cheap parts at all (other then exhaust) and no corners were cut on anything. Car pulls veryyyyyyy hard and would be even better if retuned with the 3"exhaust.
$9500.00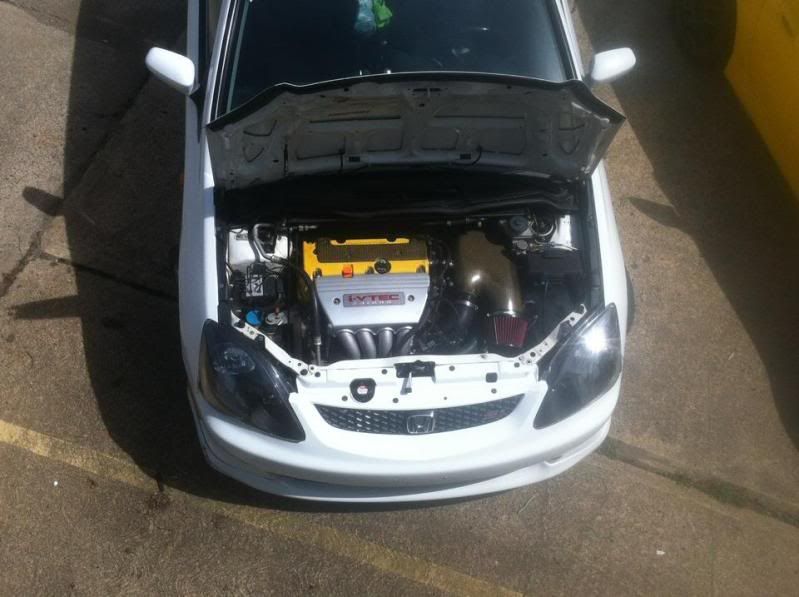 j: