Discussion Starter
·
#1
·
I am also a gunsmith and have started to use a product called DuraCoat to apply a finish onto AR15's and other rifles/handguns as well. This coating is a 2 part Poly Enamel that is very impervious to wear & tear, as well as most all oils and fuels.
http://www.lauerweaponry.com/duracoatcolors.cfm?colortype=stock&Category=220
http://www.duracoat-firearm-finishes.com/
This is actually a Sherwin Williams product called Polane. There are several different versions of Polane available that are used by alot of major industrial manufacturers, but this specific version of it(Duracoat) is formulated to be impervious to most solvents and fuel, and if the substrate is properly prepped it is also impervious to chipping, wear or scratching.
Most all the colors available are shades of subdued camo colors but they also have a full spectrum of vibrant colors and the 3 clearcoat's(matte, semi-gloss, and super gloss) can be mixed to achieve any desired gloss as well as the actual pigmented paint so that any color imaginable can be applied.
This coating also can be applied to metal, plastic, wood and most any other surface. It will not wear off a firearm from normal handling(war zone) for several lifetimes of use.
I will try this on several small items and brackets as soon as the supergloss clear gets here. This appears to be far better than a polyester powder coating(which can melt at higher temps and scratch very easily) for ease of application(no post cure heat required(but it does reduce cure time)) and a simple box made of aluminized foam and a light bulb can be used to make an oven to heat the Duracoat(110 degrees for an hour is all that is required).
With the nice warm weather today I decided to paint the smoothed over coolant outlet from a TSX head. Cleaned all traces of oil and debris. then mixed up the Duracoat. It mixes in a 12:1 ratio(1 tablespoon of color to 1/8 teaspoon of hardner or a multiple of those)
I shot a matte black and then a satin clear. total time 1 hour.
I used a small airbrush I picked up from True-Value hardware for 9$ and my shop air compressor at 20psi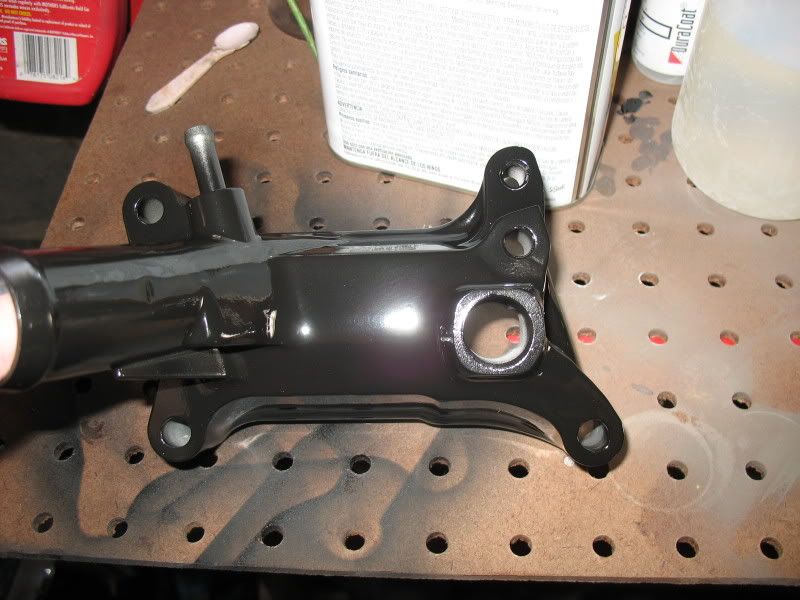 I will be doing alot of components with this material, timing chain cover, water passageway, mani and a few other items, but I will probably use the gloss clear as well, though the satin clear really looks nice.