Discussion Starter
·
#1
·
we'll here is my current and hopefully final chassis i keep. I'm sure most of you saw my PB+J ekk24turbo build thread a while back. We'll that car was finished, wasn't happy with it, then parted and sold... here is my favorite pic of it I took before it was long gone...
Now onto the new:
Currently this is what I'm working with:
-1992 Honda Civic Cx hatchback that the prior owner had color changed inside/out to s2000 laguna blue. Here is a link w/ some of his old pics of it
http://www.turbooptions.com/forum/showthread.php?t=20524
as i couldn't link the pics themselves because of photobucket...
I picked the car up in rough shape, on steelies, a mess.
Since picking it up I have purchased (to fix it's rough shape):
-new main harness (old one was hacked to shit)
-del sol SI rear disc brake setup w/ dc2 cables
-oem front ex spindles w/ new pads/rotors/extended studs
-ep3 front and rear seats
-oem ex/si front lip
-oem mudguards front and rear
-oem honda eg6 headlamps
-spoon carbon fiber mirrors
-spoon carbon fiber duckbill
-smoked amber stanley sidemarkers
-smoked amber vision corners
-a new nose cut off another civic to fix the radiator support/etc.
Aside from that, the car is due to go to the paintman this tuesday for a new coat of Laguna blue in the engine bay as well as the new radiator support put on and straightened/aligned. I will have many many updates soon as that follows!
Parts on hand ready to go into the car when it comes back:
-k24a1 swap w/ rsx-s 6speed trans and AFI sidewinder kit I had on my ek that made 310whp/280tq at 8psi
-walbro pump
-prosport boost/oil pressure gauges
-AEM 5gallon methanol injection kit
-hybrid racing gen 2 mounts
-base ep3 axles
-rsx-s halfshaft
-new rsx-s shiftbox and cables
-hybrid racing swap harness
-pc680 battery and mounting tray to be tucked up under the dash
-aeromotive regulator w/ -6an braided lines running from the tank forward
-lots and lots and lots more
I got rid of my ek for the sole reason it was not comfortable to drive, too bumpy, too noisy, too loud. It sure as hell was fast, but that didnt make it enjoyable enough to keep it in my eyes. This new EG, will have full front and rear seats, full carpet, all interior panels, not-so stiff i break my back suspension, and maybe even a radio haha, we will see. This will be a drivers car, a car for me to enjoy every second of beating the piss out of it with a smile on my face, and not to mention hopefully a bit faster than last years setup, too...
STAY TUNED...
Ok, so I told you all this cars front end was mangled right... I had a whole nose cut off another civic to fix it, right... Look whats done overnight, literally...
-car has a front end again! (bumper/lights/fender were basically just held on there thats why the bad fitment)
-before I sent it for the bodywork/paint I filled a bunch of holes I knew I wouldn't be using and grinded down many of the studs protruding from the firewall I knew I would not be utilizing.
I like the whole total shave/tuck jobs, but to me I think it looks a bit more raw without everything smoothed over. I think this will do it for me!
I also saw the PPG color sitting in the can, looks super good!
BAM!!!!!!!:
Here is just a taste of some of the stacks of parts waiting for this piece: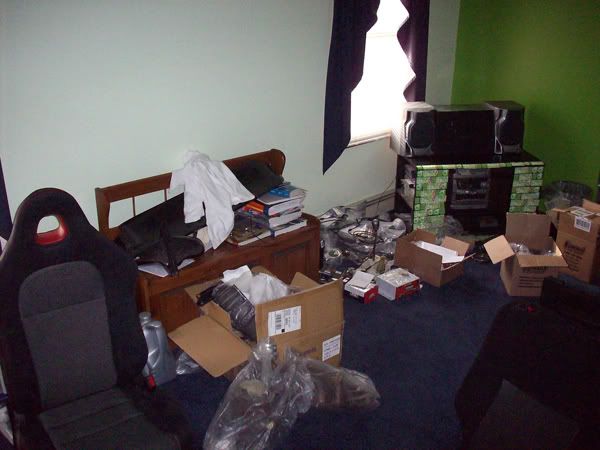 Rear-view, just got the car settled in the garage the other day. Suspension/brakes have been removed completely as you can see. yes this is a shitty picture...
Frontal view of that nicely cleaned up bay, and once again front suspension and brakes removed.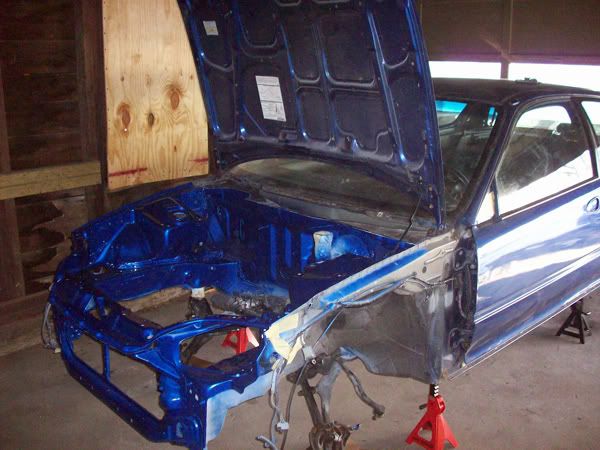 I'm starting to move my tools/parts down to the new garage and will have most it all there come the weekend/upcoming week. I've got to get the new suspension/brakes/clean all of it up that needs to be clean and throw it all in before I drop the motor in there... very soon!
ended up renting a flaring tool from Autozone after work, to my luck it was brand new in the box, so I had a better chance of the POS actually working, and guess what, perfect 45degree double flare first try, my rear hardline has been fixed and I ended up getting all of the rear-disc attached just now, finally...
Here are some pics from earlier in the day...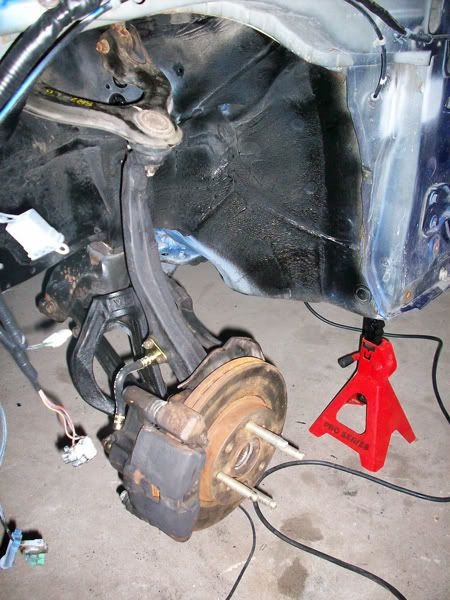 My newer front spindles w/ the arp extended studs
New shot of the engine bay and brand new oem brake hardlines and mounts just sitting in there. I cleaned up the subframe/etc a bit but remember the k24 is going in there along w/ the sidewinder turbo setup so you will never see down there, or else I would have had it all powdercoated but I didn't feel justified.
Also got my Blox LCA's fitted (spare the blox bashing, I got the so cheap I don't care if the bushings fail some day), and as soon as my order from Majestic Honda of all new strut top nuts, rear engine mount bolts, and rear strut to LCA bolts come in I will have my function and forms on and it will be ready for the motor to go in!
Here are the updates for today...
-cleaned the messy garage, haha
-got the e-brake cables for the rear discs installed and ready to go, just need to adjust them, so now both sides rer disc are all set, just need to bleed the brakes
-Mounted the ep3/rsx CR radiator with the nice and fancy KTUNED radiator brackets
-tried to figure out where to mount my battery, I have the pc680 w/the aluminum mount for it, I think it's going to behind the passenger seat for ease of access and the only good solid place I could figure...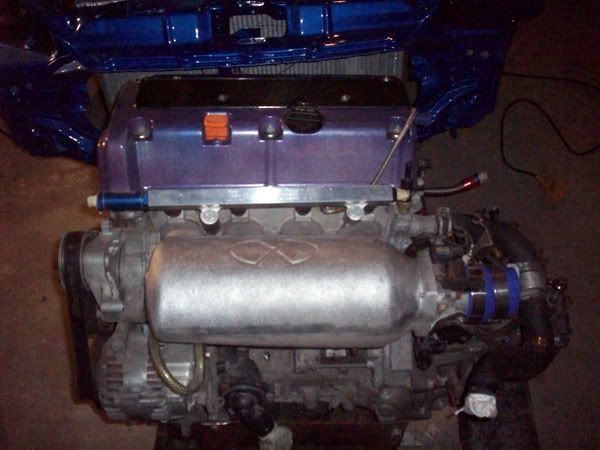 the heart of the beast before it goes in, I still need to find a way to clean up the oxidized aluminum motor/trans better before I drop it in.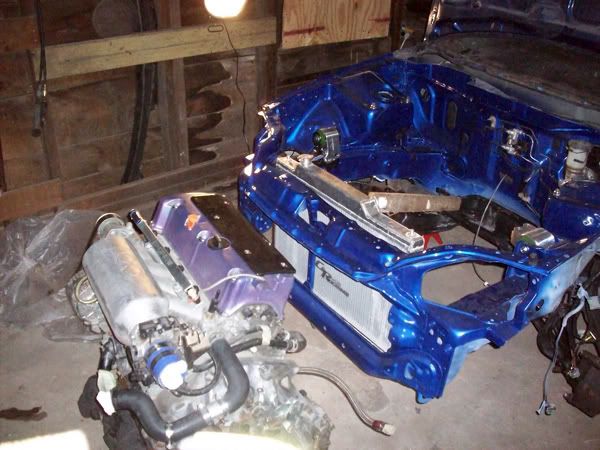 soon it will be in that bay, sooon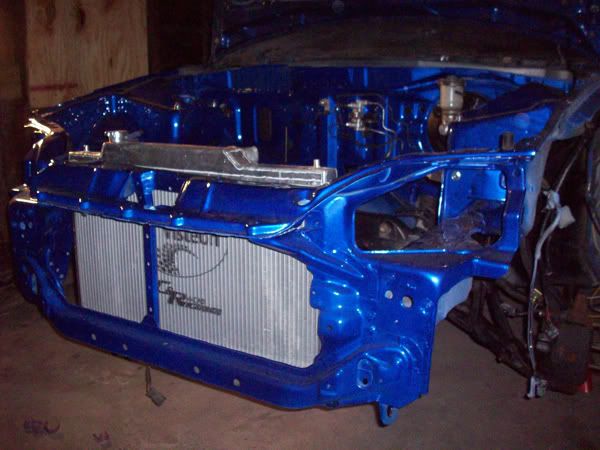 radiator test mounted, I dont get the minor gangster lean towards the pass side. It was installed correctly as can be, o well.
Basically, the motor is ready to go in, just need to give it a final clean up and get my 3 rear motor mount bolts in the mail from majestic honda. Hope you like what you see...