So I finally decided to take a few pics of what will eventually become my K20a2 turbo Crx.... Pretty much doing everything on my own in my garage and will send out the car when I cant do anymore work on it myself...Sorry Kevinoneill I couldnt wait... I got a $50 gift card for Home Depot from the job and bought a Jack and one thing led to another when I got home and before I knew it we were doing the damn thing...:silly: ..... Here is my parts and price paid list:
(Everything purchased brand new except engine, TB, Intercooler, Turbo)
Stock K20a2 swap with Type S Tranny
$3,300
Blown motor..
RBC Manifold
$200
Karcepts Adapter plate
$80
Power2Rev Racing IMG
$34
Type R Throttle Body
$150
AEM Fuel Rail
$130
RC 1000cc Injectors
$360
Aeromotive FPR with Gauge
$150
Oil Pressure, Boost, Water Temp, & Fuel gauges
$200
Apexi Turbo Timer
$80
Walboro 255lph in tank pump
$90
ClutchMasters FX600 Twin Disc
$1,200
Tilton Twin Disc Cerametallic Clutch Kit
$1,400
Piece of sh*t broke
Tilton Hydraulic Release Bearing kit
$425
Piece of sh*t broke
AFI Sidemount T4 Turbo manifold, 3 inch Downpipe & dumptube...
$1,400
Precision T4/PT67 Turbo .
$800
Tial 50mm Blow off Valve and 44mm Wastegate
$500
Precision 680hp Intercooler
$300
Perrin Electronic Boost Control Solenoid Valve
$95
AEM Uego Wideband
$240
Golden Eagle Vacuum Manifold
$36
Hondata Kpro...
$985
Karcepts Shifter Plate
$150
Speed Source Shifter Bushings kit
$25
Hasport EFK mounts and Temp Port Switch.
$530
Hasport EFWK Wiring Harness
$300
BDL Industries Alternator Pulley with 39" 6 ribbed Belt
$95
Suja 1 Motoring Clutch line
$50
Gator Racing Axles Stg1
$300
OmniPower Sport Suspension...
$540
Intercooler piping and CMC install
$622
Silicone Couplers, VBand Clamp and T4 gasket
$100
9 3" T Bolt Clamps
$50
K24a4 Engine Block
$600
TSX Rods and Pistons
$120
SOLD....
Honda K24a2 Rings and Thrust Washers
$135
Hot tank and hone block, polish crank, clean pistons and rods from machine shop
$115
CRV Timing Bracket and K24 Headgasket
$95
ACL Main and Rod Bearings
$120
CP 9:1 87.5mm Pistons
$410
IB H Beam Rods
$360
K20Z1 Cams
$150
ARP Head Studs
$100
ACL Main and Rod Bearings
$120
(For CP pistons)
Bore, Hone, Hot Tank, micrpolish Crank, Pin fit Rods and install pistons, Check A2 Head
$300
Cometic 88mm Head Gasket
$68
10ft. 4 GA Power cord for battery relocation
$13.50
Gold plated battery post
$5.00
NGK Spark Plugs (8's)
$28
XRP M12x1.25 6AN Solex Fitting
$7
Radiator Hose clamp
$0.50
3 inch Exhaust and Muffler
$360
ETD Racing Traction Bar
$200
So far my total invested is a little more than
$18,104
... (Oil, Coolant, telfon tape and minute miscellaneous things not calculated)
I will update the thread and pics as the parts come in... Comments and suggestions (Suspension, exhaust, IC piping, radiator, wheels, etc...) welcome.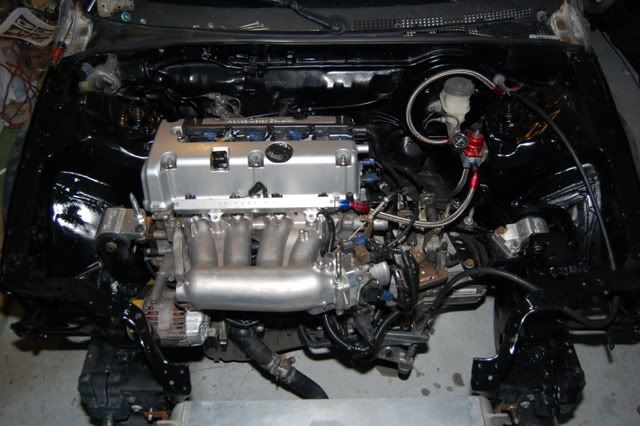 I decided to go with the 3 Pulley setup so that way I can save from cutting out this on the hood, plus it looks alot cleaner.. notice the clearance with the 3 washers on each bolt and BDL Industries Alt Pulley...:up: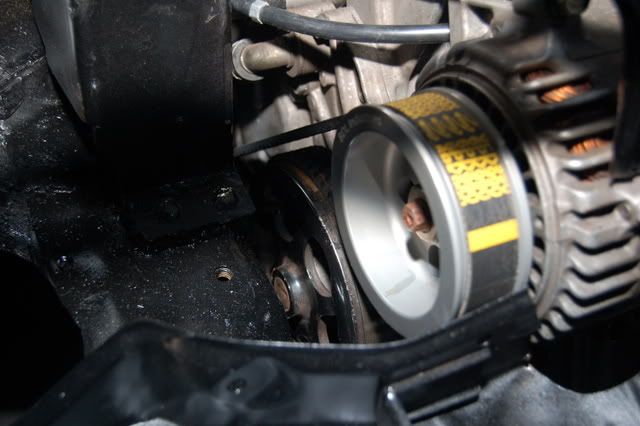 I also upgraded to the 99-00 Brake Booster for better braking.. I felt I might as well since I have Integra suspension all the way around..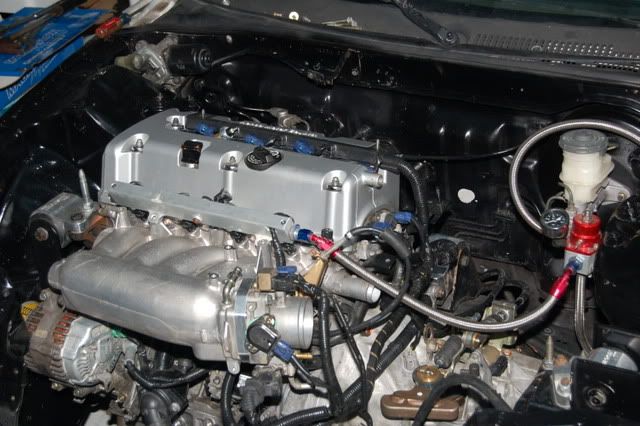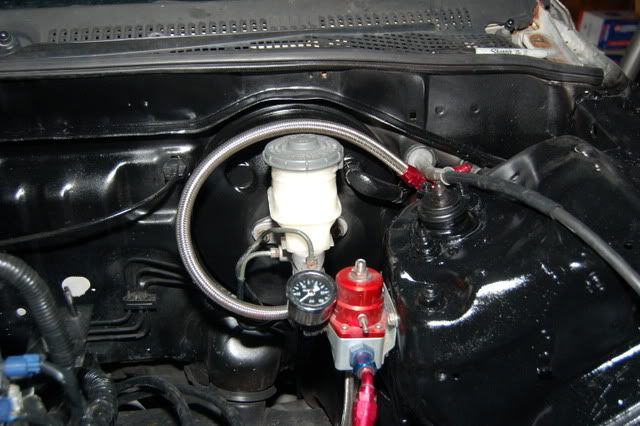 I am going to try to do this one as clean as possible regarding the wires...Im trying out this wire tuck idea I guess..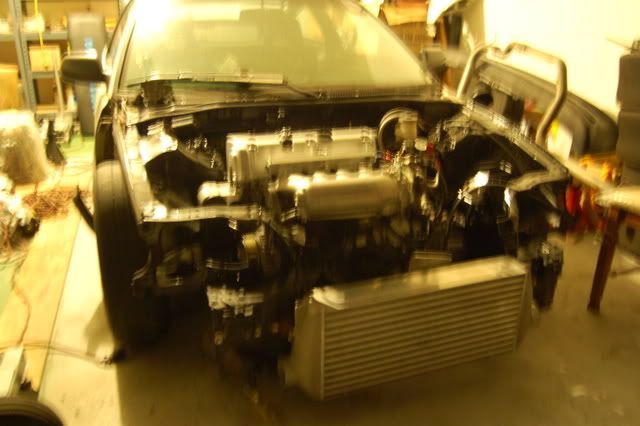 I was going to use this front end but since the sensors on the top of the throttle body and the Vacuum port for the Brake booster hose sits too high, I have to seek an alternative route for the front end..There is
NO WAY
that any stock OEM or JDM hood will fit this swap with an RBC manifold..
See that 2.4 Block over there on the left?... Its just waiting for my Tax Return I think I will build it up... This Stock setup is pretty much just to test the limits of it on more of a conservative level for Daily driving and track. I'm shooting for 450+hp on stock internals on Race gas...Thanks Everyone....