EK24a2. Meh. Was fun, really fun. Now moving on. Waiting on a guy to purchase my shell after he does his taxes, and that should pay for most of the parts I need to get this done.
Here is the s2000 (2002)
Just got the carbon fiber roof. Need to take it back off and strip the soft top and frame and motors (90 pounds worth of shit I hear and the top weighs 26ish).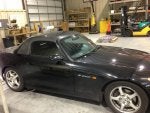 Found a Berks UHV Dual Exhaust. Should be here soon.
I won a set of brake rotors from
www.r1concepts.com
on Facebook on Friday...
MAD PROPS TO R1CONCEPTS!
www.r1concepts.com
www.facebook.com/r1concepts
That's it for now.