Thanks to Mr. 98Luder, I'll be doing my own dyno testing of Kelford 179a's this Thursday on my NA K20A-R engine. He had these cams WPC treated at Inline4 here in SoCal (along with a few other engine components) and has graciously lent me the cams for dyno testing. :up:
To catch up and to ween off the threadjacking I've done on my own Drag Cartel DIC thread, I found my TCT was on its last leg when setting up the installation of the Kelfords. Read here if interested, starting at post#112:
http://www.k20a.org/forum/showthread.php?t=94582&page=6
A couple shots of the 179a's in their virgin state....
installed...
And the slight off centered cam trigger alignment hole issue I'm experiencing with the intake cam (mentioned in the DIC thread), w/everything set @ TDC. Tho I don't think this is a problem (and I'm awaiting a response from Kelford about this):
.....more soon!
[Feb.28 2013 Update - almost-1year post anniversary update lol]
As a memory refresh, I never got around to re-installing the 179a's after I originally made this thread (until now). Also, then, I unknowingly found out my TCT was on its way out the door during the 179a install, thinking that was a hand in why the 179a intake cam was off center at TDC. I picked up a new TCT, but I had a road race event coming up at that weekend and didn't want to clusterfawk myself with having to go get the 179a's tuned and all that. Pulled out the Kelfords, tossed back in the K20R cams, and raced that weekend.... and a handful of other events for 2012. I basically put the kelfords on the backburner cuz of the upcoming road race season.
Well, come November, my K20A of 8 year on/off use spun a gatdamb bearing. It's my fault though lol, I totally spaced and didn't top of the oil before heading onto the tarmac and some of the high lateral G turns at Chuckwalla raceway did its damage. Shit happens! So, I pulled the engine out this week and dropped in the 179a's back in to bring some closure to this thread.
Here's the results......
The intake cam is still off when set to TDC going by the OEM TDC references (ie. cam trigger wheel & vtc gear TDC marks).
overview...
(notice intake trigger wheel tdc alignment is off kilter)
Intake trigger wheel (off tdc alignment):
Exhaust tigger wheel (perfectly aligned):
Crank @ TDC: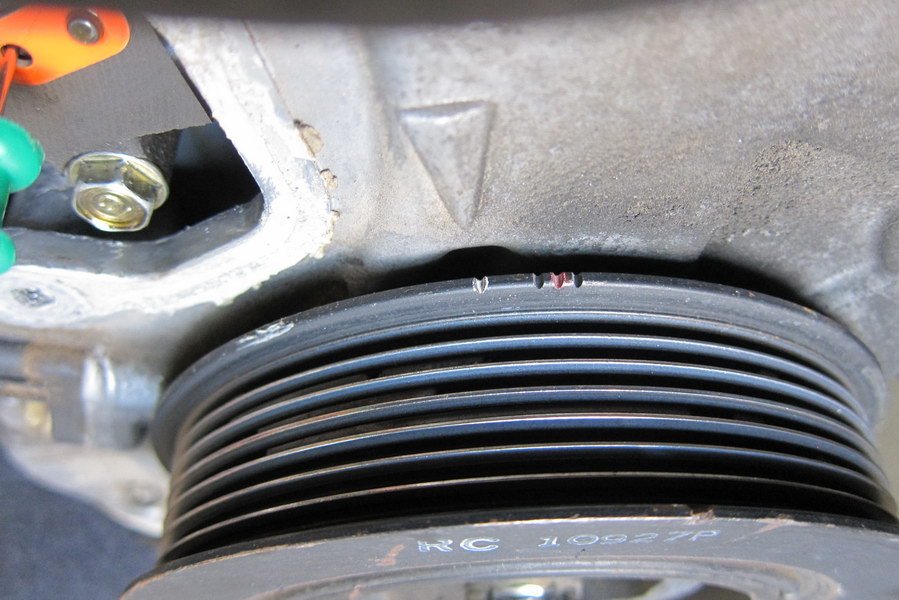 Cam gear side @ TDC:
As a public notice, I am not exploiting any kind of dislike or negative nature towards the Kelford company within my thread and photos. Nor have I expressed any negativity in any of my responses in this whole thread towards the Kelford business. I'm just plainly sharing what I've experienced upon installation of these specific camshafts and how a questionable 'issue' has arisen upon installation. With that said, I've been informed that the 'tdc off centering' of the intake cam -going by the OEM TDC referencing- is more or less a 'false positive'. It is the '
valve timing
' of these cams that's what solely should be paid attention to in relation to the engine running properly. In this context, I'm told, "everything lines up perfectly" "The (oem) alignment holes are just tools and have no relevance whatsoever towards valve timing"....with these Kelford cams it seems. That's all I'm going to say on this topic for now. The person(s)/informant who feel they need to chime in may do so.
I will be sending these borrowed Kelfords back to the owner (98luder), which then, he will be dropping them into his K24 engine and having them dyno tuned before and after his own 'correcting' of the cam trigger wheel and taking the valve timing information to heart.
I really do wish I had a chance to go dyno tune these cams in my own engine last March. Perhaps sometime this year I can get another set and get at it!