Discussion Starter
•
#1
•
Well i'm finally going K:dance: There's not really a thread with the swap being done into a del Sol so I figured i'd give it a try:wink: So I have everything being shipped right now so the swap will hopefully be going in within the next few weeks. The car started off as a piece of sh*t and I've put around 15k into the car so far, NOT INCLUDING the K24 swap yet. Anyways, the build is just a basic K24A4/ K20A2. I am going stock valvetrain for now and throwing in the CRV 9:6:1 pistons and rods. Here in the near future i'm gonna boost it.
EDIT: Alright I got time so i'll redo this post. Basically this is what my build consists of for those who asked.
-K24A4 (Accord/Element) block
-K24A1 (CRV) Pistons and Rods
-K20A2 03 head
-K20A2 03 tranny
-K20 OEM Flywheel
-K20 Exedy Stage 1 Clutch
-K20 VTC sensor
-K20 OEM Fuel Rail for right now.
-K20 Intake Manifold
-K20 Throttle Body
-K20 Starter------K24 will work as well
-K20 Alternator---K24 will work as well
-K24A4 Oil Pump
-K24A4 Oil Pan
-K24A1 (CRV) Waterpump---The A4 is fine, but mine didnt come with a pulley. I dunno, so dont ask!
-K24A4 Valve cover for right now. About to powdercoat my K20 cover red. (Yes they are interchangable)
-K24A1 Passenger Side Mount---Needed to mount a K24 into an EG.
-D-series Thermo and fan switch
-OEM EG Radiator
-Rsx-s Samco Radiator Hoses
-03 Civic Shift box with DC Sports SS and Karcepts kit. (Brian says the 01 up, non EP3 Civic Shift Box sits lower in a del Sol so thats what i'm gonna try!!)
-Aeromotive Fuel Pressure Regulator
-EP3 Idler Pulley
-Hasport EGK1 Mounts
-Rcrew Header
So heres what i'm working with :up: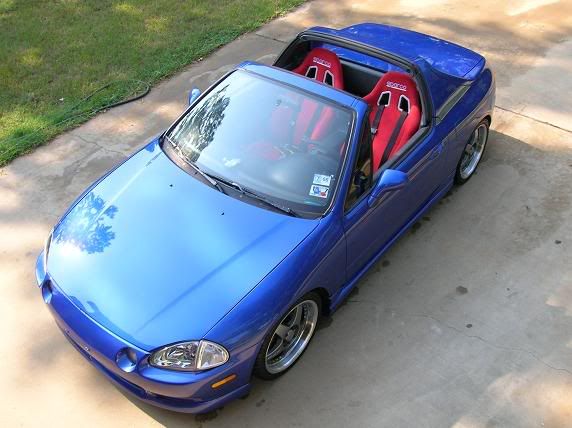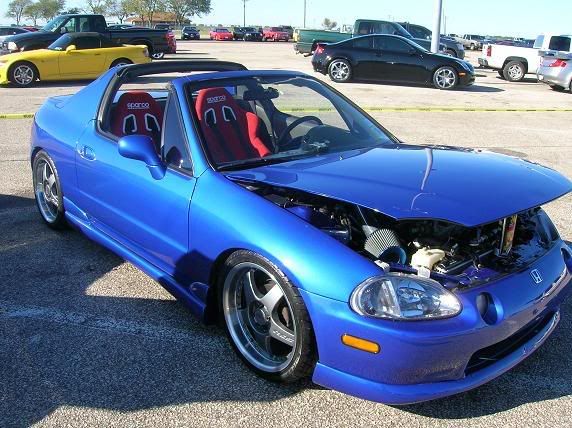 A quick write up of how my build went.
The
OLD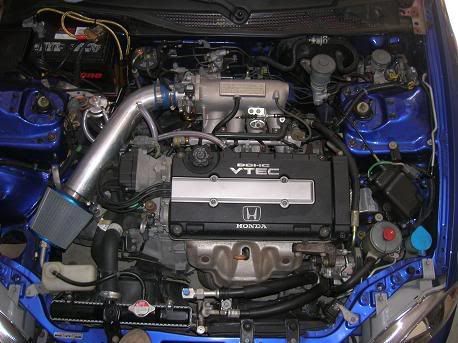 Yanked it out...
I didnt get shots of the motor while it was complete but this is where it started.
Now this is the tool I used to get that damn crank bolt off with. I think it ran about $21. Made by Powerbuilt, # 648796. They make another one thats supposed to work for Hondas that looks somewhat like a big silver spanner wrench, don't get that one. Wrong size!!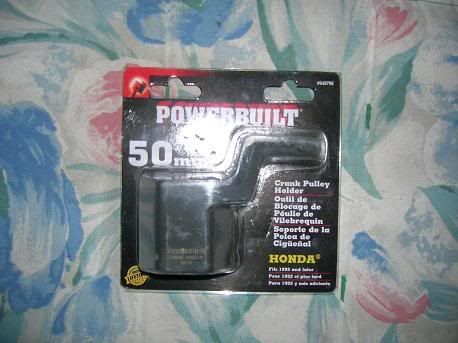 It works better with breaker bars but i've already broke those trying it a different way.
Heres some quick pics of the A4 head and rocker arms.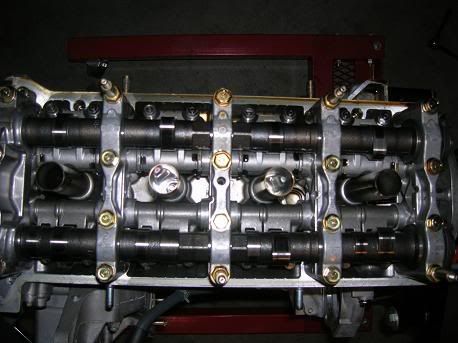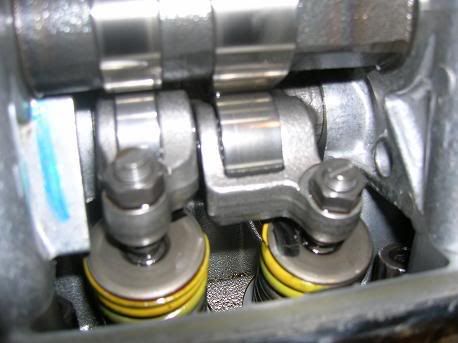 Then pull the oil pan and pump off.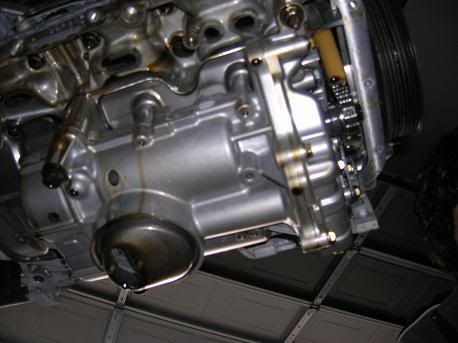 Tied up the rocker assembly and pulled it off.
Block with head off and A4 pistons.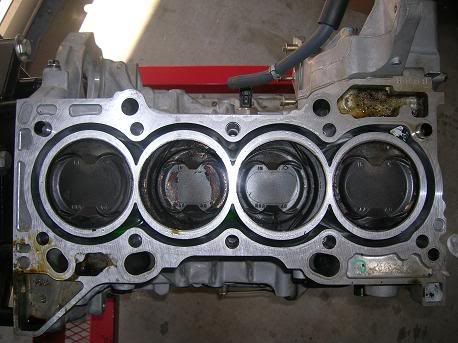 Replaced with K24A1 pistons and rods. They'll have to do for now.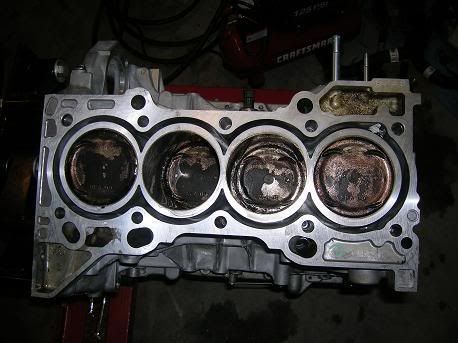 K24A4 oil pump back on, along with A4 oil chain, tensioner and rail.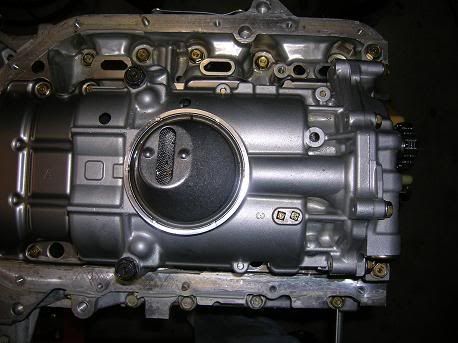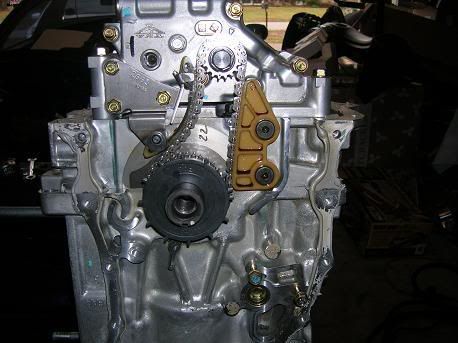 Test fitting Rcrew header onto k20A2 head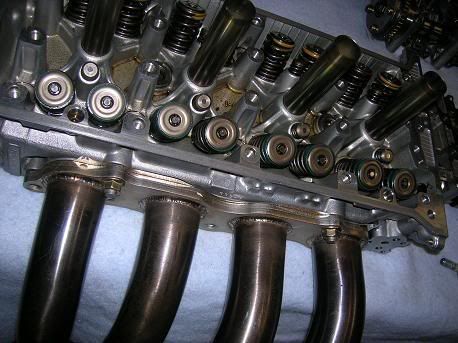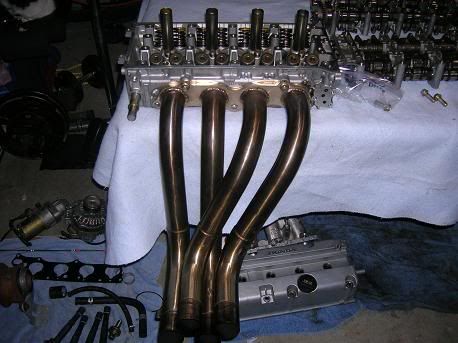 Setting the timing
Now everything put back together. Waiting on my EP3 idler pulley and waterpump WITH a pulley to come in!
Motor together with:
-A4 block, oil pump, and pan.
-A1 pistons and rods.
-K20 head, intake manifold, throttle body.
-Rcrew header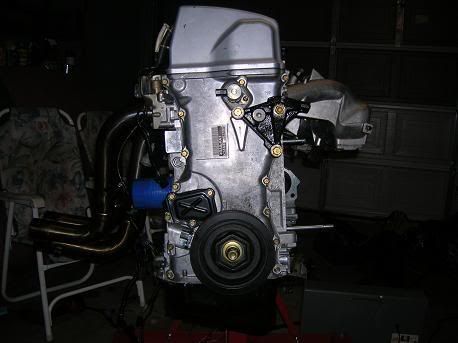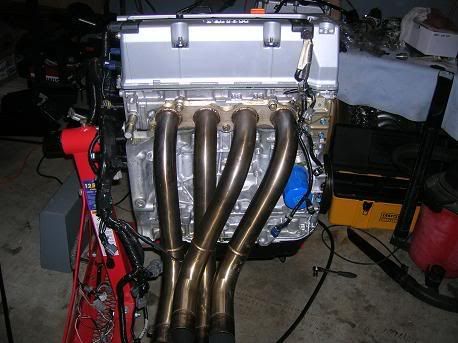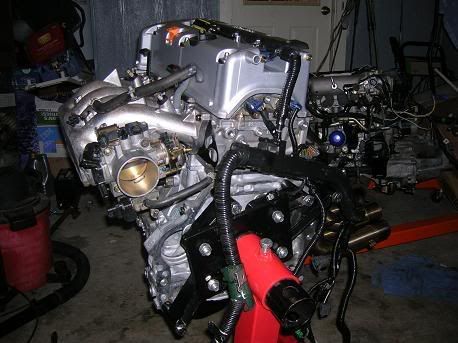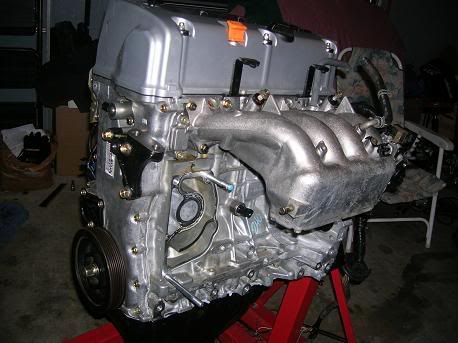 Now working on some other things.....
Car crammed in the garage for the night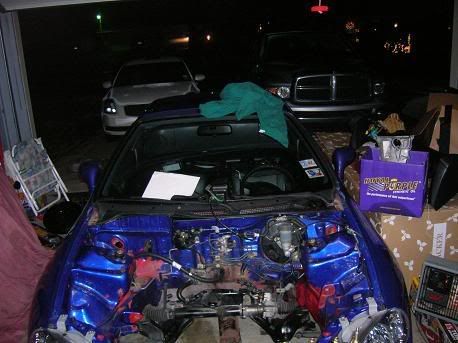 Took off the passenger side mount by drilling the spot welds, and then the same for the condensor and radiator support brackets. Which the girl just HAD to drill!!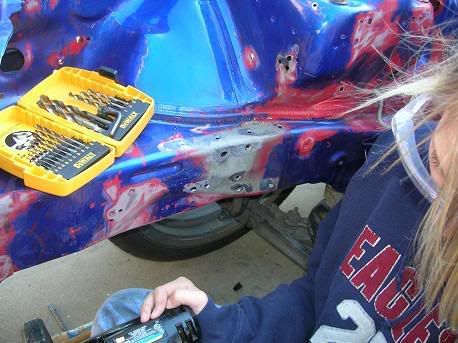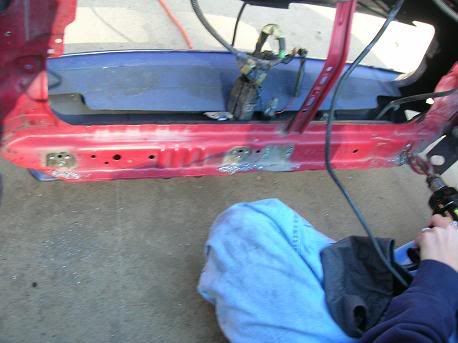 Now for those of you that asked me about the 01-up shifter box, here it is. The 01-up, non EP3 box will work perfectly into a del Sol, it sits lower into the console, almost acting as a short shifter. So this is an 03 shift box, RSX-S shift cables, DC Sports Short shifter, and Karcepts kit.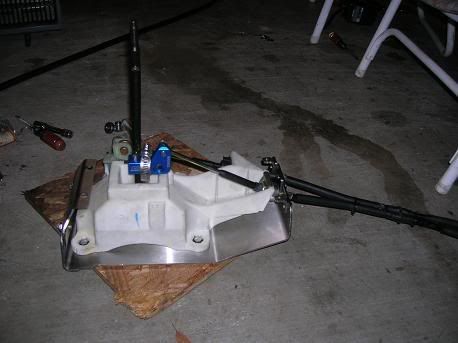 Engine bay before paint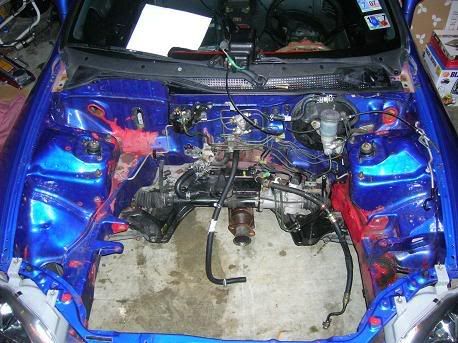 Painted the bay, still have to touch up a few spots and then add the clear.
Just updated and re-did this thread tonight that way it looks a little bit nicer now!!