Discussion Starter
•
#1
•
I know this may be common knowledge to alot of you, but for the people just getting into it (like myself) hopefully this will all help.
Hey whats up everyone. Well about a month ago me and a some friends decided to take on a K20A2 swap into a 98' EK (automatic). Unfamiliar to this a couple of us were pretty nervous. So far so good.
I am listing all the parts I have purchased, where i puchased them, Honda parts diagrams, and pictures of the work in progress.
Parts List:
www.jhpusa.com
: SARD Fuel Pressure Regulator $139.00
: HaSport 96-00 EKK1 Motor Mounts $576.00 (HaSport sells
direct as well for $639.00)
www.hasport.com
: K-Series Header for 88-00 Civic $399.00
: PNP Conversion Harness $350
: Radiator Hose Adapter w/ Fan Switch and Temp
Sender Port $35.00
www.goldeneaglemfg.com
: K20 Fuel Rail $125.99
www.karcepts.com
: Shifter Mounting Kit $150.00
www.hybrid-racing.com
: OEM Pulley Replacement w/belt for Power Steering $150.47
: OEM Thermo Unit $22.00
: OEM Switch Coolant $26.00
www.hondaautomotiveparts.com
: Pedal Assy Brake $38.36
: Pedal Assy Clutch $40.72
: Clutch Pedal Bracket $17.20
: OEM Master Cylinder $98.07
: Clutch Fluid Tank $5.17
: (I will highlight all parts needed for pedals and master cylinder)
www.delrayacura.com
: Exhaust Manifold Gasket $9.46
: Exhaust Manifold Studs (2) $1.52
: Exhaust Manifold Stud Nuts (2) $00.28
: Exhaust Manifold Bolt Flange (3) $00.74
www.ebay.com
: Type R (PRC) ECU $400.00
Jegs High Performance
: Steel Braided Line 6ft no. 4 for Clutch Line $25.99
www.sunnysideacura.com
: RSX Type S Titanium Shift Knob $39.20
Race Parts Wholesale:
: 10mm x 1 to 4 AN adapters for slave and master cylinder
www.racepartsolutions.com
: 2- 6 AN x 8 AN direct fit 45degree hose end (for fuel rail, one on each side) $ 25.15 each
: 1- 6 AN x 8 90 degree low profile hose end $ 14.39
*** I highly reccomend this place. Their fuel fitting quality has been unmatched to what I have seen. If at all possible buy the low profile fittings. Very well built and very strong. This company offers the best fittings hands down.***
Tools (these are all of what I have used not necessarily required)
: 8-19mm Sockets both Deep Well, Regular, and Impact
: Breaker Bar
: Air Socket (saves time)
: Impact Gun
: Screw Drivers
: Pry Bars
: Needle Nose Plyers and Regular Plyers
: Sledge Hammer
: Rubber Mallet
: Flat Chissels
: Short Meteric Wrenches
: Saw Zaw
: Drimmel (with metal cutting blades)
: Stone Grinder
: Fluid Pans
: Lift (if available)
: Welding Machine (if available)
Well first things first. Here is the engine bay with the motor pulled. Not that you have to, but I took the time to Simple Green the engine bay, steel wool the paint, and put a glossy primer coat over it.
Since there was going to be time to spare while waiting for parts I started on the manual conversion.
Here is 2 part diagrams with the parts you will need (if buying new) to complete the conversion
I am still not sure if the "inhibitor sensor" is needed but will post an update
Pedal Diagram (
www.hondaautomotiveparts.com
)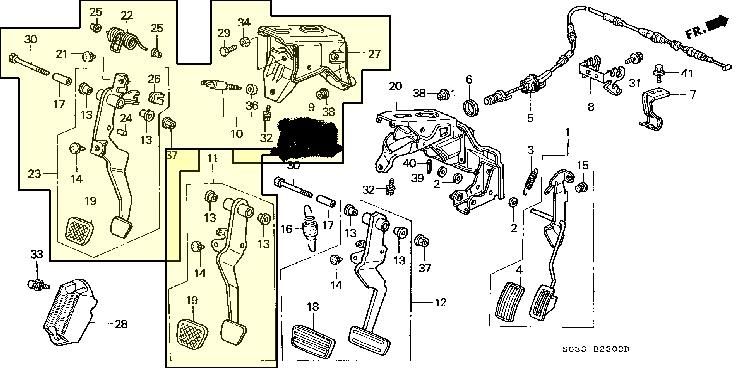 Master Cylinder Diagram (
www.hondaautomotiveparts.com
)
* NOTE: It is very important to buy the Master Cylinder new for it is a wearable part, the rest "can" be found at junk yards.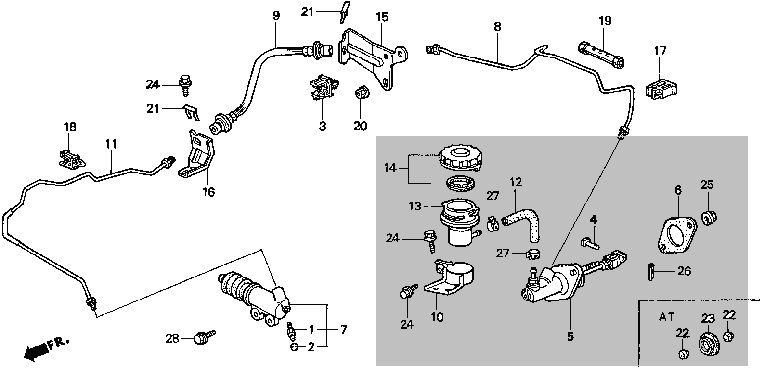 Pedal Instalation:
Overall the instalation was not difficult just time consuming
With the manual conversion you cannot get your key out unless the plug that goes to the automatic shifter is plugged in and is in park.
First start by disconecting the brake master cylinder from the pedal (not fire wall), then pull the pedal spring off and unbolt the 1 bolt from the pedal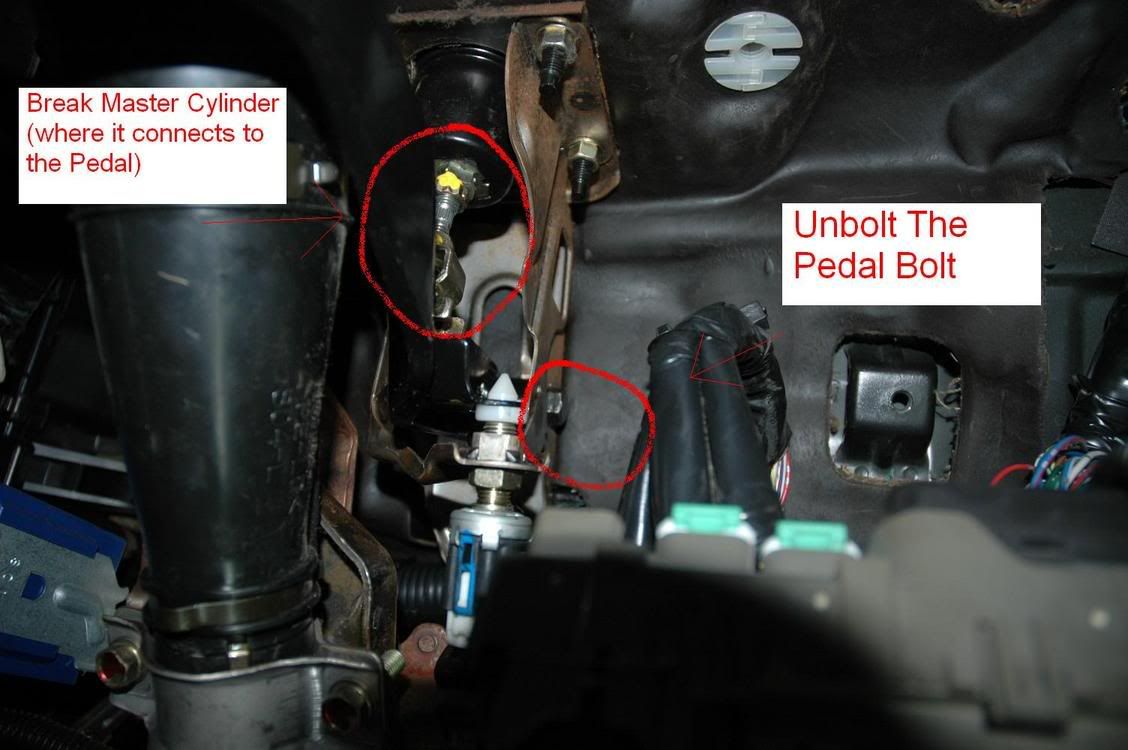 Now that the brake pedal is out, replace it with the manual brake pedal. First bolt it up, then reatach the spring (hardest part for me atlest), and finally reconect the brake mater cylinder bar with the bolt and cotter pin
Old Brake Pedal
New Brake Pedal Installed
NOTE: You dont have to buy a new brake pedal but the automatic one is way too close and may cause problems with hitting your feet when engaging the clutch.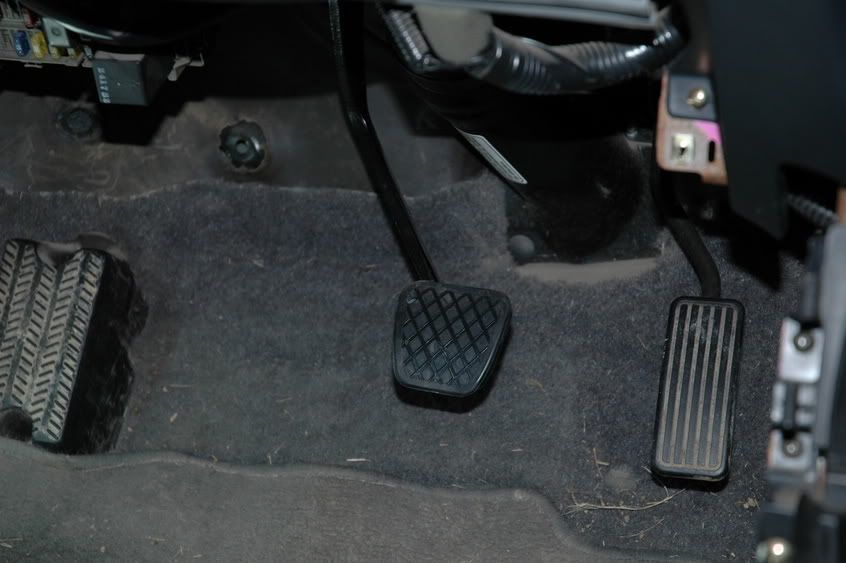 Onto the clutch.
I found it best to install the clutch pedal and spring and all other plastic inserts and stoppers while it was all out of the car. Once the pedal and spring are put together in the bracket you then want to get the master cylinder through the firewall ready to be connected to the bracket.
I did this all by myself but it would have been much easier to have somone holding the master clyinder outside the car.
Clutch Pedal and Bracket Assy
Clutch Pedal Spring Position
Spot in firewall where master cylinder and bracket connect
After the master cylinder is in place alligne the clutch pedal backet up with it and spin the two nuts over the bolts. Do not tighten all the way (just enough to hold in place). Now the the nut flange bolt and allign it with the top hole. Once again do not tighten. Once in place tighten down the nuts on the master cylinder bolts and then tighten the top bolt up.
You will then connect the master cylinder piston to the back of the clutch pedal with the bolt and cotter pin similarly to the brake pedal.
Im not sure if you need the inhibitor sensor yet, but the parts diagram shower where to install it
Master Cylinder and Clutch Pedal Bracket Installed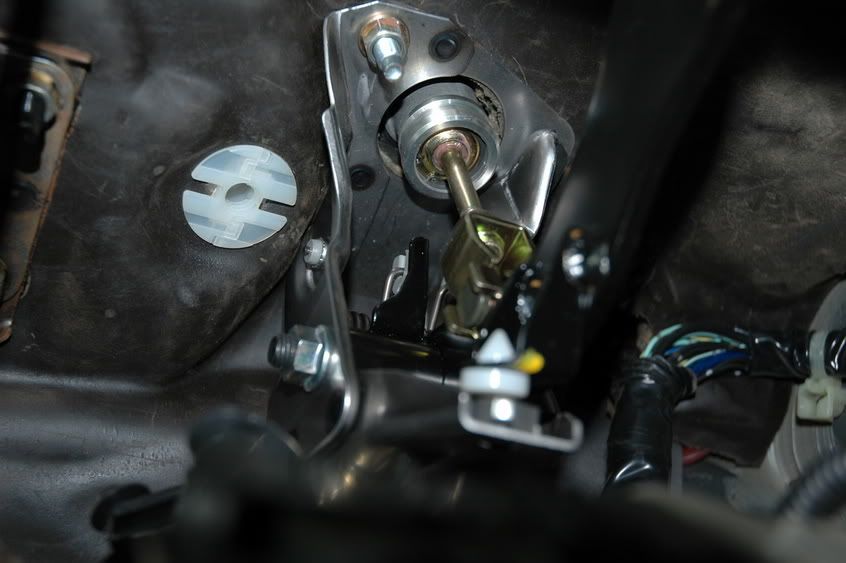 Finished Interior Job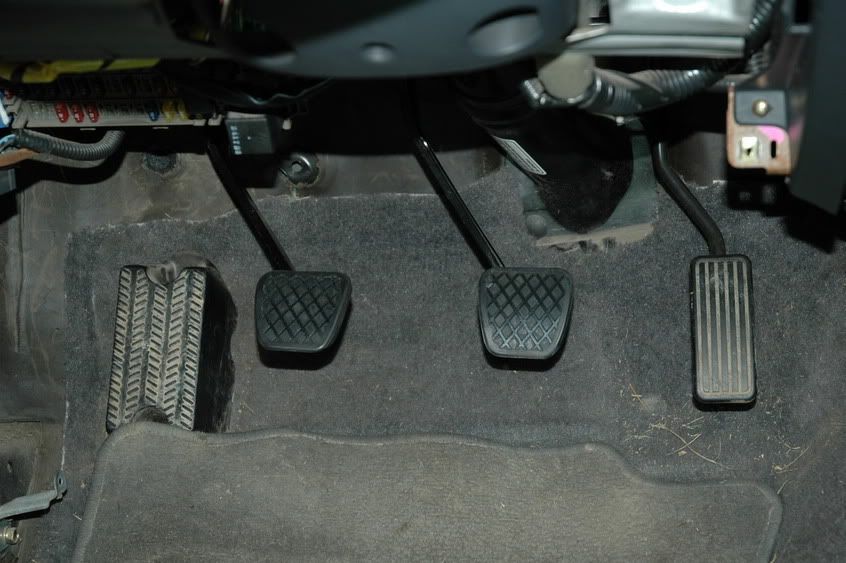 Now on the outside you must hook up the clutch tank resivor ( easiest job)
When Assy it should look like this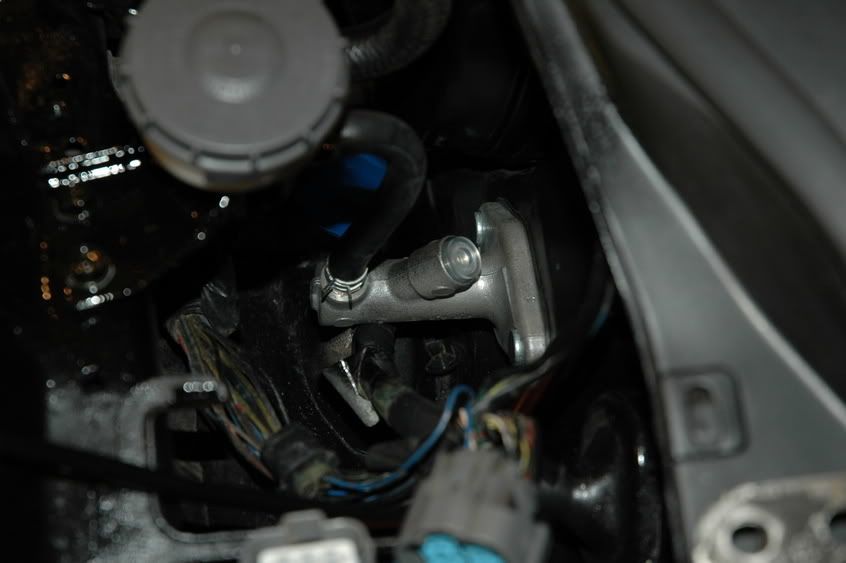 Now the major parts of the conversion are complete. A clutch line will have to be run from master to slave cylinder when the motor is installed. Both inlets are 1/8", I am going to use AN adapters and fittings with no.4 steel braided line as listed in parts above.
The next step that I took was to mount up the engine mount plates to the chassis of the car. This is a very simple procedure. I know that HaSport offers an online pdf. version of their instruction manual. I got shorted a spacer for the rear tranny mount, but just replaced it with a few washers.
Here is the rear transmission mount. If you look you will see that I added 3 washers to fill in the gap. Do not tighten this bolt down unless you have either a spacer or washers to fill the gap. It will bend the mount plate and probably ruin it.
Here is the driver's side mount. Nothing to it, I utilized oem bolts for this plate, I believe the HaSport mounts instruct you to do this as well. 2 bolts on the top and 1 bolt on the under side.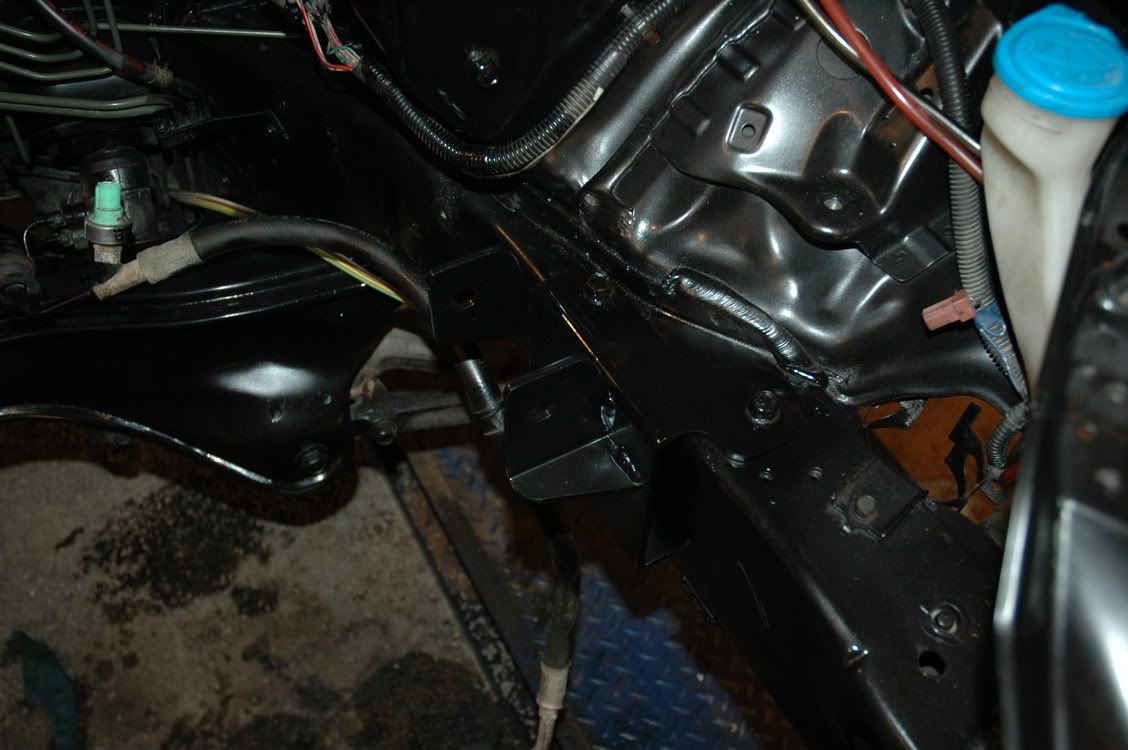 This is the passenger side mount. Once again very simple and you use oem bolts. Make sure when taking the factory mounts off you do not take the plate with the bolt threads that is mounted straight up.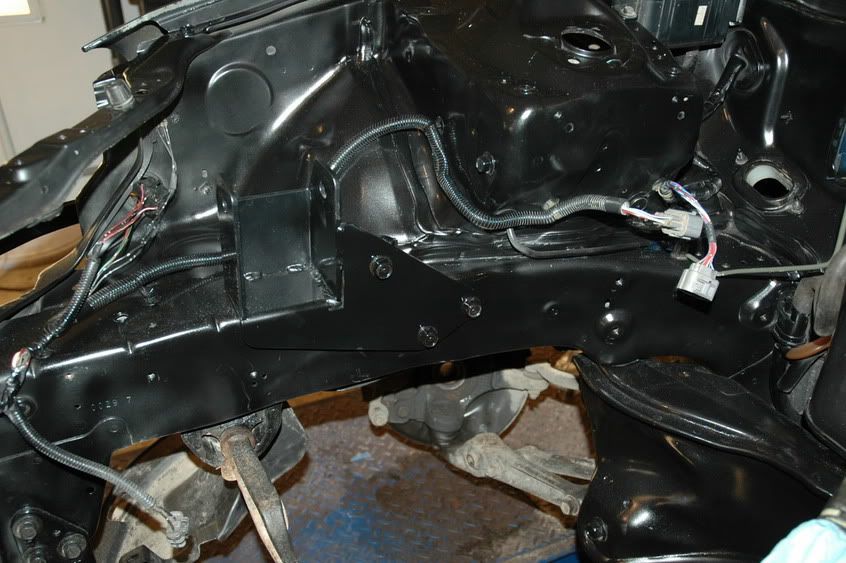 HaSport states the the torque settings are measured to these specs
Passenger Side Mount Plate: 43lbs/ft
Driver Side Mount Plate: 33lbs/ft
Rear Transmission Plate: Not Listed (I did 43 lbs/ft)
The next step has been the most fun so far. If you want your RSX shifter to fit like oem then you need to check out
www.karcepts.com
. Here they offer a shifter plate kit to solve the problem. Without this kit you will have to drill a hole in your fire wall to run the shifter cables, and the shifter box will not fit as good in place of the civic one. Karcepts instructions for this install are the most complete directions I have ever worked with.
For your reference you are going to need a drimmel tool, drill, 9/32" drill bit and if you had an automatic tranny like I did then you will also need an 11/32" drill bit. These bits should be made to drill through metal. You will also be able to utilize these bits for drilling out spot welds on the radiator and A/C brackets.
Here is how the shifter sits with the newly installed kit.
This is the bottom view. Like the directions say apply the silicone liberally. The more you put in areas that could let heat through the better. I went to the extent of putting the silicone around the bolts, shifter cables and all other gaps or holes.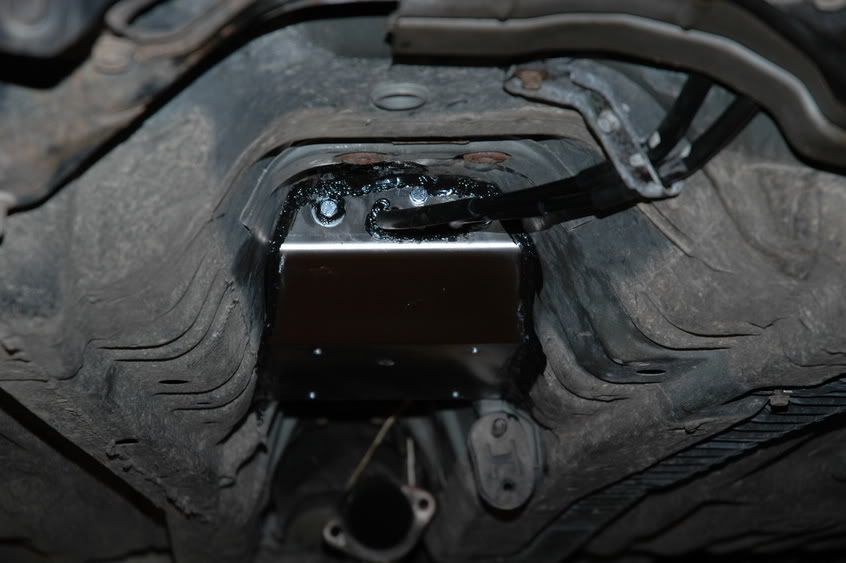 Note how you can even attach the bracket from the shifter lines to an oem hole. The great thing about this kit, especially utilizing the EKK1 mounts and HaSport header is that you will have good exhaust clearance, and there will be no need for custom bends of any sort.
Note: You will not want to reinstall all the interior plastics around the shifter until the motor is dropped in and you are sure the car shifts properly.
Thanks for the interest and support everyone. This has just gotten started for me, and I will post new pics and updates after each step I take is completed.
Max