Discussion Starter
·
#1
·
I posted this is TSXclub, but since I spend most of my time here I thought I would post this here in hope of others benefiting from it. Let me know if anyone has any questions.
Well the time has come where I am getting bored so I need to start modifying engine parts. I have ported a few manifolds back in the day with great results
modified oem H22 intake manifold - Honda-Tech
but now its time for the TSX to get a little treatment.
My idea is to keep this manifold as simple as possible and improve on the casting and shape imperfections that I see. I would love to build a custom intake manifold but tuning options are slim (thanx for nothing Hondata). I have been waiting for years for a nice Flash Pro system for our cars, so until then a custom intake manifold will stay in the back burner.
I have beaten the intake manifold theory and design discussion over the head in other forums, so I wont be going too deep on that matter. This thread will be a procedure on how to gain a few extra HP with a little elbow grease and time. I will be posting the step by step porting of my 07 TSX manifold and share a few tips and tricks over the process.
Here's a cellphone pic to get started. I cut the top half off using a band saw. It was easy and took about 10 mins.
Things I noticed about the TSX intake manifold...... This manifold suffers from a few things and will never be a performer manifold, but it does its job ok for torque purposes.
1) Small plenum (the smaller the more throttle response and better part throttle engagement, also good for MPG's)
2) Thin casting ( makes shaping it tricky and blowing through is easy)
3) #4 and #1 runner openings are very oddly shaped ( totally different from the middle two runners, not good for high RPM)
4) Plenum ends short on #1 runner ( It almost hits the alternator so I can understand why they made it this way, but again not great for high RPM).
5) Runner openings are squarish ( not good for high RPM gains).
6) Casting imperfections ( although better then usual Honda manifolds)
Things to improve.....
1) The intake runner opening need to be reshaped. This is where most gains will be achieved.
2) Clean up casting imperfections (plenum and runners)
3) Match the two halfs. Where the manifold bolts together with the injector base I noticed that they didnt match 100%. This is due to cooling effects as parts will vary with shrinkage.
4) Match the manifold to the head
5) Make my own heat shield IM gasket. The Hondata one leaves way too much of an opening around the intake runners. This causes little pockets where vortexes can occur.
The intake runner opening and their squarish meet up. Hard to tell from this pic. I will take some more later on.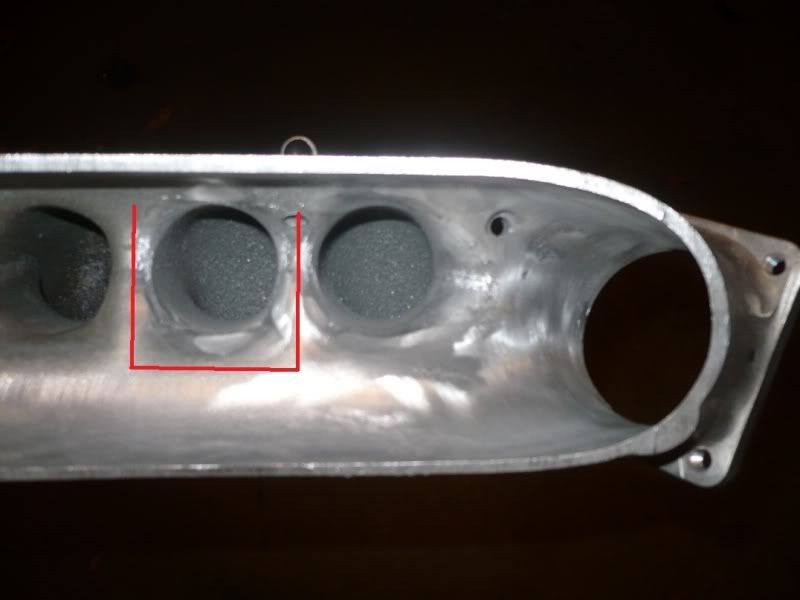 On with the tools to use for this project...
Since I will not be bolting up a bigger TB or greatly porting the plenum no CNC's will be used. Just great old hand work. My choice are carbide porting tools and flap wheels.
Flap wheels are great. They last long, they are cheap, come in almost every imaginable size and grit. My favorite thing about them is using them to reshape the runner openings. Also with the extension they can go up and down the intake runners to clean up casting imperfections. They also allow for even porting.
No flow benching done before. Runner 4 and 1 are different than the other two that the numbers would of been different, plus flow benching is not the best tool to use to determine intake manifold flow. It only represents a steady state in the intake manifold. In the real world things like reverse flow from each runner, shock waves from valve openings, manifold shape, etc is what will determine the flow to each cylinder. Im down to let the dyno show the results .
As you can see here these are the problems with stock manifold that can be fixed.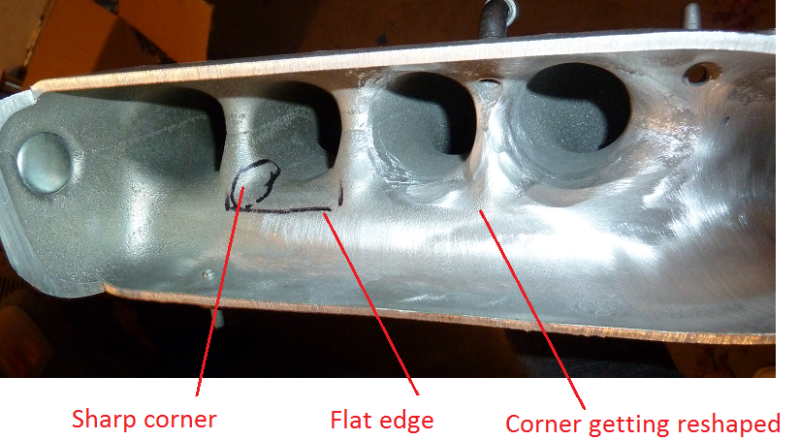 Now it is starting to take shape. The corners are getting rounder and the edge of the bellmouth is getting a bigger radius and and rounder edge.
More rounding in between the runners and around the edge of the bellmouth leads to the picture below. Great detail to hand paths is paid here. A long time is taken to reproduce the same shape and hand movement for each runner. The more time spent here the better the results, because if you take too much off you cant just put it back.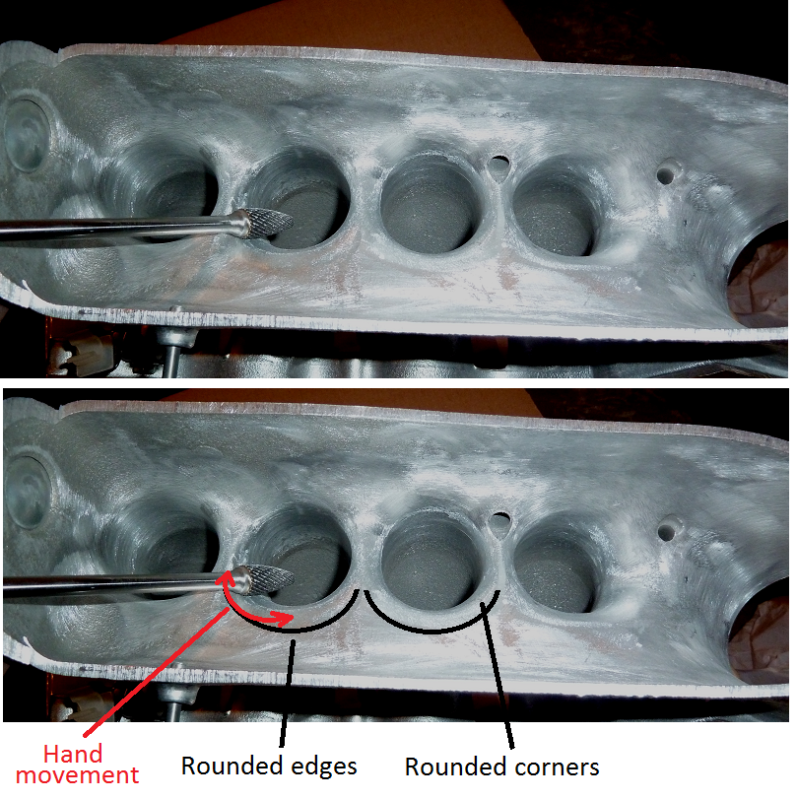 As you can see the shape looks great. Nice even round edges and nice round radii. This should definitely increase flow into each cylinder.
Well the top half of the manifold is completely finished. Everything looks great and I'm very happy with my porting. Here's a pic of the top half.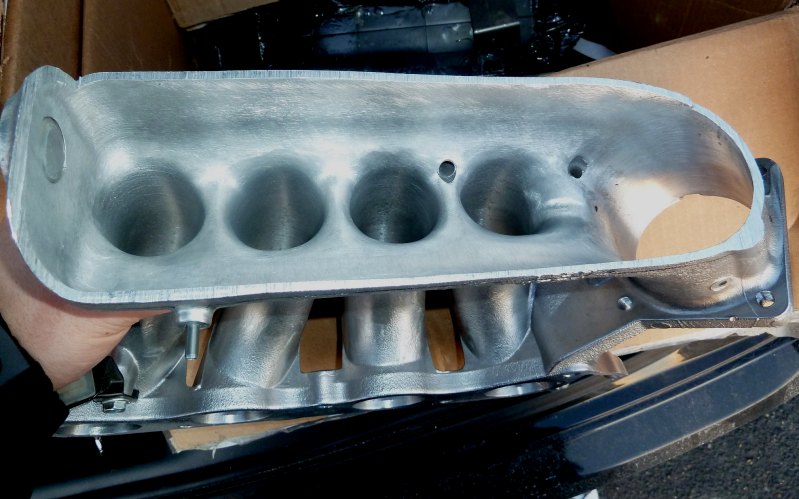 First I want to say how disappointed I am at Honda for mating the two halfs together. None of the runners merged right at all. The lower and top half had holes that had as much as 1/8" off course.
To smooth them out I bolted the two half together and sprayed red paint inside the ID. The red paint showed me how much I was off. From here I ported and flapped to the direction of the port until all the ports matched. Another long port session but the results are great. Now all the runners meet perfectly with each other.
The only thing left to do is the cut off part of the top half. The castings on the part are horrible some of the roughest I have seen. Here is a sneak pic.
More to come