FYI~this is gonna be a longgg rebuild.
i like taking my time ensuring that things come out jus the way i want it. my style. no rushing here. plus, i also have a lot on my plate right now (work, getting married in feb., house remodeling, and more shit including this rebuild). but, i will do my best to finish this up and get it on the 1320 by early or mid next year.
i was fortunate enough to run across an awsome deal on a K20r swap that i couldn't pass up on courtesy of jarel, thanks bro...i will make u proud. =) being that i like doing everythng right the first time, i decided to also clean up my messy bay with some GOLD here and there
and tuck the shit out of it while i was doing the swap. and aside from the engine compartment, i will also be prepping
Daisy
with
Project Mandy
's left over custom race parts.
and on with the show...
SPECIAL THANKS TO:

ABUNAI Racing crew; SPECS & FRODO,

Jarel, Marvin the martian, Junior.



Tru Wheel Sandra (818) 765-5577 for all my custom wheels & repair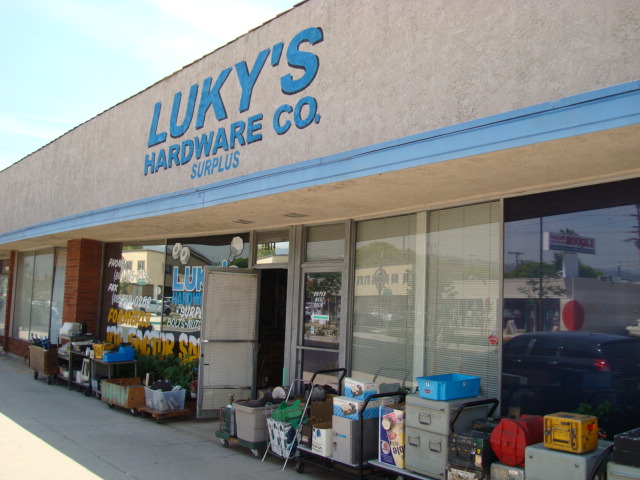 Luky's Hardware (818) 845-8338 for all my AN fittings and supplies

Stick-it Graphics (818) 341-1463 for all my vinyl sticker needs



Camp1320 motorsports (818) 718-9352 for all my race needs!!




Innovative Mounts (714) 524-5246 the best damn mounts in the business



hybrid-racing.com (225) 932-9588 for all ur K series needs!



rywire.com (415) 655-3481 for all ur wiring needs!!!!
jus for reminders here are pics of the car before the rebuild.
(shot by jeremy)
took off the front end to tuck and jus to make sure nothing was dented while i rebuild.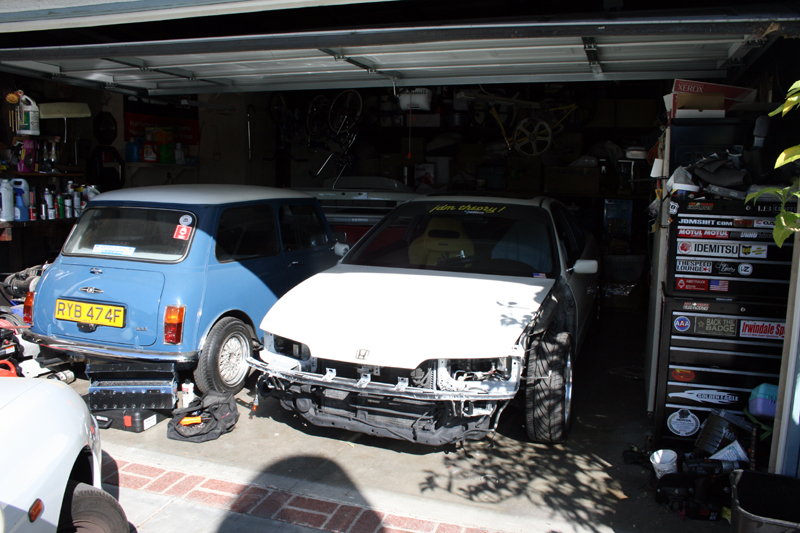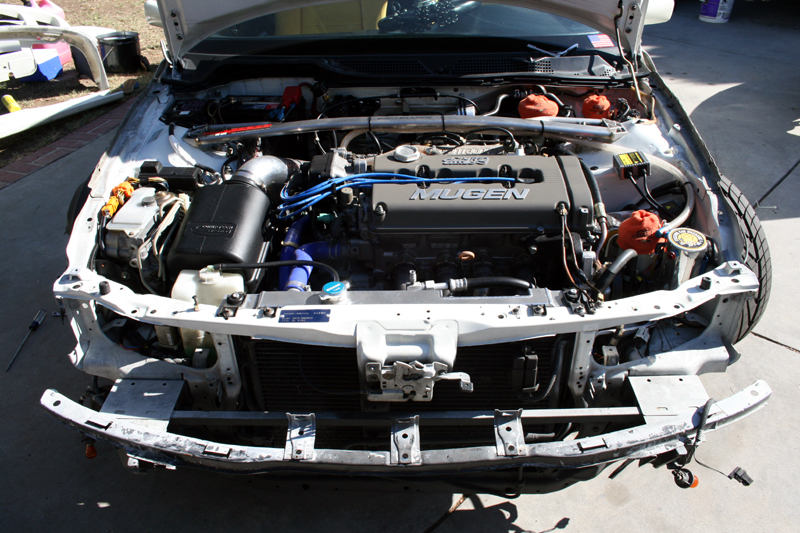 gas cap removed to color match the bay.
bye bye GSR
bye bye ABS
bye bye Brake lines
drilled out the radiator lower brackets and passenger side mount bracket. thanks to blue point spotweld drill bits. =)
got a lil carried away with the drill. =) cleaned up the area.
no turning back now. =)