Discussion Starter
·
#1
·
I have been building this car for 2 years now and found this site that I enjoy looking at cause of all the legit builds on here no half assing on here. My build does not consist of any fake or cheap parts so hold on tight! This car I really enjoyed a lot for the two months that I could drive it. It had a really loud muffler and no carpet and I loved all of it. Then all of the problems started happening. It had a oil leak which my brother quickly fixed, the speed sensor was bad so it was off by 10 mph all the time, the tokico struts were shot and the ebay coilovers didn't help. The previous kid I bought it from had given me rear disk trailing arms which was good cause my rear drums blew out after about a month of driving it, so I switched those out and bought some Russell braided brake lines to go along with them. The tires on those sick wheels were really bald and one eventually popped so on the steelies went. I always wanted to inprove the car and make it look like I know they can look but when I went to replace the old coilovers with new ones I snapped a bunch of bolts and some other stuff was found so I decided to go all out and make it the car I want exactly for me! Enjoy :corn:
Some of the pictures of it when I got it!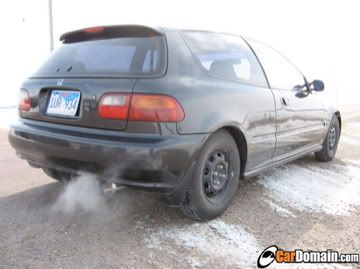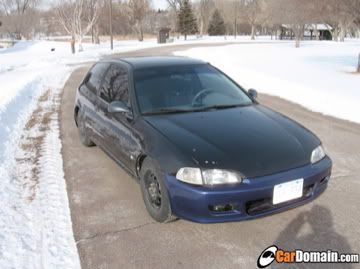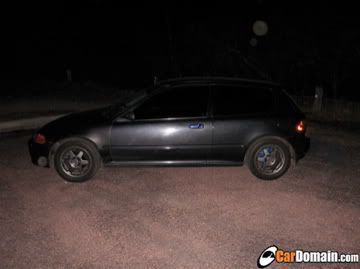 No rott on the back quarters either picked this fine piece of ass up for $1100
I Started to put on some stock parts that it needed on such as carpet, center consele, glove box, muffler, windshield.
Then started to put on some new parts!
Real JDM Stanley fogs headlights and corners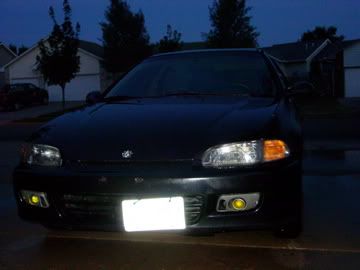 Apexi N1 catback on way better then whatever that thing was before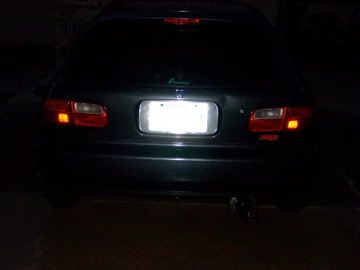 and no I didnt put the SIR sticker on it the gay ass before me did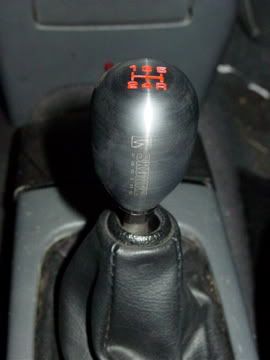 The back seats looked pretty bad so I picked up a deal on full EG6 rear seat conversion with the side panels trunk and seats. Didn't know you needed to weld in the rear seats so it looked like this for a month till she got open heart surgery
I purchased ground control springs and koni yellows for it but when I went to put them on I snapped 4 bolts on the suspension and one lug nut. also noticed trailing arm bushings were tore and needed to be fixed. So this all begain!
My friend Leon and I went ahead and pulled the little D16z6 out.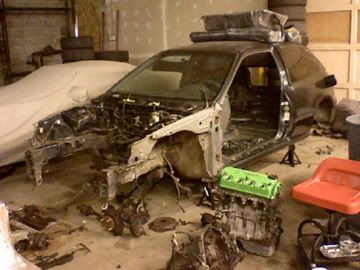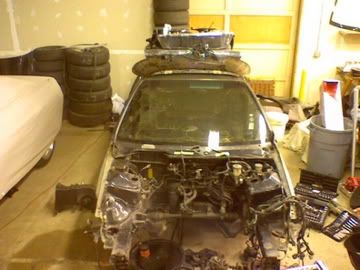 then the inside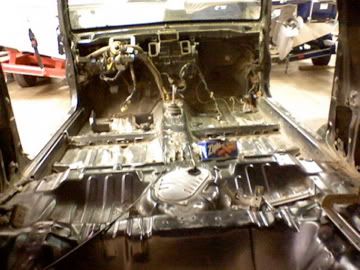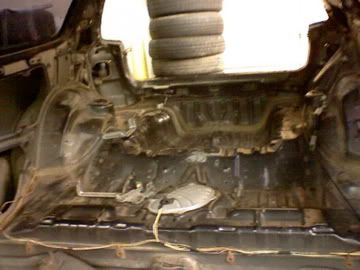 Little D16 tore down ready to get rebuilt so it thought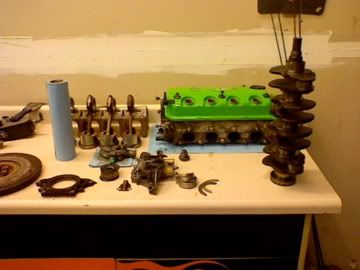 Then me and some buddies sanded the whole inside so 4 hours later this was it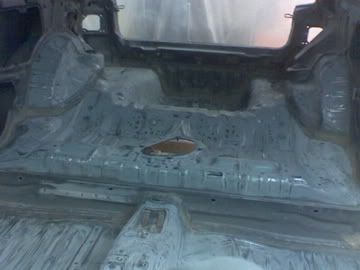 Then I started sanding the car and working on getting the bay ready to weld up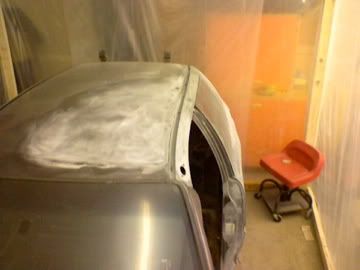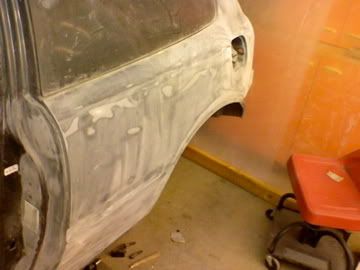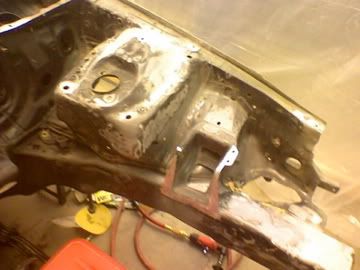 This is my little booth I built to sand it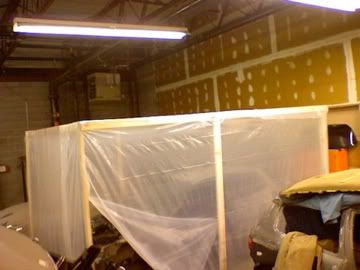 Some EG6 Parts came in!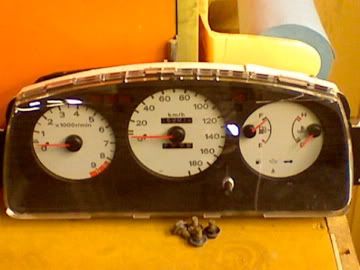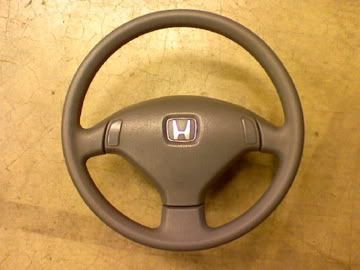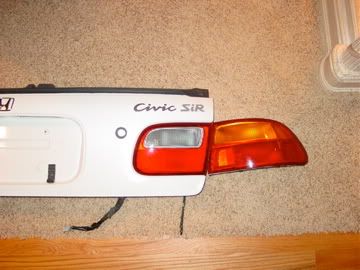 Some new seats I picked up for it!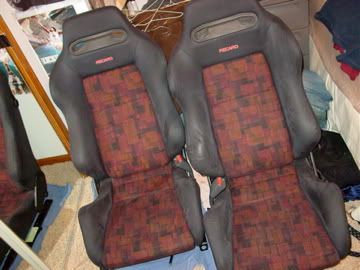 Some updates of the bay!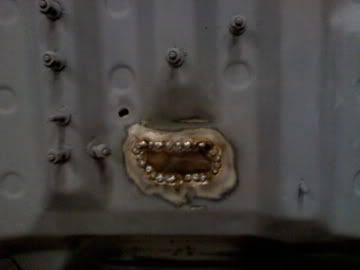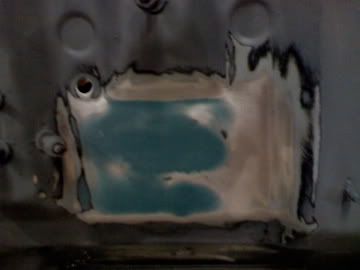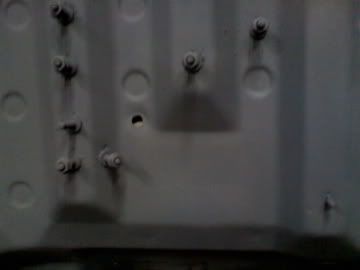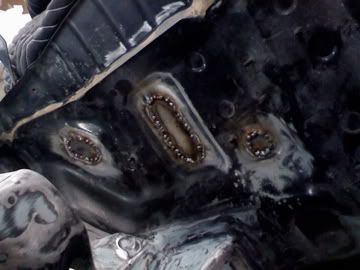 Then we found little specs of rust so me being really anal cut them out to weld in fresh ones :thumbup:
ME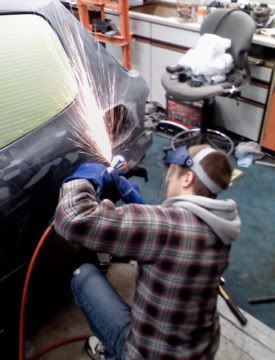 The rust underneath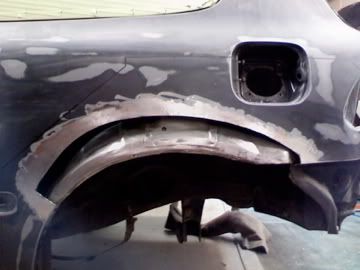 POR 15
Tacked in Place many more to go!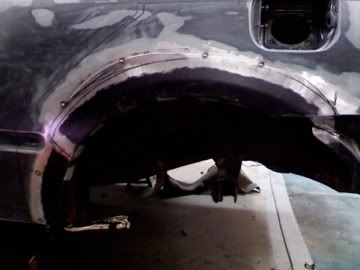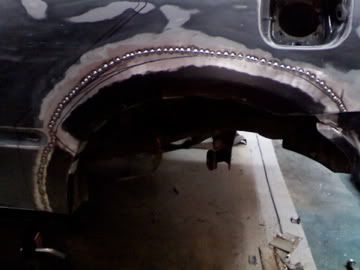 Straighten the back to line up with the bumper real nice
Started with a little body filler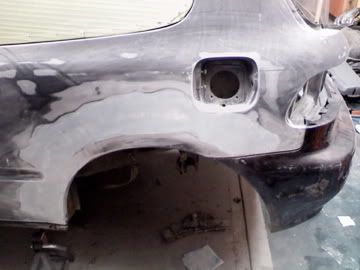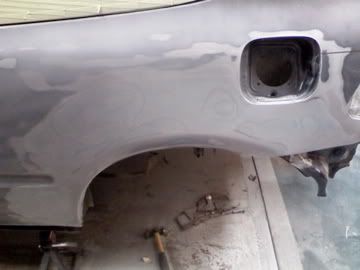 Next side like clock work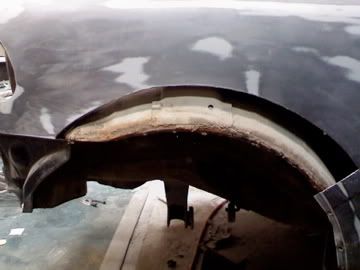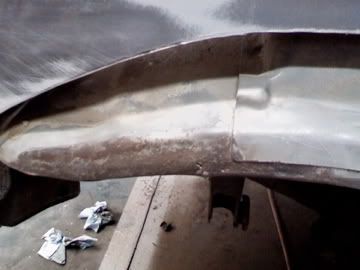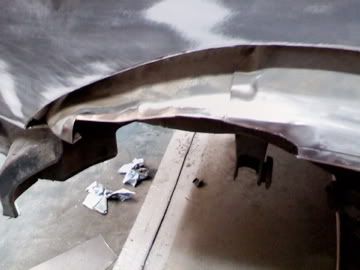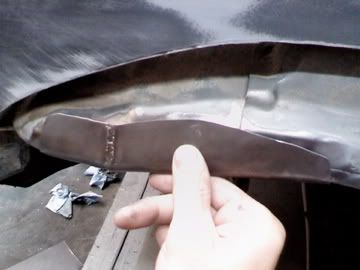 Tacked it in with my lightsaber that is laying on the ground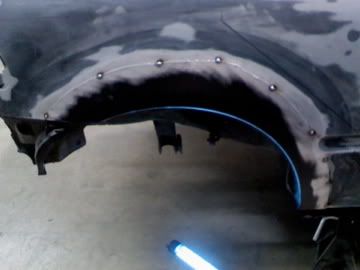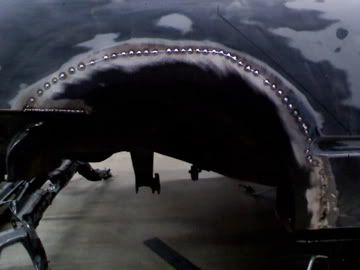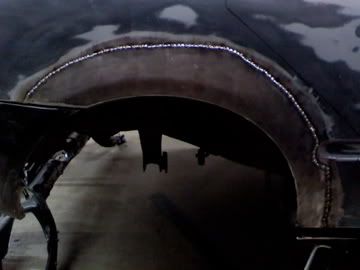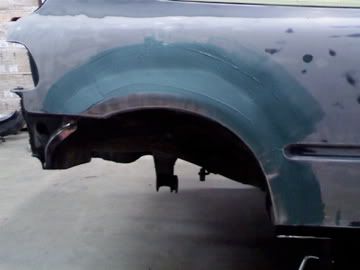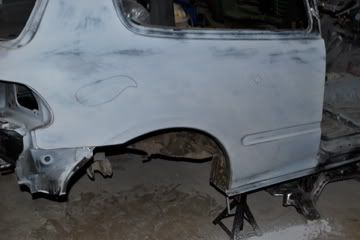 Then my motor mount fell off whats the deal with these hondas!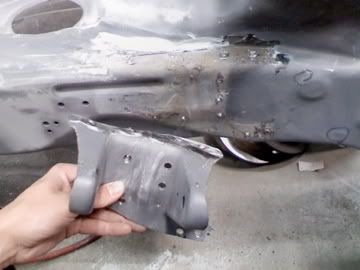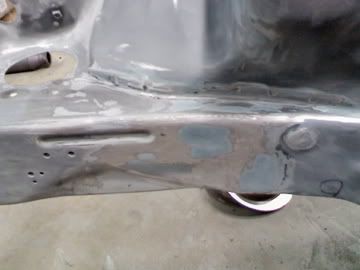 Then UPS brought some more goodies for me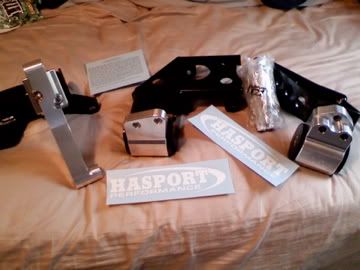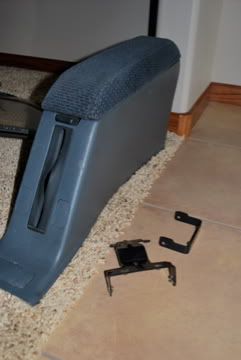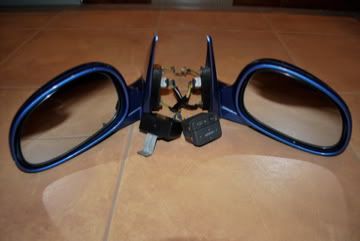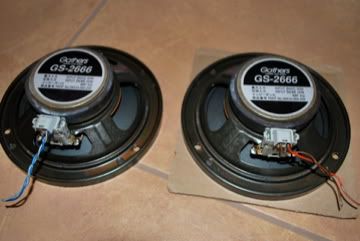 Sandblasted the engine mount and welded it on then grinded it to blend in!
I changed my mind on interior color so I Dyed all my interior with Landeau black from SEM.
Grey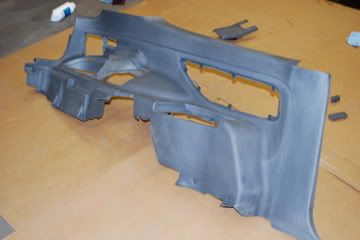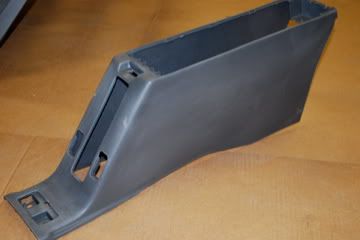 Black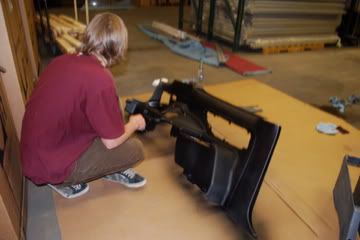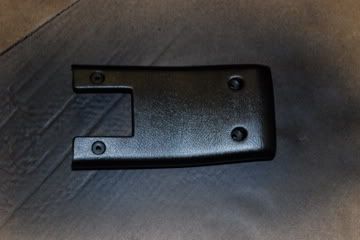 Test fit all together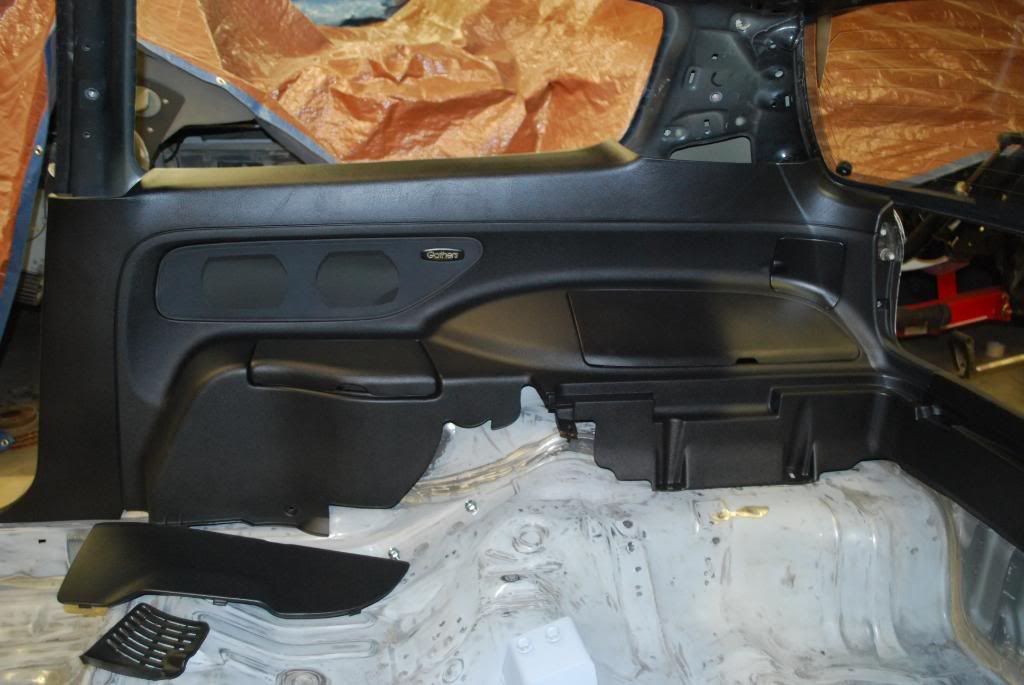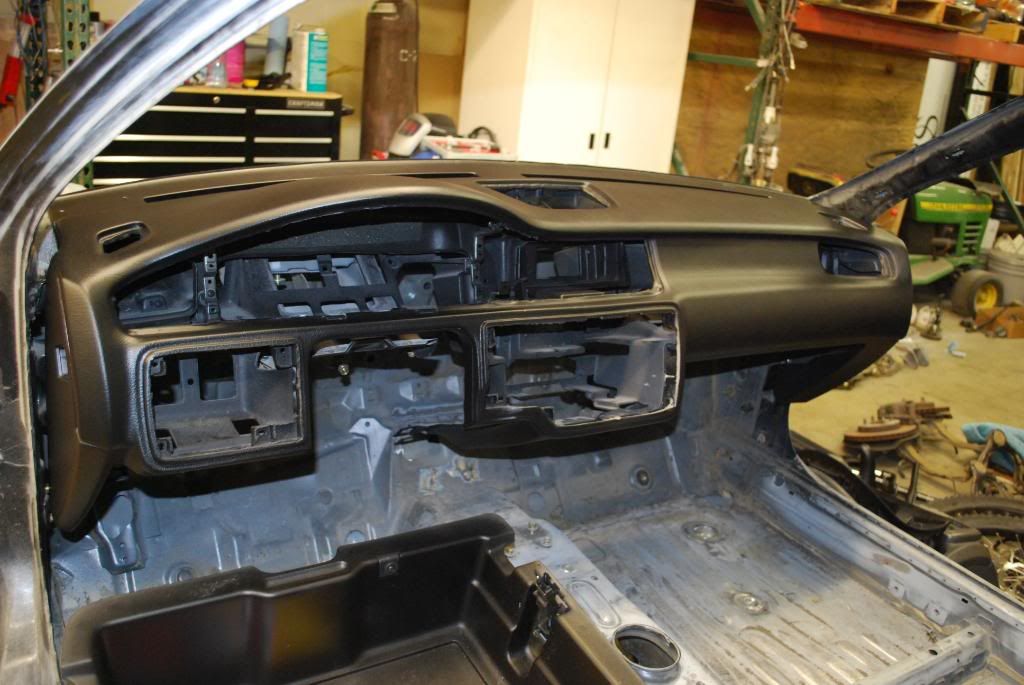 Well after way to long the bay is shaved and done! :alkie: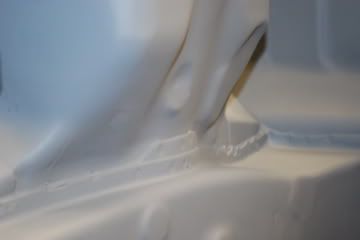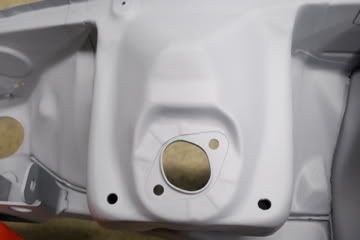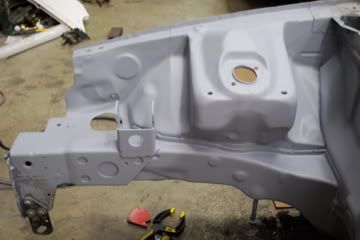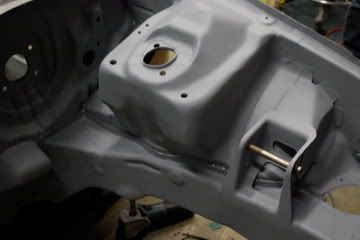 I also ground off all the old seam sealer and put some new SEM seam sealer on!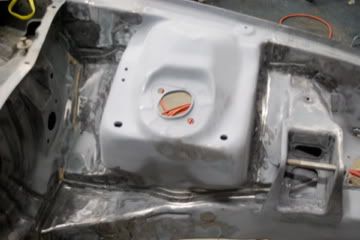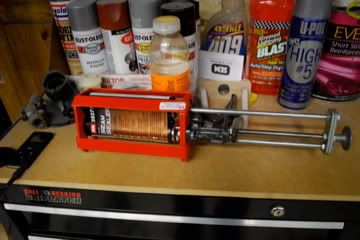 That time again more parts!
Special Edition Recaro Tom Cats
BRAND NEW :thumbup: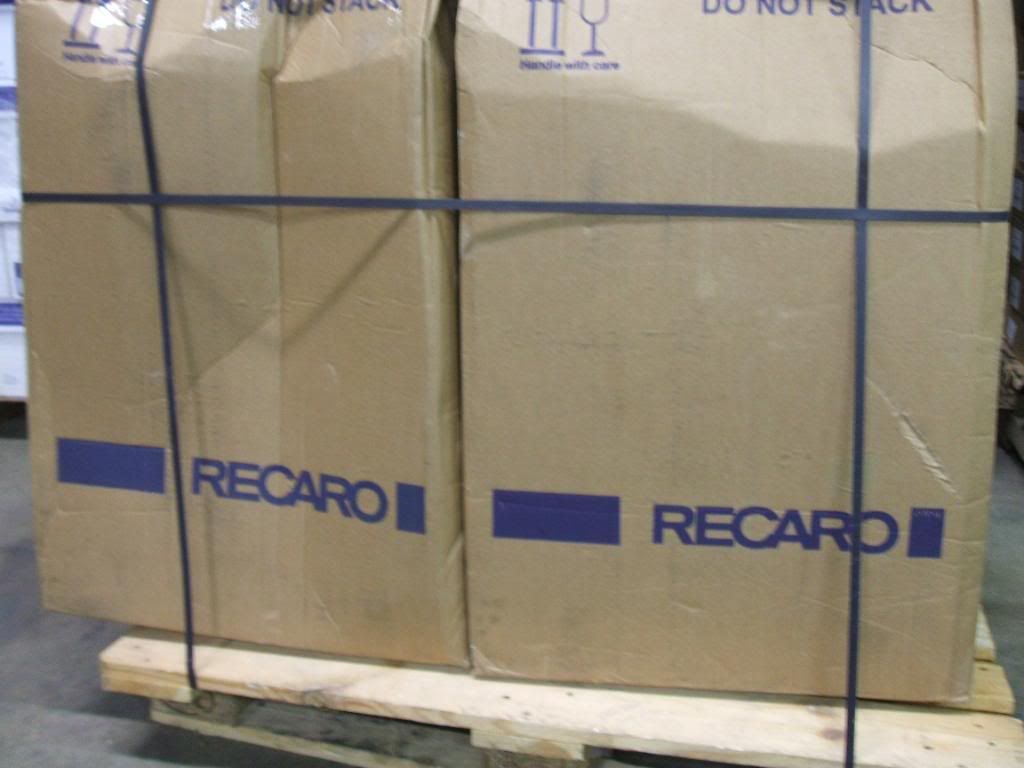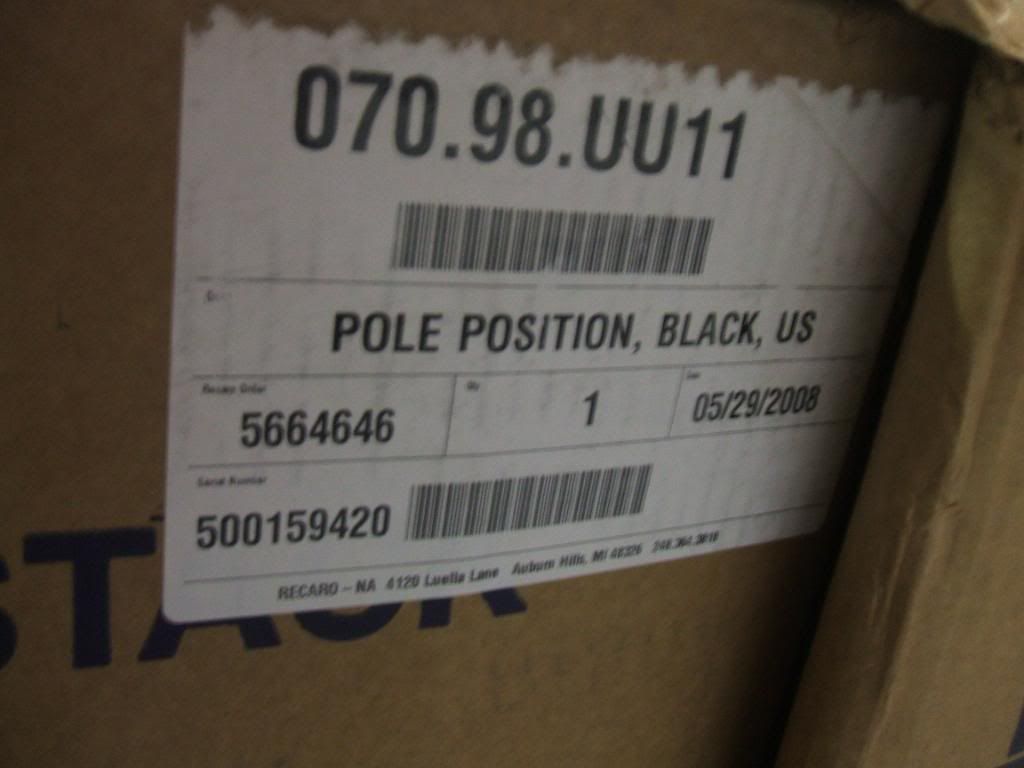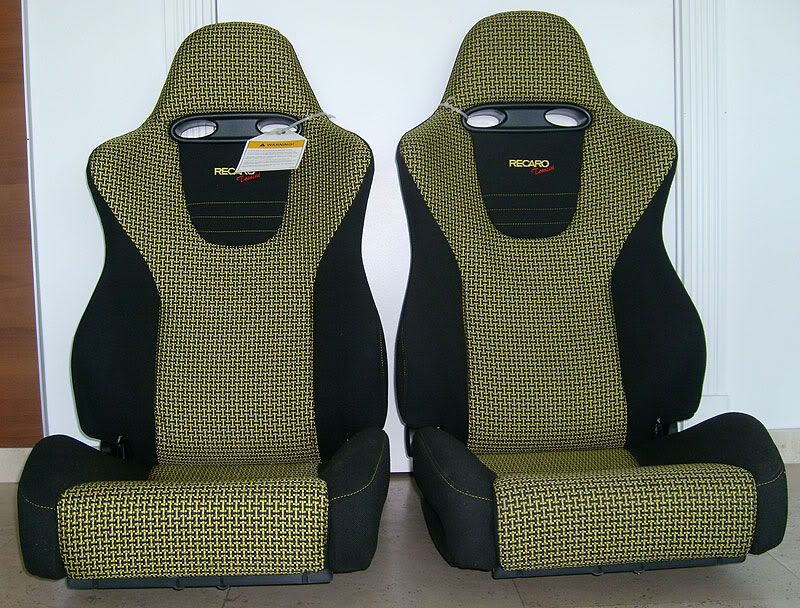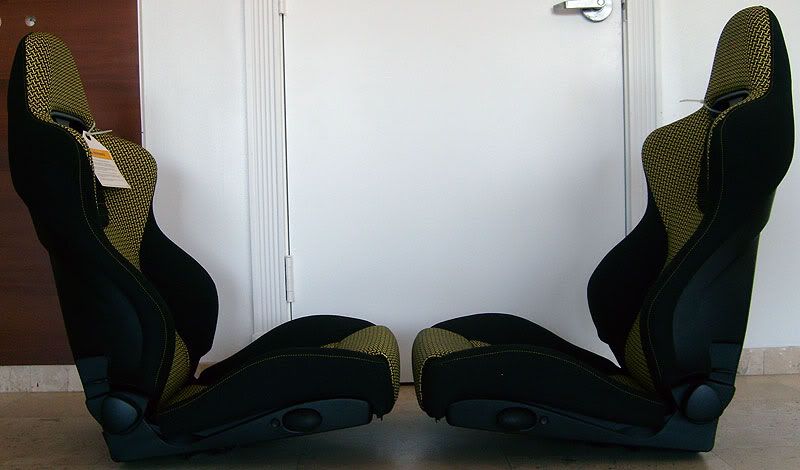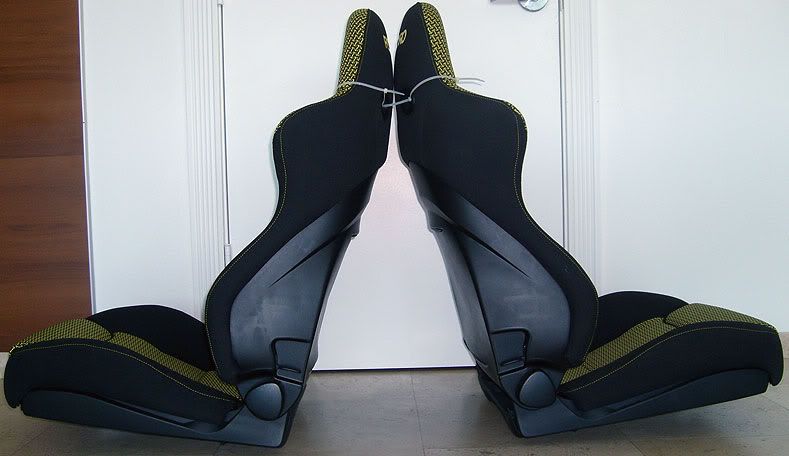 Their are only 150 pairs ever made here is the certificate they came with!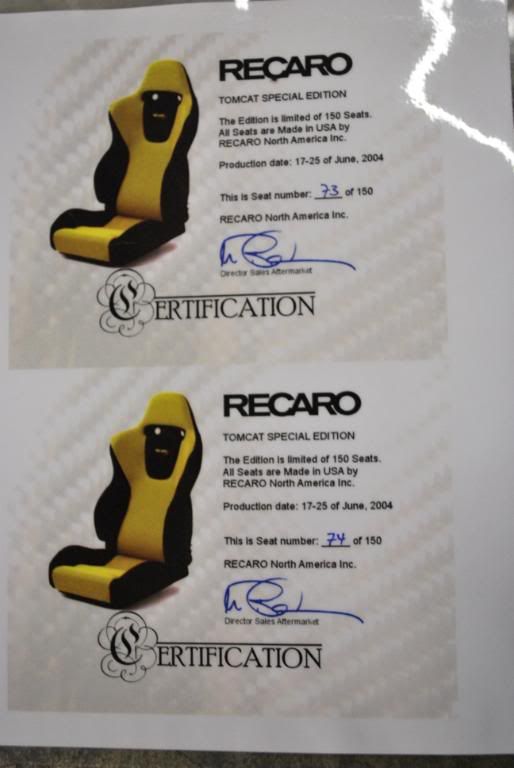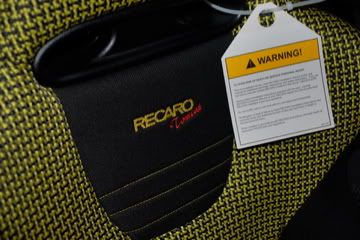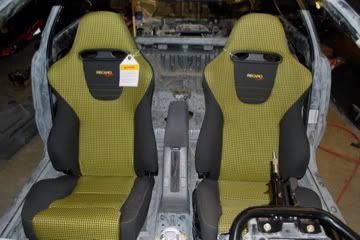 Oh did I mention I got my brother the hook up on a brand you pair also!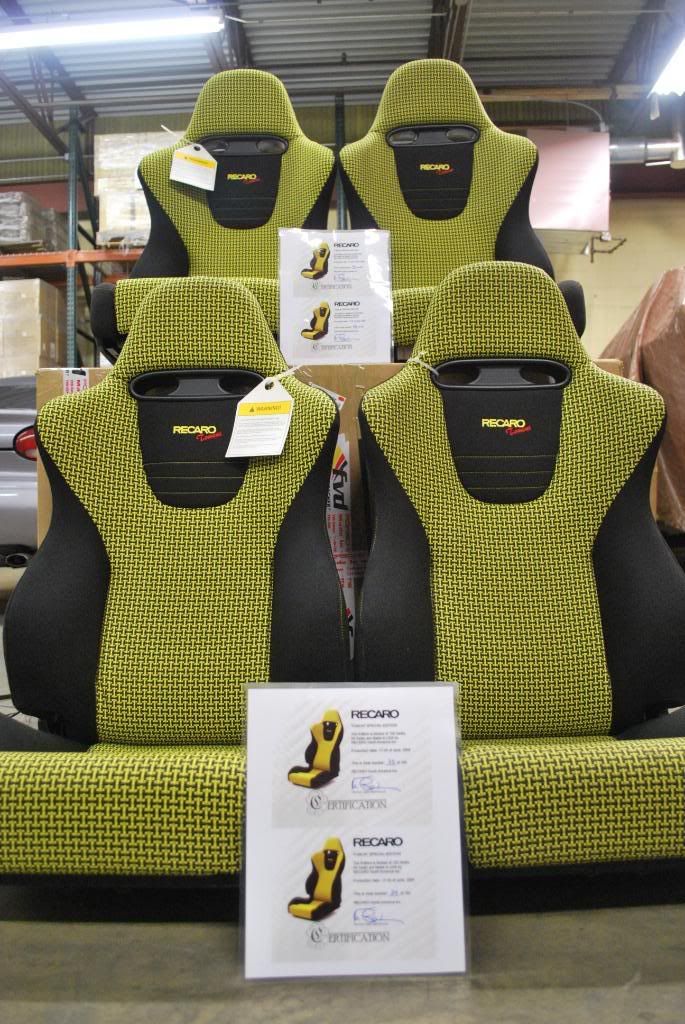 OEM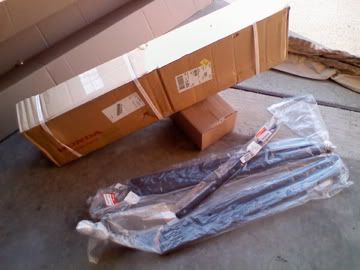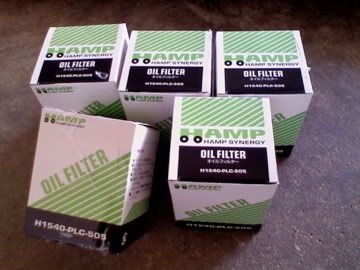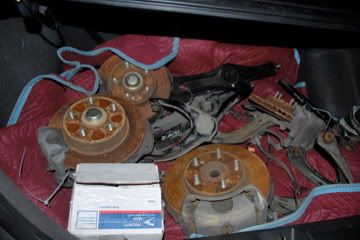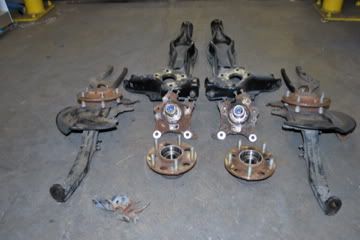 All powdercoated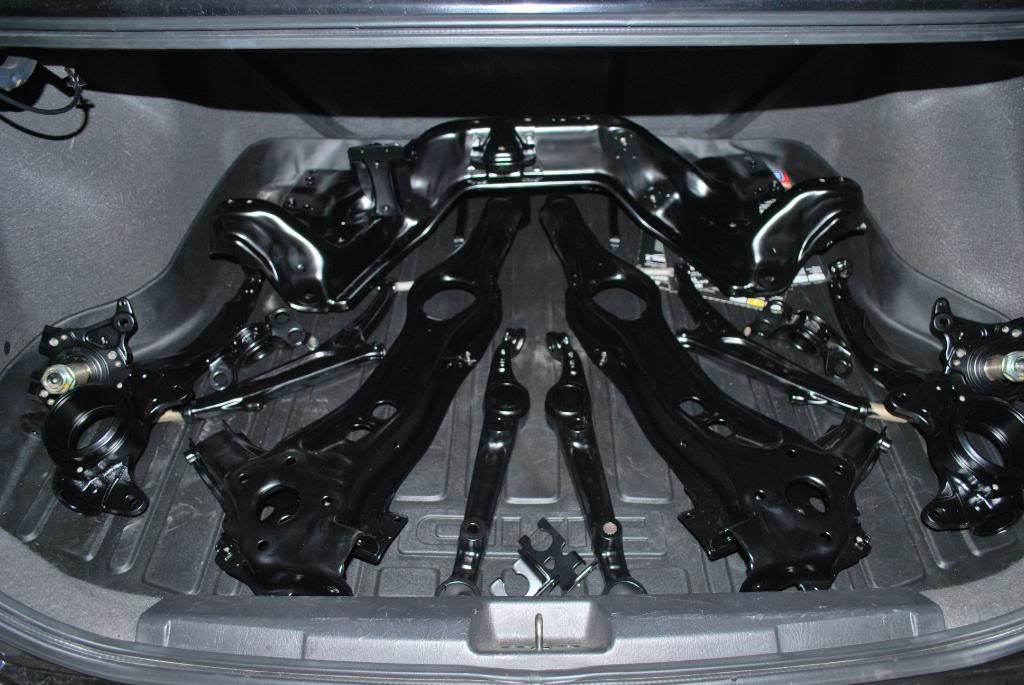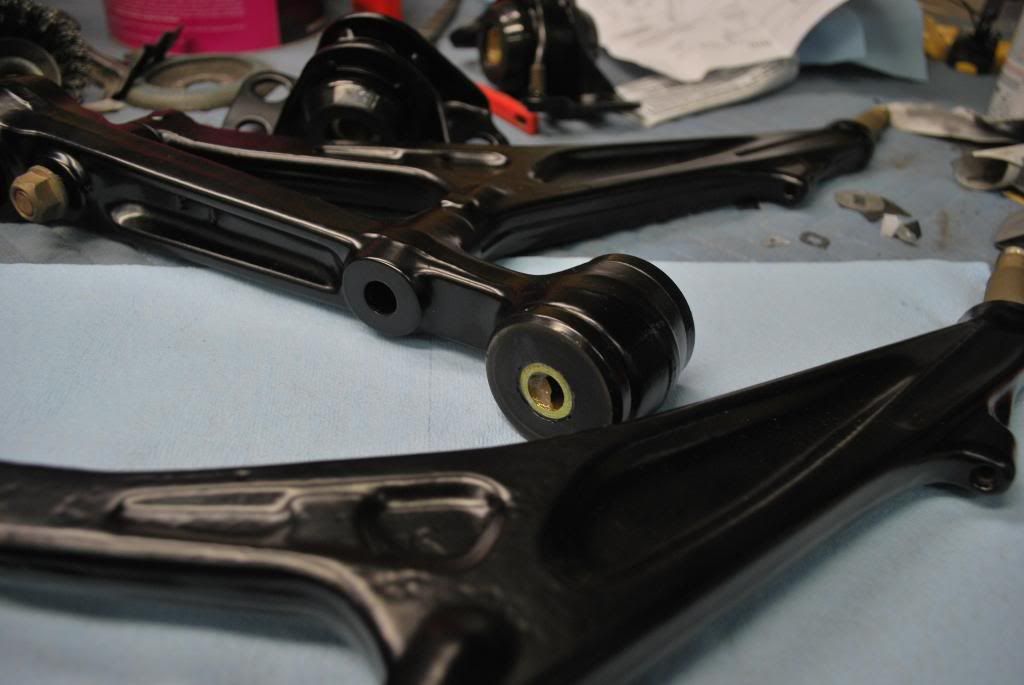 More parts!!
One piece EG6 spoiler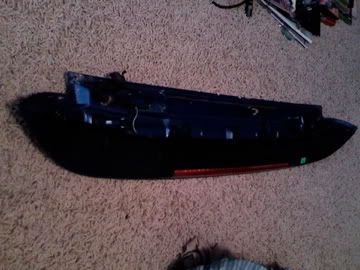 Blurry sorry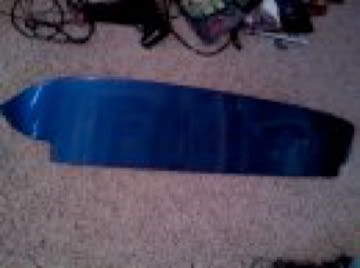 From steve at HMO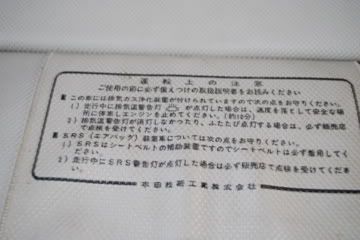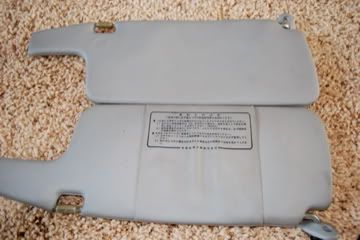 EG6 owner manual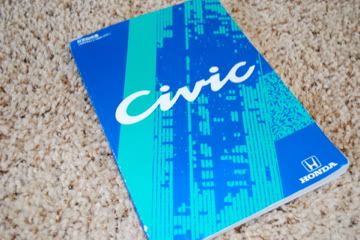 My CTR brakes that I sanded and refreshed with some high temp paint!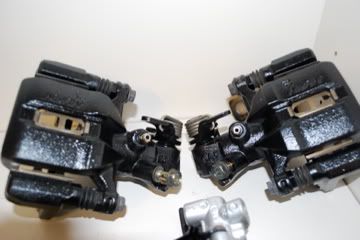 My buddy Leon bought a crashed GSR for the engine for $400 some people just dont know what they are selling but he hooked me up with this 1in booster. I stripped it completly then prime and paint.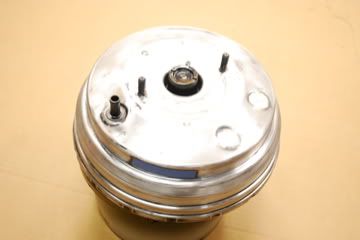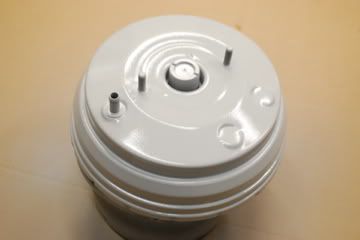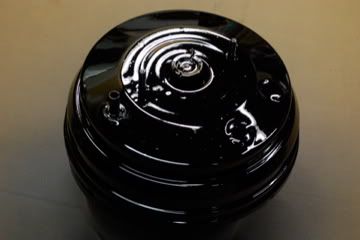 Took out all the dash braces and sanded and painted them along with the pedals took them all apart and painted them up!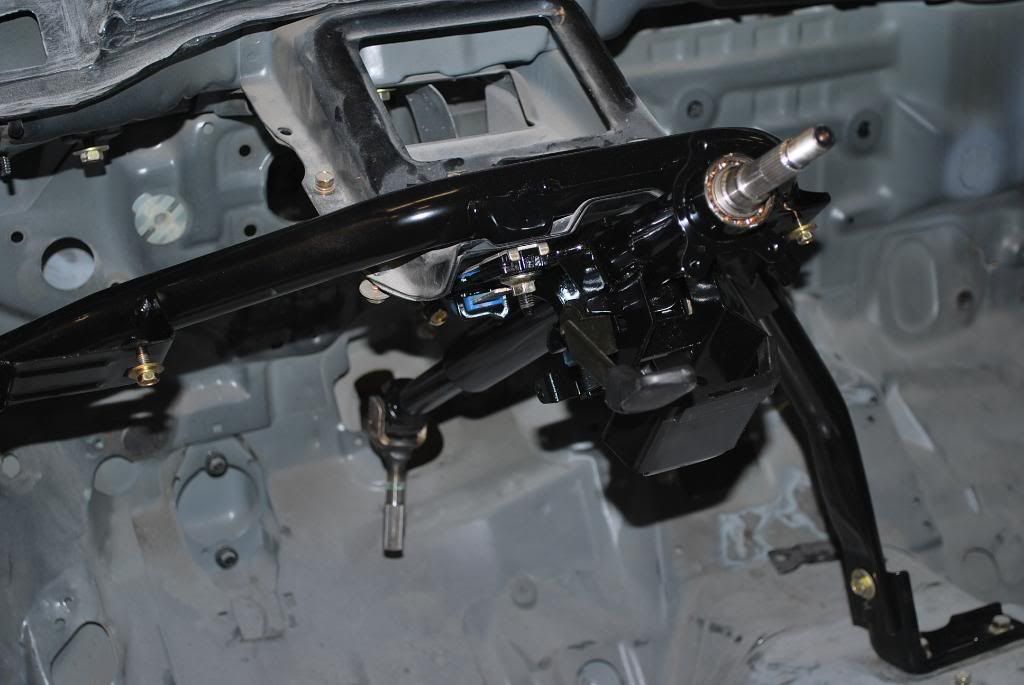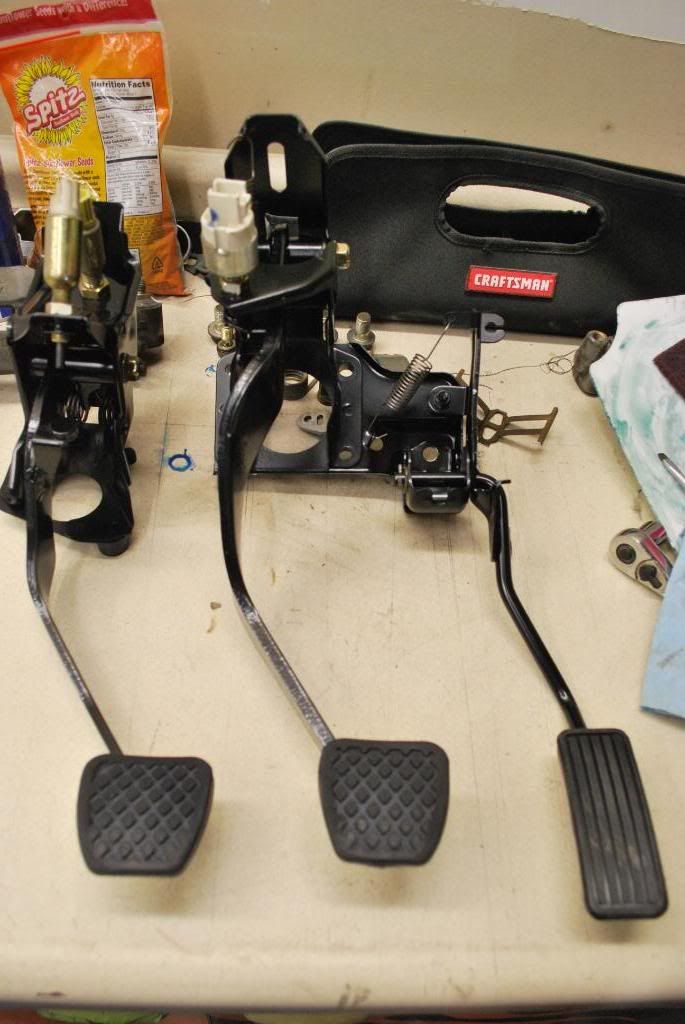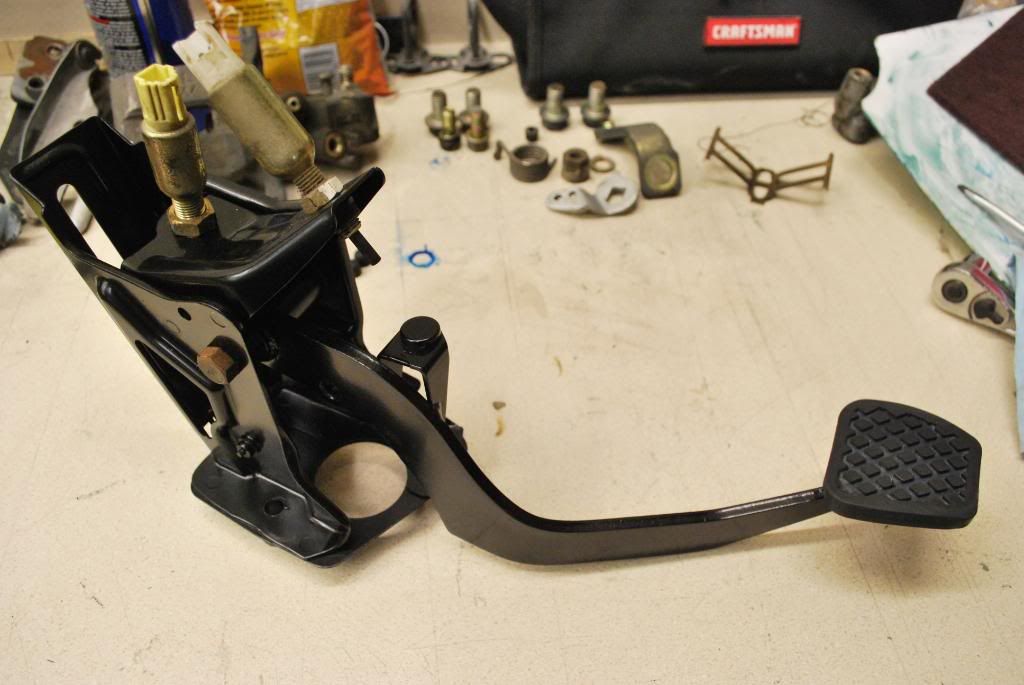 I decided to do the gas tank cause it was a little rusty so I worked some magic on in!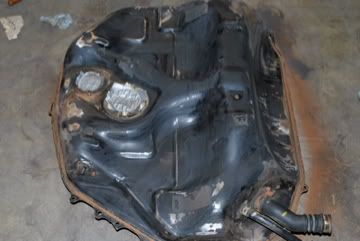 After sanding it down I POR15 it and then nice rustoleum on top and Rubberized undercoat on the bottom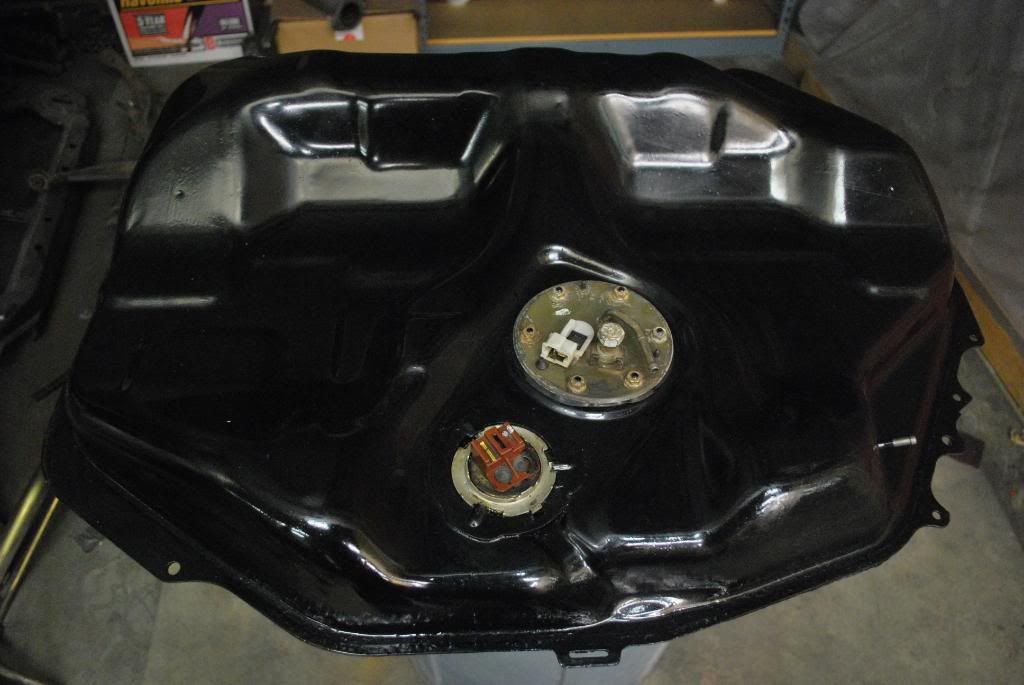 Just thought I would toss in one of the shell as is now while im on lunch! thanks for the positive feedback all of you.
Here is a sneak peek of what I just got done doing and no the picture isnt crooked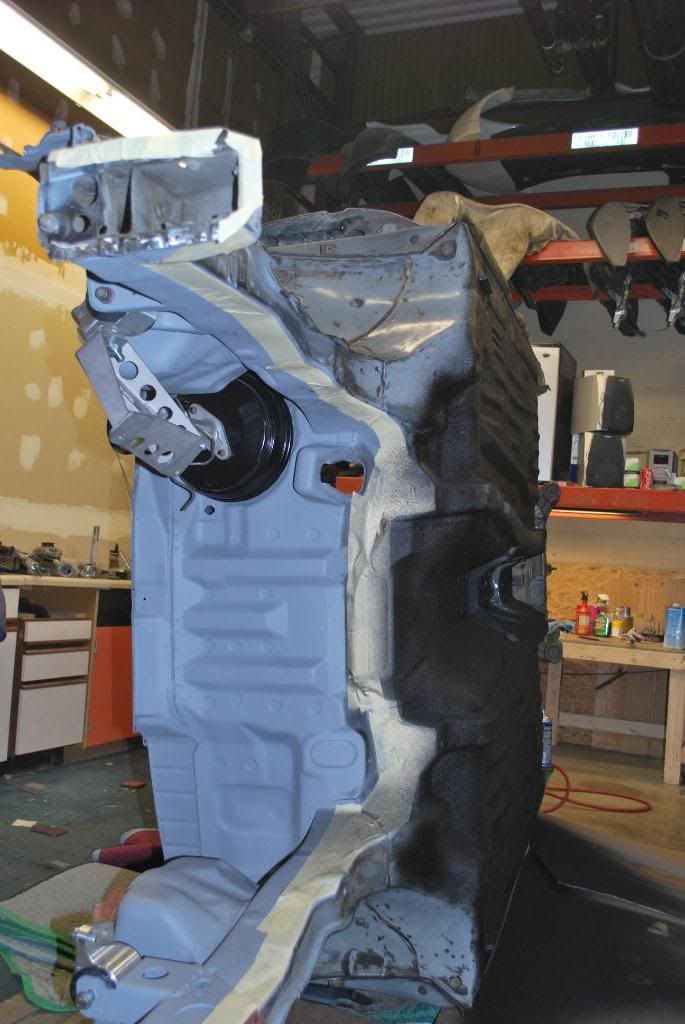 Well I started on putting the rear seat mount in and getting them to line up right so here is what I came up with I looked at some shelled eg6 cars to get the mount right.
I welded nuts on the bottom of the mount so it would look factory then boxed in the sides with more metal. You can see two 90 degree pieces by the shock towers they are very close to the JDM factory ones.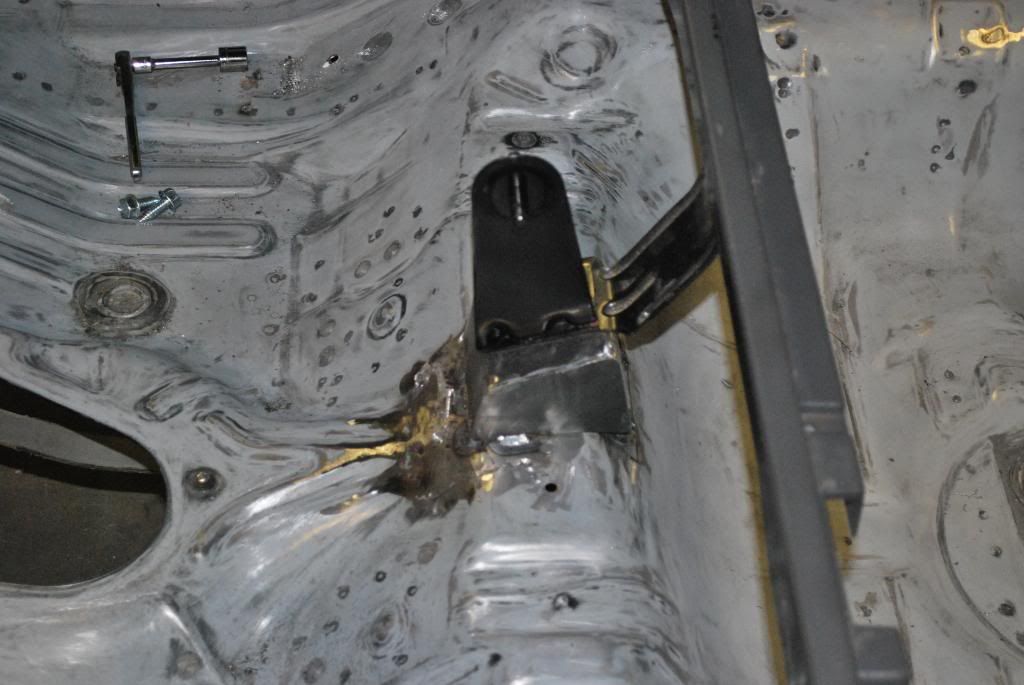 Side panels test fitted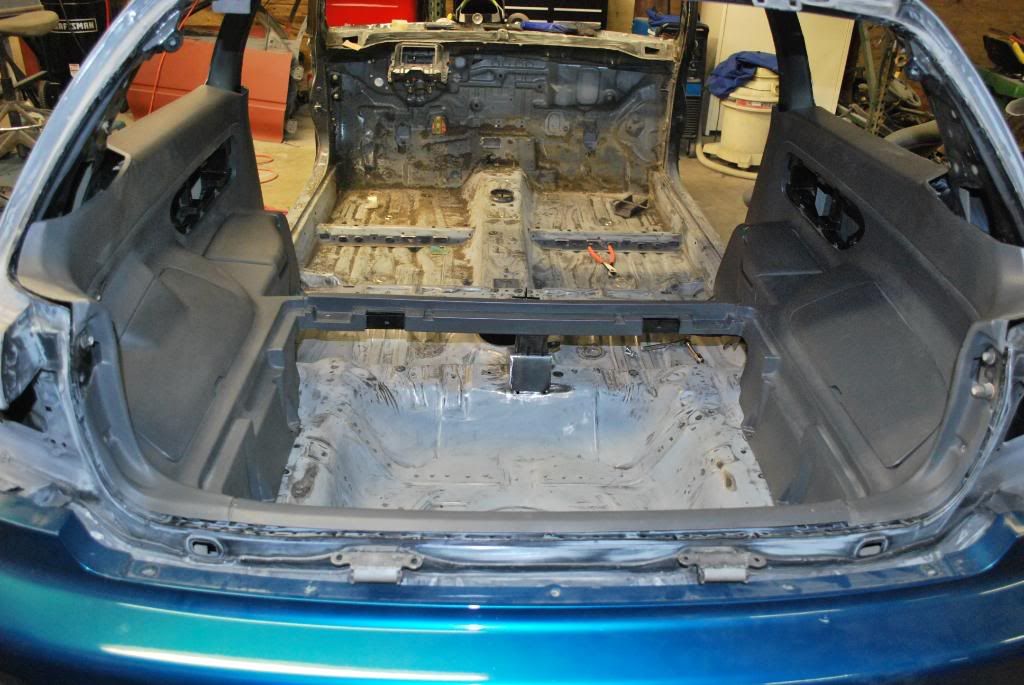 Rear seats fitted and cargo box in!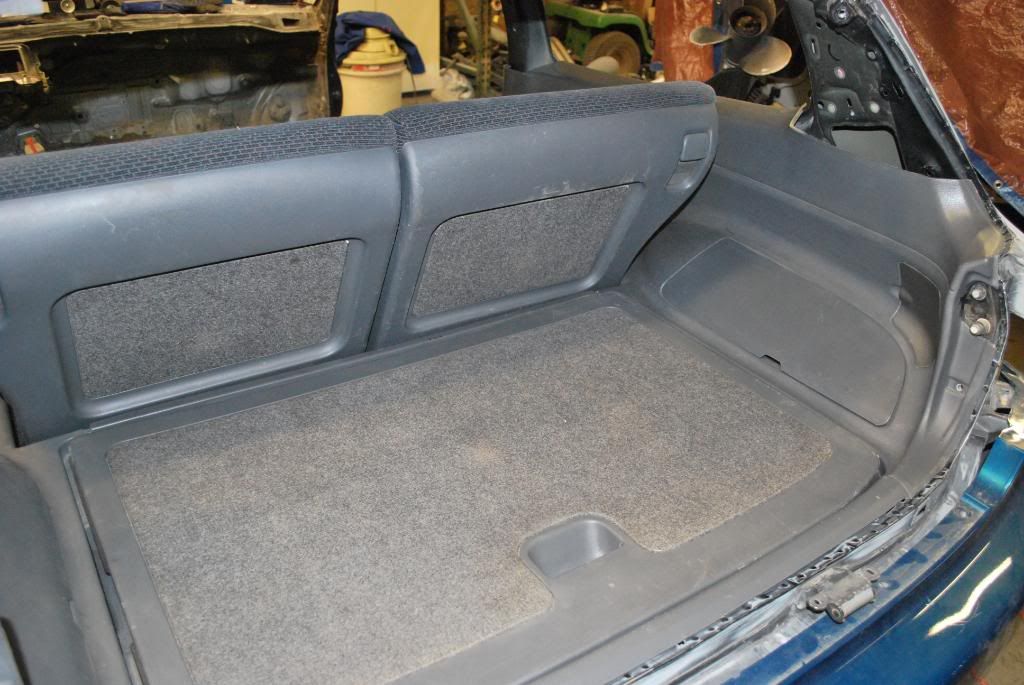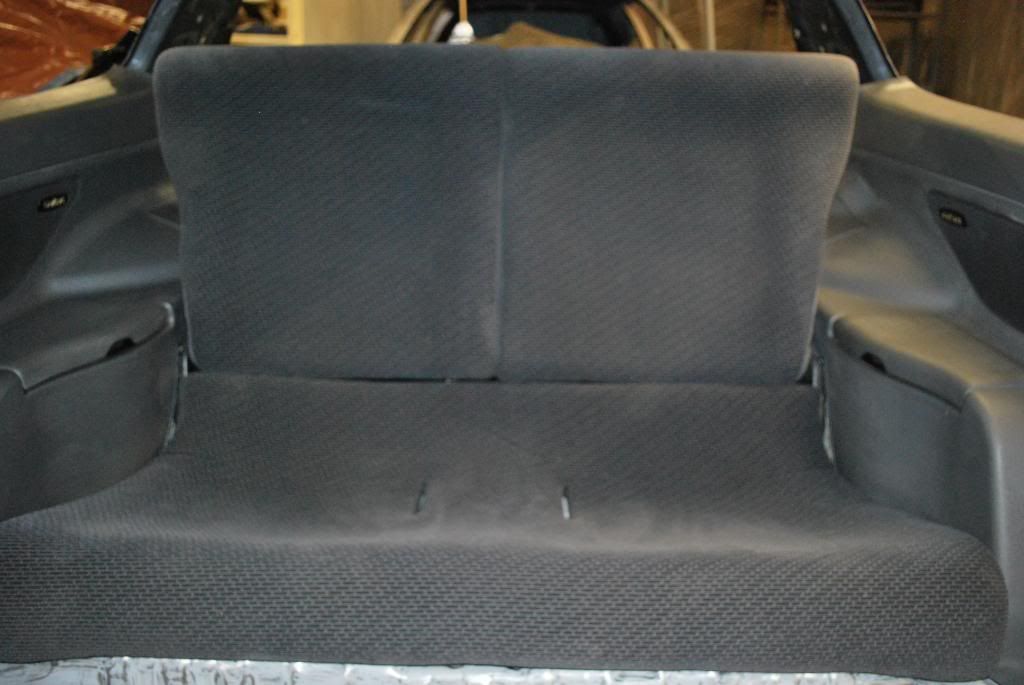 Folded down test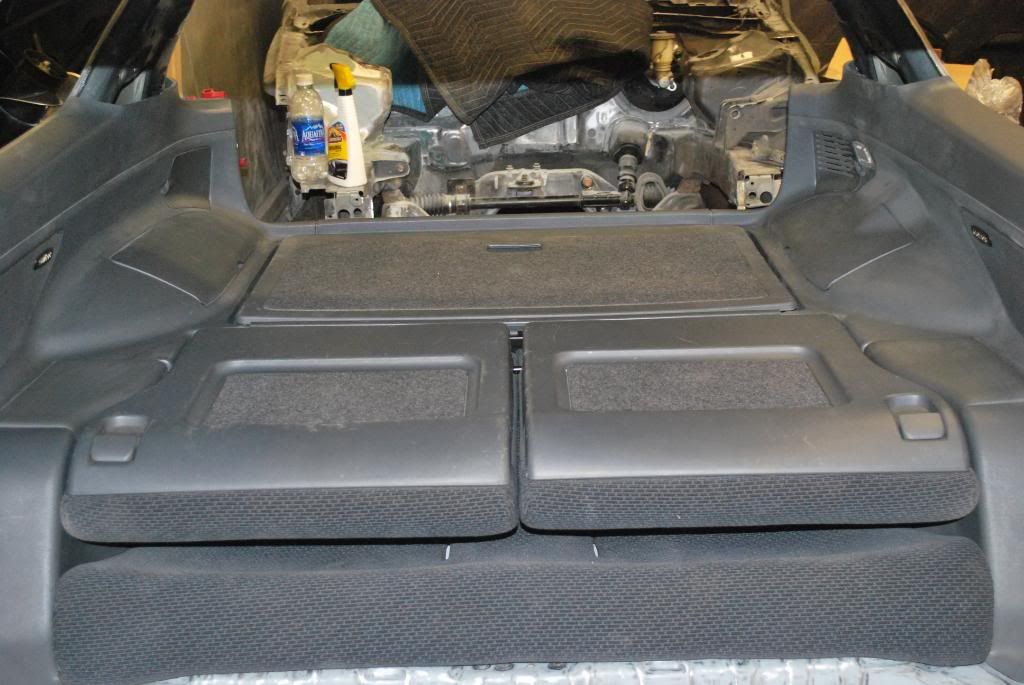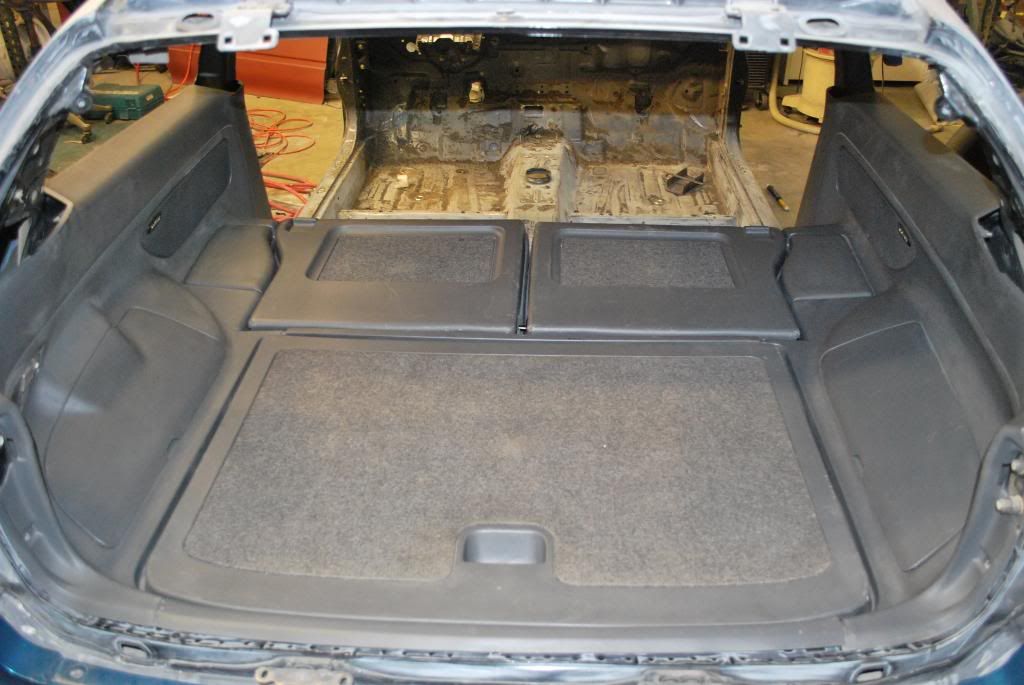 They look really good now that they are all dyed it took care of most of the little scuffs when I had to get them all dull with scotch brite pads to do the dyeing!
Also my JDM cargo light =)
Well the time has come here is the Heart of it all! K-***
02 RSX type S engine 110,000 on it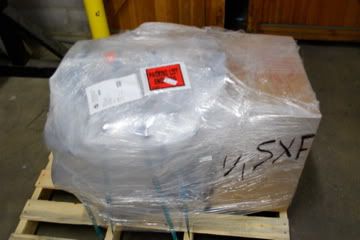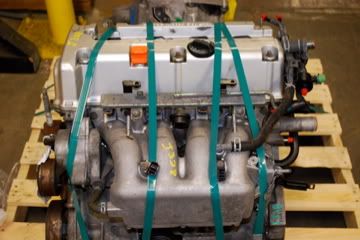 6 speed tranny 90,000 on it
So I had to test fit it right away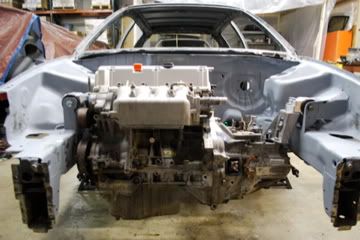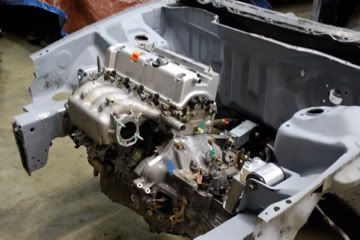 This thing was from a salvage yard in St. Cloud MN so it was all wrote on and nasty from the winter road salt we have here so on to cleaning it up, and you can't leave it stock so I got more goodies from honda!
:thumbup: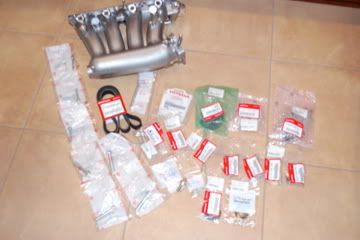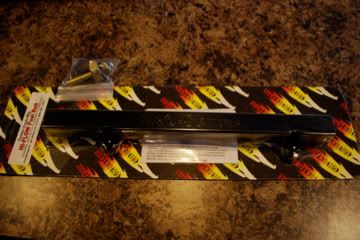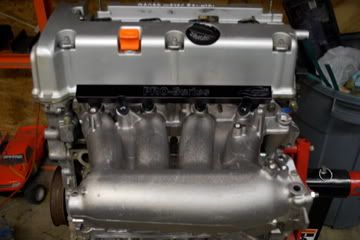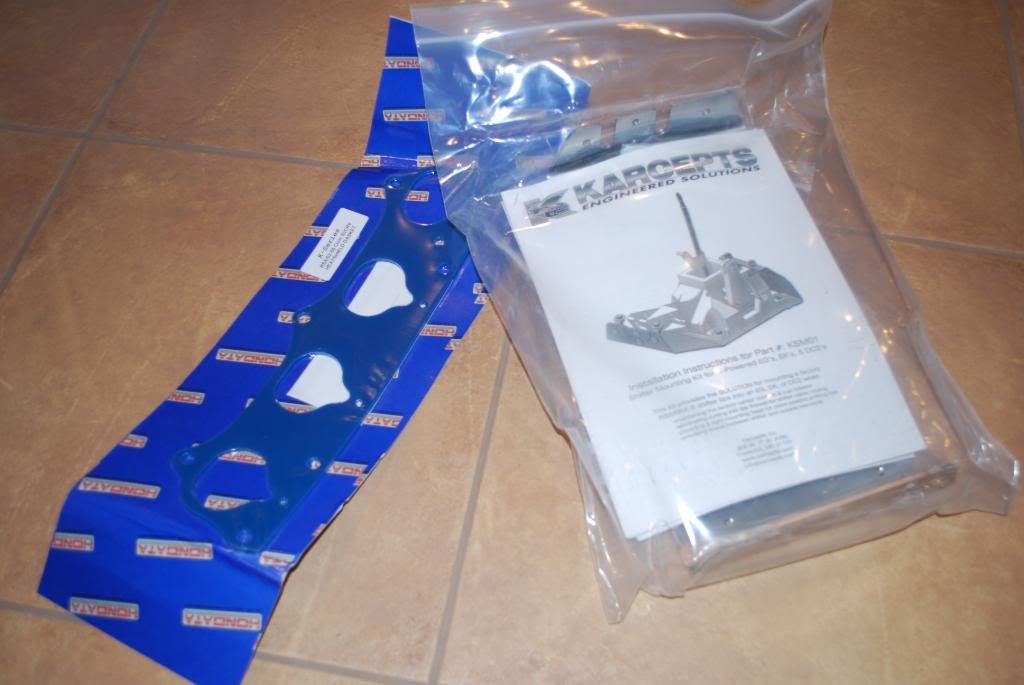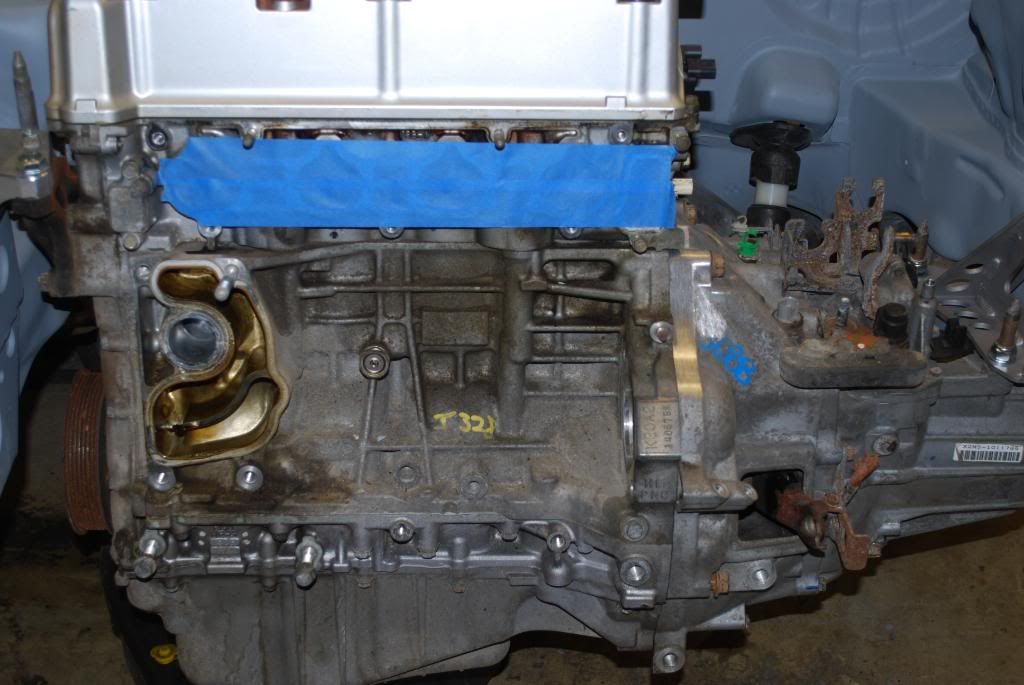 Then after first attempt at cleaning it!
Installed my Karcepts shifter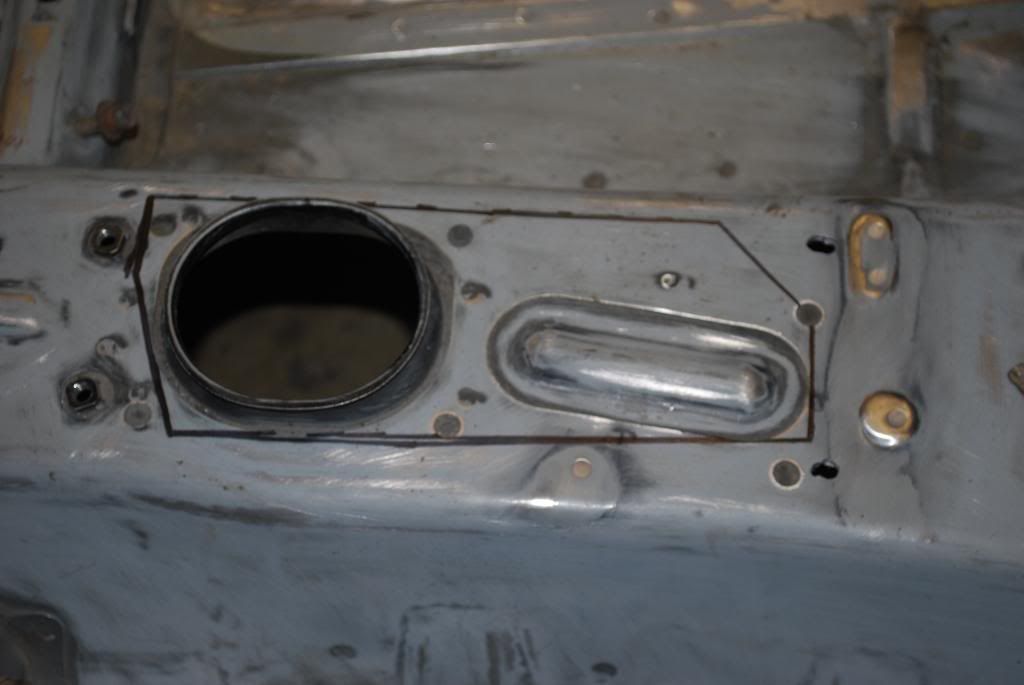 No turning back now! *nervous*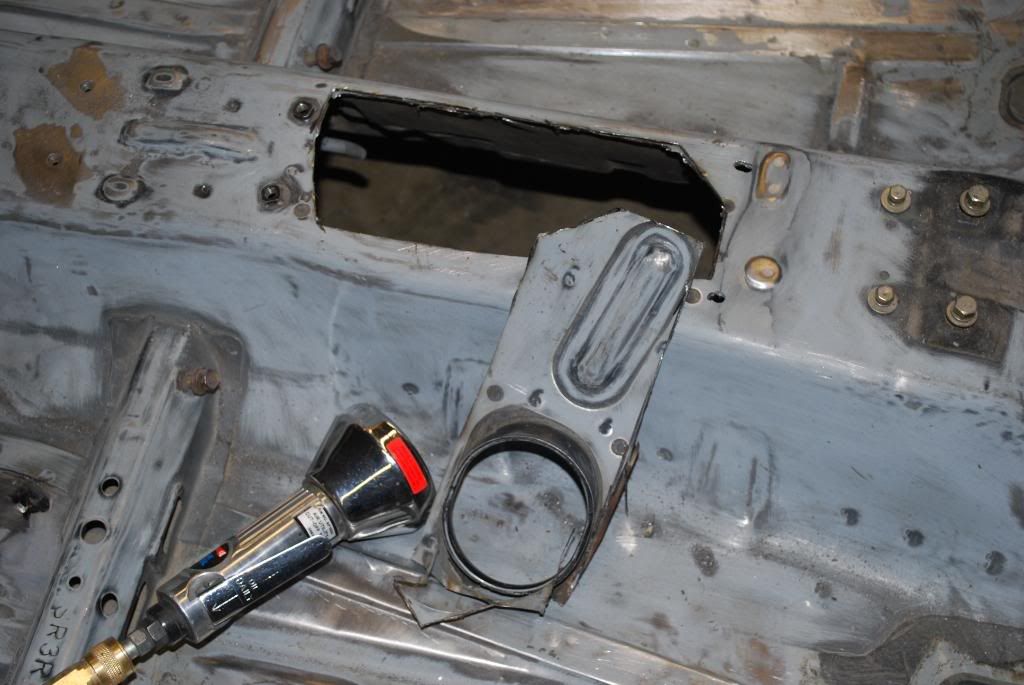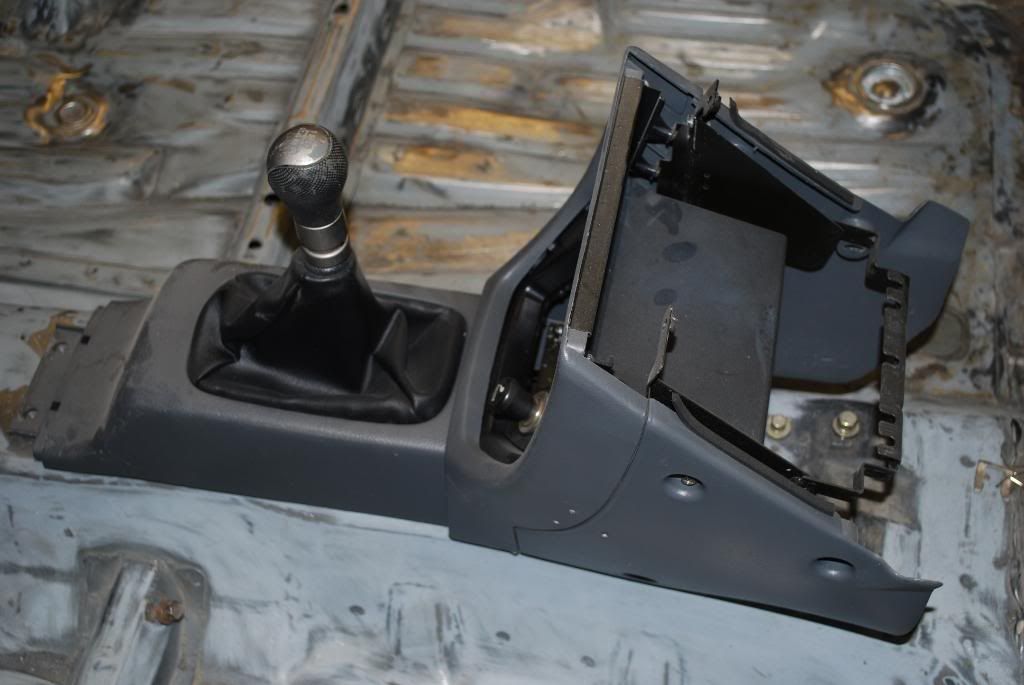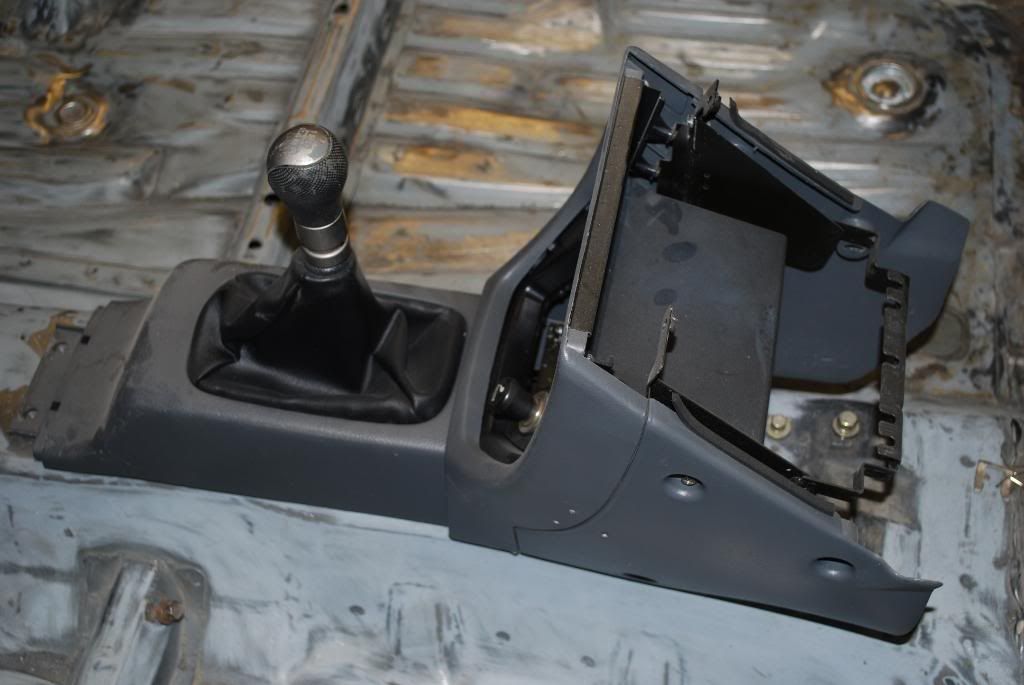 Now onto the intense wire wheel session on my engine at trans this has taken me probably 10 hours to get it this way. I am planning on building the head with full Brain Crower so I am waiting to paint the engine till I have enough money to do that right after I take the head off.
Test fit of some of the stuff just want it done already lol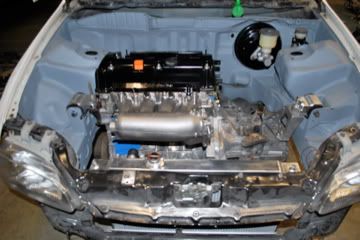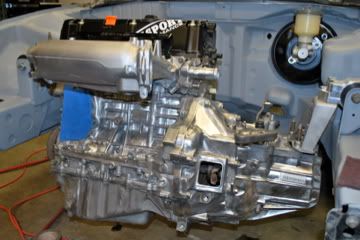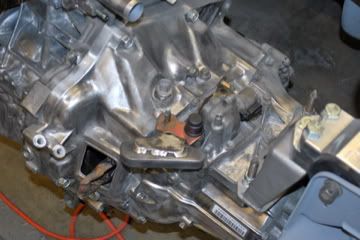 Then I took the engine out for two reasons first being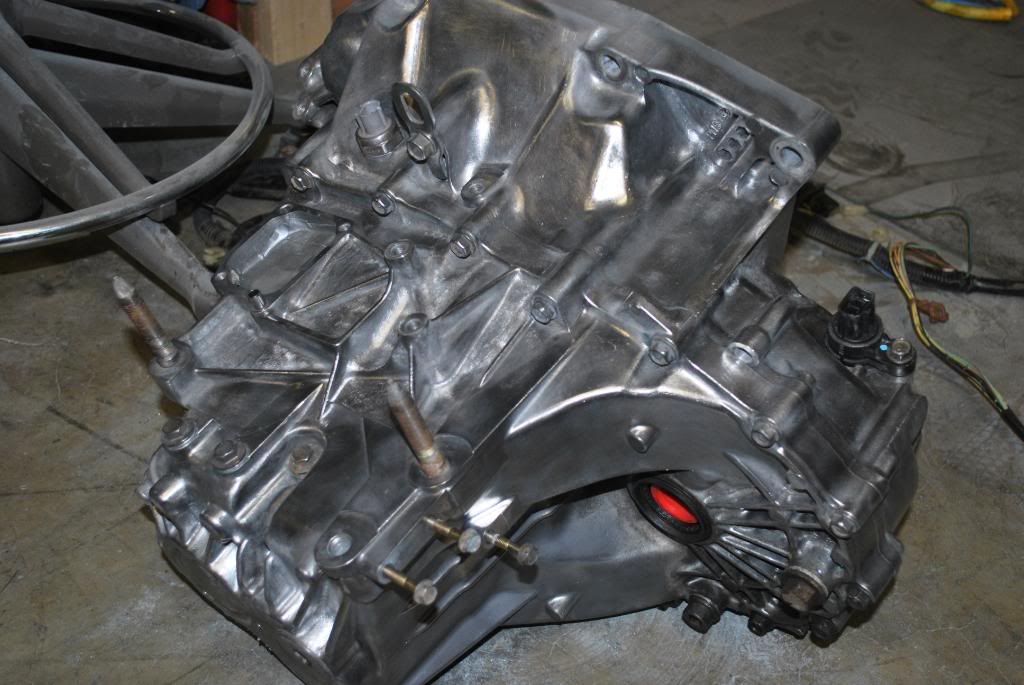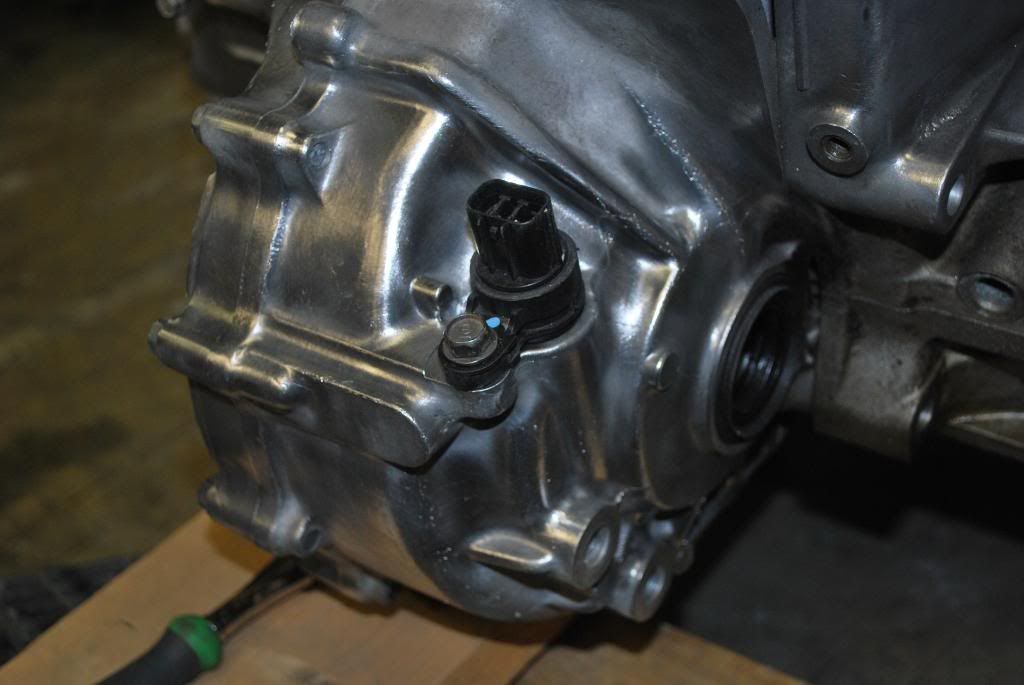 Then put a little bit of Seymour Dull Aluminum paint on it which really set it off :bang: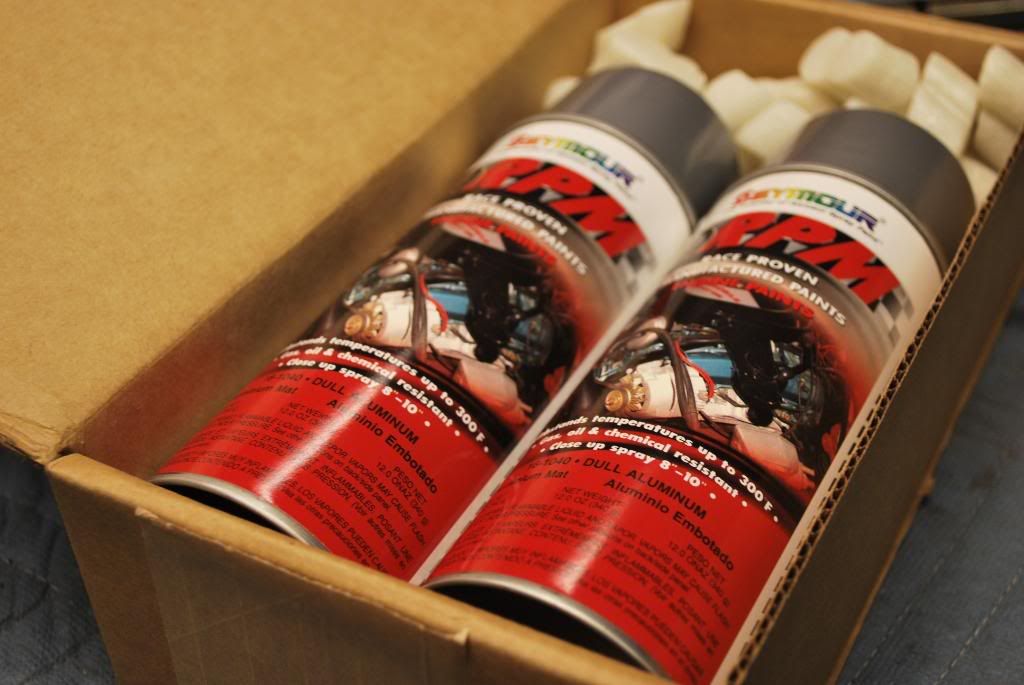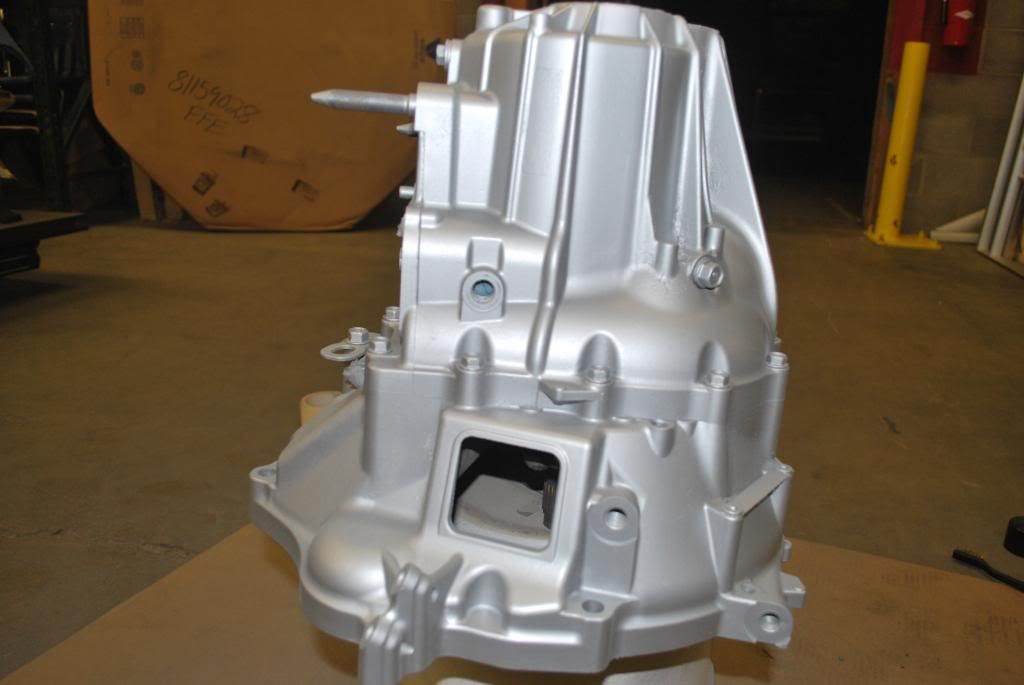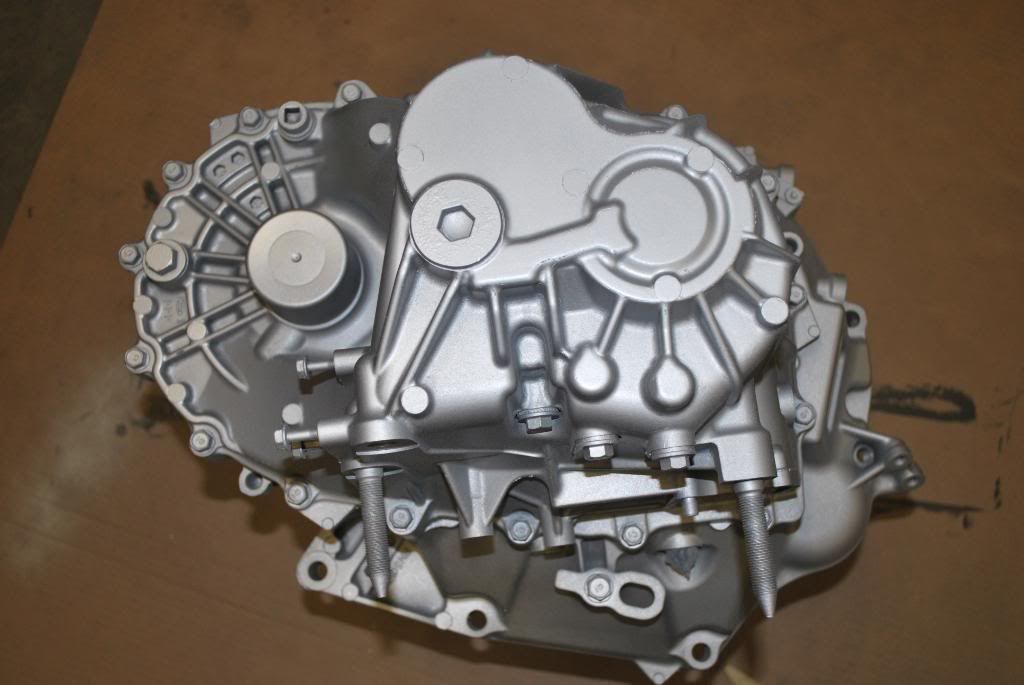 Well after all of that work I was still feeling like I had to do one more big thing. The previous owner had bottomed out the car which bent the back subframe making the lca's hard to get out and the bolt had snapped off and it was all dented from him jacking up the car with on it so. I flipped the car on its side with some of my buddies I ground all the undercoating off and redid it completely and also ordered a new rear subframe from honda to replace the shitty one
Before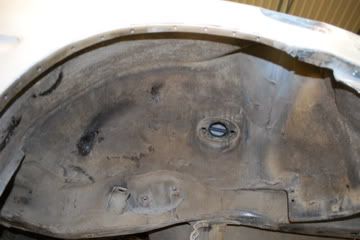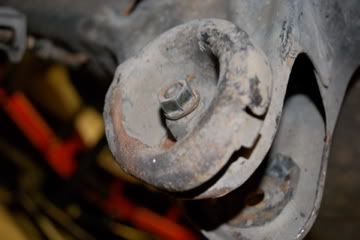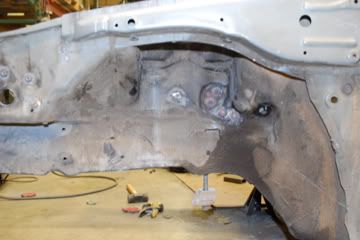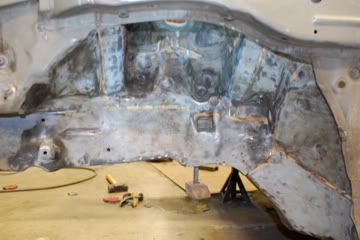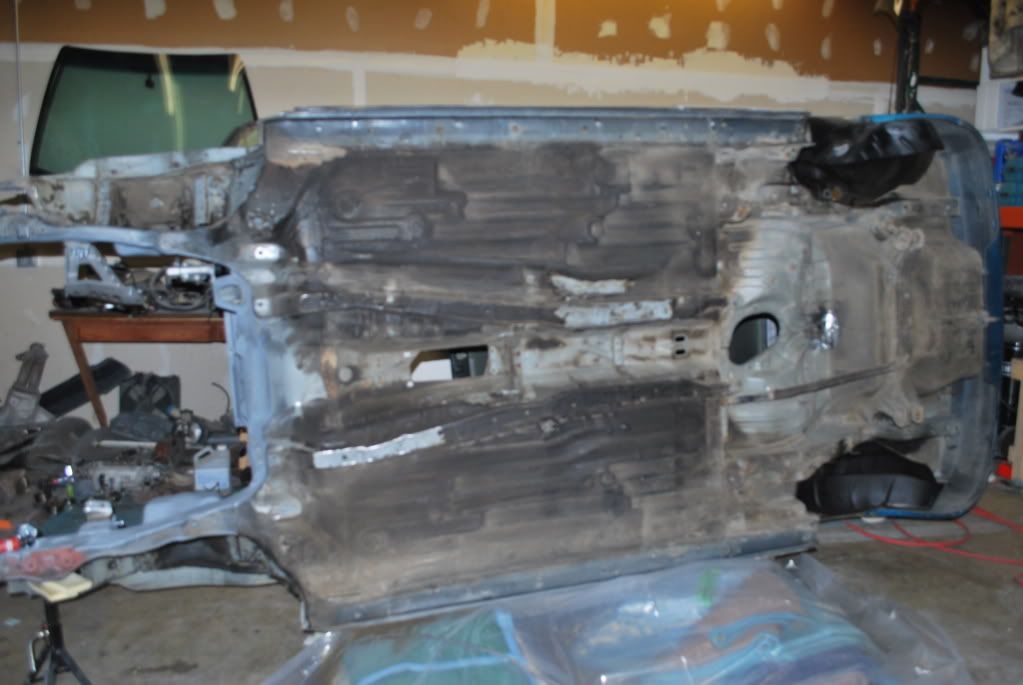 Halfway done
All the old sound deadening off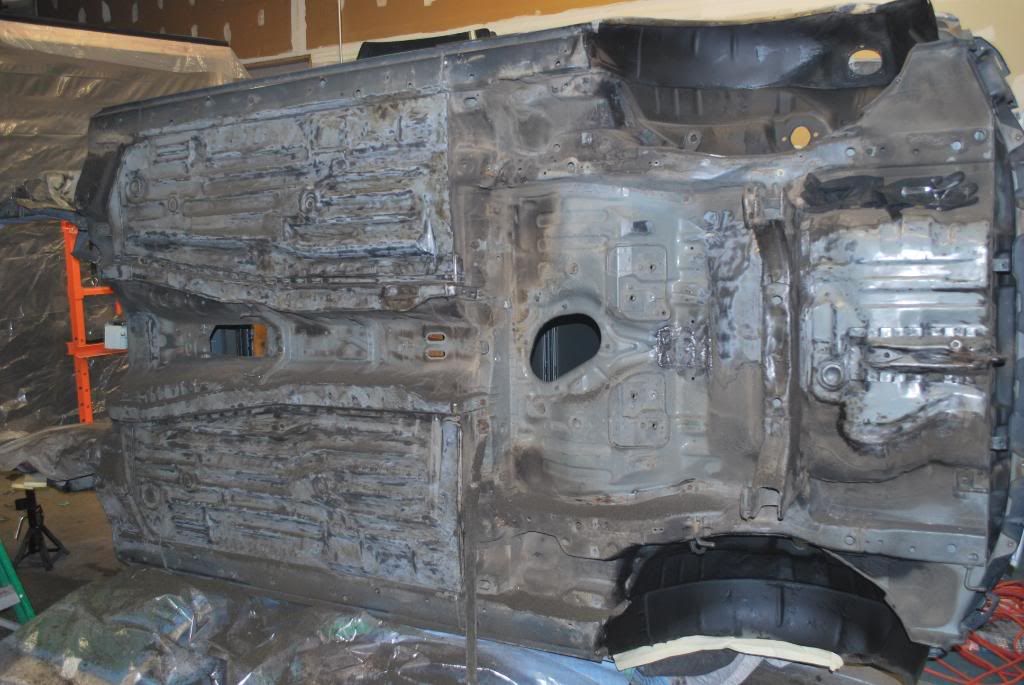 Then to get all the melted tar off I used a lot of carb cleaner and shop rags to come up with this
Then I got 8 cans total and recoated it with this! For that great OEM look :bear: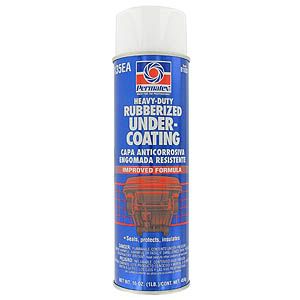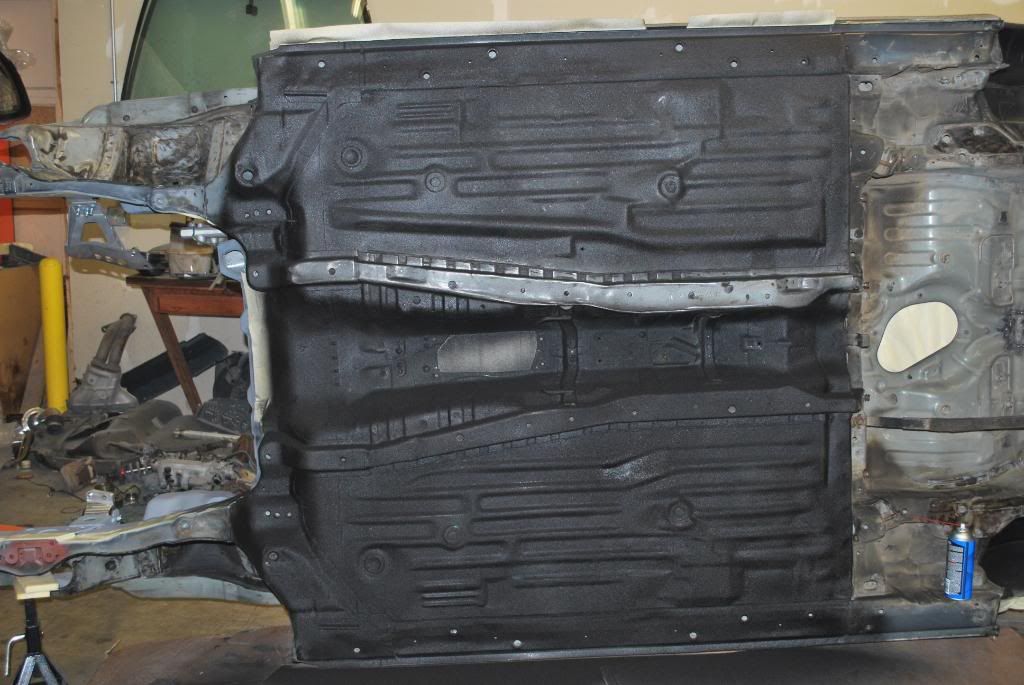 Modified by JDMcivbomb at 4:53 PM 5/11/2009
Modified by JDMcivbomb at 6:56 PM 5/11/2009
Here is when how I replaced the rear subframe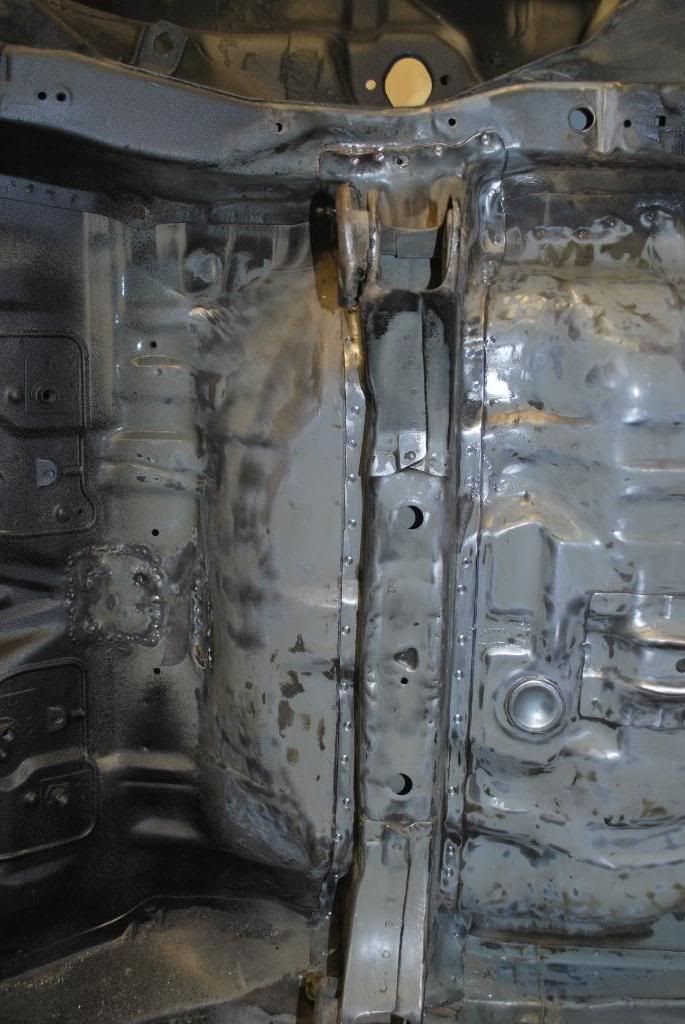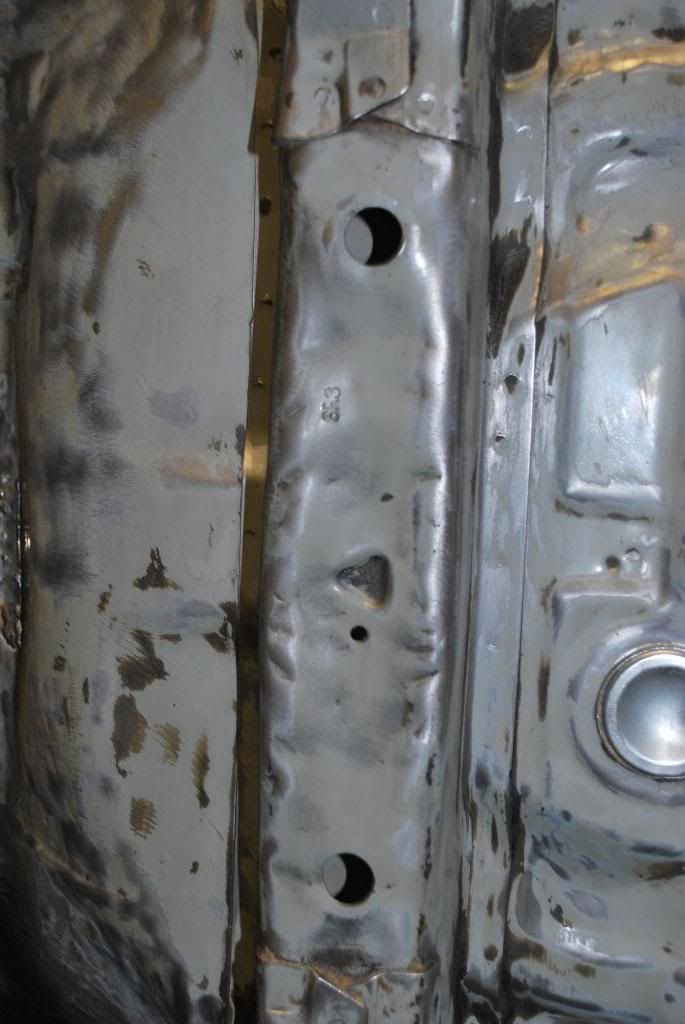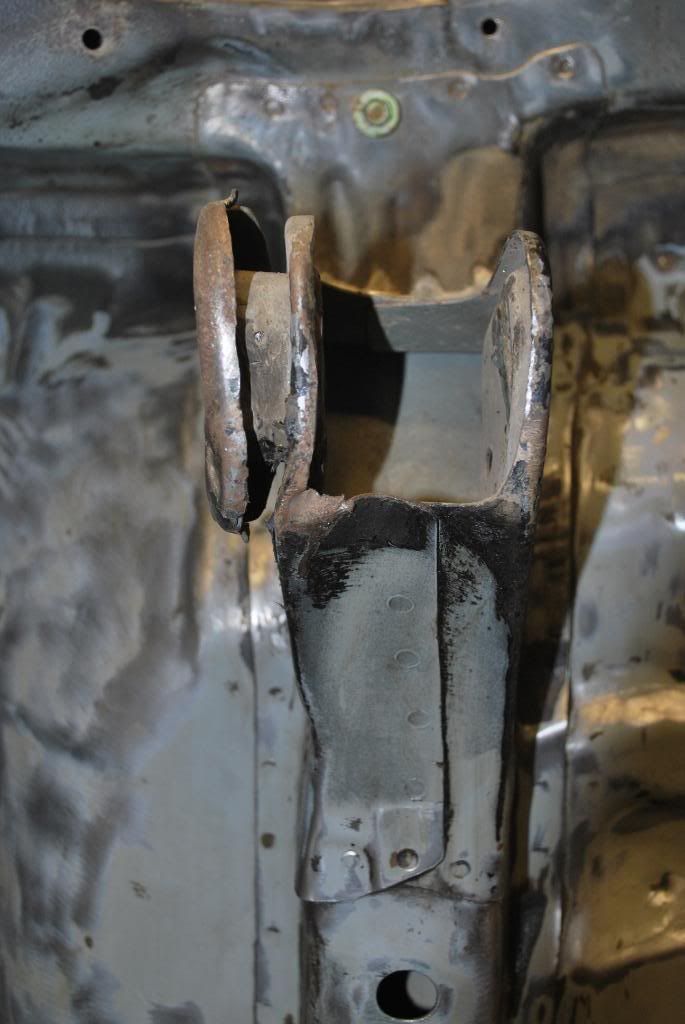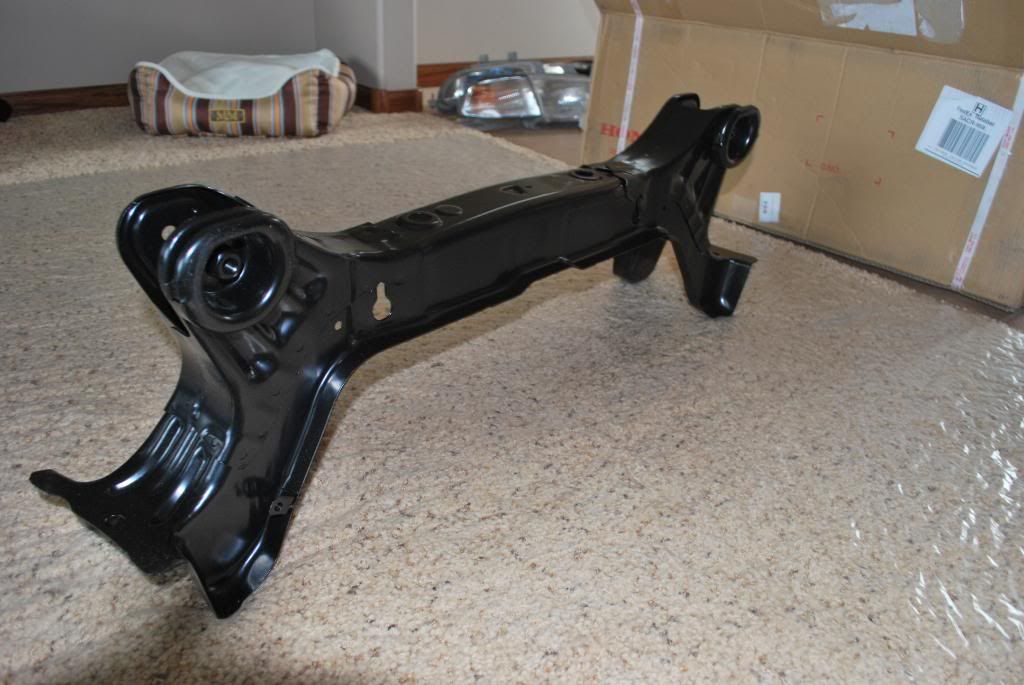 Somebody didn't want me to take pics of it though my new mini dachshund Munch
So after drilling out 65 spot welds on on rear subframe it came off perfect!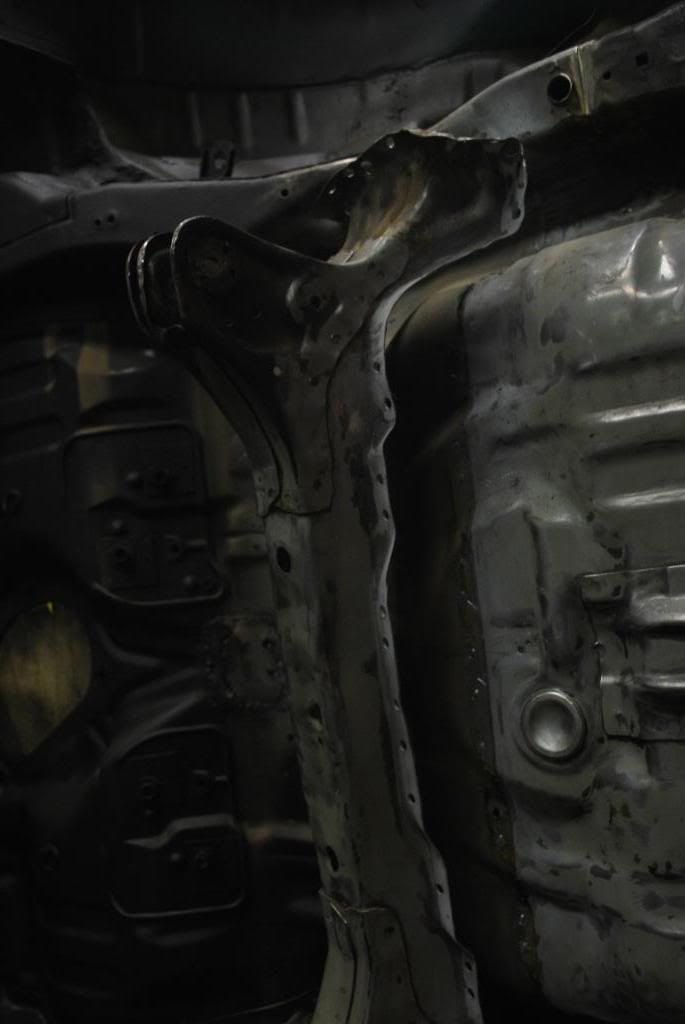 New and Old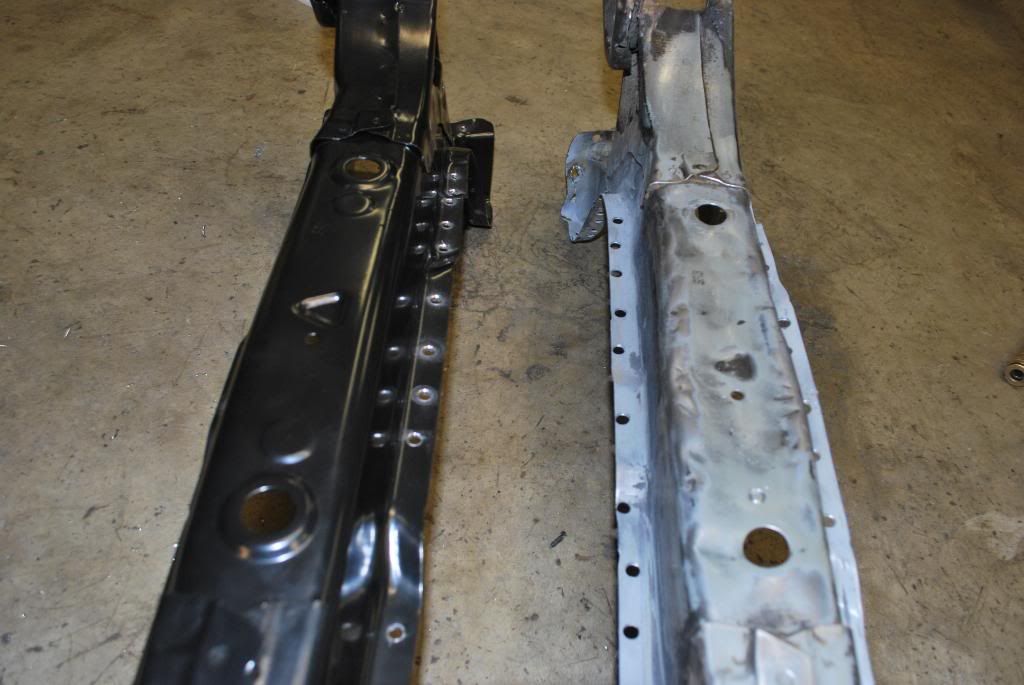 Drilled out new holes in the subframe then got it fit in just right!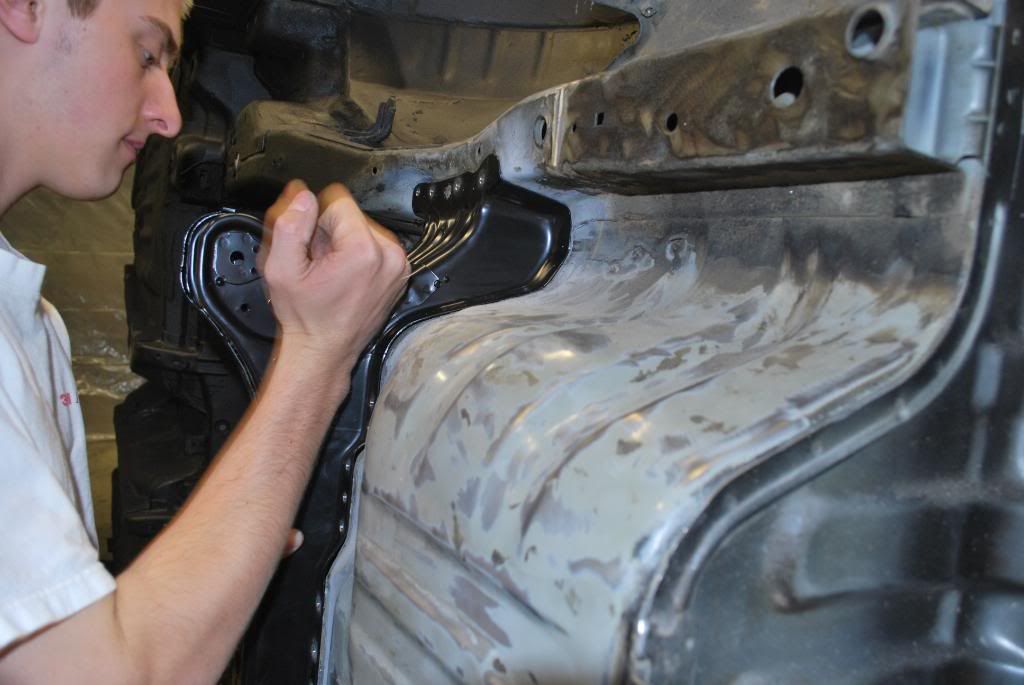 With the help of my friend Leon we got it all plug welded on to perfection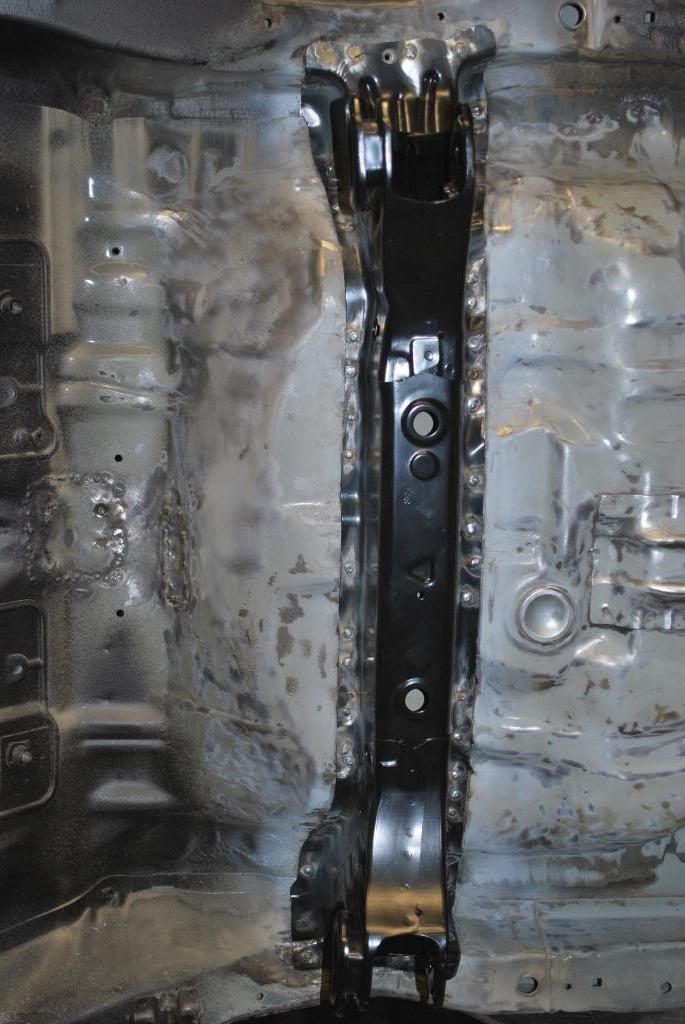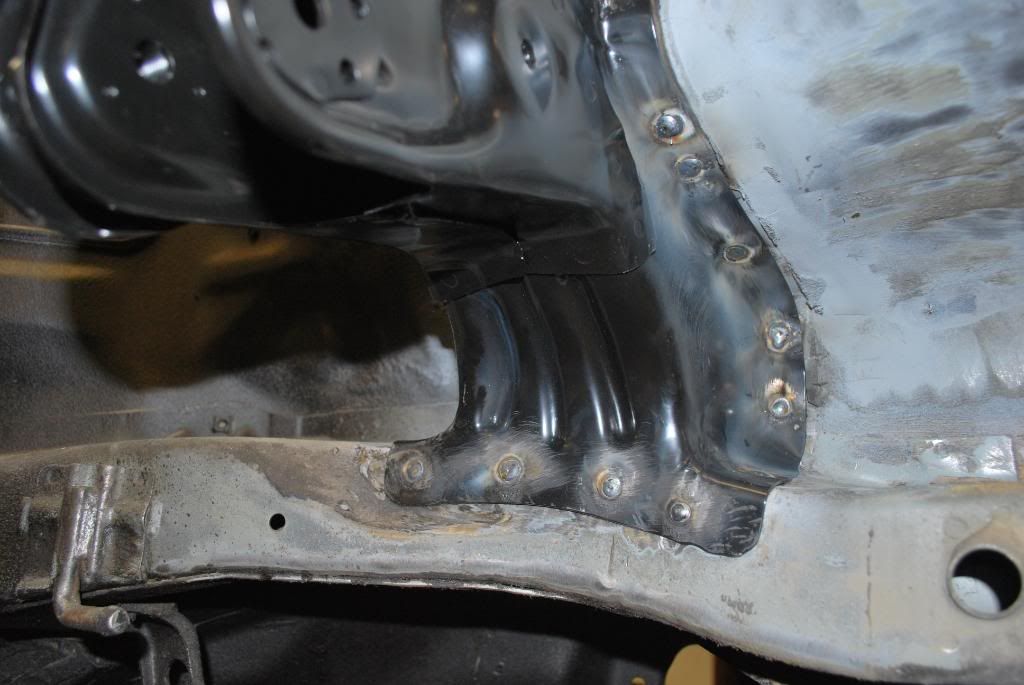 Painted up for a little more protection against rust then undercoated it after that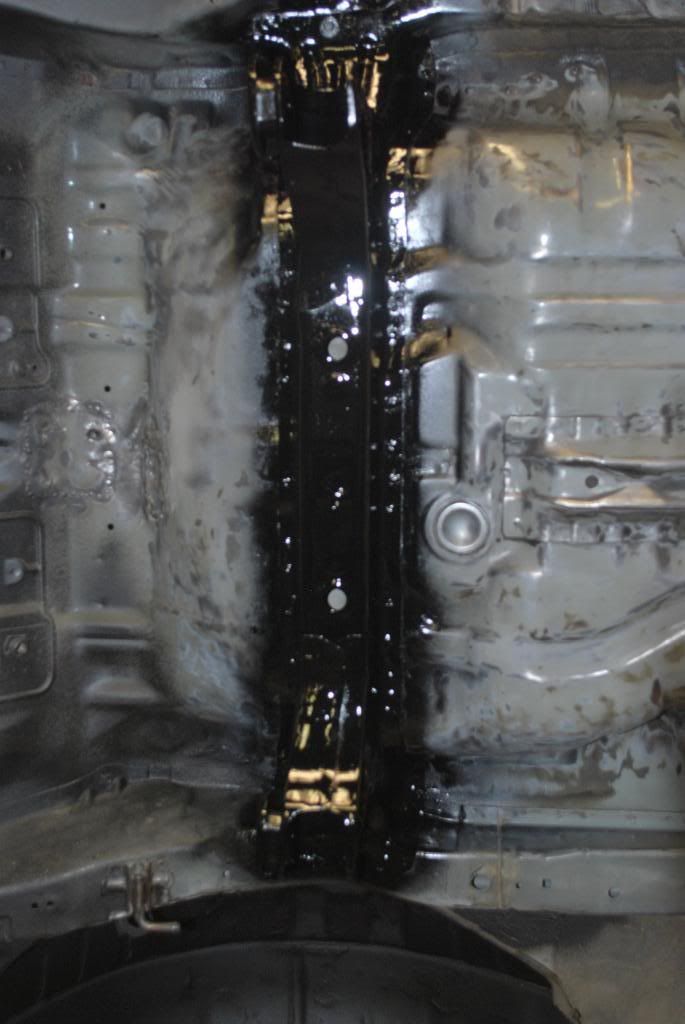 Tapped off the front frame rails so I could just undercoat the bottoms of them
One more picture of the tranny all freshened up and put back together I will be purchasing all new bolts for it very soon.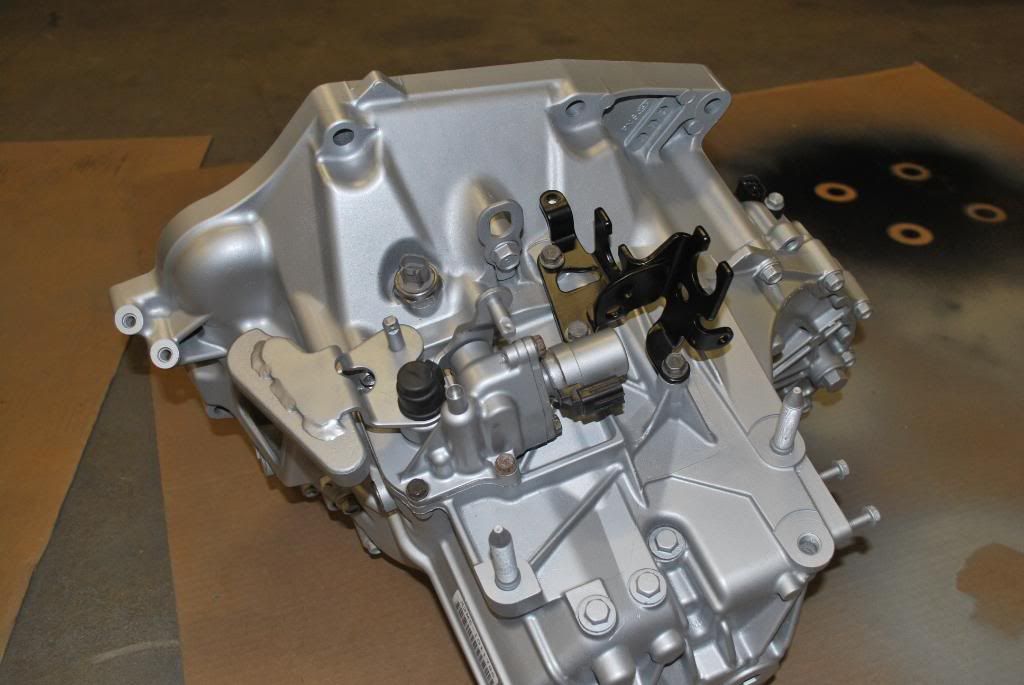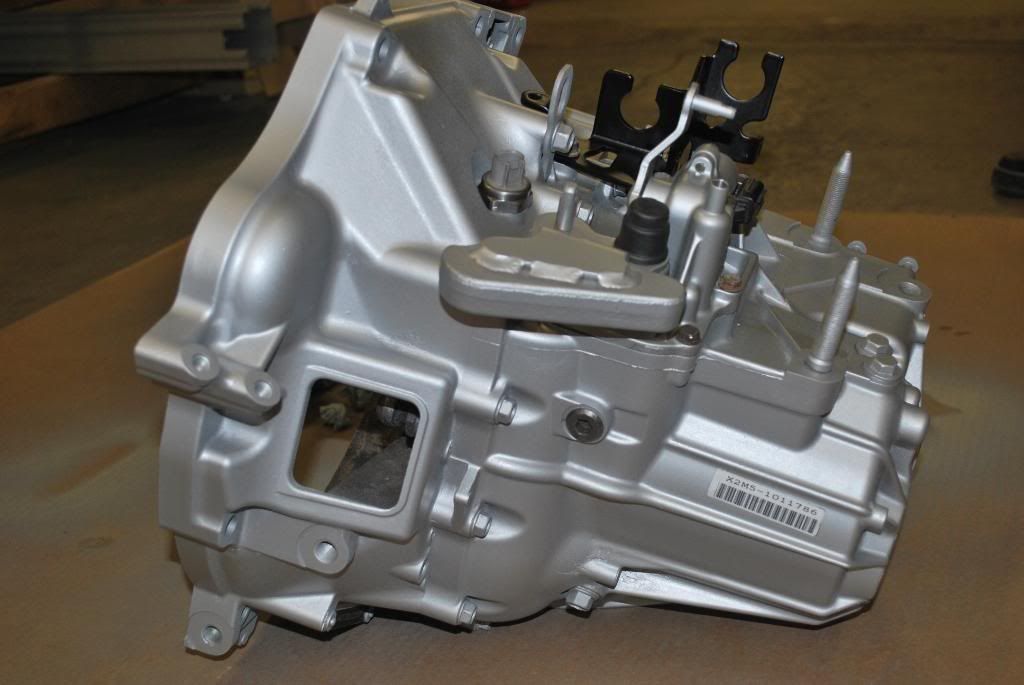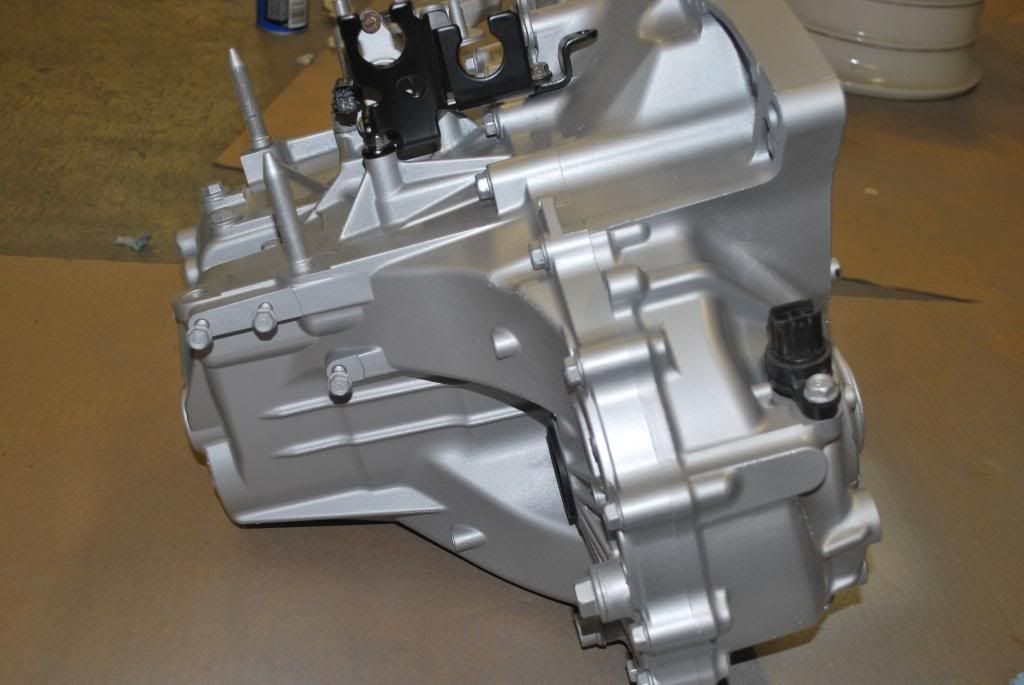 I got my wire harness and the gay ass from the same place I bought the engine from sent me it and by the three ecu connectors it has some will harness spliced into it so i ripped that off. It shouldn't be a big deal because it was a foot from them so ill just have to depin them and shorten it up. Also took all the factory covering off it so I can start my wire tuck and re sleeving!
Before
After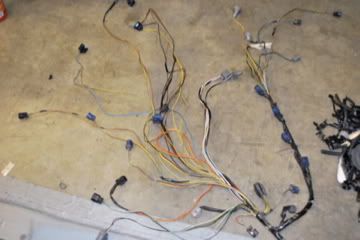 Garbage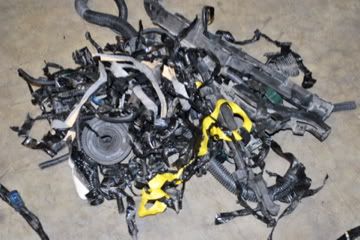 Now that you are up to date I will be working on body work to get the car flawless for paint I will be placing a huge order with honda for new OEM fenders, hood, bumpers, rear bumper beam, side skirts, top moldings, and a S2k clutch cylinder, also all hardware to hold everything on as it was stock and splash guards
Well dug a little in my cabinets last night and found this stuff.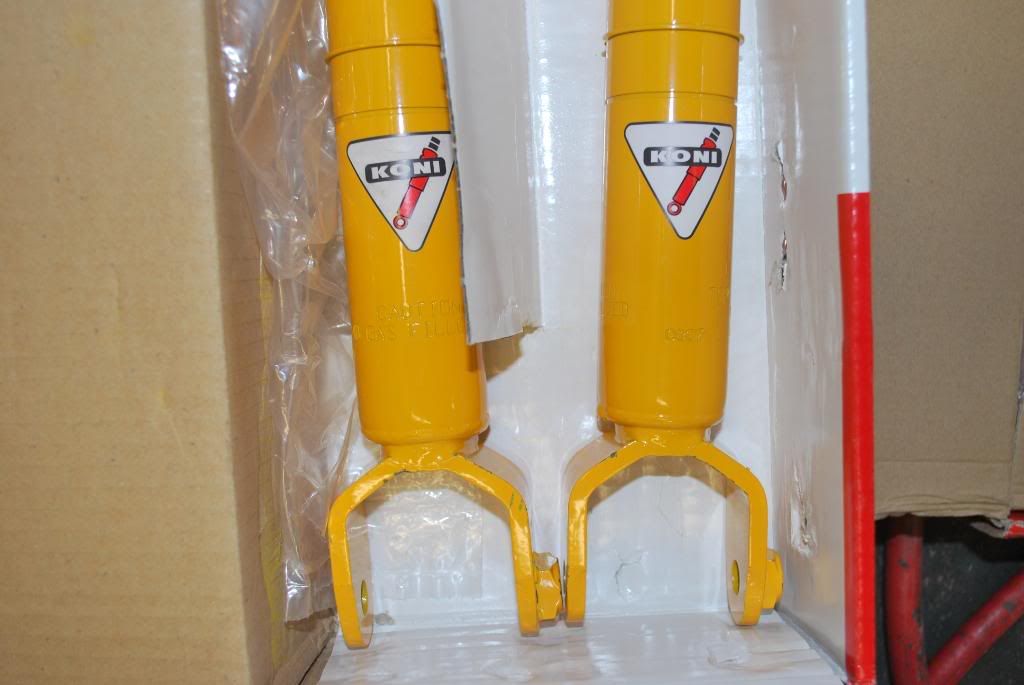 And you guessed it Ground Control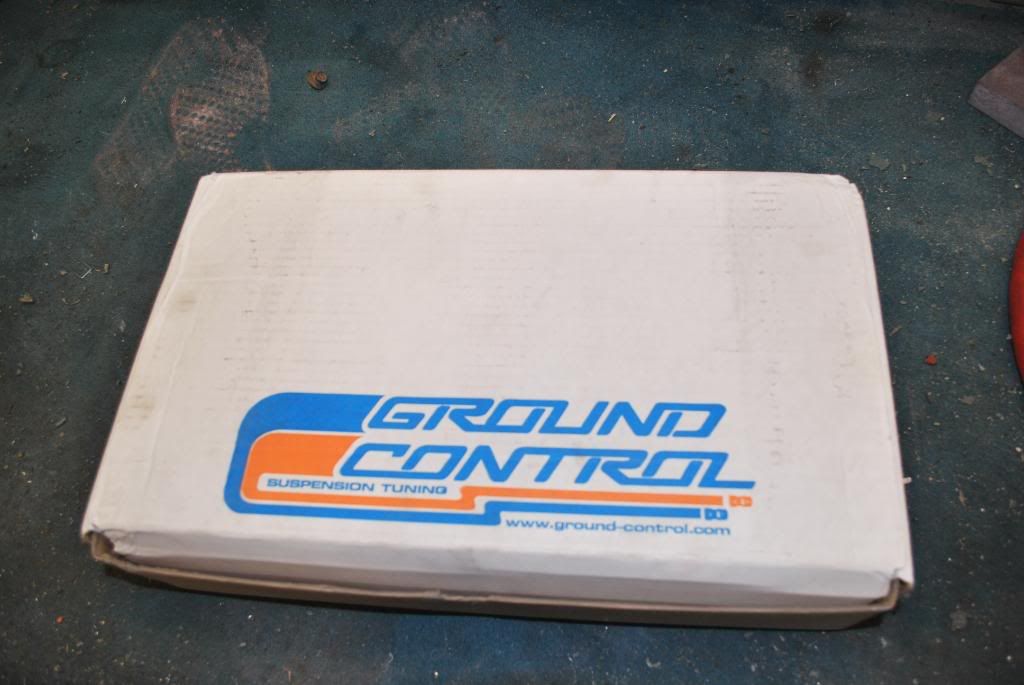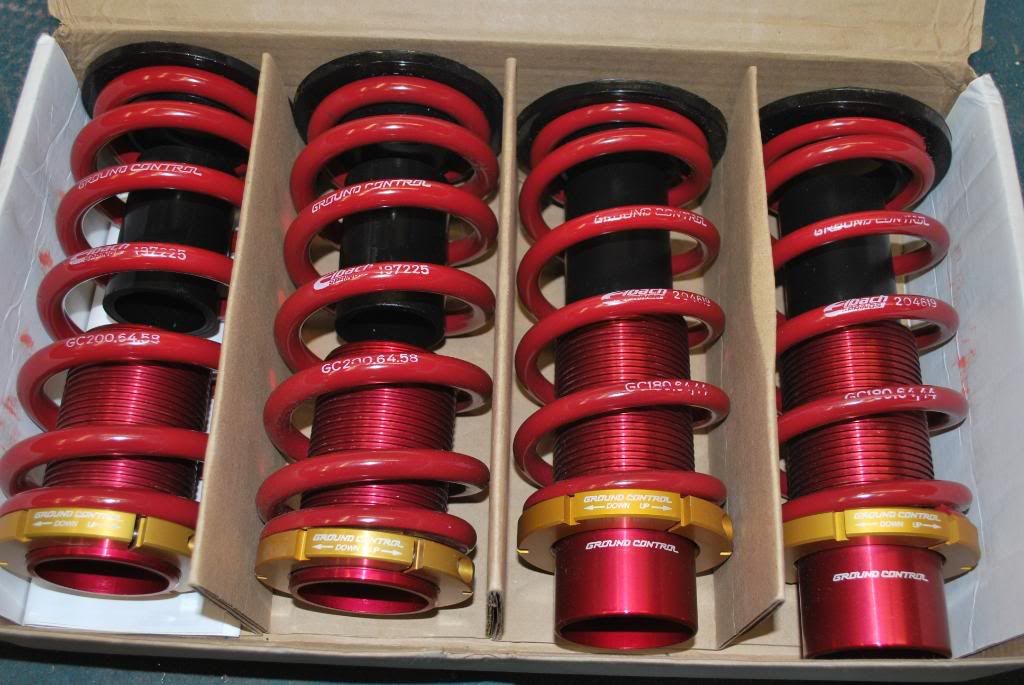 I Started blocking the car so I can finally get this thing painted this is the color I am getting.
Captivia Blue if we can get RHD jon or Rotten EGG thats the color im getting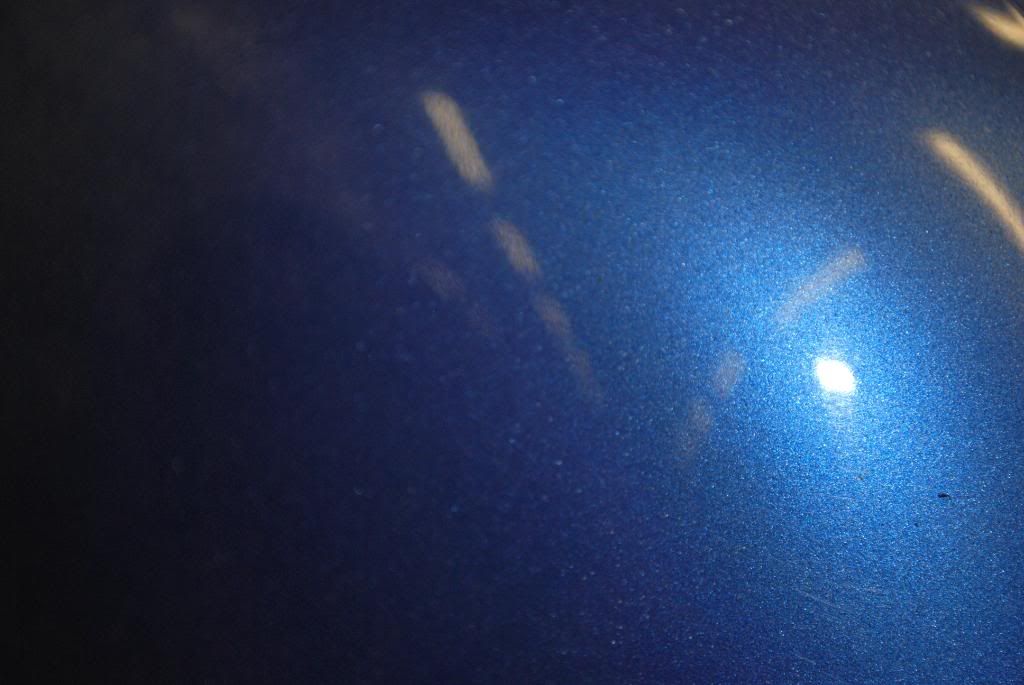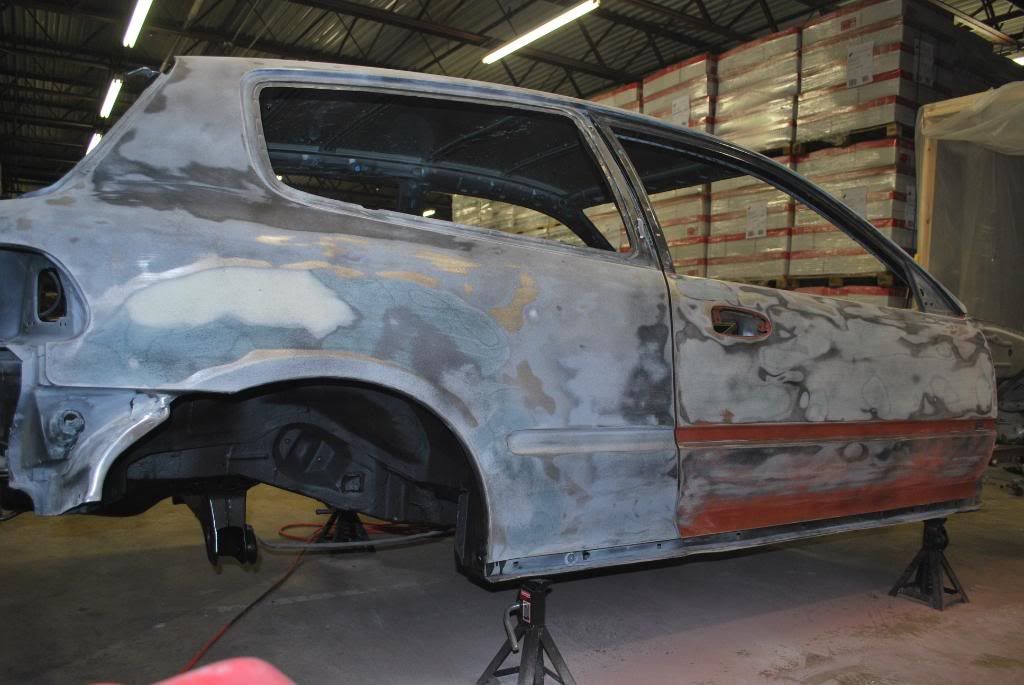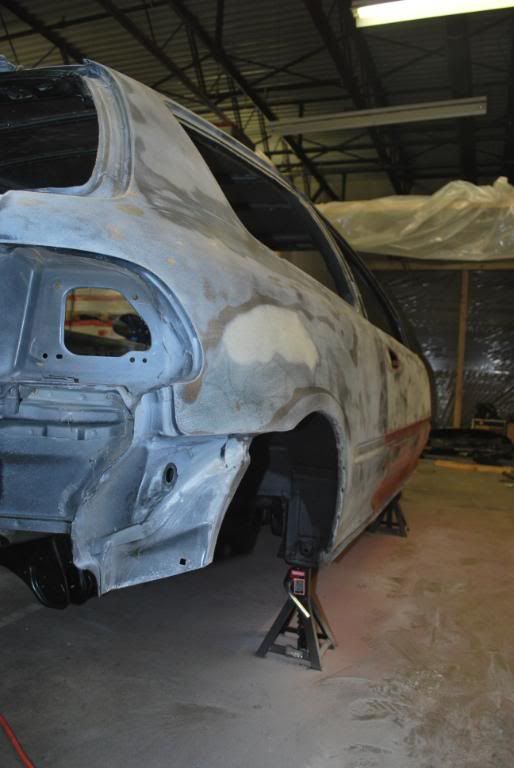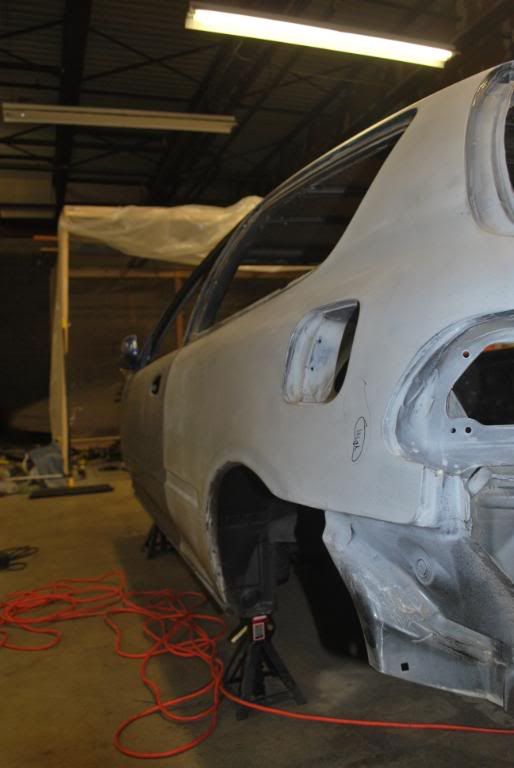 And here is a picture of the finished bottom undercoating in the back since I forgot to take one before I flipped it down. Yes I see the little spot I missed and will be getting it today.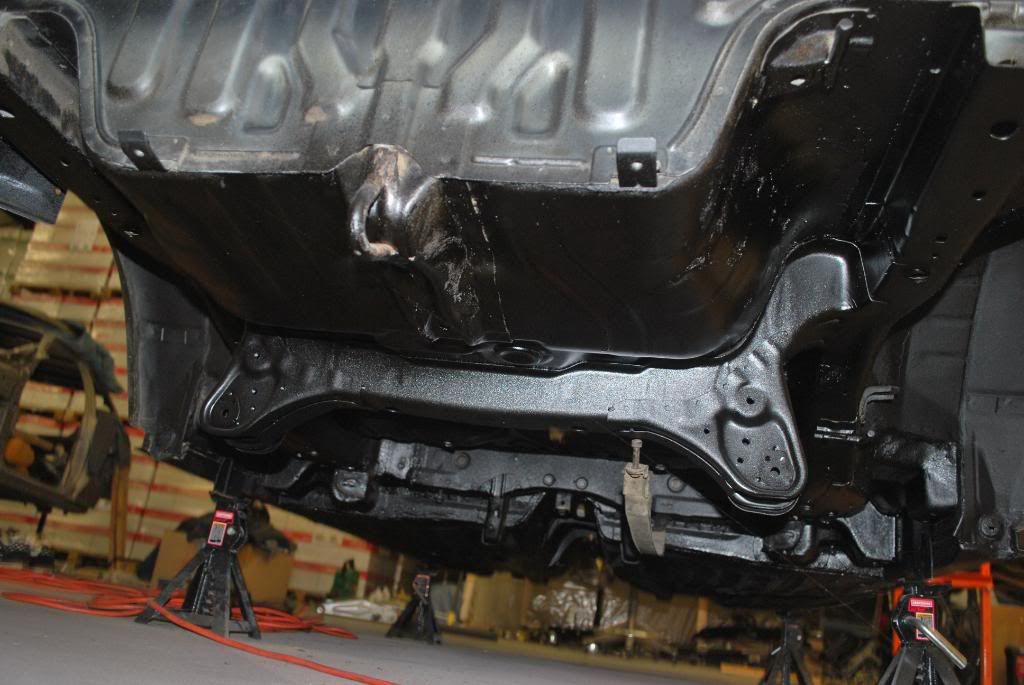 This is whats next to tackle
Started sanding down the bay for a final time to get it perfect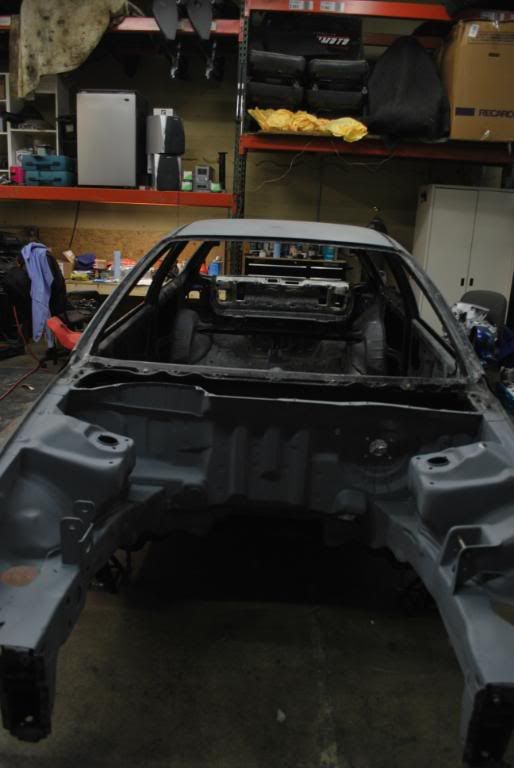 Well off to work on it
Well did some small stuff today. Cleaned up my shift fork, and my proportioning valve mount, and my exhaust heat shield. I put all the parts and stuff back on my engine because I am sick of loosing parts and bolts, it will be awhile before I start messing with that so. Started blocking my doors out the best I know. Here you go!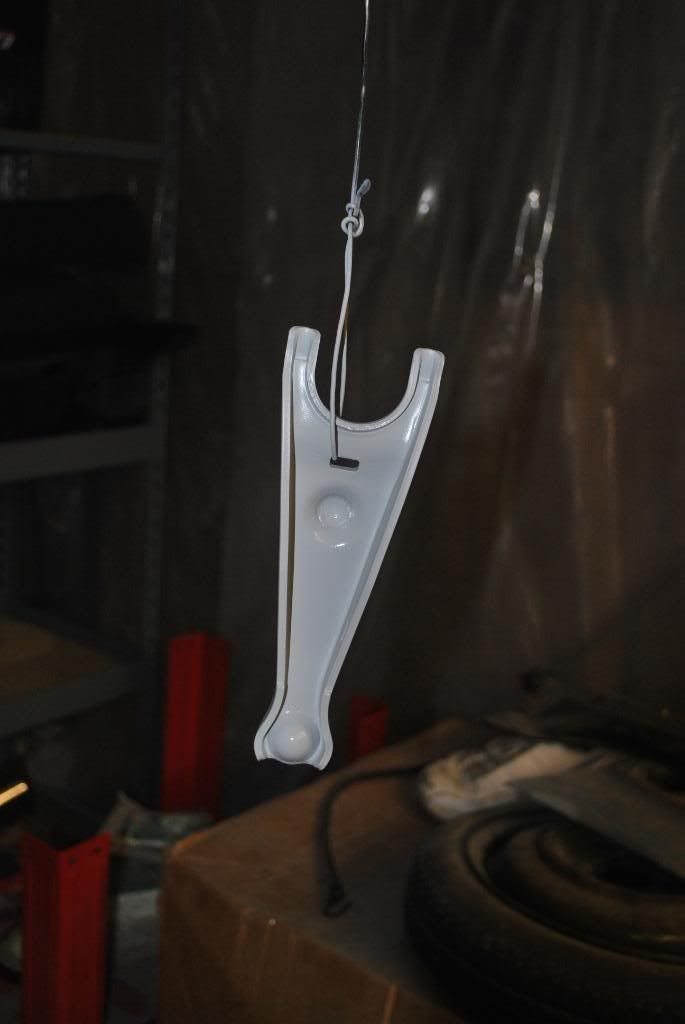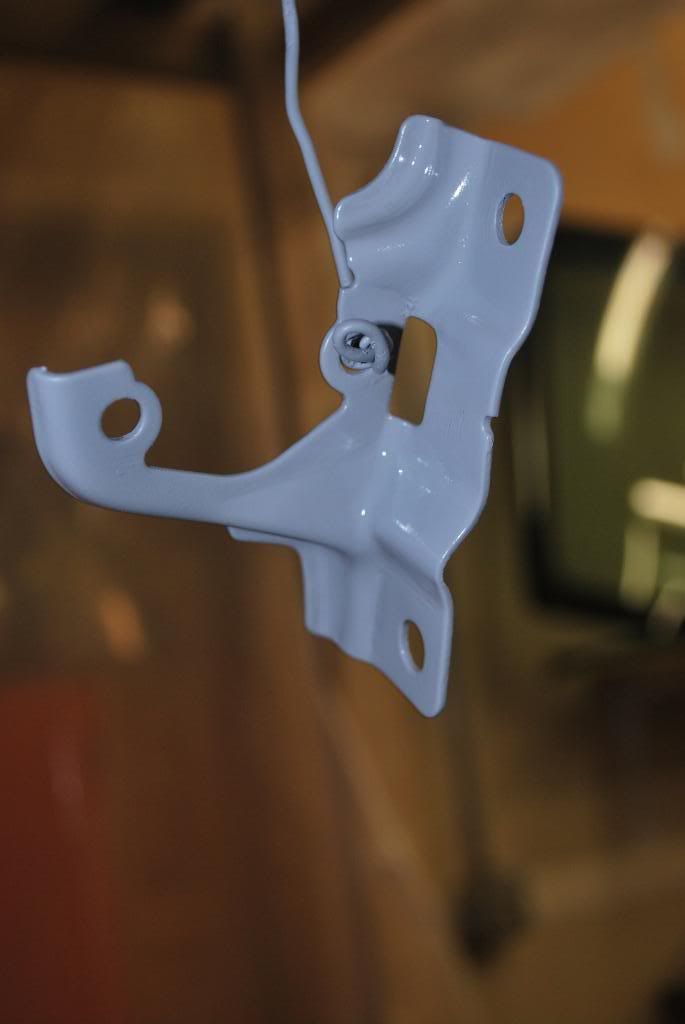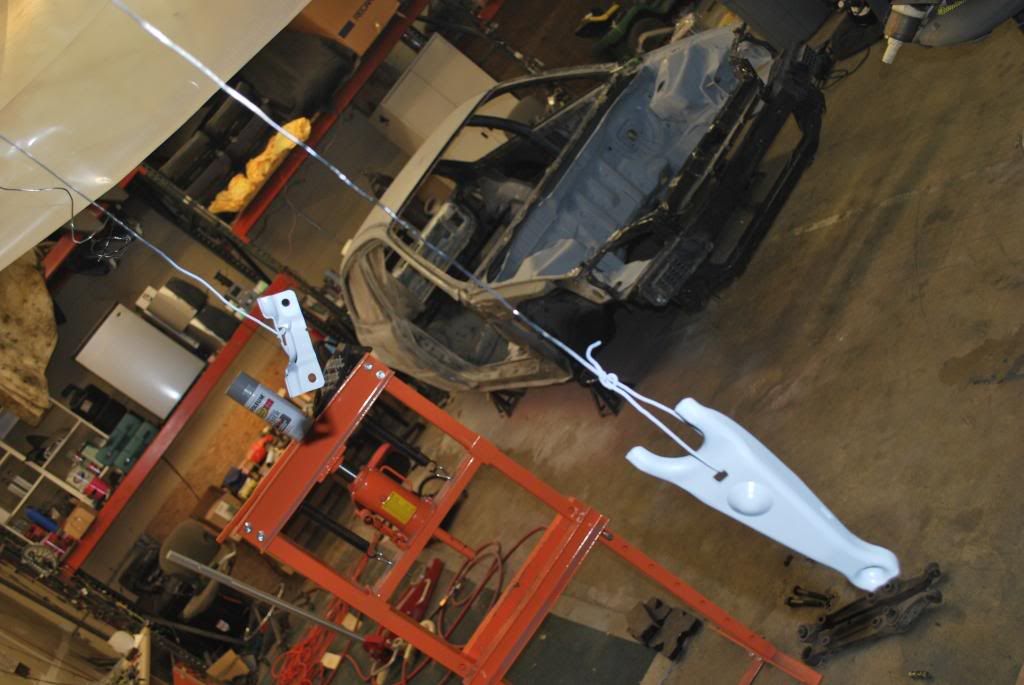 Painted it up with some Semi gloss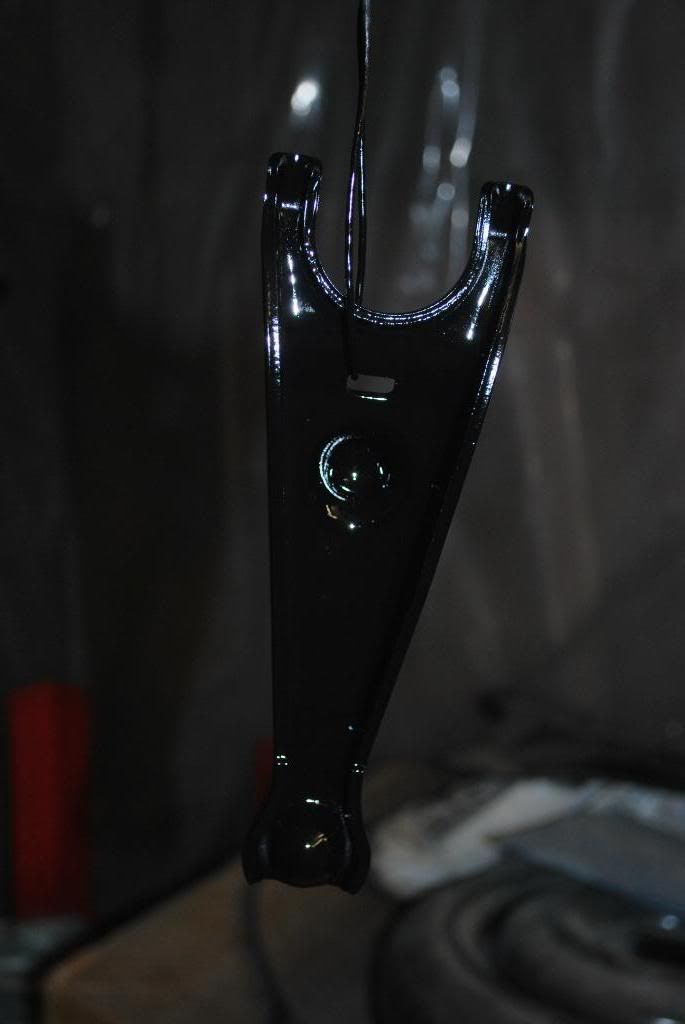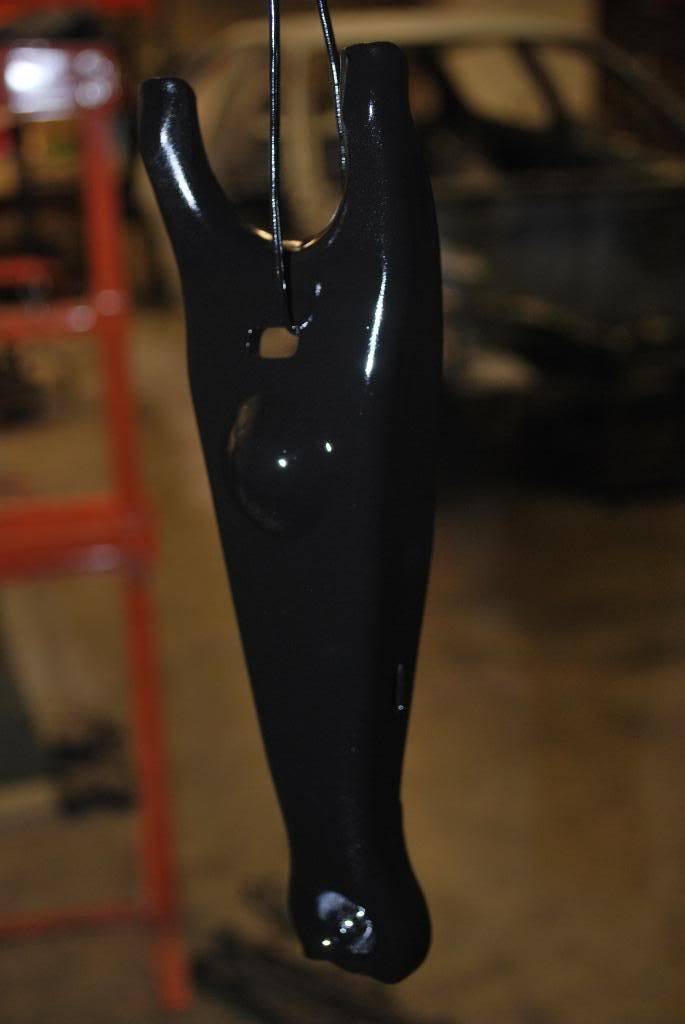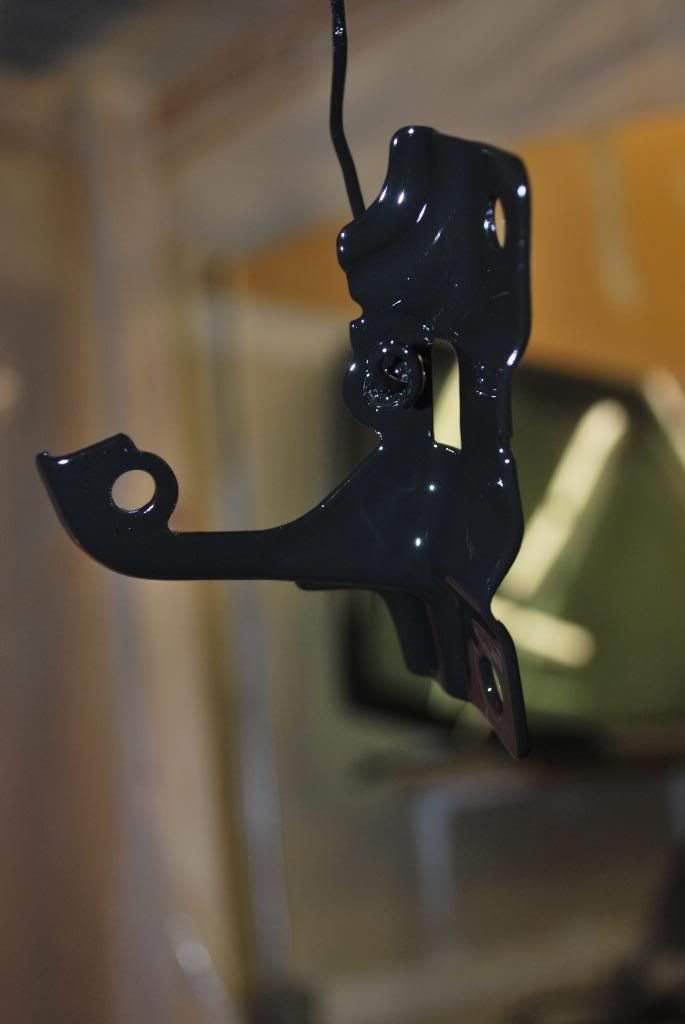 One of my shop area I work in!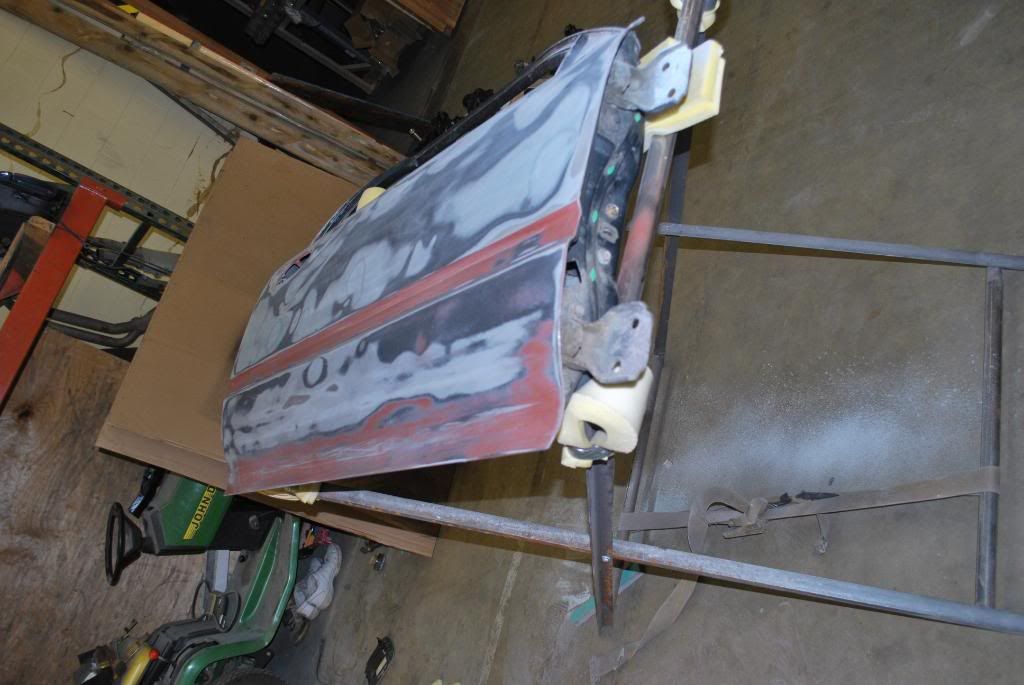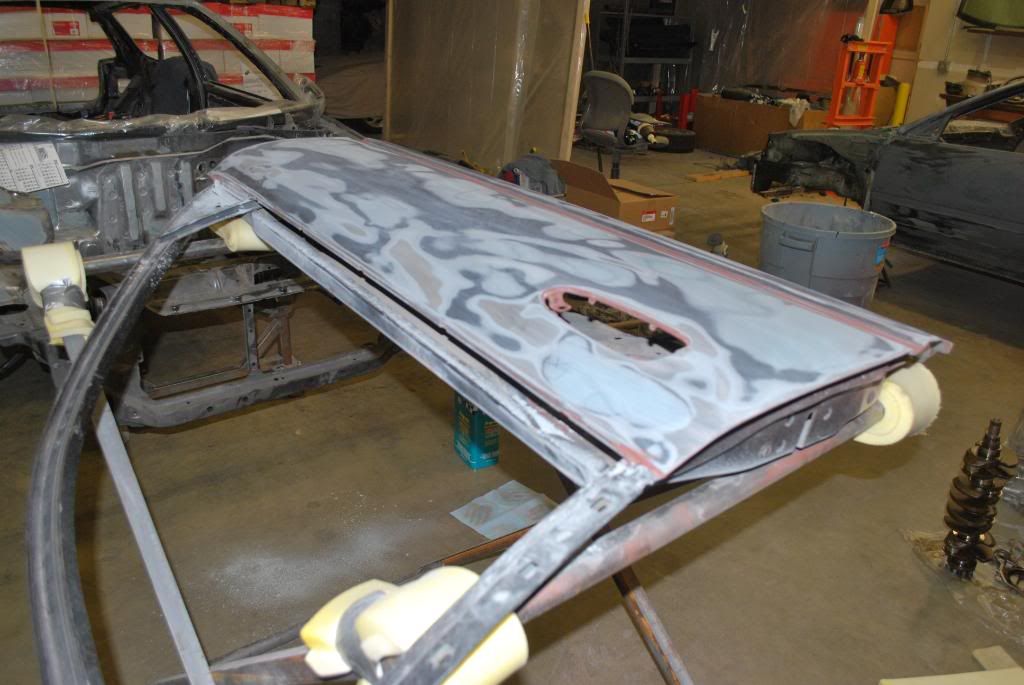 Heat shield before I cleaned it!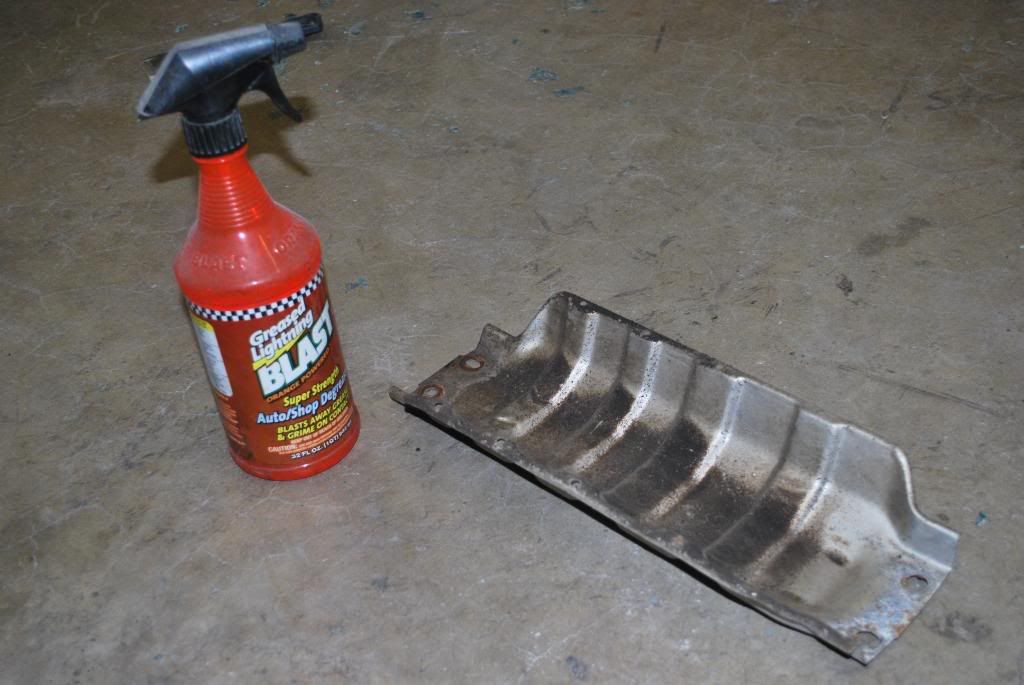 After
Then I decided it would be good to undercoat the side that will be closest to the car away from the exhaust
I will paint the other side with high temp black paint now
Well when I was putting my valve cover back on I decided to wire wheel the nuts to give them a little extra shine. Its the little stuff that counts to me and I have nothing but time my friends. :corn:
Before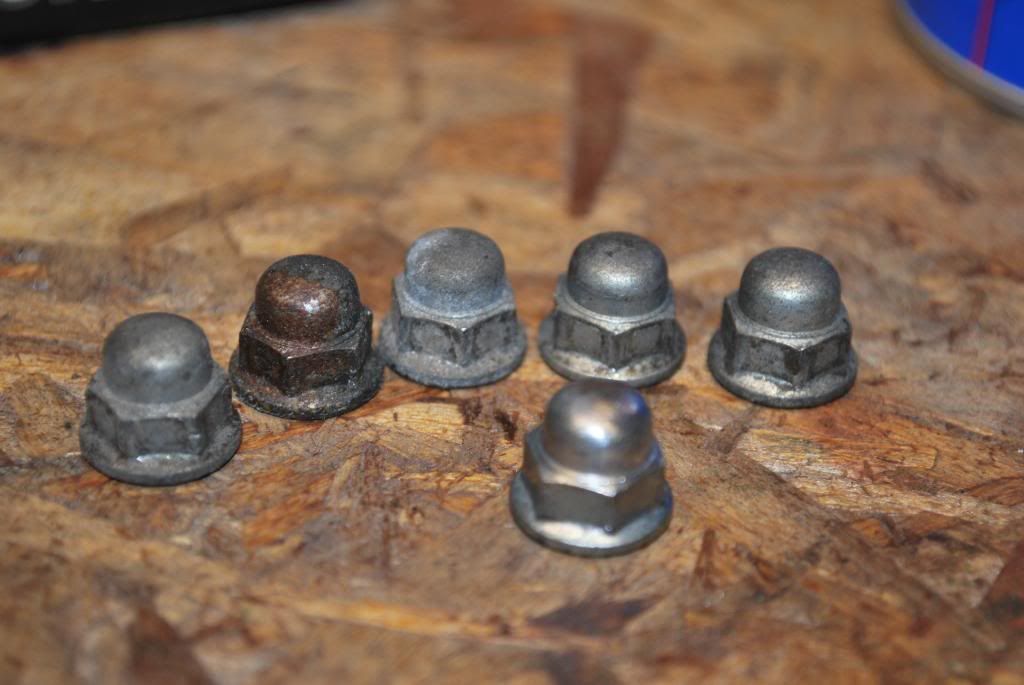 My tools of choice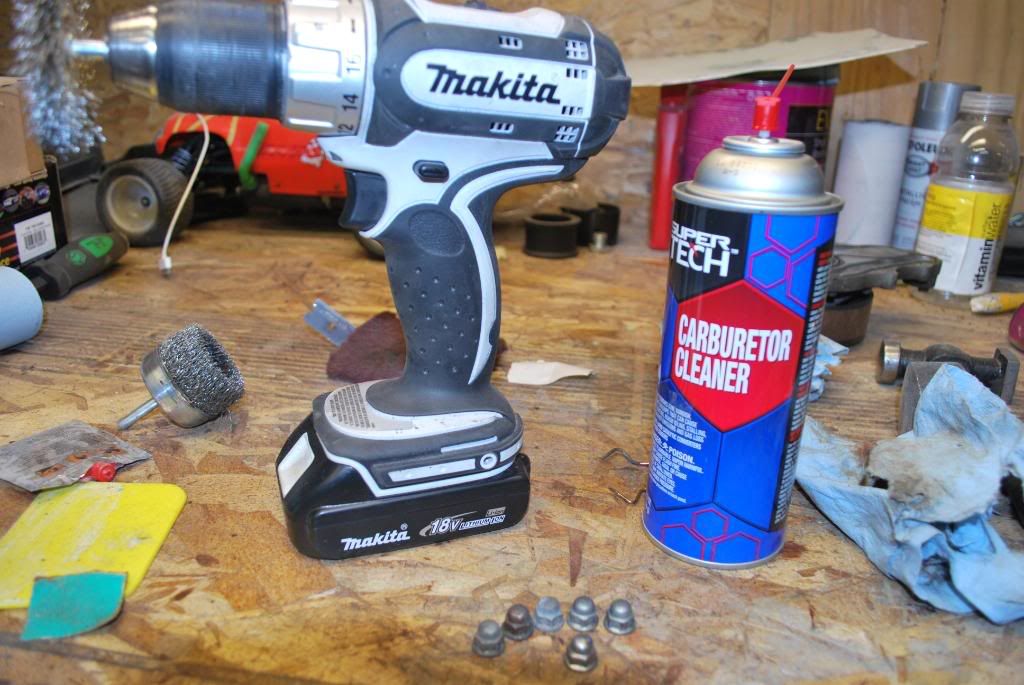 After
:bear:
Well more updates tom. have a good night! :alkie:
Well today was the day I ordered all my OEM honda parts that I need for paint. here is the list.
front bumper
rear bumper
hood
both front fenders
rear bumper beam
front and rear bumper impact foam
both outside door handles
front cowl
both side skirts
both window sashes
both roof moldings
both window trim that part that runs right under your window that always has the black chip off
Front wheelwell splash guards
and EVERY single screw bolt and clip to go along with that stuff it will be christmas soon :thumbup: :bear:
Well got a little bit of work done I started to mock up my brake lines so I can see what I need to order for fittings and banjo bolts. I like the way these lines turned out eve though it is a really rough mock up but I ran into a little problem with the line im using. When I bought it, it said it was double walled 3/16 steel brake tube. So when I started bending 90's it was creasing it kinda and when I went to do the hardlines for the front brakes doing a 180 was impossible it would just fold over lol so I think im gonna get new tubing when I order my fittings. Also bought a little somthing for the ass end of my car the other day just cause so it will be here this week and hopefully all my honda order will be here end of this week probably next week though. Happy memorial day no work :bang: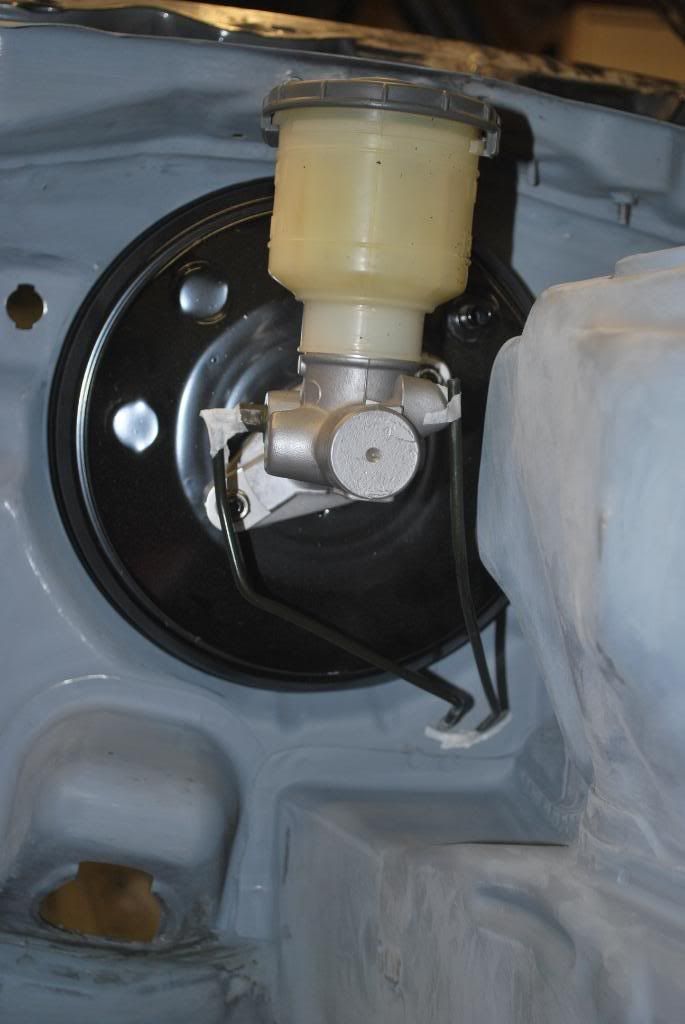 The two sharpie circles is where it will come in just a little somthing different my brother came up with dont think ive seen them there before.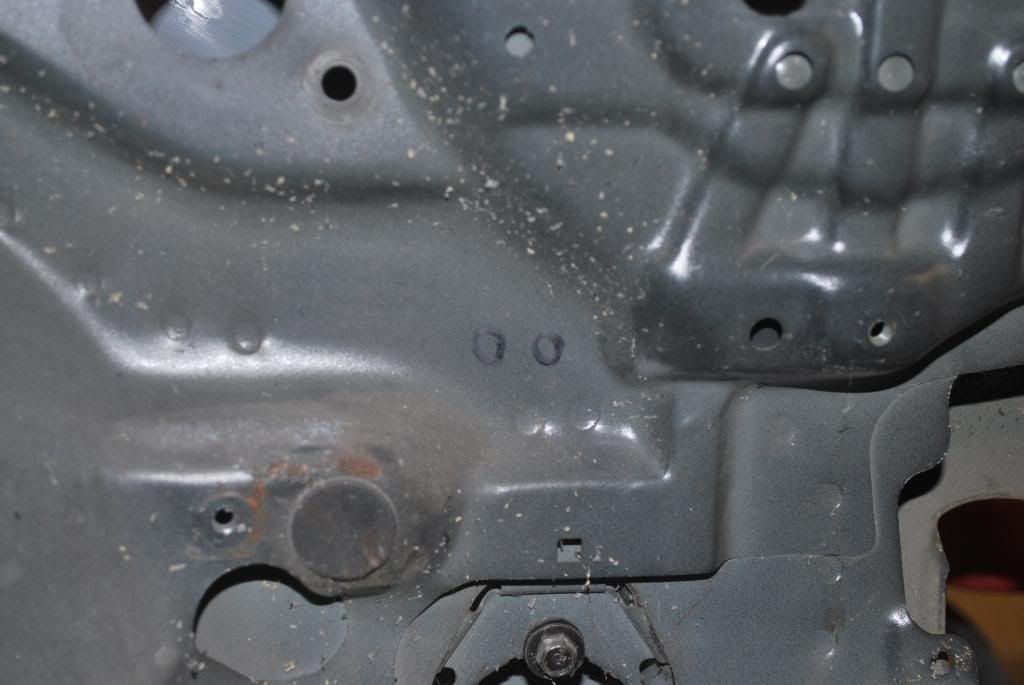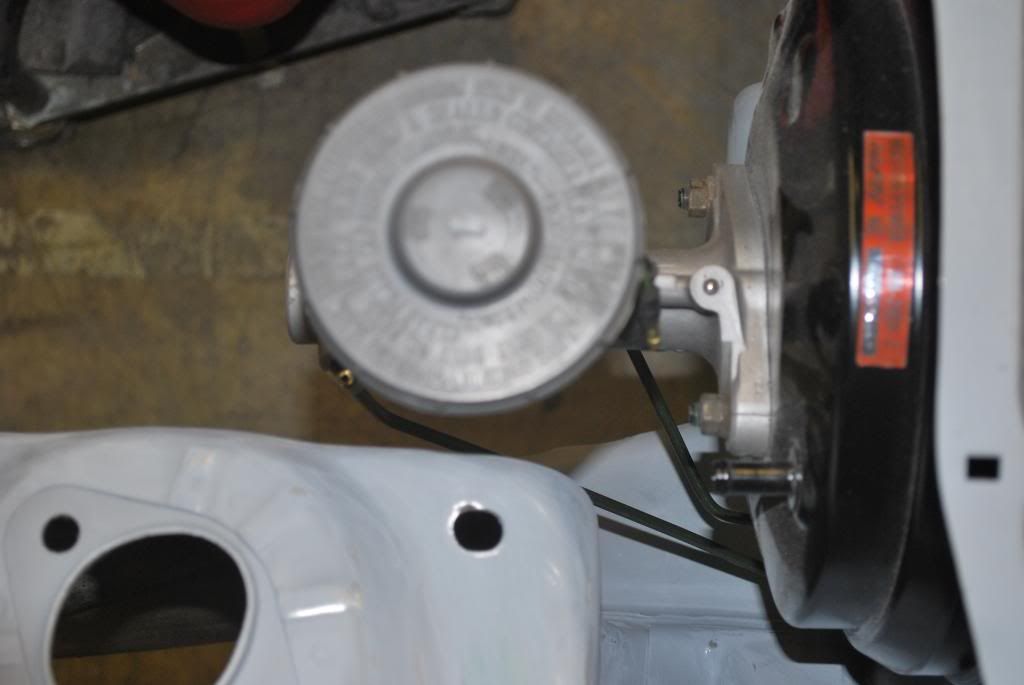 I like them but when I redo them im gonna make them hug the brake booster so they are really tucked! *hug*
Some of the undercoating in the bay and current picture of my bodywork ive been working on.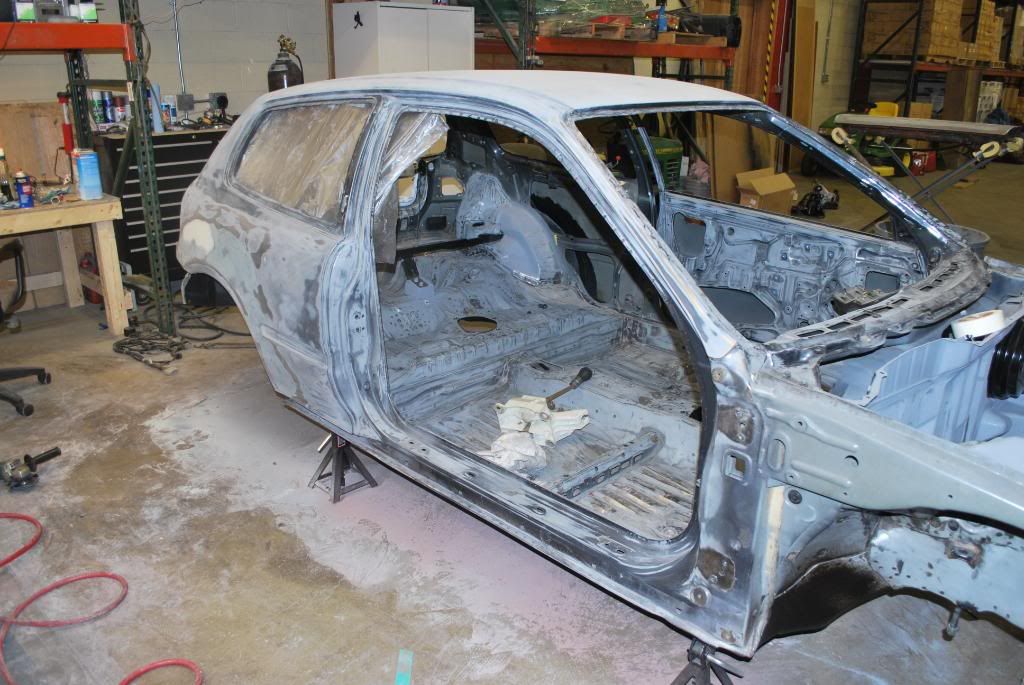 Calling the guy who is painting my car so we can get this thing done!
Well my painter stopped by today to look at the car and he said we can probably have it ready for primer in two weeks! I will be busting ass to get as much done as I can then off to his paint booth. Here are some pictures of what we will be working with on friday.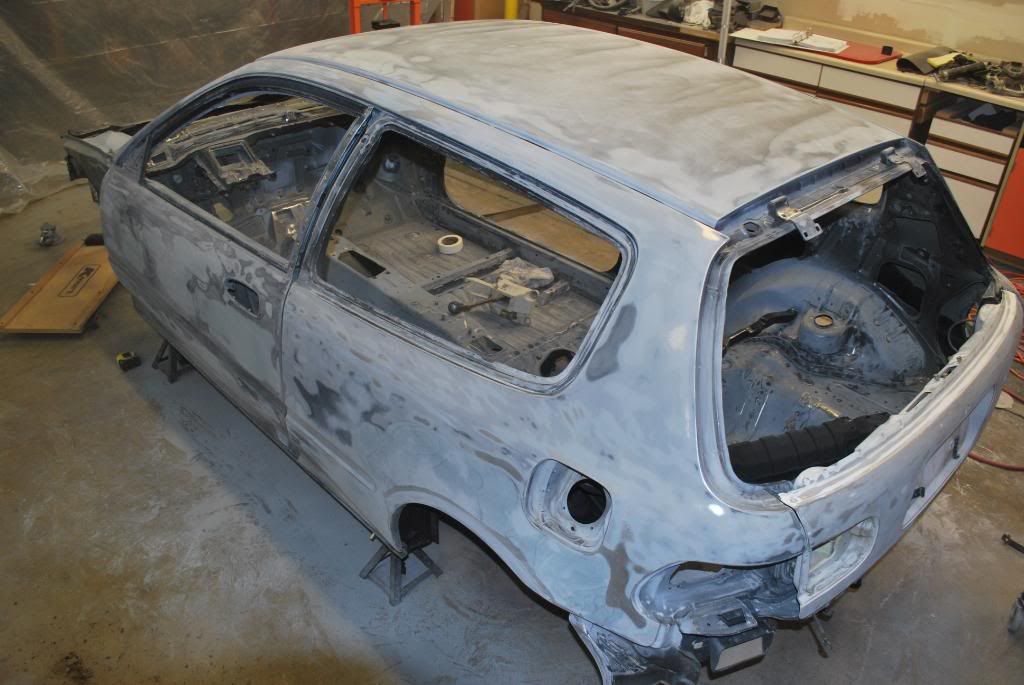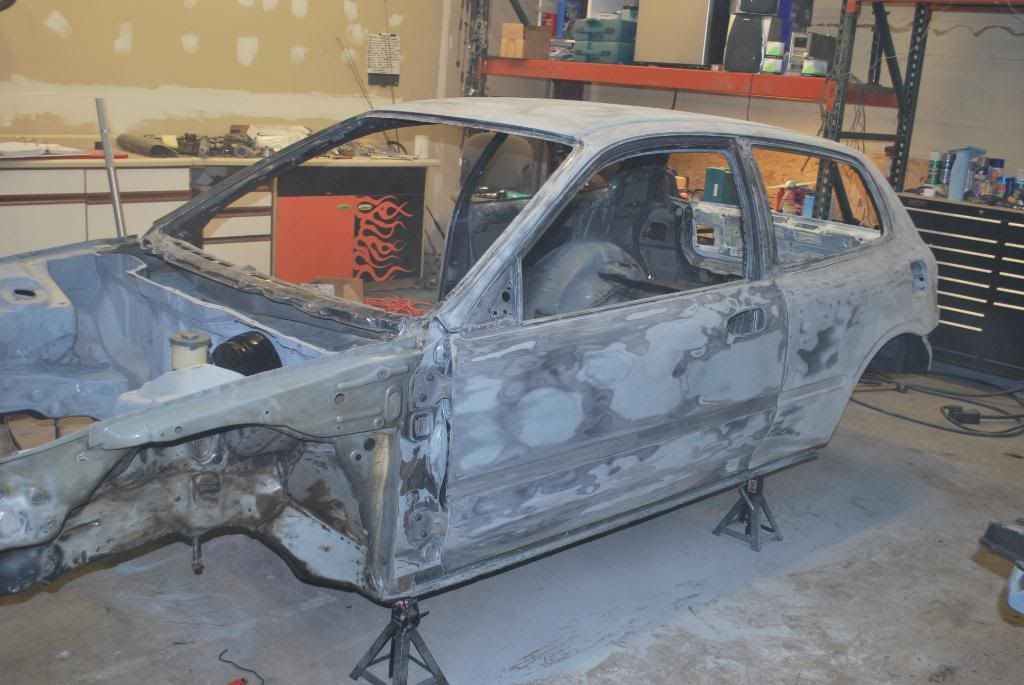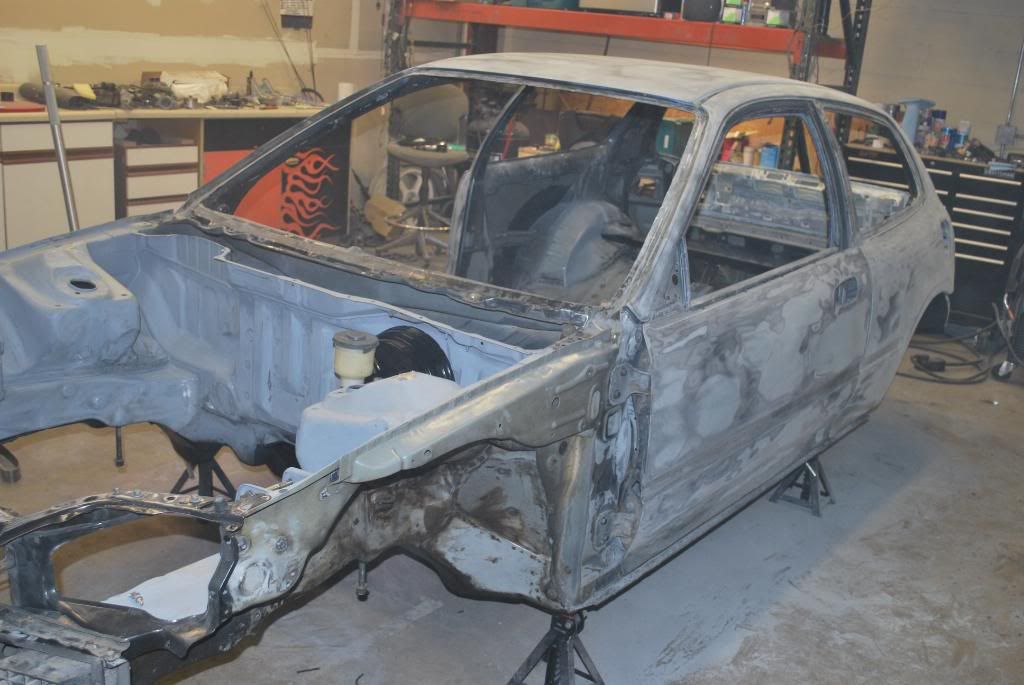 Well we will see what tommorrow brings tons of parts coming next week! :bear:
Well finally got started on the body work for paint with a little help from my painter. We got the passenger side quarter panel, the eg6 one piece spoiler, rear tailgate, and both side A pillars all smoothed out perfect and got started on the drivers side quarter and also passenger door. Here you are.....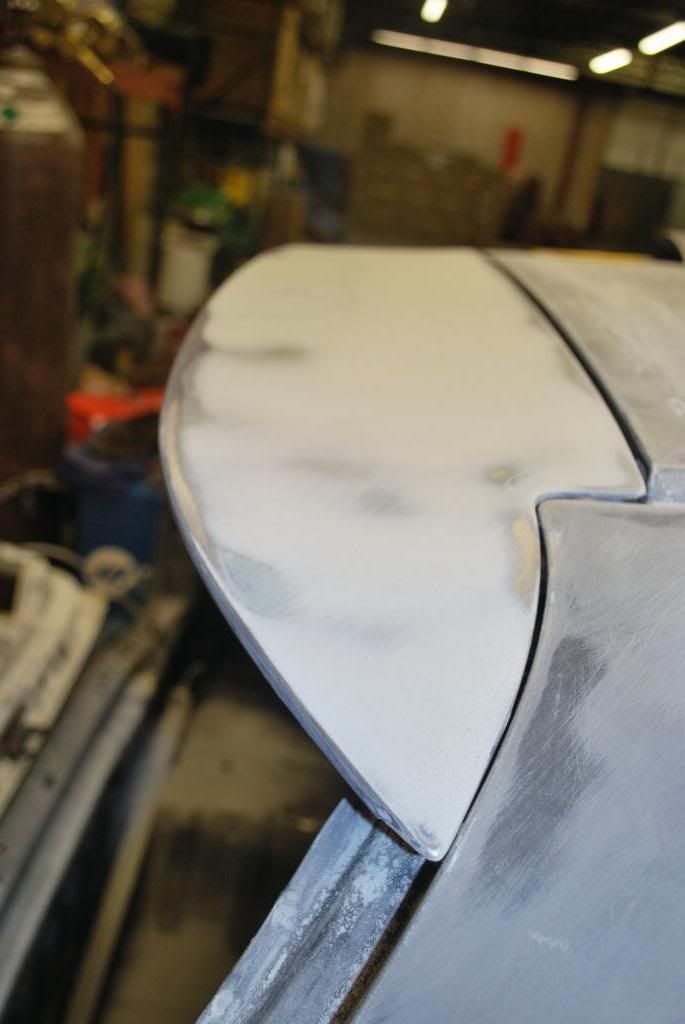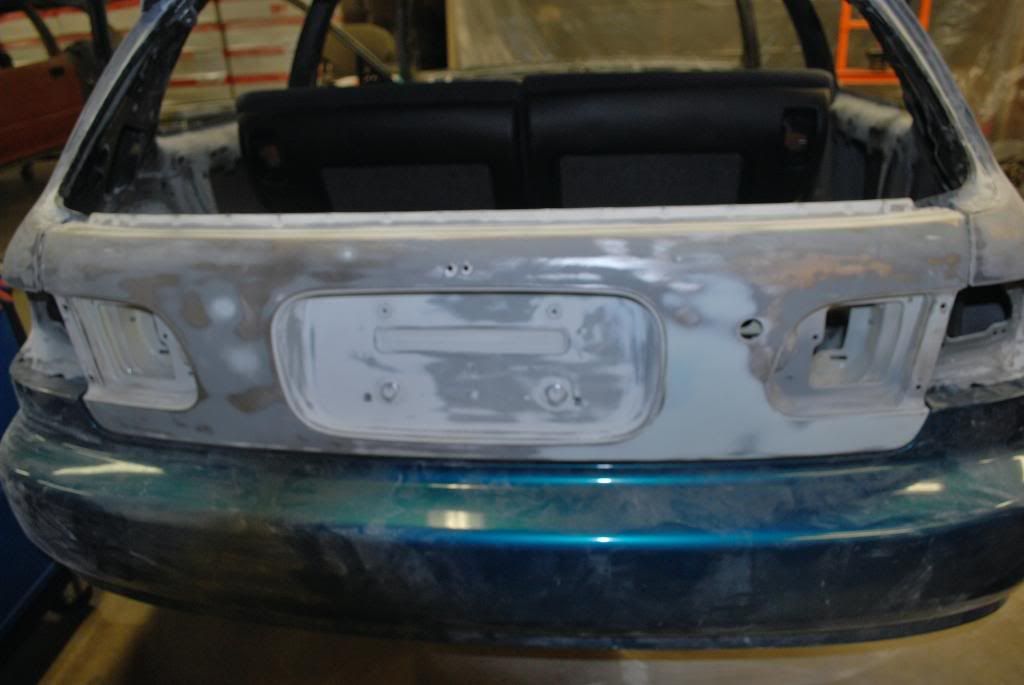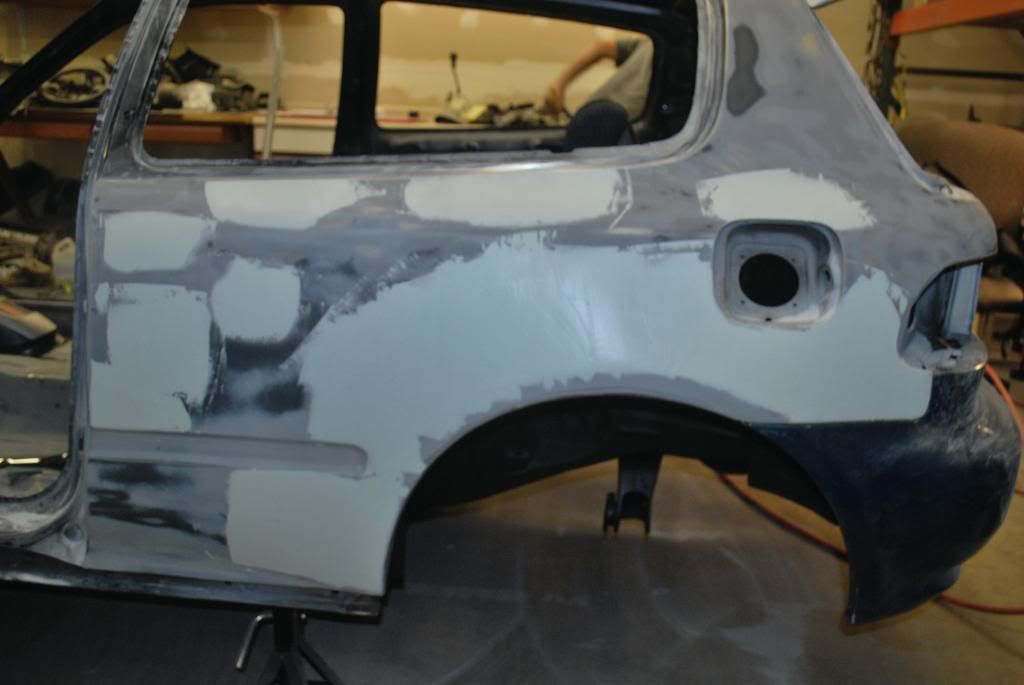 Atenna shaved also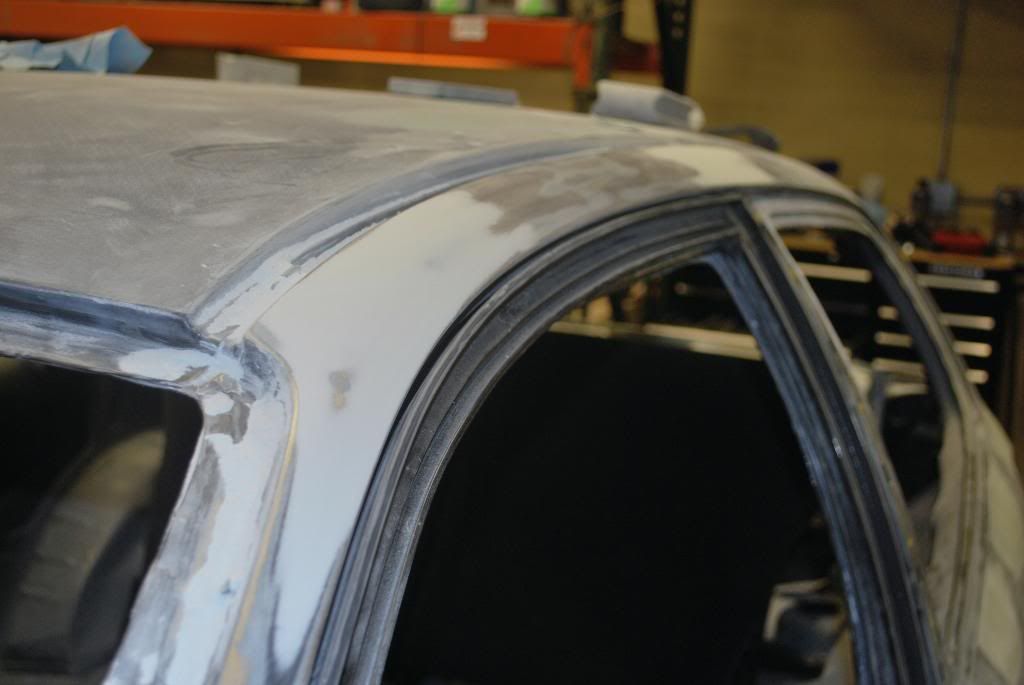 We plan on putting the first coat of primer on this next weekend and should be painted by the end of the month. So tonight I went and bought some nuts and bolts so I could weld them in to mount my back seats correctly.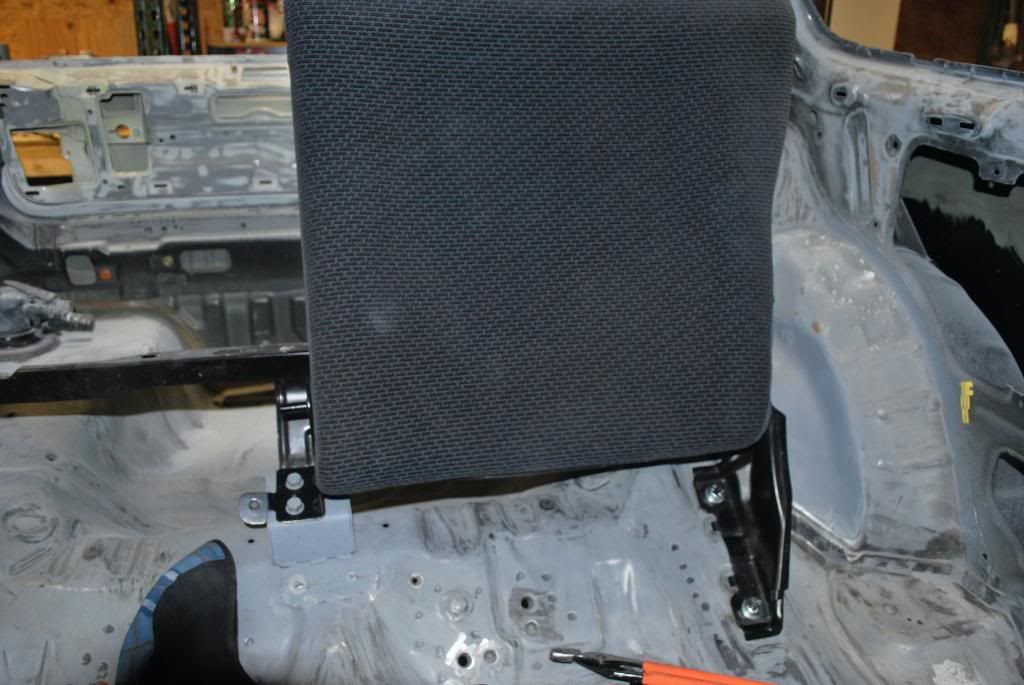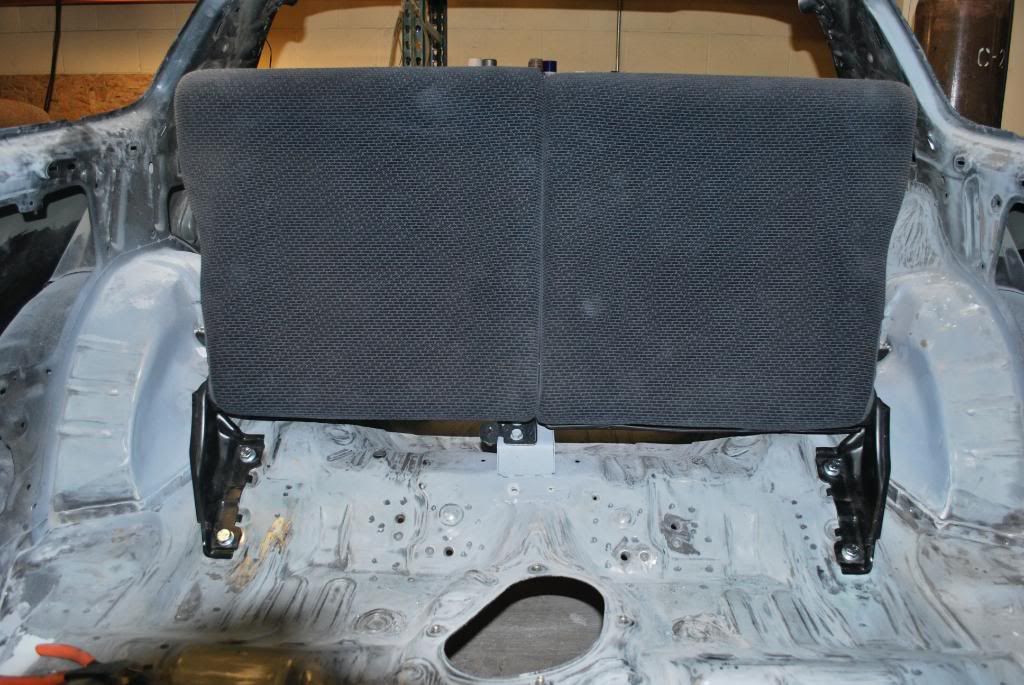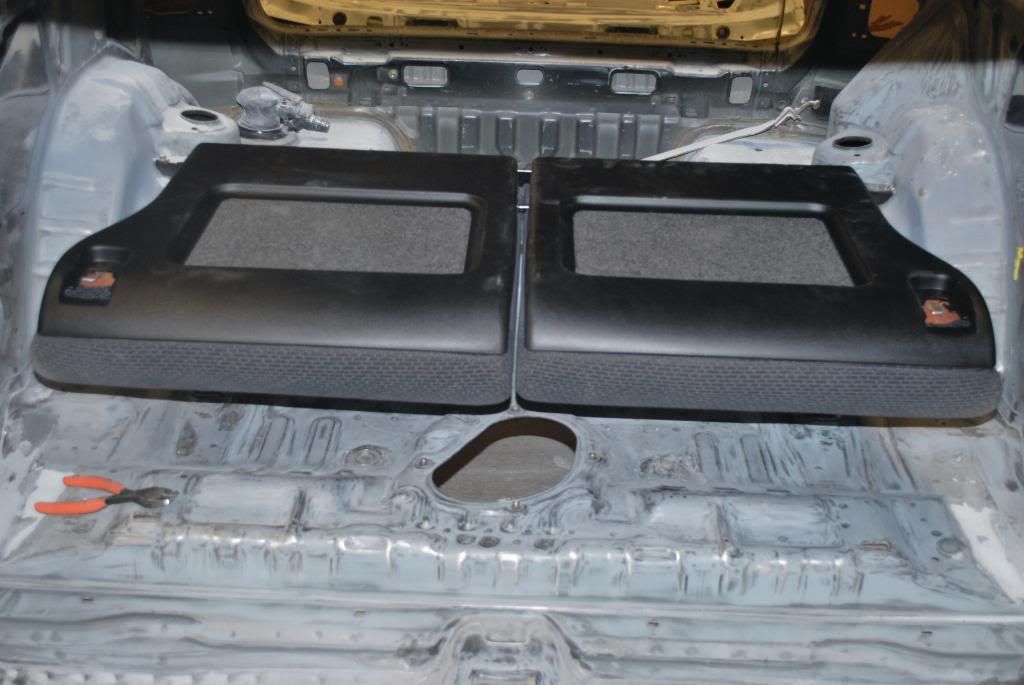 Also my new toy I bought today. Picked this over the makita because this has 5 year warranty.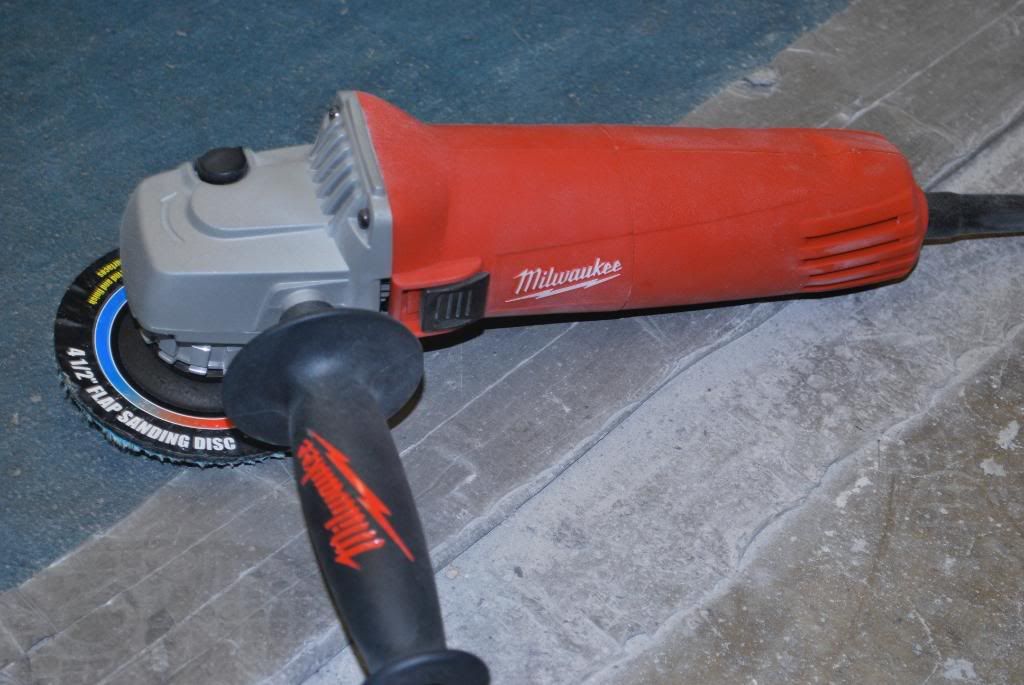 My boy cleaning up shop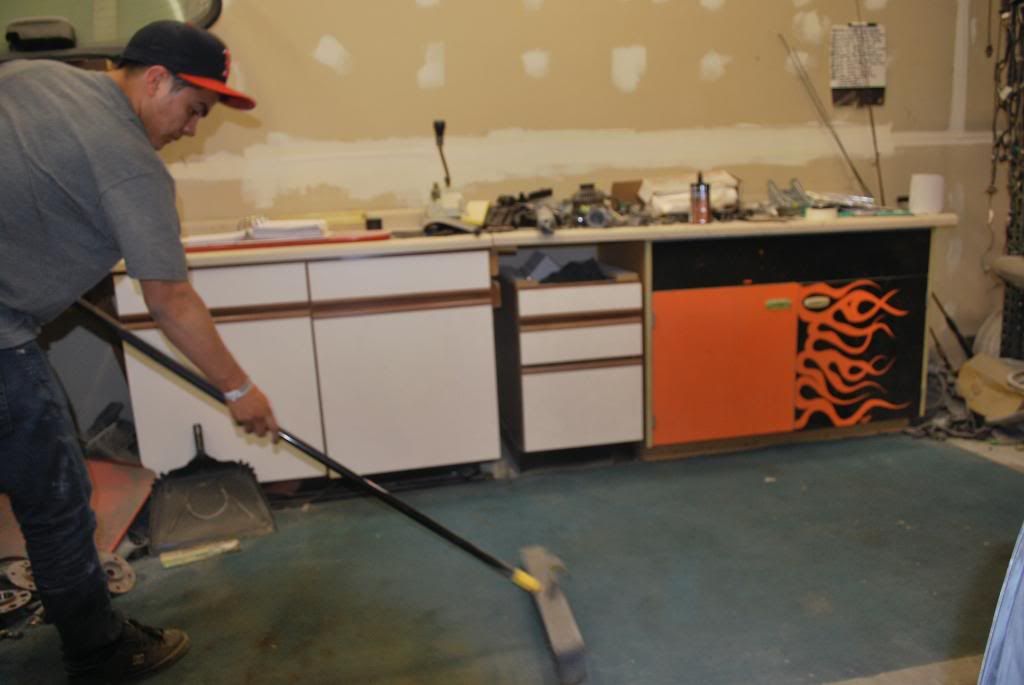 More pictures and new parts tom. night! :corn:
Thanks for the positive comments everybody I will be working on this for atleast 4 hours everyday after work so there will be plenty of updates. Here is what we got done on it today and also a little present I got myself today.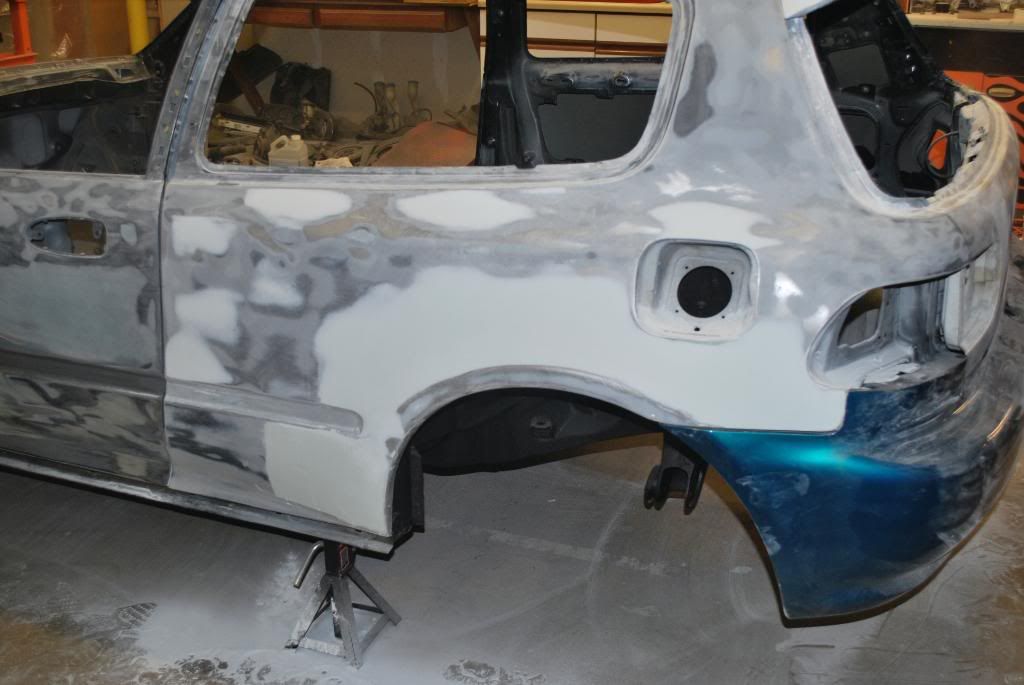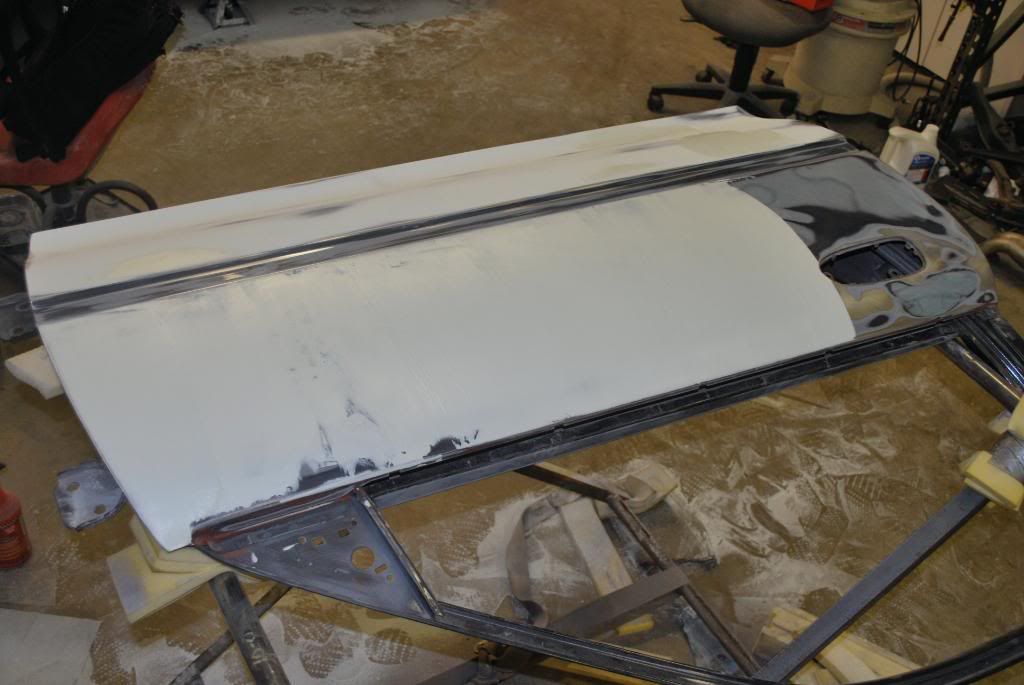 My little buddy helped me open this up right away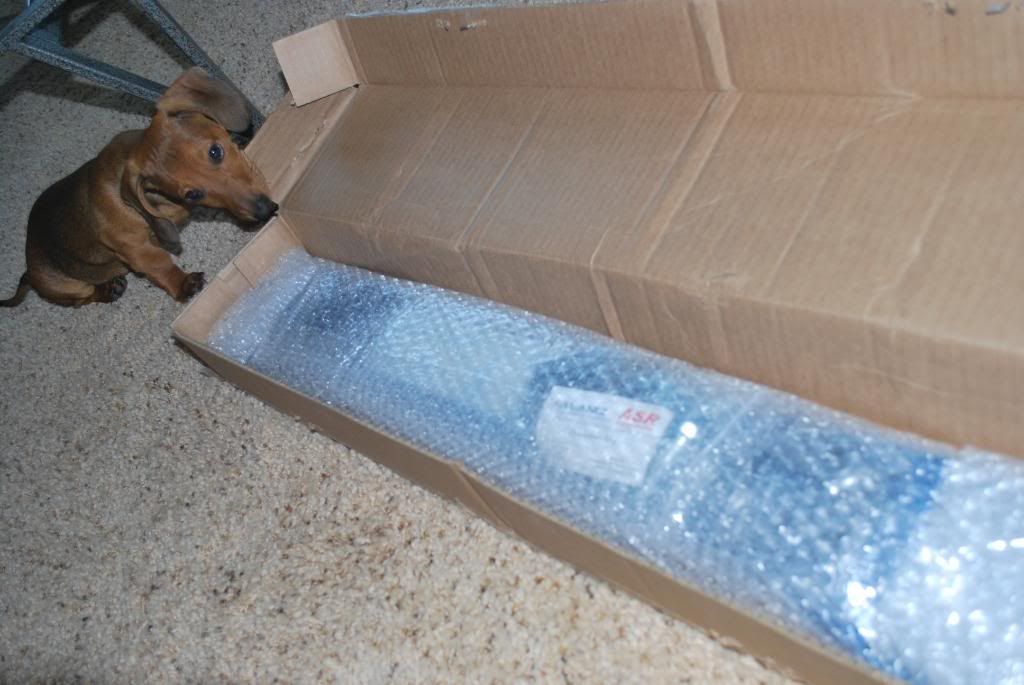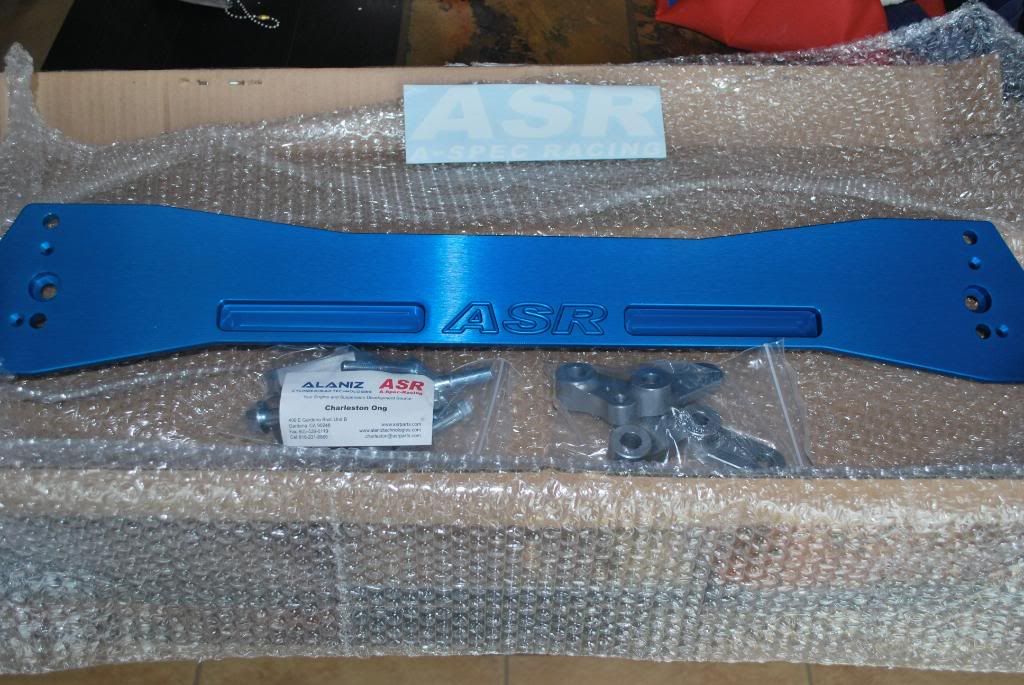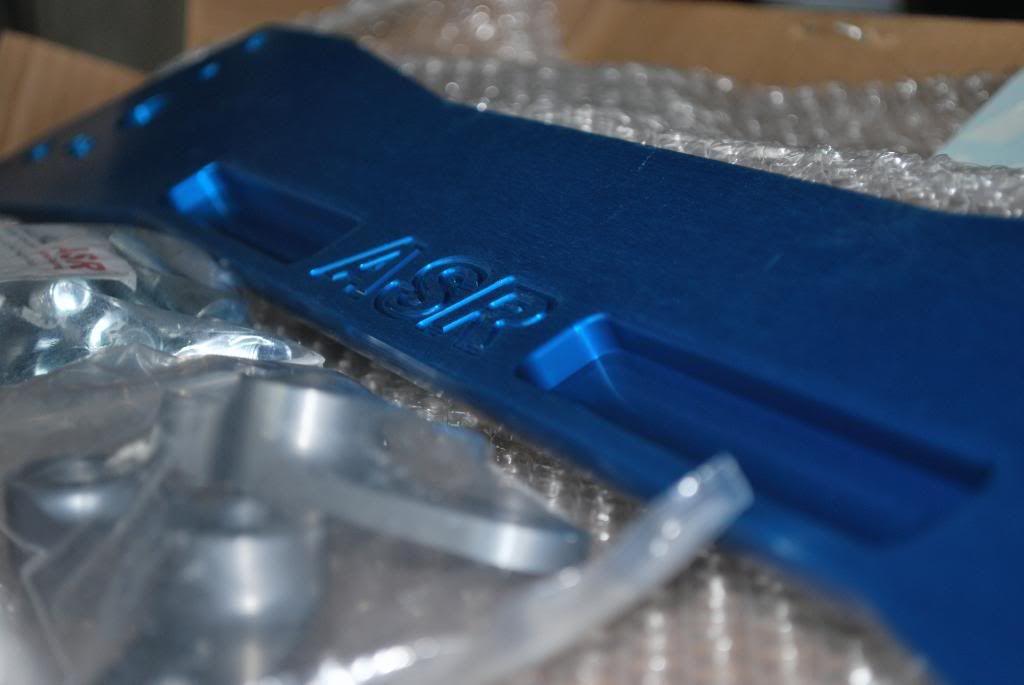 Amazing quality product and the limited edition anodized blue is sick
I called on my huge honda parts order today and it is coming in on thursday so I took the day off :corn:
Well today started out as a bad and ended really good. I took the day off work today because all of my parts were coming from south bay honda. Apparently the truck my parts were on broke down so instead of getting them at noon they ended up getting here at 5:30. This left we with the whole day to look on here for some inspiration! Sent a email to Chase over at
http://www.chasebaysonline.com
and I think i will be rockin a fresh harness by him as well as some other of his goodies. Well here you go here are all the goodies. Enjoy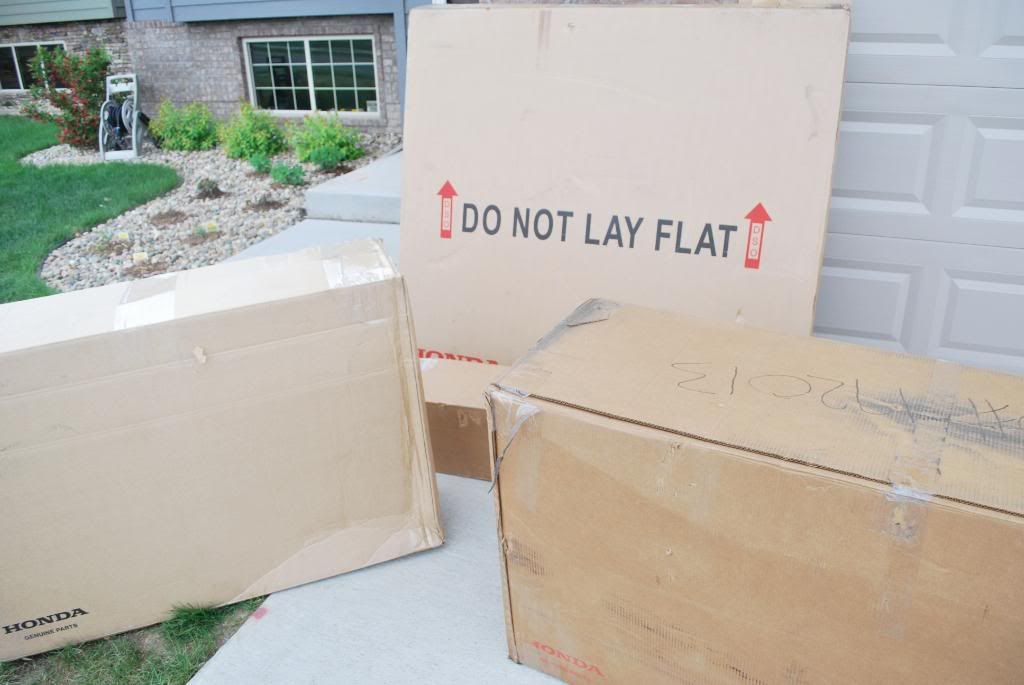 Fenders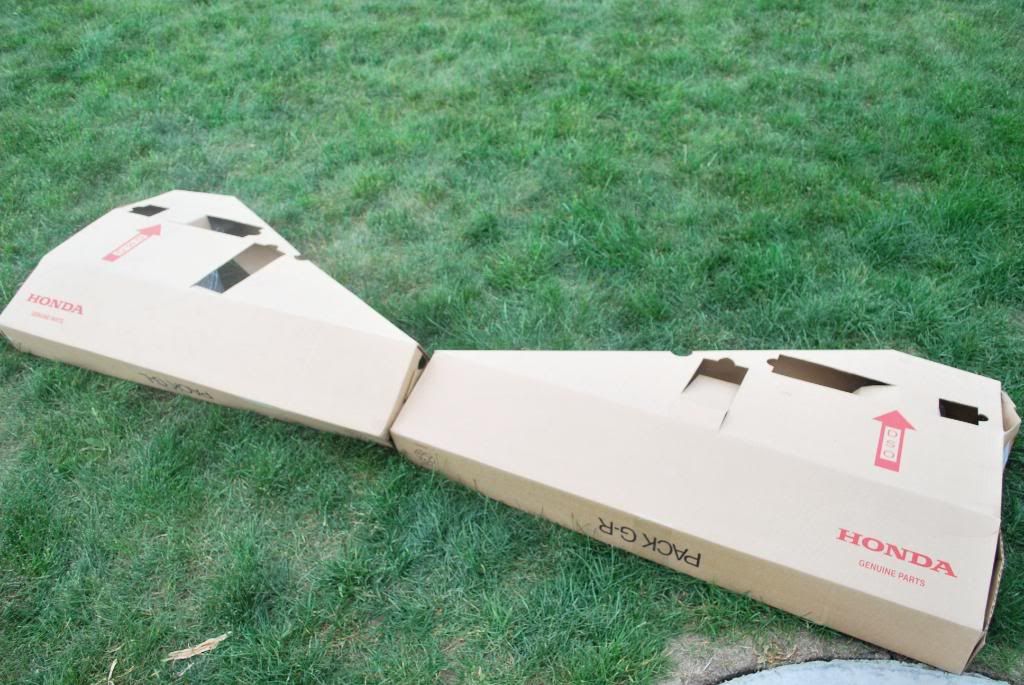 Bumpers and new impact foam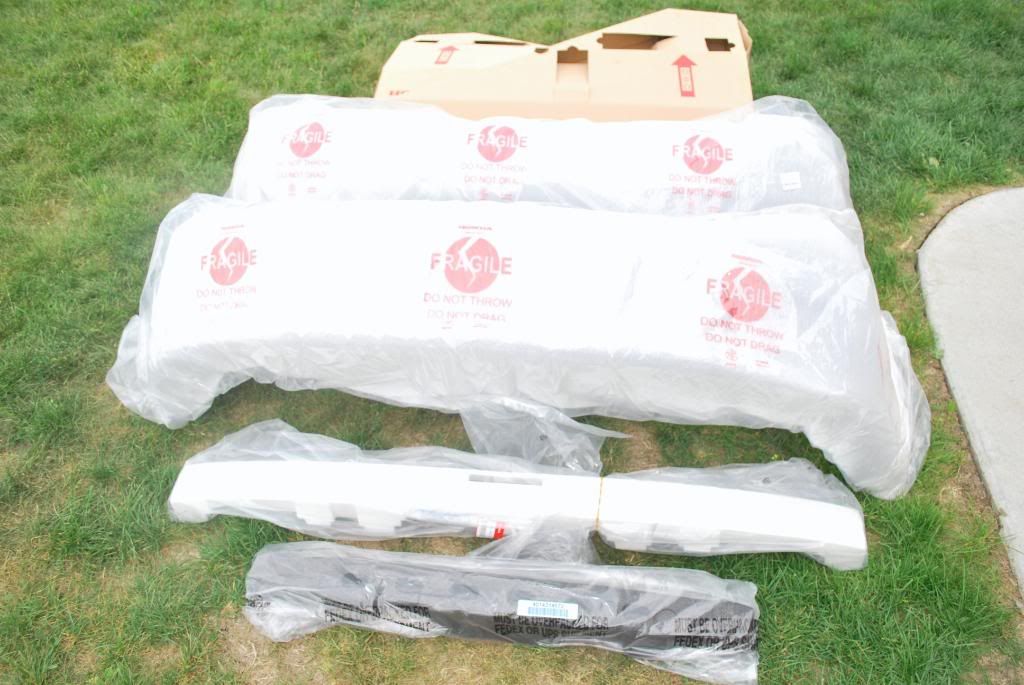 Spashguards, window moldings, door sash, roof moldings, door handles, window cowl, and rear bumper beam
Side skirts, hood, and tons of screws bolts and clips
Hardware!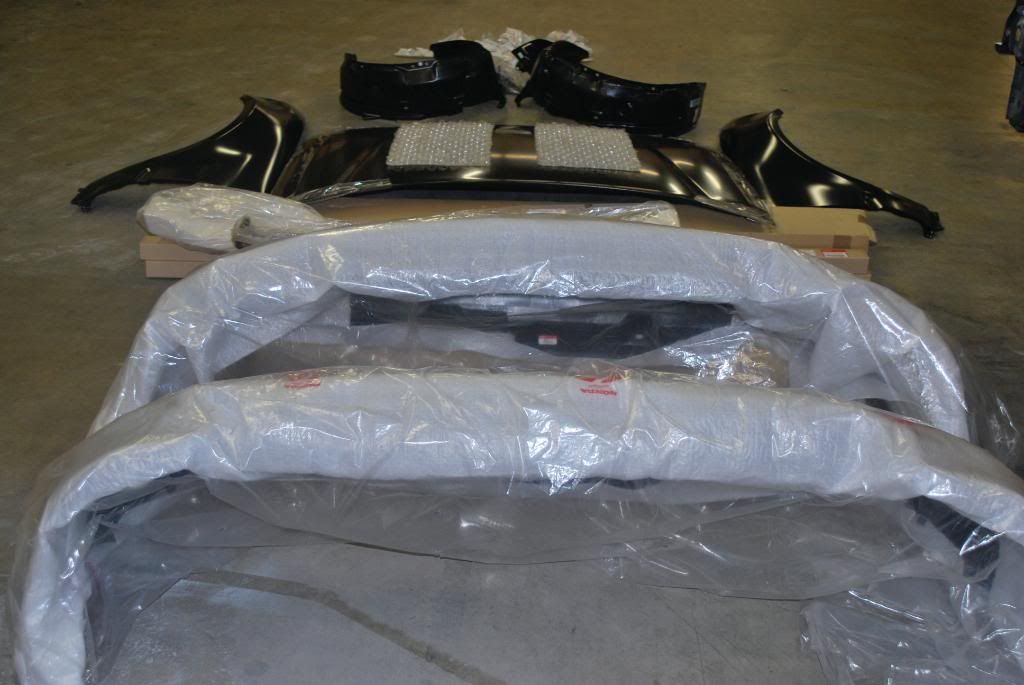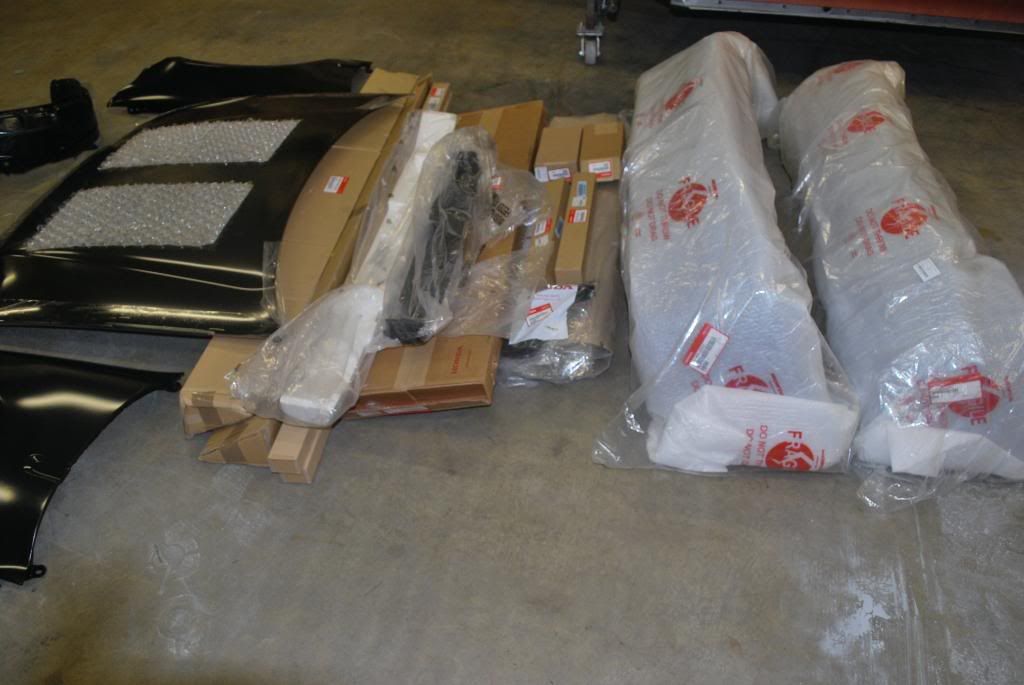 Rear bumper beam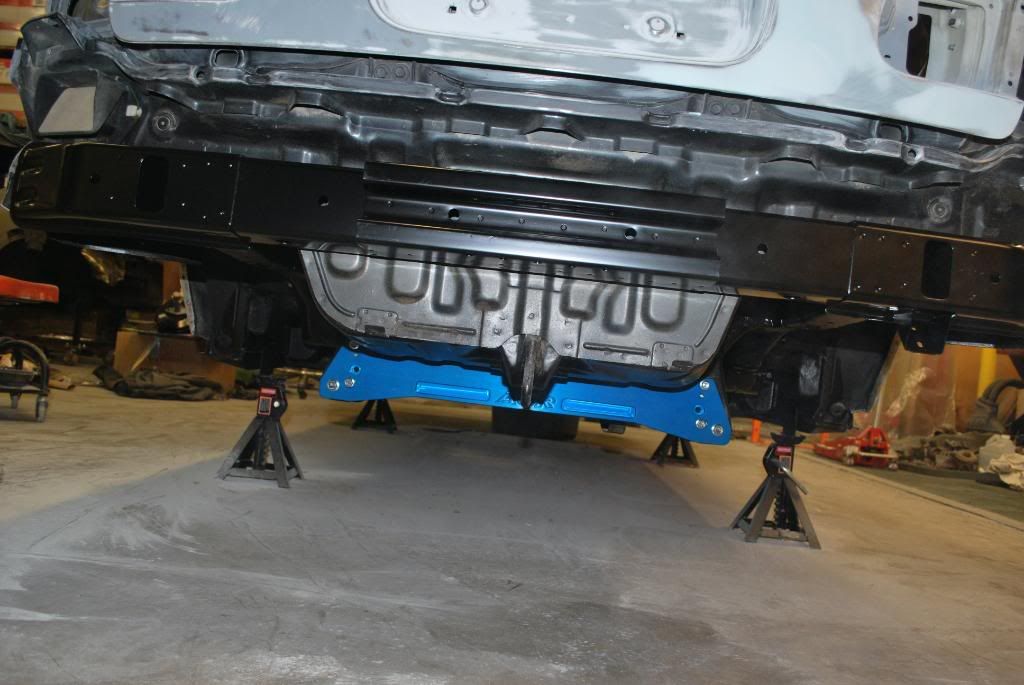 ASR brace mocked up
Bumper foam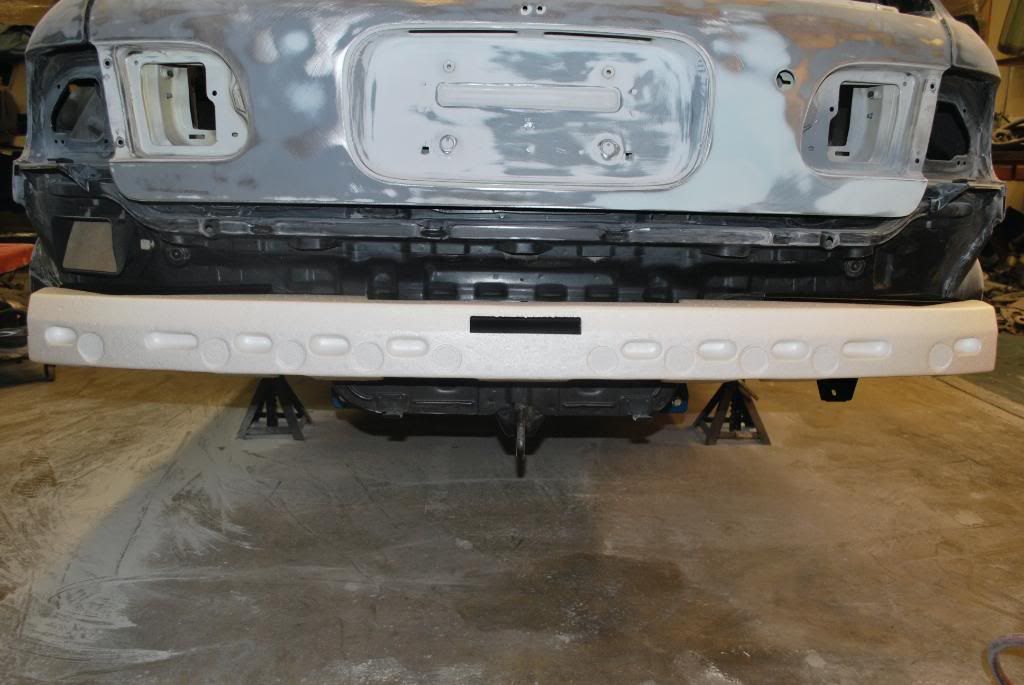 Started to put stuff on really quick tom. I will take my time and get it perfect to my standards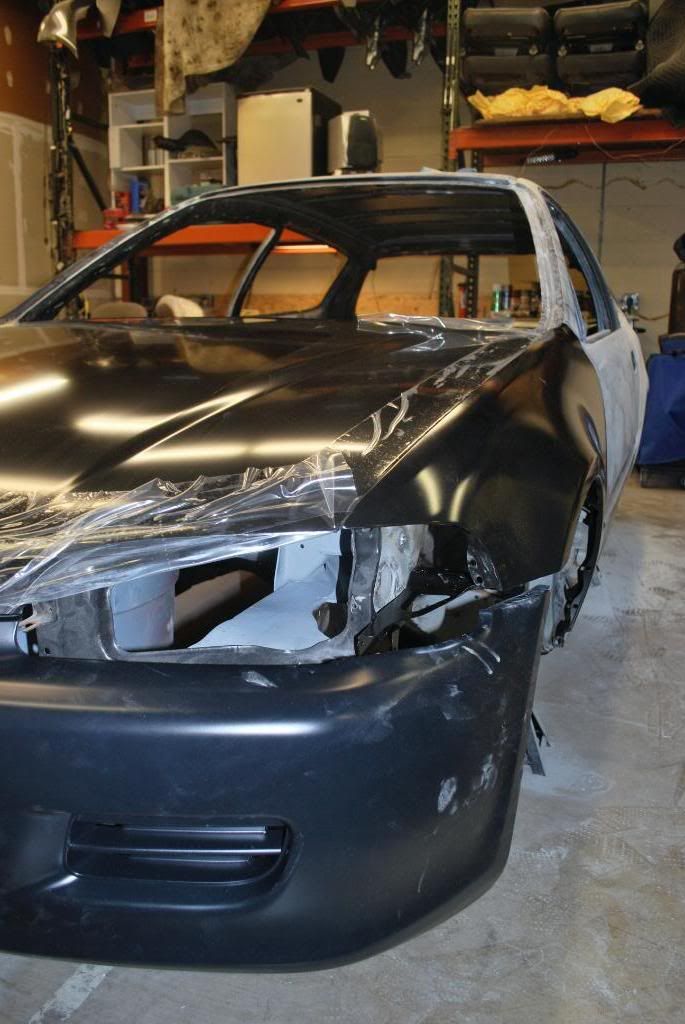 Fuel to keep going can't beat $.50 a can :alkie:
More tomorrow :corn:
Well today my brother came to the shop and helped me line up the front fenders hood and bumper. We got them looking pretty good, so we went ahead and spot welded the front radiator support on while everything was looking right. I then began measuring out the holes to cut my side markers in. I am very anal at doing this so I didn't actually cut any holes yet cause I didn't want them to be crooked. Tomorrow I will get a square and some tape and get them put on perfect but if any of you want to post measurement from your real eg6 feel free. *hug*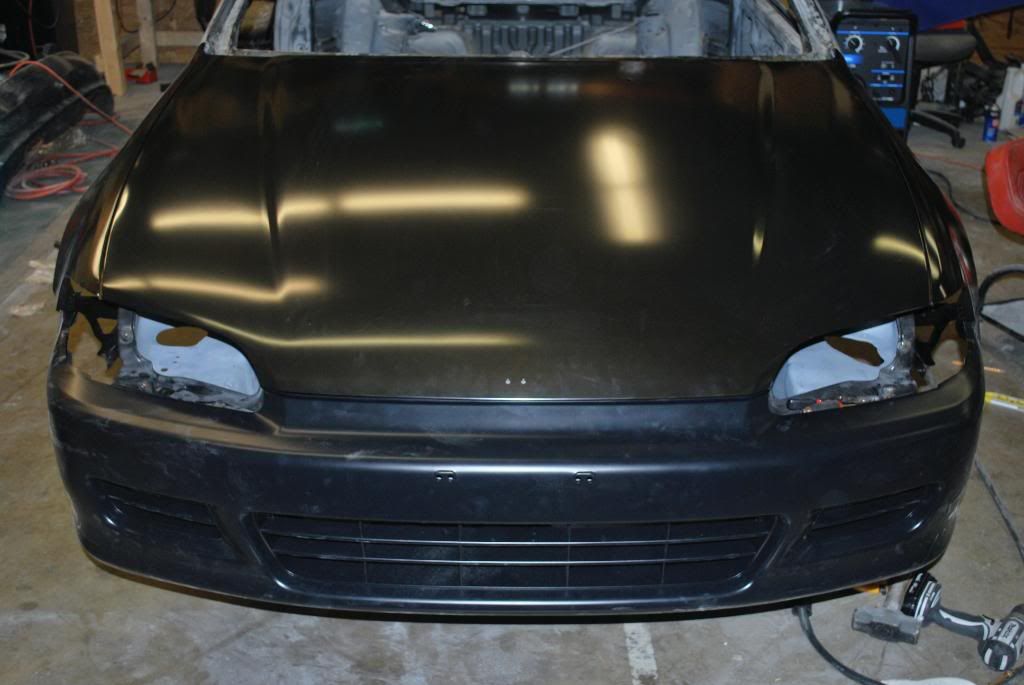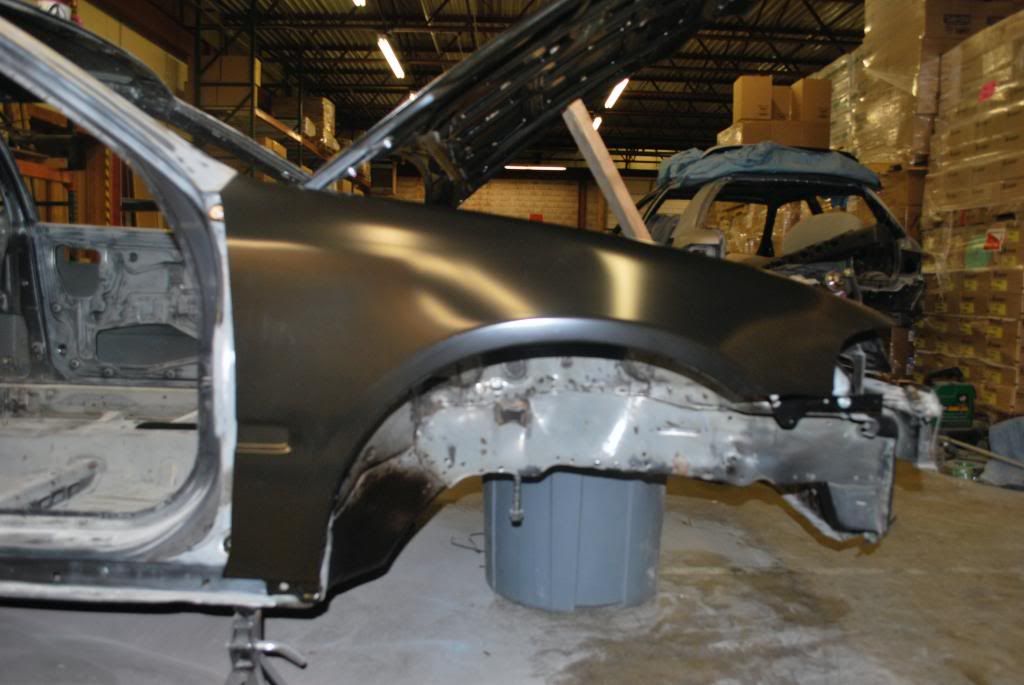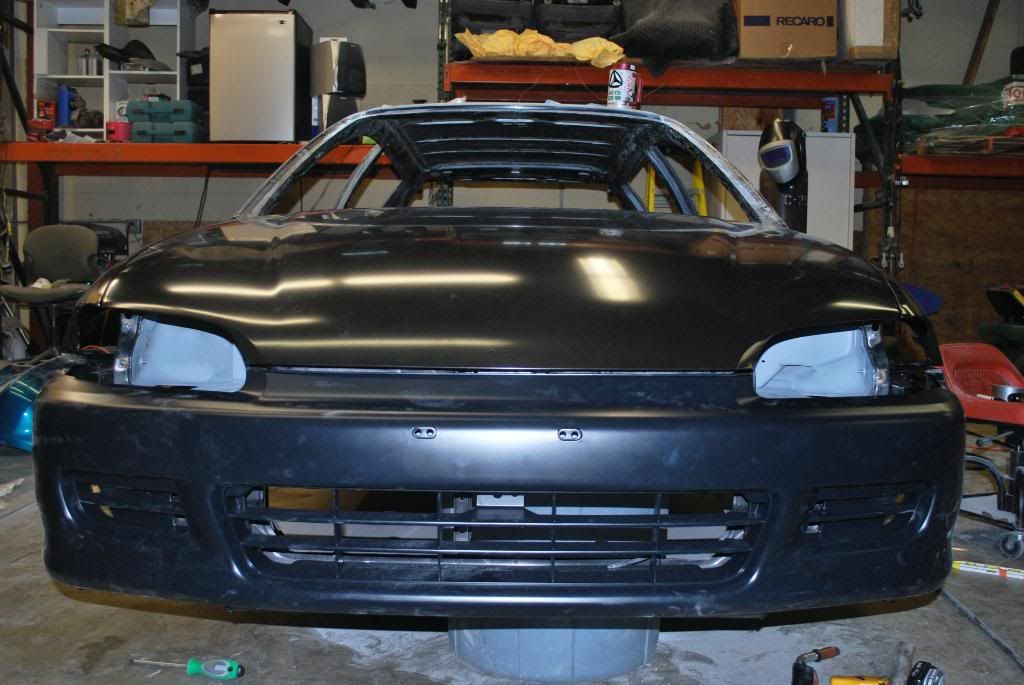 Bumper isn't screwed on yet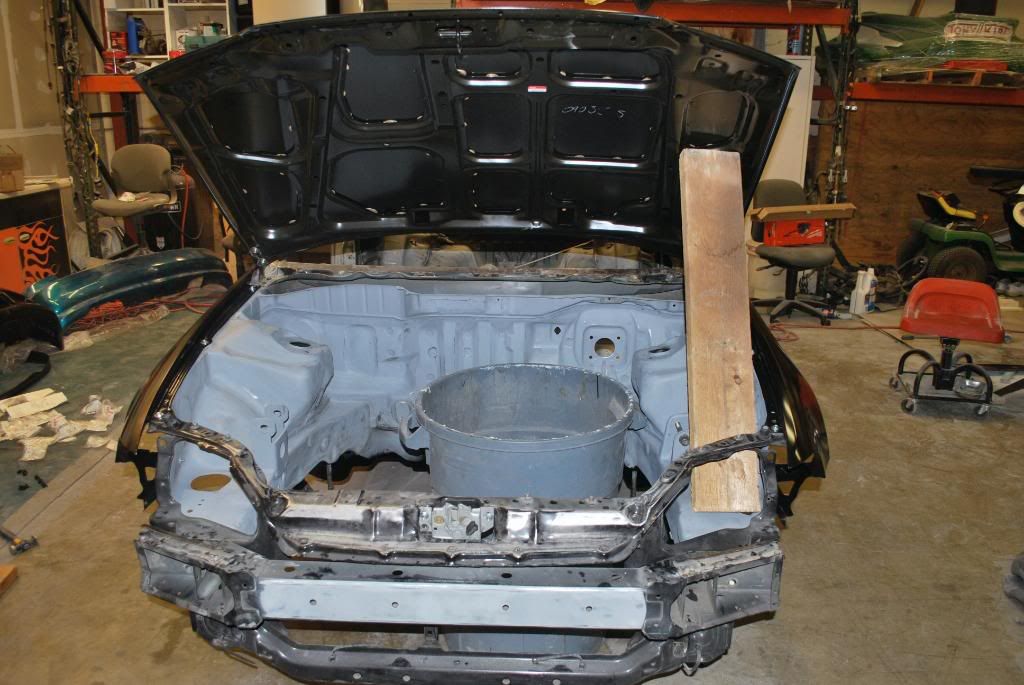 Well more work tom. I will be cutting out the sidemarker holes as well as the holes for my fog lights! Thanks for the feedback in advance :thumbup: