Discussion Starter
•
#1
•
Exterior
- 93 Honda Civic DX
- BMW Z4 Urban Green Color Interior(door Jams, Interior metal EVERYWHERE!) and Outside all Painted Including Engine bay.
Real Spoon Duckbill not on the car but I still have it. Sold seperately
REAL BYS Kevlar front lip and rear wing
Japanese Domestic Market Headlights
Amber corners-
Vision Replica Mirrors
-
Hondata & JDM Honda Parts front license plate frame

- NEW RAYS CE28 16's with Potenza RE-01R 205/16/45 (this only have about 50 miles on them)

Interior

- Clifford Matrix Alarm System Installed Along With Remote Start. Also Comes with a Hood Sensor, and Proximity sensor for no door Dings.

- JDM] EG Cluster

- JDM EG Amber Climate Control Area

- JDM Defrost Amber Button

- JDM Coin Pocket Tray – Perfect for Garage Door Opener

- USDM ITR ITR Black & Red Stitched Seats.

- Custom Reupholstered Door Panels to match ITR red & black Stitched seats.

- Momo Hub

- Discontinued Momo Race Red Stitched Steering wheel =

- JDM Integra ITR red stitched Shift boot

- Discontinued Spoon Black Shift Knob

- NEW JDM Audio Console

- Discontinued Radio Block Plate
- Prelude 97-98 Amber Headunit with Code

- OEM Brand New Floor Mats

- Clean OEM Black Carpet

Suspension

- OMNI-Coilovers Street Edition

- Megan Racing Royal Blue Control Arms

- GSR Brakes front and Back

Engine

Japaneese Imported Integra Type R K20a Motor

- OEM 96-98 Civic Coupe OEM Throttle Cable

- Karcept Shifter Kit.

- R-Crew Conversion Harness. All wires needed were soldered to cause no problems. Made for the HASport San switch and Dash Sensor switch.

- HAsport Motor Mounts

- EP3 Idler Pulley With Corresponding Belt.

- JDM Spoon Oil Cap

- Golden Eagle Fuel Rail

- Aeromotive 1000-6 Fuel Pressure Regulator

- Karcepts Bracket

- Liquid Filled Fuel Pressure Guage Black Face

- Aeroquip Startlite Fuel Hoses10ft

- Aeroquip Fittings

Earls Anodized blue Holders

- DTR Fab/ SSR Engineering 4-2-1 Header

- Custom Exhaust system with Custom Turn Down Muffler from Burns Stainless.

- Hondata Custom ECU

- RBC Honda Intake Manifold

- Karcepts RBC Adapter Plate

- Custom Intake with Filter

- Koyo Radiator With KarceptsRadiator Support Bracket + Slim Fan

- Spoon Radiator Cap

- Karcepts Custom Reservoir Brackets

- Japaneese Integra Type R Brake Booster and Master Cylinder

- Spoon Blue Reservoir Covers

- Russell SS -4 Clutch Line and Fittings
- New power slot front rotors and stock rear with hawk pads

Kevlar fuel pump cover and spark plug wire



I am able to ship the car if need be.

***Please, all I ask for mature buyers and questions*** If you want to see the car, I'm able to set up a meet whenever you like.

And yes its Matador's old car and obviously few added parts and little bit more tuned. Thanks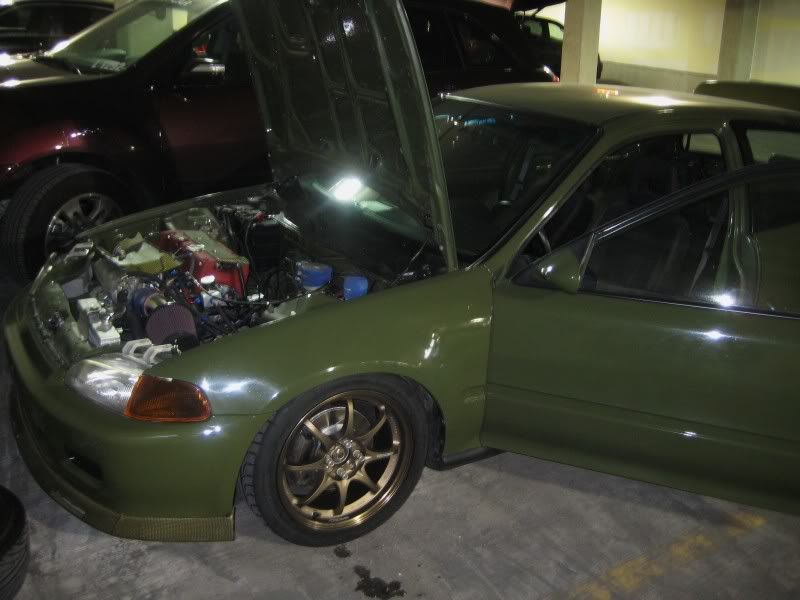 For all the specs and parts, just ask

*****Send your offers*****
((((((The only parts I may part are the wheels and BYS parts))))))
AND NO THE NSX IS NOT FOR SALE, I just LOVE THE PIC
He will miss he's green little brother!