Function & Form kits now available at weksos industries! Pm me for special pricing on current inventory!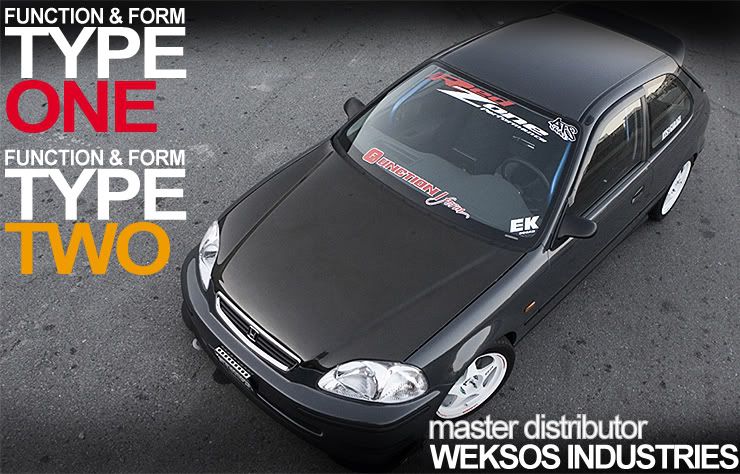 Go visit www.weaksauce.org!!
Type I Coil-over
This is the first coil-over that Function and Form developed and distributed. It has since made a return, with improvements to design and functionality. This entry-level coil-over targets the consumer who is looking for height adjustability without the steep asking price.
The Type I coil-over is a full bodied coil-over, not a lesser quality sleeve-over that many competitors offer. It is fully threaded and height adjustable to provide a comfortable ride in any import car. The Type I is a quality, durable, and cost-effective product for the consumer that seeks an innovative entry-level product for their automobile.
Key Features:
-one year warranty
-adjustable ride heights
-adjustable from the lower mount, allowing the driver to retain full shock travel
-dual tube shock design for maximum ride comfort
-steel construction of lower mounts for increased durability
Type II Coilover
The current Type II coil-over is a modified and retooled version of the older Type II models. The new and improved Type II coil-over is a complete coil-over with a fully threaded shock body. Through extensive research and development, Function & Form Autolife has enhanced an already largely successful product. While the previous design was very popular, the new Type II coil-over has added features that serious car enthusiasts will find to be irreplaceable.
Added Features:
-one year warranty
-32 levels of dampening adjustments
-dampening adjustments made with a knob that "clicks" at each level setting
-steel construction of the lower mounts for maximum strength
-adjustable camber plates (application dependent)
-adjustable pillow ball mounts (application dependent)
-adjustable ride height from bottom mount allowing driver to retain full shock travel while -- lowering the car
-special oil lubrication able to withstand weather conditions from -40° C to 200° C
-dual tube shock design for maximum ride comfort
-wireless dampening adjuster (Wi-damp) available for most applications
-50 mm McPherson strut piston
-43 mm Double wishbone piston
-Shock dyno chart available