Discussion Starter
·
#1
·
Contact information
956-832-4555 Jesse
Year
1993
Make and model
Mazda RX-7
VIN
JM1FD3316P0209774
Mileage
30k built motor/ 150k body
Transmission type
Automatic
Title status
Clear
Asking price
$4,800 OBO
Modifications
Yes
-----------------------------------------------------
Additional information and mods
OK guys... so im thinking of selling my 93 RX7 or just trading it for a clean Civic or whatever clean car you might have. So here is some info about the car. I had bought this RX-7 as a project but was never able to finish it. Car is a 93 RX-7. It has a street ported engine with about 30,000 miles (told by previous owner), car also has 99 Efini twin turbos (one turbo has bad oil seal), comes with C-West style body kit, stock chrome FD wheels, Scoot Carbon Fiber Hood, VIS Racing Carbon Fiber trunk, and Greddy Trust intakes. Car is a Cooper Orange type of color. Has tan interior. Car needs some tlc in the exterior and interior. Car is auto. Car also has CLEAN tittle. I drove the car from Houston TX, to San Antonio TX, then from San Antonio TX to Brownsville TX (south texas RGV)(thats like a total of 7-8 hours of driving). I had no problem what so ever when driving the car over. Car comes the way that is shown in the pics and will also include stock OEM rear trunk w/o R1 spoiler and OEM stock front bumper. Car is missing several misc. parts. (headlights, door handles, a/c control panel, door panels, gauge hood). I would really recommend towing the car since there isn't any headlights connected.Im asking $4,800 obo for the car. If you have any other questions please lmk or text me to (956) 832-4555 Jesse.
GOODS (installed in car)
-Street Ported engine with 3mm Apex seals
-99 Efini twin turbos
-Scoot Carbon Fiber Hood (hood needs re-clear)
-Vis Racing Carbon Fiber hatch
-Border fenders
-C-West body kit (front bumper needs work)
-Orange cooper type paint
-Border front fenders
-Stock chrome wheels
-99 turn signals
Bads:
-1 of the turbos has bad seals
-Car exterior is missing headlights, door handles and a weather strip
-Car interior is missing a/c control panel, sealing, gauge hood, door panel plastic, and needs some tlc.
PICS: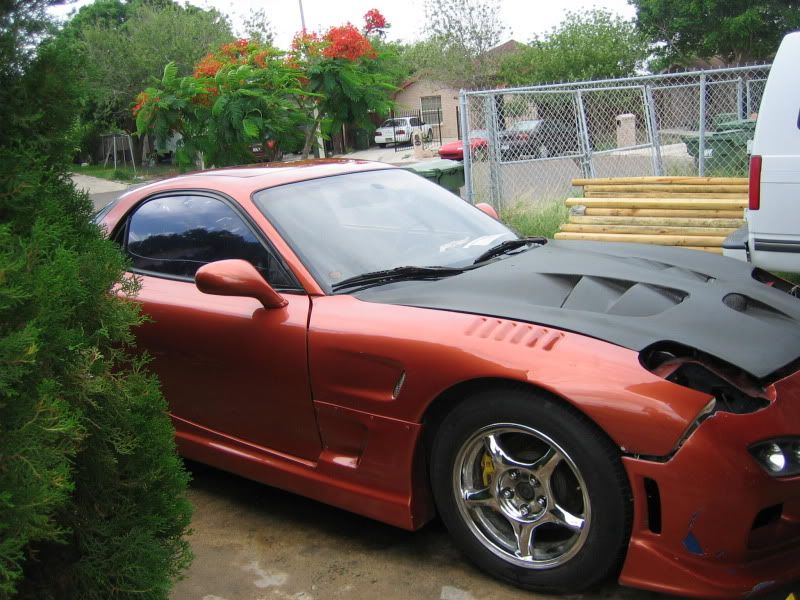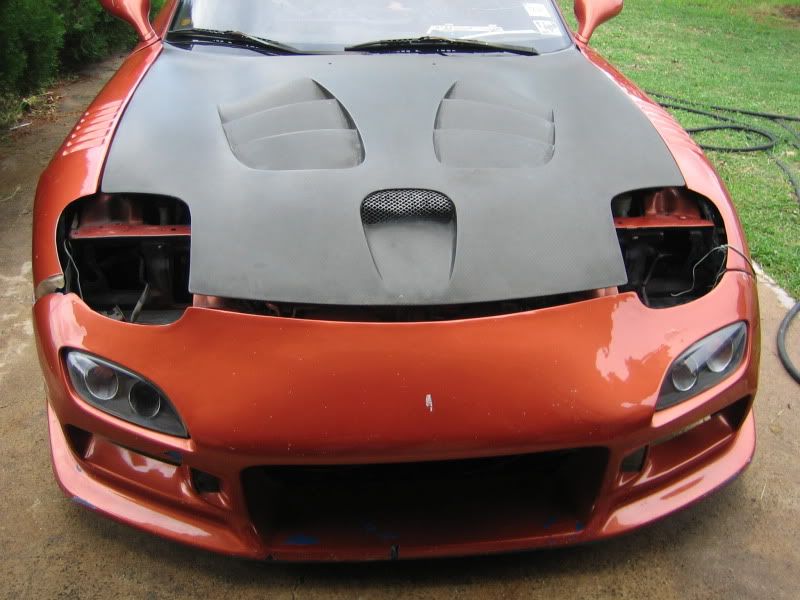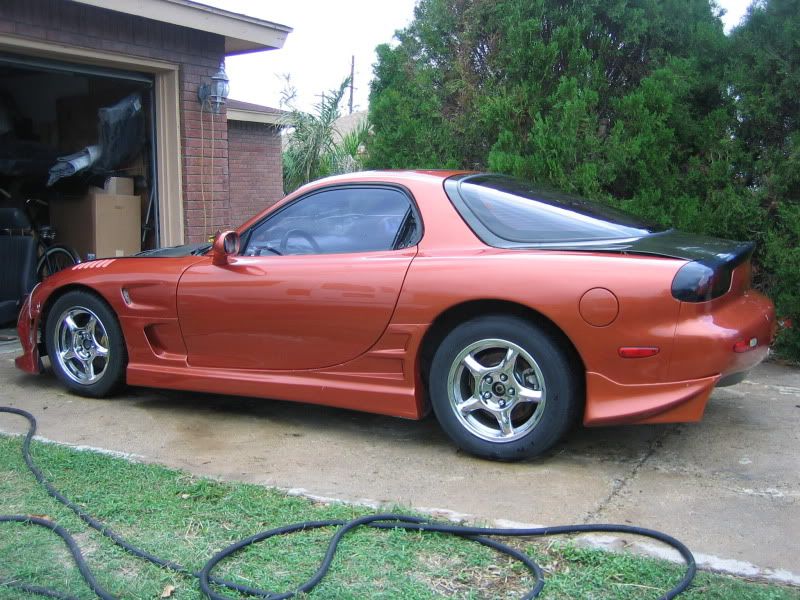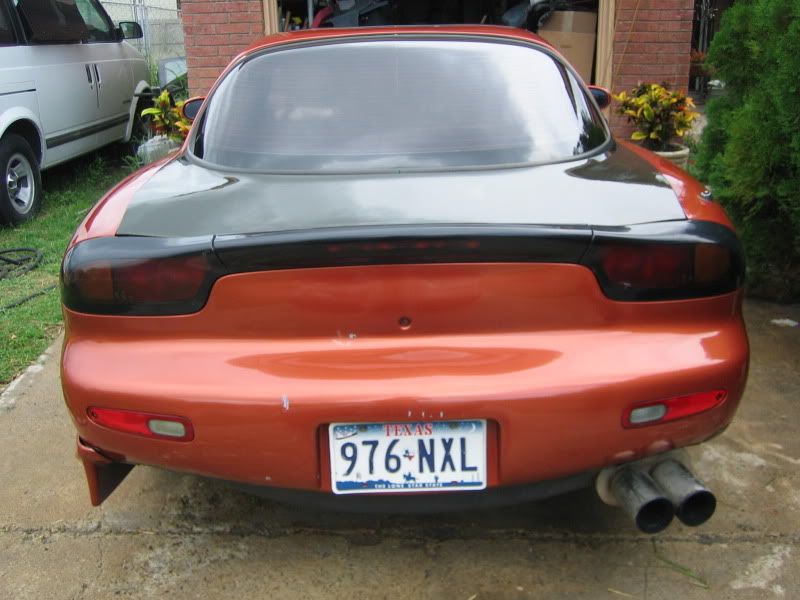 Now here is the other deal.... If your car is really clean and worth the extras I will include them.. Heres what I can include as extras. (If you go to RX7club you will see how much these cars and extra parts go for. Its atleast about $3000 in just extras. You can leave the body kit or go all oem. I was trying to go back to stock but ran out of funds. Car basically only needs repaint, and to put the 5 speed conversion that I will be including. Just buy the pedals and your set to go.)!!
Extras: (not installed in car)
-Car will come with a stock 93 front bumper (in MB color)
-Car will come with stock pop up headlights (in red)
-Car will come with stock door handles (in black)
-Car will come with stock front fenders (in black)
-Car will come with an extra oem stock rear hatch (in red)
-Car will come with stock OEM R1 rear spoiler (in red)
-Car will come with BRAND new C-west rear bumper
-Black door panels
-Rear black divider
-Black driver side oem cloth seat
-5 speed tranny with sensor and about 40k miles in it
-B&M short shifter
-ACT clutch
-Stock flywheel
-5 speed driveshaft
-5 speed starter
People normally spend about $2000-$3000 on 5 speed swap alone. I will include almost everything!!