FS: Kelford Stage2 BNIB Cams / Supertech Springs / EP3 Cluster
Cash is King!!! Locals get discount for pick-up. Thanks!!!
1. BNIB Kelford Stage 2 Cams: Purchased for my k20z3 motor, but it fits following vehicles: Acura: 02-04 RSX Type-S / 05-06 RSX Type-S / Honda Civic 06-present Civic / 06-present Civic Si: Coupe & Sedan (from clubEP3/RSX site). I paid $670 including shipping, but I'll let it go for $600 shipped!!!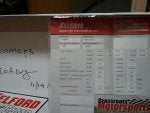 2. Slightly used Supertech Springs/Retainers/Seats. Again, it was for my z3 motor and I found this spec from Supertech website: K20-24A3 SPRK-M1007D/K2-KIT Dual Valve Spring 92 @ 39.80mm, so it should be good for other k20's
SPR-M1007D+RET-K20A3/T1+SEAT-HKA3
Anyhow, they look mint and was told by the seller that it was only used to test it out and had about 600 total miles on it. $220 Shipped!!!
Bump if you view plzzzzzzz!