Discussion Starter
•
#1
•
Well I am currently serving a tour over in Iraq right now and purchaisng items and having them mailed to my parents house. Im pretty sure by the time this is done the whole spare bedroom of theres will be full of my car parts.
I am putting together a k20/24 all motor build. ERL sleeved block 89bore 99 stroke 12:5:1 compression with a drag cartel head and IPS K10 Cams. I am starting completely from scratch here. Couple years ago i had an Si hatch with a 05 k swap and sold it like a dumbass. Oh well shit happens. Well about a month ago I decided to browse the forum again to see if i could find a cheap k swapped hatch...after contacting or trying to contact some guys on here about there cars for sale and never heard back i came across some IPS K10's brand new in the package. I always wnated a set of IPS cams and i figured if i got these cams then i would start my own build. Well low and behold and $1100 later i had some IPS K10 cams that were brand new. These cams alone gave me the motivation to start this build.
As of right now i dont even have a car. Im just gathering the parts that i want and need. I dont plan on going a cheap route on this build. This will be my first build ever an di wnat to do it right the first time.
My WHP goal for my NA setup is 340whp streetable. People may say thats a little much but its not out of reach. The car that im purchasing parts for is a 92-95 Cx. The car has to be a Cx or a Vx nothing else thats what i want and ill hold off to get it until i find the right one.
This build thread will be a slow process but will pay off in the end.
Here are some pictures of my old Si hatch. Some of you guys may have seen it on here for sale back in 2009. sorry about the size of the pictures. Thanks goes out to all my friend at Big Boy Racing who done this swap for me. they put the swap in the car for me and got the car running for me! thanks alot guys!
This will be my first k swap that i have ever done by myself. So lets see how this goes!:dance: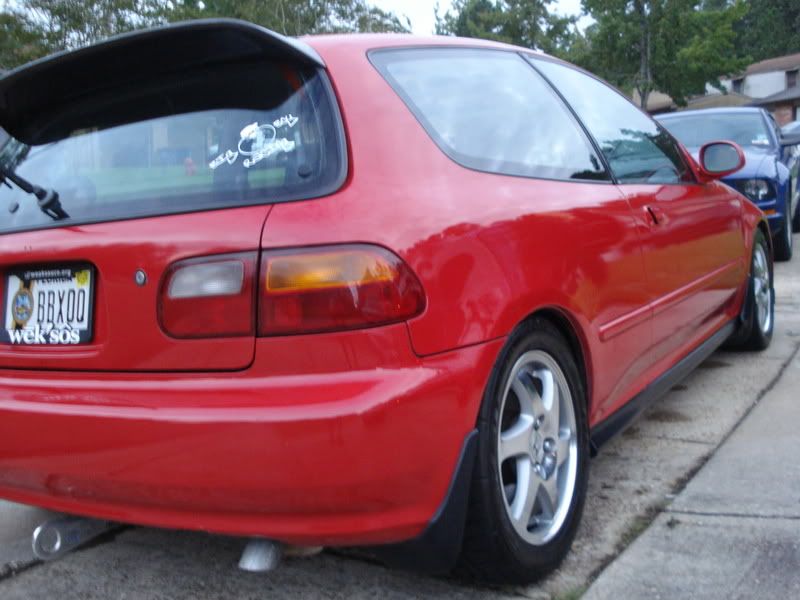 Here are the parts that i have gathered so far
The cams that started it all IPS K 10's
04 K20A2 Head has around 65k miles on it...this is my donor head for drag cartel.
RBC Intake Manifold will also be sent off along with the head to get ported by drag cartel
Chasebays MIL Spec wire harness
Brand new OEM Honda EG6 SiR front lip with oem hardware
JDM Amber fog light switch (didnt take it out of packaging)
JDM Cluster (only thing i kept from my last car)
Hybird Racing SS tucked fuel lines with Aeromotive FPR
Xcessive Kpro Inatke Manifold with 90mm TB
Hybird Racing silicone radiator hoses
2005 K24A2 from an accord with 35k miles on her ($800 my parents will be picking this up for me october 2)
I have some other goodies in the mail right now that should be getting to the house sometime this week. Ill have my parents take pictures of everythign and send me the pictures so i can let you guys knw whats going on.
You guys try not to be to harsh on me!!