Discussion Starter
·
#1
·
so the release of this manifold has been highly anticipated and the wait has been full of questions and assumptions. one came in to the shop that has built my car and my friends and we decided to throw it on my motor and do a proper base comparison.
so first my setup.
92civic cx
internally stock k20a2 04' type s tranny stock diff
dtr 4-1
kpro
and would normally be an rbc with a stock type s throttle body
got to the shop around noon and put the car on the dyno to establish a good base with the rbc setup to compare to. the temperatre hovered around 90 degrees outside for our test and this was performed on a dynapac
swapped intake manifolds right there on the dyno. and had it back put together around 3 (will be specific about the many fitment issues)
just with the swap it made significantly less power before any adjustments but that could be expected. the thing was that the tune was very rich first pull after the switch. this would typically indicate that it isnt flowing as much. the stock type s throttle body could be to blame but i dont feel as if that makes sense because it was fine with the rbc. i could be wrong though. also to brng the power up we had to take out cam angle. james (the tuner) will either post here tommorro or give me the specific details and nice looking screen shots of everything for me to post
the base pull w/ rbc made 217.something
and with the s2 it made 217.something
the bad is that nowhere in the powerband did it make any more power and on my basic setup lost significant amonts of power. of course theres many many variables and probably a great chance it would respond better to a cammed motor or a larger throttle body. we will be putting a throttle body on it to find that out this week. we thought it was important for this test for the only change to be the intake manifold to get a proper idea of how it would do compared to the rbc. i feel as if thats all we realy care about right? wether or not its worth the extra money over an rbc.
in my opinion if your someone with a stock or close to stock setup. this manifold would probably make respectable gains over a prb manifold but it cant be considered a competitor with the rbc. even if you say it would do better on a built motor, the rbc performs well on both stock and built motors.
anyways another of s2's sales pitchs was how it will be convenient not needing an adapter, well what about all the fitment isses. the vaccuum fitting on the s2 manifold are different size than the ones on the rbc so we had to change a bunch of hoses. (some fittings to large some too small) the manifold gasket had to be ground out to make the ports larger.you would think if they supply you with a gasket it would atleast match the ports on the manifold. it was 2-3 millimeters smaller also the throttle body opening is much lower so my throttle body was pointing directly even with my upper radiator hose. we had to make a custom (read "janky") radiator hose with a dip in that location just so i could put my intake on the thing.
heres some pictures of the stuff we did today more will come and the graphs and everything as i get all of it sorted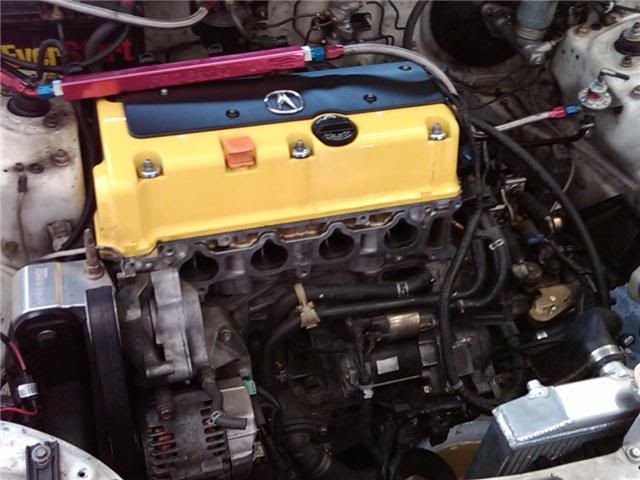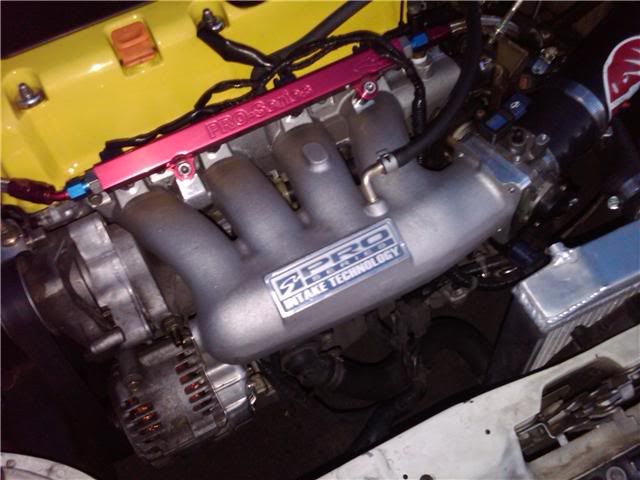 ok so heres what james sent me
Jeff,
Here is the chart in 2 different formats.
After installation with no retuning, there was a large loss everywhere in vtec.
Retuning required 3-5 degrees less VTC angle and pulling a couple percent fuel out in a few areas, except right near revlimiter where it wanted a touch more fuel. You can see where it wanted more or less fuel by comparing the dyno graphs.
James Kempf
SpeedFactory Tuning & Race Fabrication
Shop/Fax: 253-566-4331
www.SpeedFactoryRacing.net