Discussion Starter
•
#1
•
*** I NEED INPUT ***
***UPDATED 5/14/09***

Much has been accomplished, although NO new pics yet, the car runs great!

I worked faster than I thought!

-Radiator is installed!

-Coolant plumbing is installed!

-Fuel Lines are installed!

-CAI is installed!

-Header is installed!

-Exhaust system is temporarily installed!

-Fluids are topped off!

-Battery is installed!

Hey there everyone,
I figured I'd post up some pics of my build . . . so far . . . Progress is slow. With the house, cars, school etc. I set some priorities. I vowed when I started this project I wouldn't go into debt doing it. After all it is a project. As I work OT, and make extra cash, It'll come together.
Well, maybe you've ran across my SN on here everyonce in a while. A great groupe of peeps on here helped me out with my tranny issues when I first arrived (
http://www.k20a.org/forum/showthread.php?t=41015
). I'm attempting a full K20Z3 swap, tranny and all. You can even check out my Newby thread
http://www.k20a.org/forum/showthread.php?t=39982
(I gotta fix the pic links . . . ooops sorry . . .
FIXED!
)
Well I had hellofalot more pics, but, like a dumbass instead of keeping them on my memory stick, I dumped them on my desktop and it CRASHED, effin' thing!
______________________________________________________________________
OVERVIEW
So here are a few pics . . . click on the thumbnails for larger pics . . .
The Hatchy in my driveway on delivery day Jan 26, 2008, virgin pics, untouched, owned by an older gentleman in yonkers!
1994 Honda Civic, EH2, 112k original, D15B7!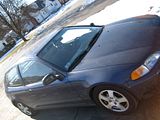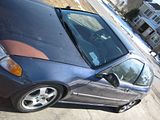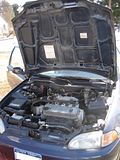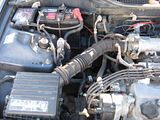 ______________________________________________________________________
As you all will find out, I'm picky! Right down to replacing broken clips and correctly torqued nuts and bolts! Before any work was to be started, I wanted to see in what condition the interior, exterior, as well as every nook and cranney was in!
______________________________________________________________________
EXTERIOR
. . . . lots of overspray, the whole car is like the driverside part of the hood!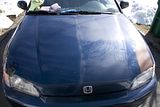 Lots of clay bar and light compound/polish!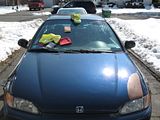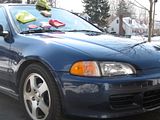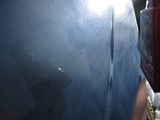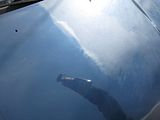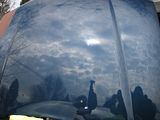 Tiny steps, yield great results! I buffed the hood only, the whole car should clean up well!
______________________________________________________________________
INTERIOR
Now on to the interior, the Hatchy is now gutted and the interior carpet, OEM seat covers will get steam cleaned, drycleaned etc. The floors/panels will get some bleach treatment due to a minor water leak and currently smells like a basement!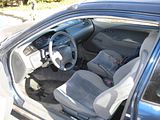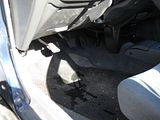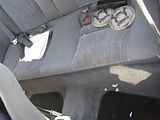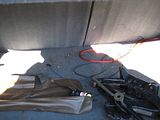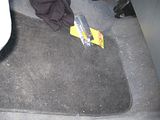 ______________________________________________________________________
THE HEART . . . K20Z3 OUT OF A 2007 HONDA CIVIC SI 2DSD WITH 9K MILES
The K20Z3 comming out of storage, loading up and U-HAUL'd to my house . . . what you see is what I got for one hellofa legit deal. You should have seen the Coupe this came out of . . . let's just say it was a construction site accident that involved the rear end of the vehicle only.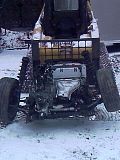 ______________________________________________________________________
THE SWAP PARTS
​
Special thanks to Froth . . . edited by me.
These are the parts I have so far . . .
ENGINE/TRANNY (All gaskets/seals are considered "known to be needed" items)
----------------
[
X
] K-series engine(K24/K20)K20Z3
[
X
] K-series tranny(Type-R/RSX-S/RSX Base)Z3 LSD Tranny
[
X
] K-series engine harness(RSX-S 02-04)
[
X
] K-series charging harness(RSX-S 02-04)
[
X
] K-series Alternator
[
X
] K-series Starter
[
X
] K-series ECU(RSX PRB 02-04) Plus Hondata K-Pro
[
X
] RSX Type-S Oxygen Sensor(Primary)
[] RSX Type-S Knock Sensor(Only if not using RSX-S engine, Or repin stock Knock sensor)
[
X
] RSX Type-S Throttle Body w/ sensors
[
X
] Karcepts Throttle Body Adapter
http://karcepts.com/index_files/kim01.htm
[
X
] Engine Mounts
http://hasport.com/products/mount_kits/egk1.htm
[
X
] Harness Conversion
http://www.hybrid-racing.com/store/...arness-for-92-95-civic-and-94-01-integra.html
[
X
] Clutch Line
http://www.hybrid-racing.com/store/...ersion-for-92-00-civic-and-94-01-integra.html
RADIATOR/COOLING
-----------
[
X
] Fluidyne 92-95 Civic
[
X
] Hybrid Radiator Hose Adapter
http://www.hybrid-racing.com/store/index.php/cooling/radiator-hose-insert/radiator-hose-insert.html
[
X
] Spal Slim Fan
http://www.hybrid-racing.com/store/index.php/cooling/fan/spal-slim-fan.html
[
X
] TOP Rad Hose
http://www.hybrid-racing.com/store/index.php/cooling/radiator-hoses/upper-radiator-hose.html
[
X
] BOTTOM Rad Hose
http://www.hybrid-racing.com/store/index.php/cooling/radiator-hoses/lower-radiator-hose.html
[
X
] B/D Series Thermo Switch and Temp sensor
[
X
] Radiator top mount
http://karcepts.com/index_files/krb01.htm
SHIFTER PARTS
-----------
[
X
] Hybrid Racing K Swap Bolt-In Short Shifter
http://www.hybrid-racing.com/store/...brid-racing-k-swap-bolt-in-short-shifter.html
[
X
] RSX-S 02-04 Shifter Cables
[
X
] Shift Parts to Connect Cables (OEM, easy)
[
X
] RSX-S Shift Arm (Modified Z3 tranny to fit)
-----------
I have these vvv but will sell them - pm me for pricing!
[
X
] Karcepts Shifter mounting kit
[
X
] RSX Type-S Shifter Box
EXHAUST PARTS (Must be custom welded, Can substitute for 2.5")
-----------
[
X
] Buddy Club Spec II for 92-95 EG Hatch Civic 2.5"
[
X
] Catalytic Converter if you choose to use one.
[
X
] Header (R-crew) 2.5" Collector
FUEL SYSTEM PARTS
------------
[
X
] Fuel Rail
http://www.hybrid-racing.com/store/...brid-racing-k-series-fuel-rail-universal.html
[] Fuel Lines
http://www.hybrid-racing.com/store/...ne-kit-for-92-00-civic-and-94-01-integra.html
[
X
] Fuel Pressure Regulator
http://www.hybrid-racing.com/store/...niversal-fuel-pressure-regulator-a1000-6.html
[
X
] Regulator Mount
http://karcepts.com/index_files/kfb01.htm
Fluid NEEDS:
-------
POWER STEERING FLUID - 2 Bottles
DOT3 Brake fluid - 2 Bottles
Coolant 50/50 Mix - 2 Bottles(3 to be safe/cover leaking or spillage)
MTF - 3 Bottles
OIL - 6 Quarts
Drive Axles:
-------
[ ] Axles
http://www.hybrid-racing.com/store/index.php/drivetrain-1/drive-shaft-shop-level-0.html
______________________________________________________________________
BIG GAP . . . . IN TIME!

I HAVE MORE PICS. BETWEEN NOW AND THEN, I SALVAGED SOME BUT NOT ALL!
MISSING PICS
--REMOVAL OF D15B7--
--RAD. + A/C BRACKET REMOVAL--
--ENGINE BAY CLEAN AND POLISH--
--+MORE--
______________________________________________________________________
REMOVAL OF NECESSARY BRACKETRY
Tools used
--Dril--
--Spot Weld Drill Bits--
--Pneumatic Die Grinder--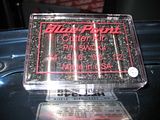 Test run to get used to the speed of the cutting of the cutter bit.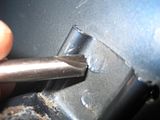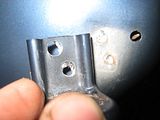 Passenger Side Chassis Motor Mount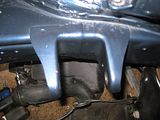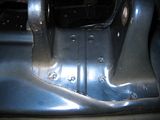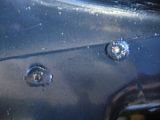 Passenger Side Chassis Motor Mount Removal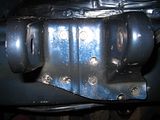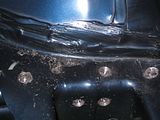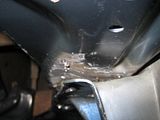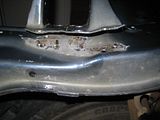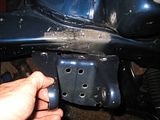 Radiator and A/C Brackets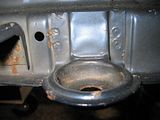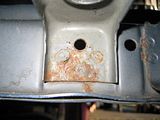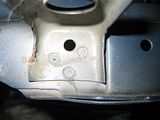 **MISSING**
Radiator and A/C Bracket Removal
______________________________________________________________________
INSTALLATION AND RELOCATION OF NECESSARY BRACKETS/SPACERS
**UPDATED 12/28/08**
KARCEPTS Radiator relocation bracket.
RBC ----> K20A2 Throttle body adaptor by KARCEPTS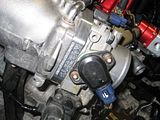 What is this sensor? The adaptor kit came with 2 plugs one for the OEM RBC MAP sensor and the other was for this sensor. Will I throw a CEL if I don't keep this sensor?
______________________________________________________________________
ELECTRICAL
**UPDATED 01/12/09**
WIRE TUCK - FINISHED PICS ONLY - IN-PROGRESS PICS LOST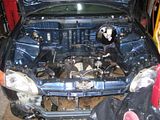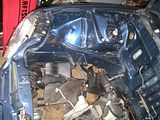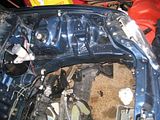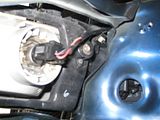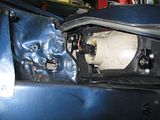 ENGINE WIRE HARNESS RETAPE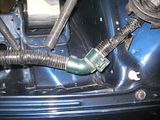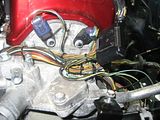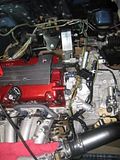 INTERIOR ELECTRICAL
What a mess of wires, definately not up to my standards of approval!
Locating the OEM factory wire harness pins to connect to Hybrid's conversion harness!
Another pic of them all layed out!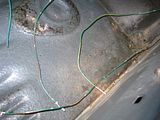 DASHBORED REMOVAL
Dash removal to clean the mess of wires up, route the engine harness into the interior, wire up Hybrid's harness etc!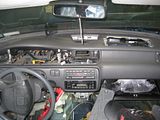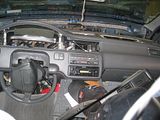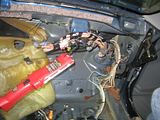 Finally removed!
Re-routing the wires to make for a cleaner tuck!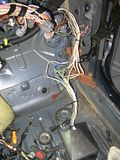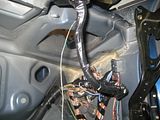 There . . . no more mess!
RUNNING THE WIRES THROUGH THE FIREWALL
How-to run the Engine harness ECU plugs into the Interior for ECU hookup
I wanted to utilize the factory engine harness plastic grommet and rubber seal!
Line up to prep for the install
Center Punch so the dril bit don't "walk"!
Another pic.!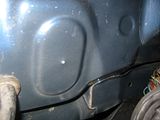 2-1/4" Ridgid Hole Saw - Home Depot Special!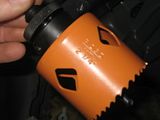 Lines up great!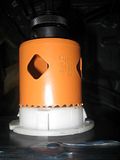 Start drilling the hole!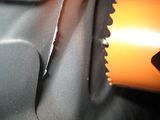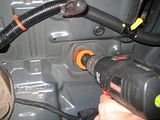 Grind down the burr's made from the hole saw!
Test fit plastic grommet!
Run the harness plugs and seal it up!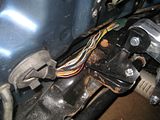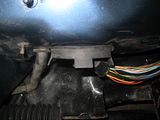 Tape it all up!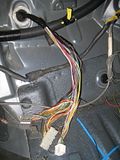 OK . . . My friggin back is killing me now . . . up, down, upside down, now twist here and there, the things we do for our love of our automobiles . . . FEWF!!! . . . Time for some Advil Extra Strength and my 15 minute required union break!
DRIVERSIDE WIRE TUCK RE-DO (COMPLETED 01/12/09)
*I re-did the tuck on this side, I relocated the wires to the outside of the frame rail. I did this incase of an accident, I still wanted to access the wires and connectors so they wouldn't get squished inside.
*I had to run the red, white, yellow and blue wires from HR conversaion harness to thier respective locations.
*Wiper motor and hardware is reinstalled due to inspection laws and for the stock appearence.
I had to depin the wiper connector to pull it back out through the tucked location!
De-pinned!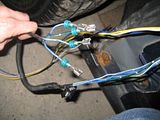 The WHT, BLU, YEL wire will need to get ran out. The red stays in!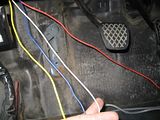 This wire tool comes in handy, I got mine from Snap On tools!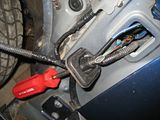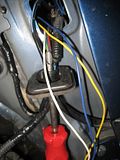 Sorting wires, taping, shrinkwrapped connections, I'm picky!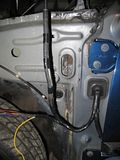 There's the white wire . . . that needs to be connected to the GRN/RED wire from the mastercylinder!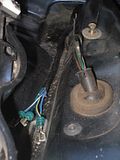 *NOTE: The wiper and brake master was re-grounded to an exhisting bolt hole!
*NOTE TO SELF: Be sure to check for proper ground to that location when battery juice gets installed!
Now I solder ALL conections, shrink wrap and tape, yup thas me by the way, a picky garage builder!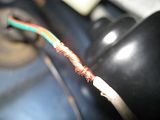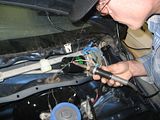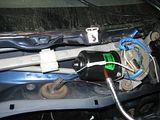 All nicy nice now, I think it lookes clean!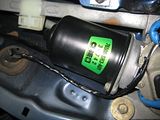 I will lengthen the BLU and YELL wires, they are a bit short!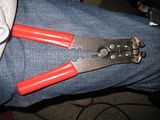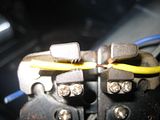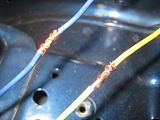 Soldering all connections assures there are no intermittant signals!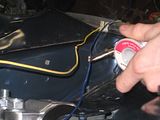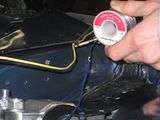 Shrinkwrapping all connections assures no "grounding" issues!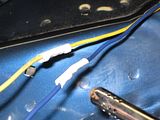 I coiled up the excess wire untill I'm ready!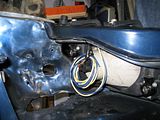 Final pics of the wire tuck!
A major ground for the lights, etc.!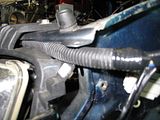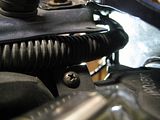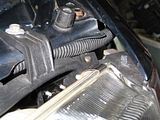 Cannot really tell anything is there!
CHARGE HARNESS MODIFICATION
This is just a sketch, but, this is how I plan to run the wires . . . lemme know if this is ok.
Begin by untaping the charge harness, removing the plastic pieces, and sorting the necessary and un-necessary wires!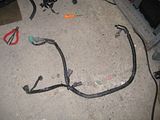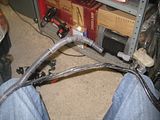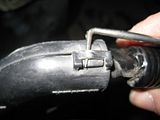 Grey = Alternator
Black = Starter
The longer wires are the wires that need to be redone!
***See the diagram above***
The smaller wires with connectors will need to get taped up and run to its connector on the alternator, starter, and knock sensor (I believe), and engine harness . . . I call it a sub-harness assembly!
______________________________________________________________________
FUEL SYSTEM
**UPDATED 12/28/08**
HYBRID-RACING TUCKED FUEL RAIL
AEROMOTIVE FUEL PRESSURE REGULATOR
*AN-6 IN/OUT and RETURN.
*Mounted to the block with KARCEPTS FPR mounting bracket.
______________________________________________________________________
EXHAUST SYSTEM
***UPDATED 01/19/09
RCrew, 4-2-1, 2.5" Collector
After searching many for sale forums and threads, I chose a setup to go with . . .
I went with an RCrew 4-2-1 Header . . . I bought it used and oil fingerprints/fingerprints in general, oil and grime "adhered/burned/etched" to it . . . These were the original "for sale" pics in the sellers thread!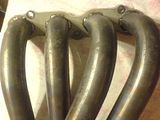 The "seller" began to polish, by hand, but did not have time to finish!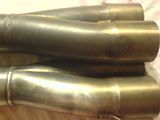 Ahhh a close up, I think it will clean up well!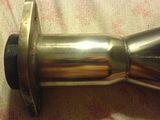 Ahhh yes, exhaust hardware!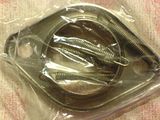 Ok, I bought it, this was taken the day it arrived.
I test fit everything to make sure it went together well!
It defly needs a HEAVY stainless steel polish before I think about installing it!
Sorry if the pics are "fuzzy" they were taken with my phone, I'll take better pics when I finish!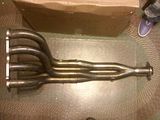 I began polishing it by hand, Ima small dude, my armes are ready to fall off!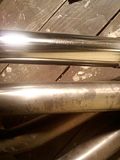 I polished another runner, this time with a drill! However, after two batteries died out, I needed another approach!
Well, I fired up the heater and the compressor in the garage and went to work!
Air tools make very light work!
D/A mini sander, awesome little tool, it's paying for itself!
Looking good so far!
The "second" runner from the "bottom" needs a final polish!
I polished a bit more of the header today (01/19/09)
OOO, Shiny!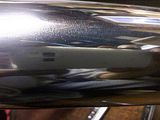 Started polishing the "bottom" today, I got a bit further after this pic was taken!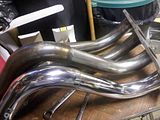 I got bored!
I got so used to seeing the motor with out a header that I decided to test fit the header!
It looks good!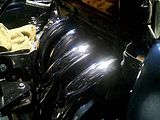 CAT-BACK EXHAUST
Living on youtube searching for sound clips, I know it'll be a loud one, but it'll be a nice weekend/summer driver!
It's a project car, it'll be all right!
I test fit the exhaust, looks good, and it only needs a moderate-mild polish!
______________________________________________________________________
THAT'S ALL THE PICS SO FAR . . . .
. . . . DEFLY PLENTY MORE TO COME, STAY TUNED!
HERE'S A TEASER PIC . . . I NEEDED ROOM IN THE GARAGE, SO, I COULDN'T WAIT!
FIRST INSTALLED!
MOST RECENT PIC!
______________________________________________________________________
​