Discussion Starter
·
#1
·
For those of you who don't know about the Auto-tensioner (aka idler pulley) and how to check on it, read up...
I ran into a problem this past weekend after road racing my car. Actually, it stems back from when I did my intial install and I'd like to share this info with all of you just so some of you don't do what I did.
I never checked the serpentine belt auto-tensioner indicator when I dropped my K20 into my EG, which freekin retard! (live & lean I guess!). I shoulda read the RSX helms manual before doing my install.....I guess I was just too excited about the whole swap and let it blow by me.
Anyways, after having an awesome track day at Buttonwillow this past weekend, on my way home and as soon as I got on the freeway, my battery light decided to turn on and stay on (because of the alternator). Thought that was weird. Shut my car off and turned it back on. Then my check engine light came on. "WTF" I thought. Then shut the car off and back on one last time. Then my TEMP gauge shot up to HOT. I tripped out thinking wtf is happening??? Steam started to emmit from my hood. I
immediately
shut my car off and coasted into 'rest stop' exit. Popped my hood, jumped out, took a deep breath before opening my hood to see what hellish delights fate had brought to me.....
Coolant was EVERYWHERE. Which looks like it escaped from my coolant resivour tank. I looked around some more and noticed that my idler pulley (or auto-tensioner pulley) was not attached to the motor anymore and neither was the serpentine belt!!!! The bolts that held the auto-tensioner pulley to the motor were
sheared
right off. Here's a pic of it:
So, being that the serp belt came off meant the water pump wasn't pumping and the alternator wasn't alternating, hence the reason behind the idiot lights turning on.
Tho, a little bit of luck was in my favor that day because a fellow hybrids.jp friend of mine was able to tow me home (God bless the chap!)
Anywhoo, I found that if I would've checked on the auto-tensioner indicator before hand, this would have never happened
. My serpentine belt was set waaay too tight which led to the bolts breaking! Check it out, the arrow
should
be pointing to the middle of the 2 squares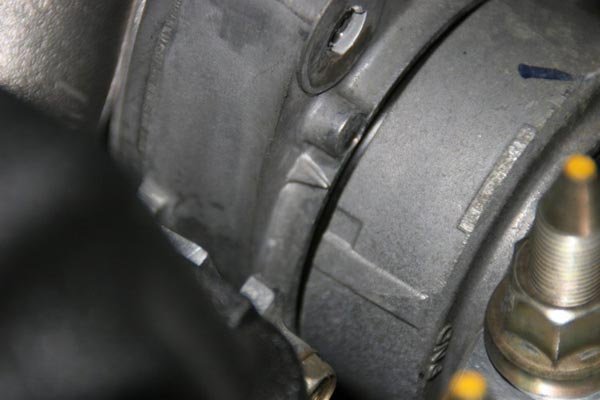 So, for those that don't know about this, here's a scan of the Helm's RSX-S auto-tension inspection:
http://www.ff-squad.com/tech/k20stuff/autotensioner.jpg
Hope this helps out fellow K20 hybriders who forget to overlook important things like this
PS: I haven't gotten my car running again just yet, but I'm betting it'll be ok and hopefully I didn't blow my headgasket or warp my head from overheating.
[ BELATED UPDATE ]
Would be nice if I followed up eh?
Well, I fixed this problem about a week later.
I wound up buying a brand new auto-tensioner ($75) from an EP Civic thinking the one I had was bad. It wasn't. How & why? Because with the new tensioner installed, the auto-tensioner indictor is
still pointing in the same place
as shown above. I'm saving the old tensioner as backup if the new tensioner bolts decide to break again.
I also upgraded the auto-tensioner mounting bolts to that of air-craft grade allen head studs as added strength: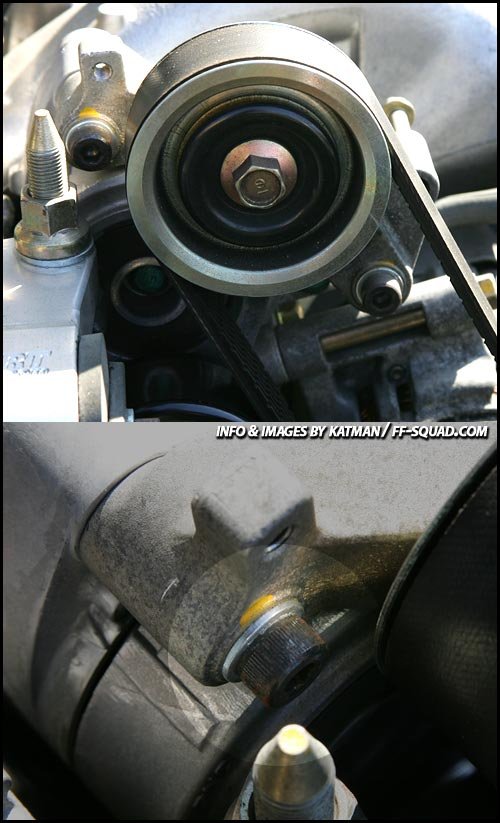 Finally, as an added bonus, I upgraded my alternator pulley to an AEM RSX pulley. What fun this install was
. I had the assumption the 5070505 belt would be too short and bought a slighly larger belt....nope...belt had too much slack. Took it back and bought a slightly
shorter
belt....nope...belt was too small. Wasted all that time when all I did was slap back on the 5070505 belt and it fit perfect :hammer:. I didn't notice this right away, but the tensioner indicator arrow is now pointing on the opposite end:
Personally, I think the belt tension indicator becomes useless for hybriders who are going with a 5-pulley (or less) setup and not with an OEM 6-pulley configuration. Without that 6th (a/c) pulley, the indicator goes wacky and just becomes a false positive.
I've been running on this updated setup for about a year now without any problems. I've also been to about 3 track events too without issues :up: