Discussion Starter
•
#1
•
$13,000. THIS CAR NEEDS TO BE SOLD THIS WEEK.
Buyer backed out, screwed me over so now I have to lowball myself.
The car has a reconstructed title. If this bothers you in anyway, feel free to leave this thread. This is a very nice car, nicer than some that haven't been wrecked. Feel free to come look and drive it. This is an extremely good deal on a very nice car... only 38k miles!
Keep all the drama and bullshit out of this thread...
THIS CAR NEEDS TO SELL THIS WEEK!
(you can see the dent in the video)
General info:
Year: 2006
Make: Acura
Model: RSX Type S
VIN: JH4DC53086S021014
Ext color: Nighthawk Black Pearl (NBP B-92P)
Int color: Ebony(black) leather
Trans: 6 speed manual
Mileage: 38,xxx (car is driven daily, the miles will change)
Warranty: None
Title: Reconstructed
Location: 70433 to 70809
KBB Value
Even in poor condition, my asking price is much lower. (because of the title)
Standard options:
Power windows
Power locks
Power steering
Air conditioning
Heater
Leather
Type S floor mats
Moon roof
Bose 6 CD changer
ABS
Added options:
Mirror defrosters
Rear cargo mat
Modifications:
De-badged exterior
Digital Volt 6000k HID low beams
Type R badges
JDM DC5 side markers with harness
Brand new Bosch wiper blades
Rainbow prism bassboat flaked valve cover
JDM spark plug cover
JDM dipstick
TEIN Basic Coilovers
Revo Short shifter box (lowered one inch)
S2000 CR shift knob
AEM V2 Intake
DC Sports short header
Buddy Club Spec III cat-back
Lime Green Work CR KAI
Replicas
17x9 +30
Authentic Work Stickers (take them off if you want, I don't care)
Authentic Work valvestems
Khumo SPT 225/45/17
Project Kics Neo Chrono extended lugs
The car is in fantastic shape, a perfect daily driver. It gets consistently 26-30mpg.
Here are some recent pictures:
-Interior
With rims: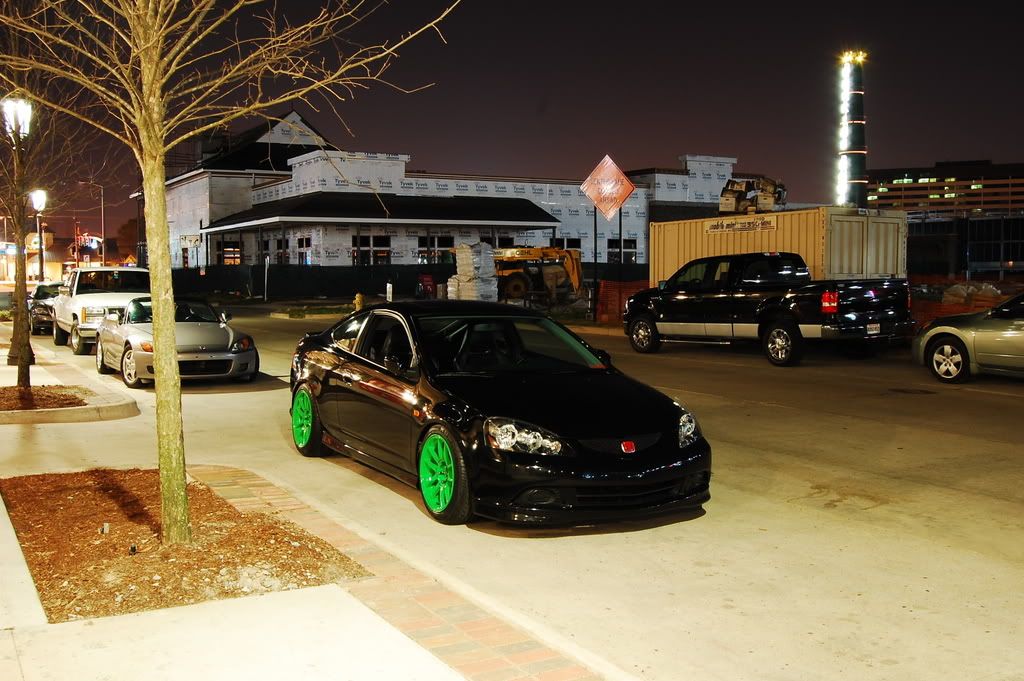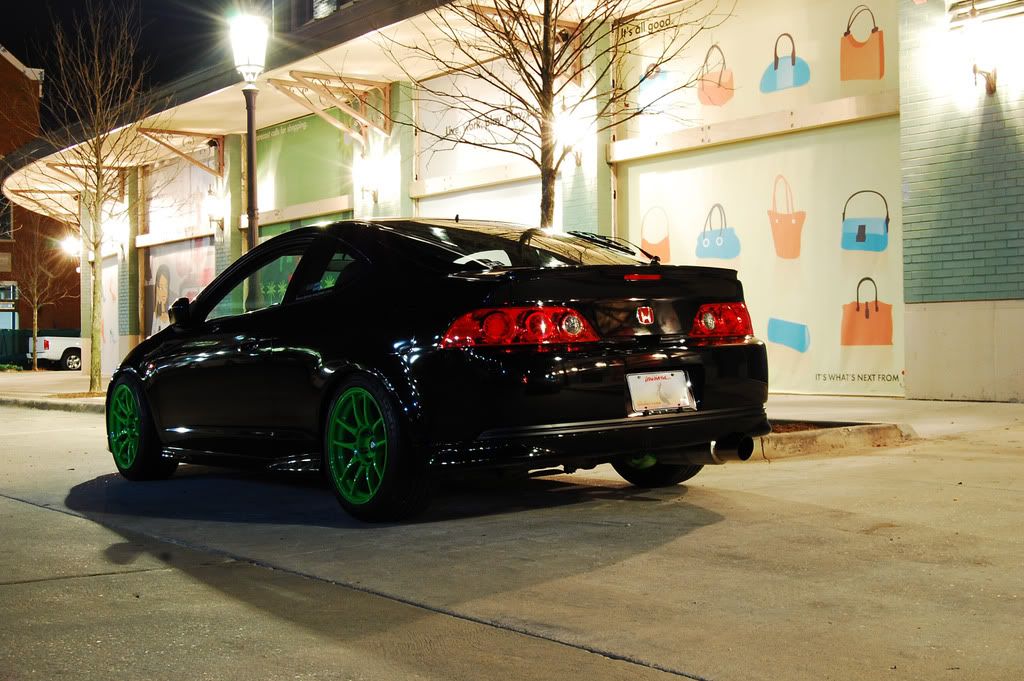 Engine bay: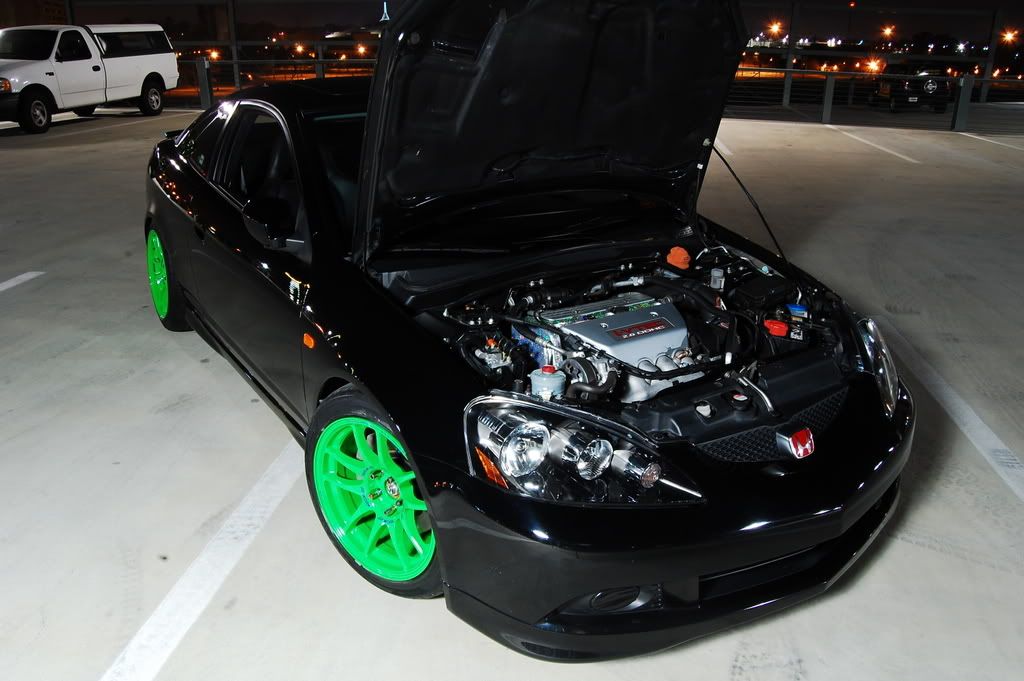 Wheels:
Driverside door jam stickers: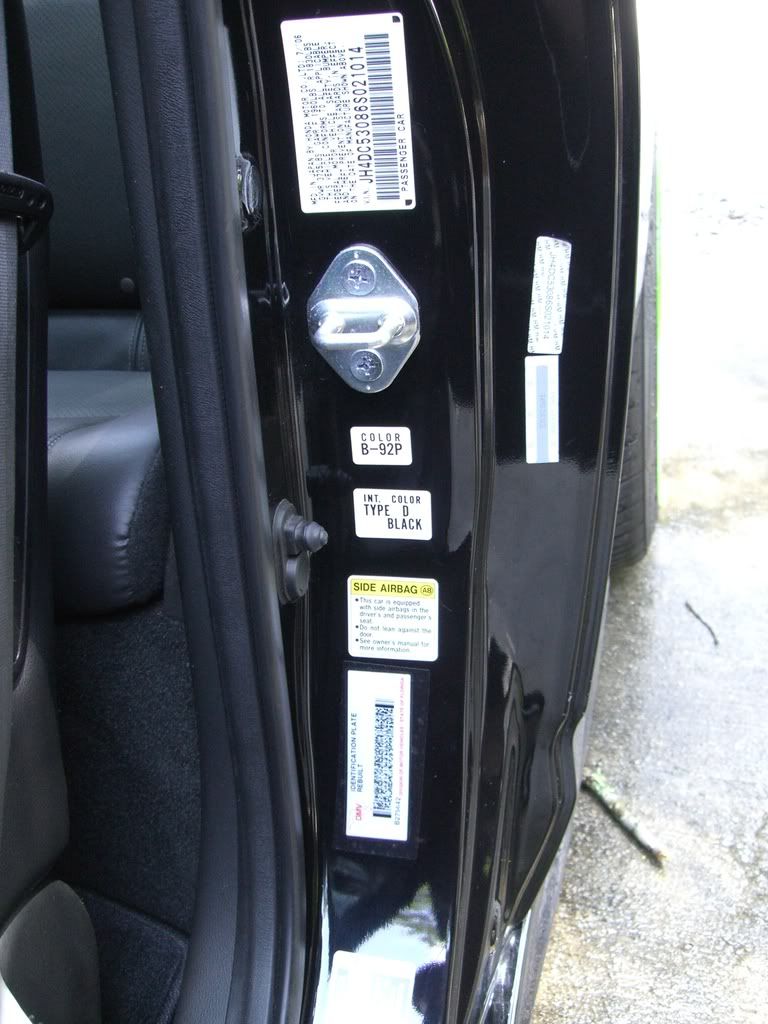 Florida issued sticker: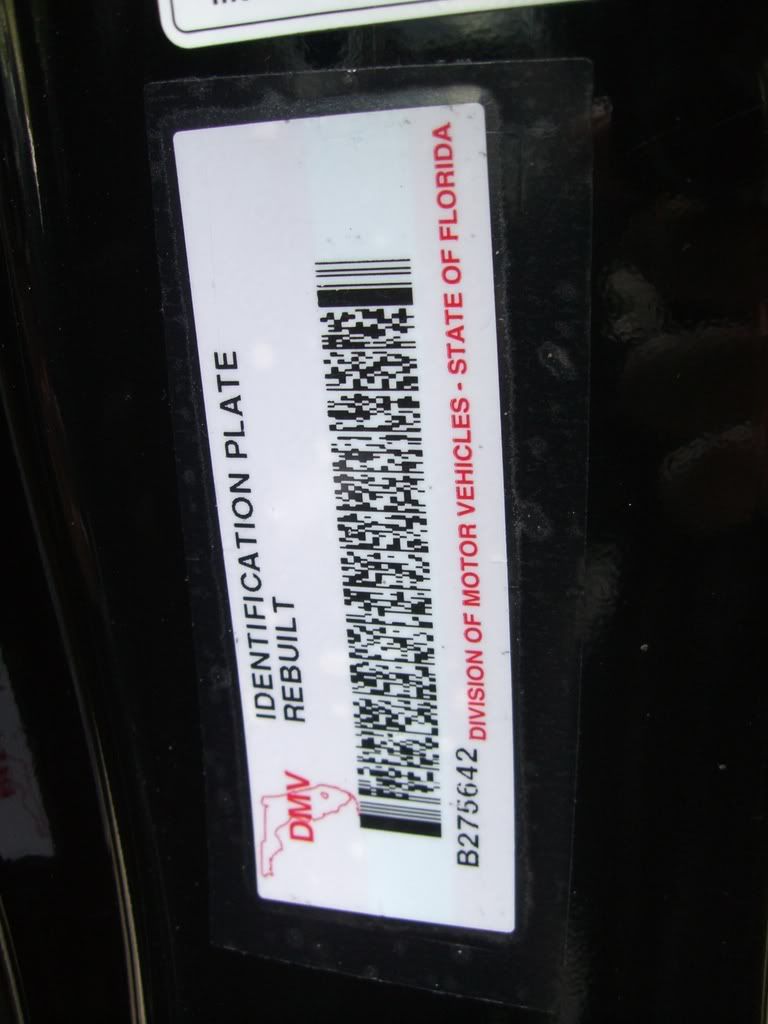 Jam sticker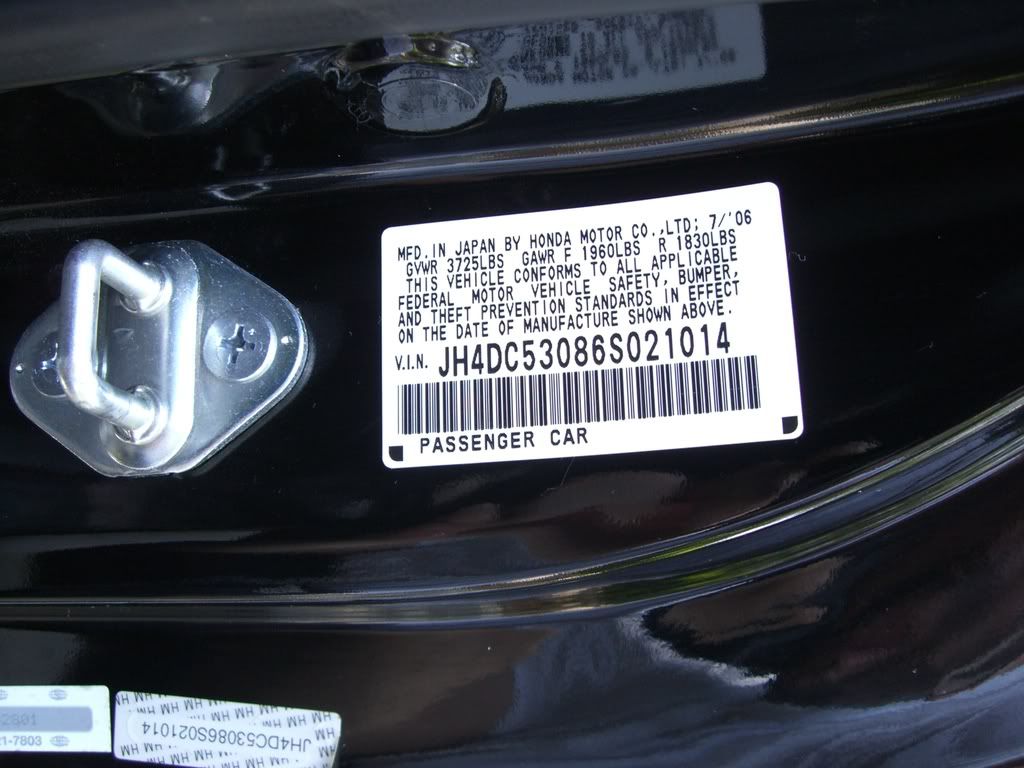 Jam VIN: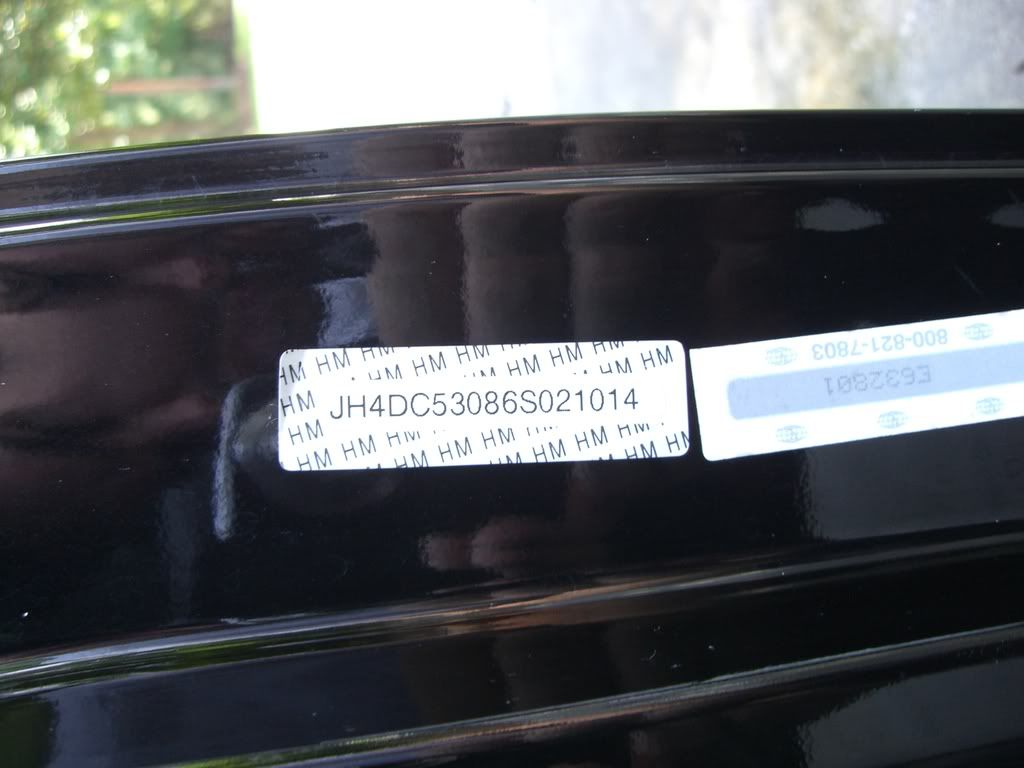 DS Door VIN
Rear bumper VIN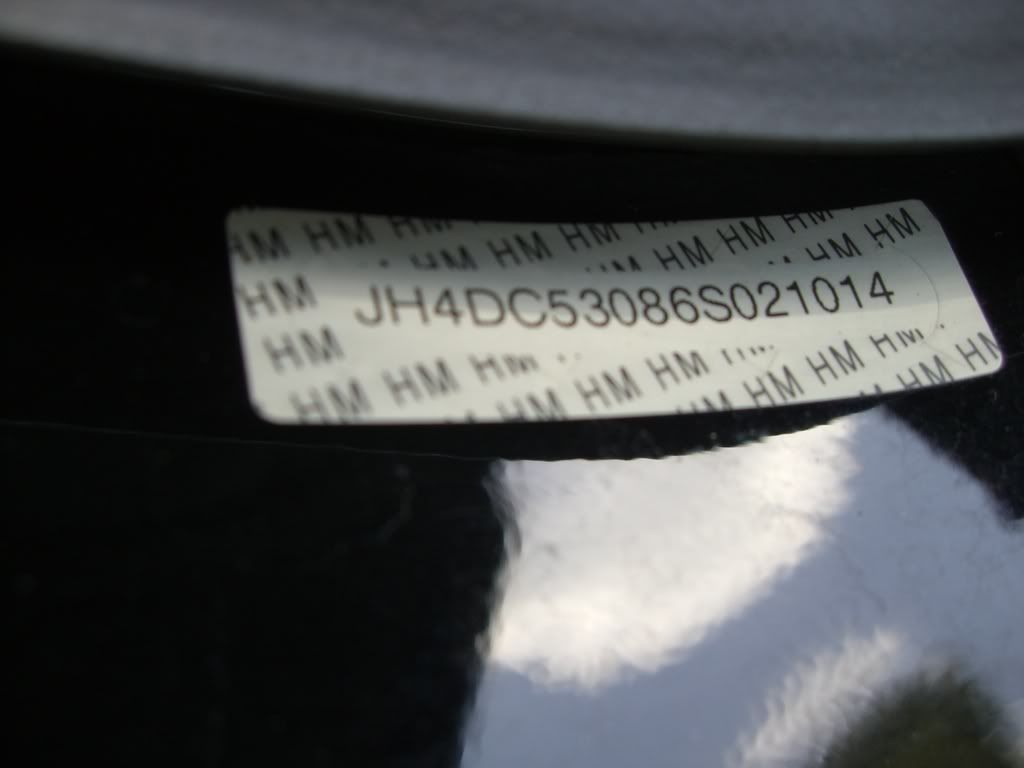 Rear hatch VIN: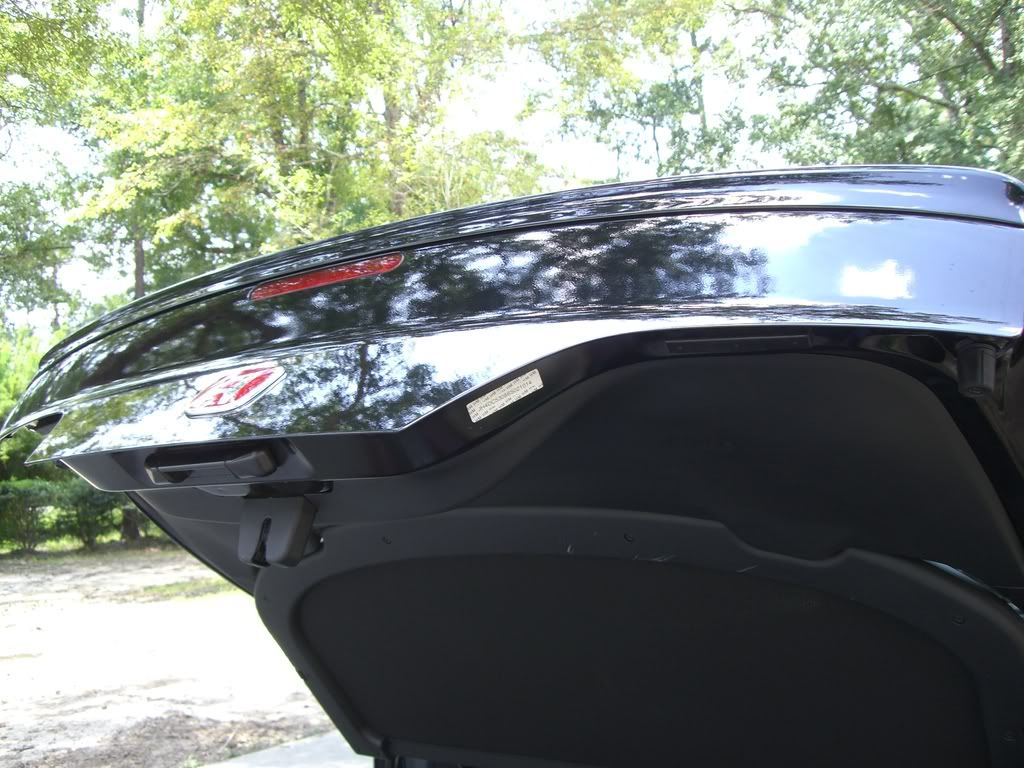 Closer: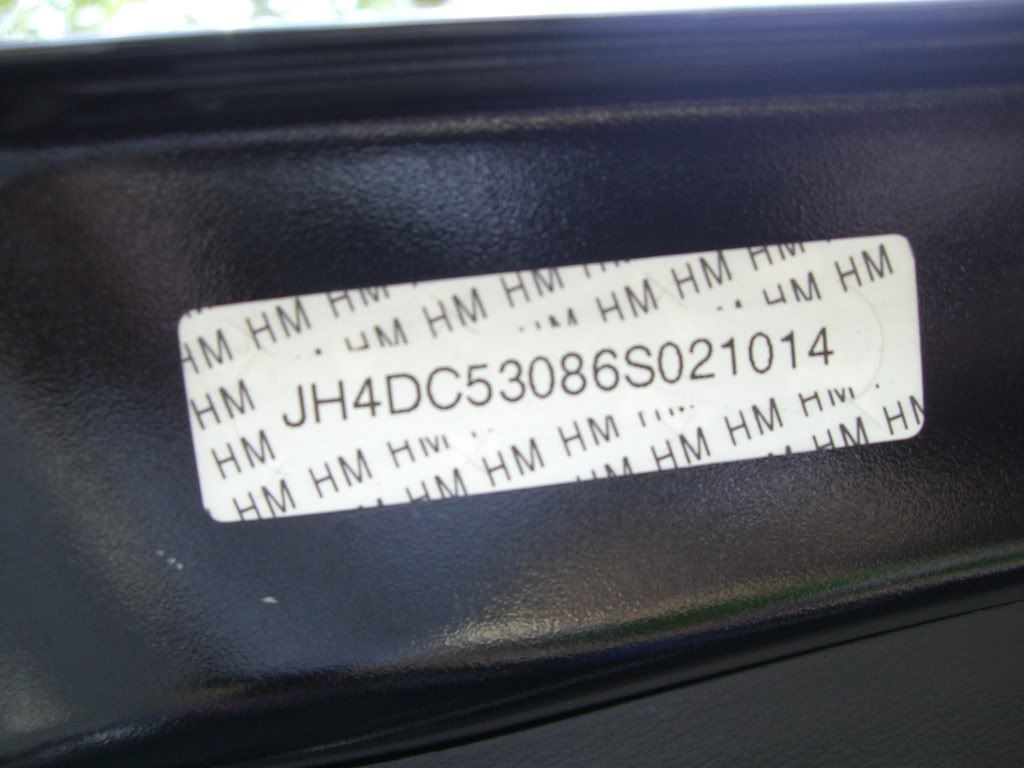 Passenger side jam:
http://i51.photobucket.com/albums/f362/dschybrid/Black%20DC5/RSX013.jpg[/IMG
closer:
[img]http://i51.photobucket.com/albums/f362/dschybrid/Black%20DC5/RSX014.jpg
Passenger side door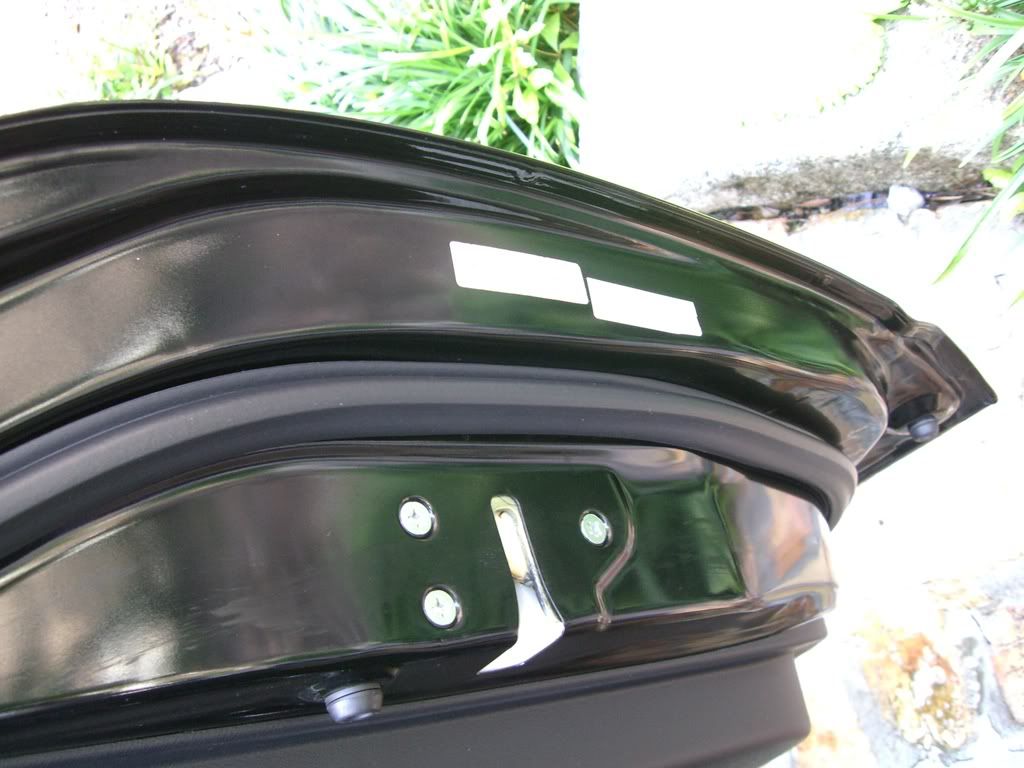 Closer: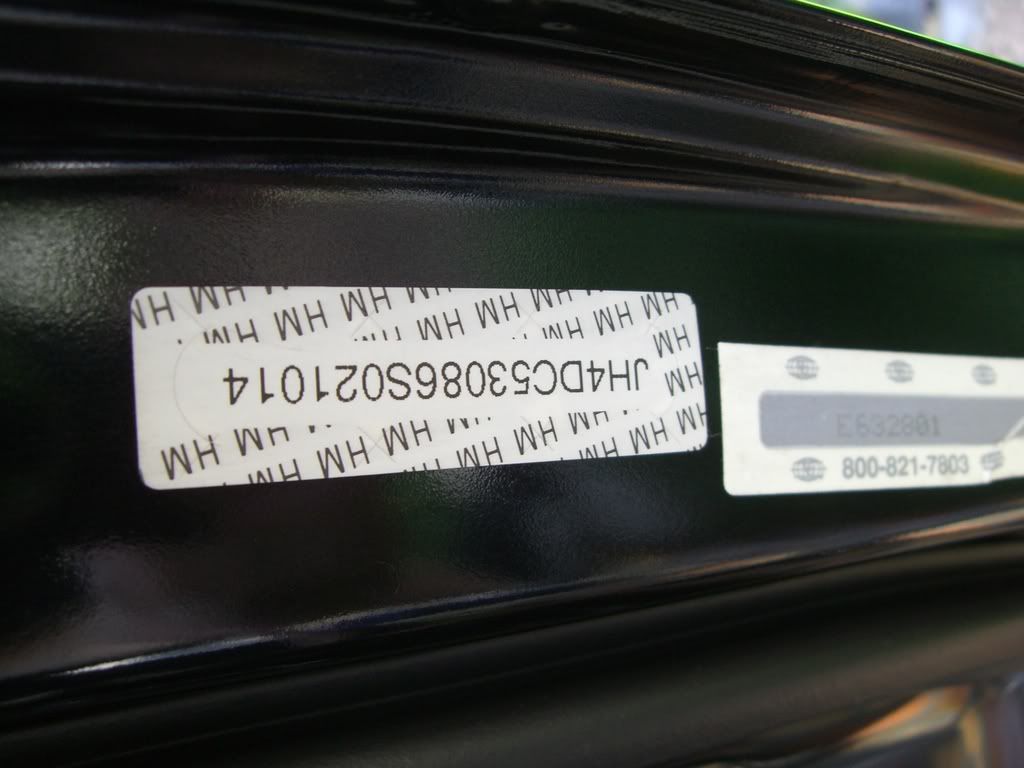 Rear with cargo mat: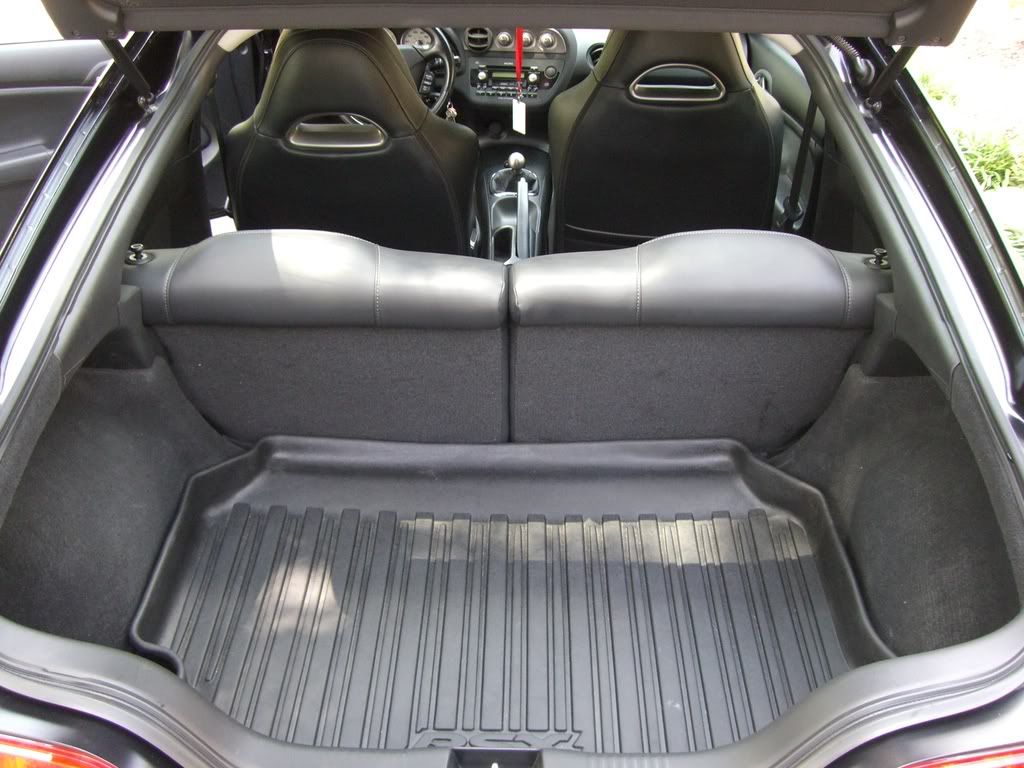 Interior: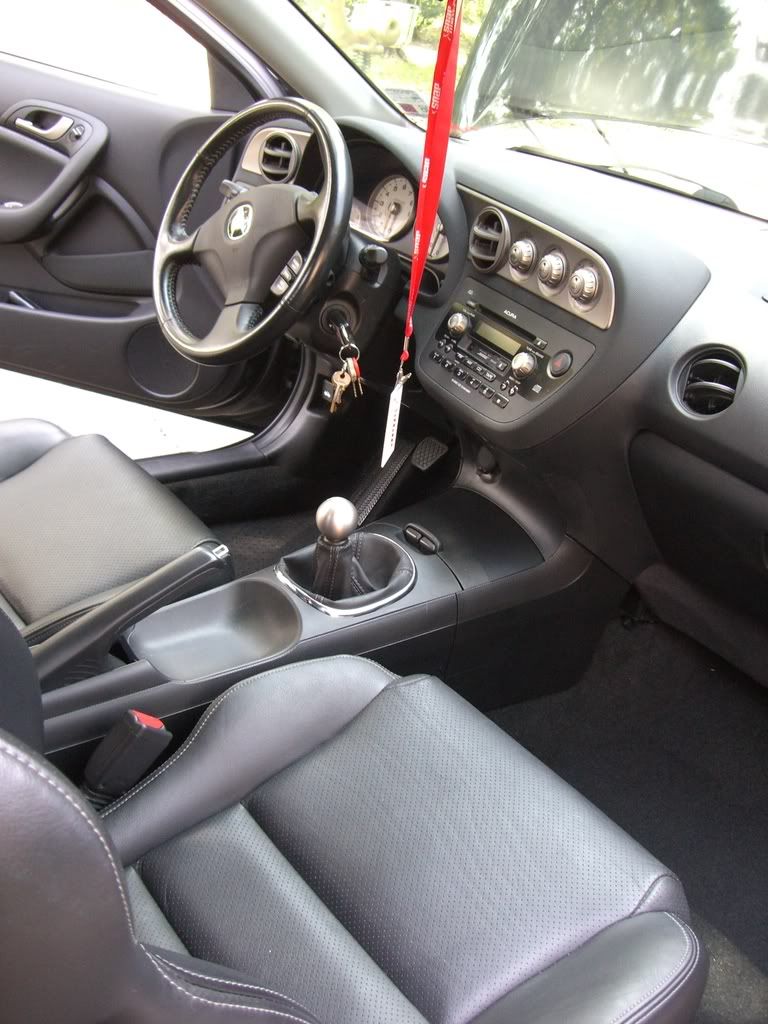 Interior:
Front:
Under hood: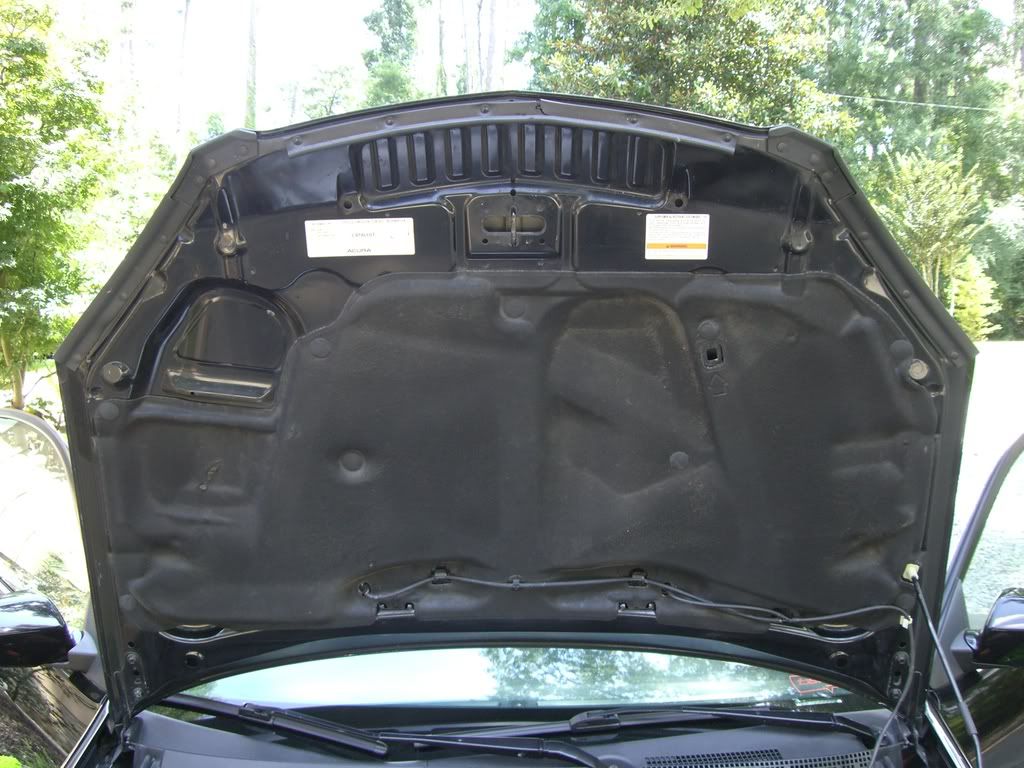 ** I have the floor mats, they aren't in the car as I was cleaning them.*
Issues:
The car has a rebuilt title. It was involved in a frontal impact when it had 9,000 miles. It was repaired using all brand new OEM parts, and given a certified rebuilt title by the state of Florida. I purchased the car with 9,990 miles back in 2007. It has served as my daily, and I have driven it all over the country.
I am very very good friends with guys that run one of the best collision centers around and they have all inspected the car. It had no frame damage. The front cap was replaced along with the AC condenser.
Everything functions 100%. I am very picky about my cars and this one is no different from the others I have built. I clean the car weekly. It gets a complete service every 3000 miles. I've changed the oil and trans fluid in this thing literally 12 times since I've owned it. I can provide any picture, just request them. The car has the original VIN stickers on all of the panels except fenders and bumper.
Run the carfax report. I am the 3rd owner, the car was bought from an auto auction in Florida.
-It has no inner fenders
-The car was hit in a parking lot, and the dent stretches from right in front of the passenger side quarter panel. The estimate I received to totally fix the dent was $600. It's not as bad as it looks in the pictures... You can see it in the video.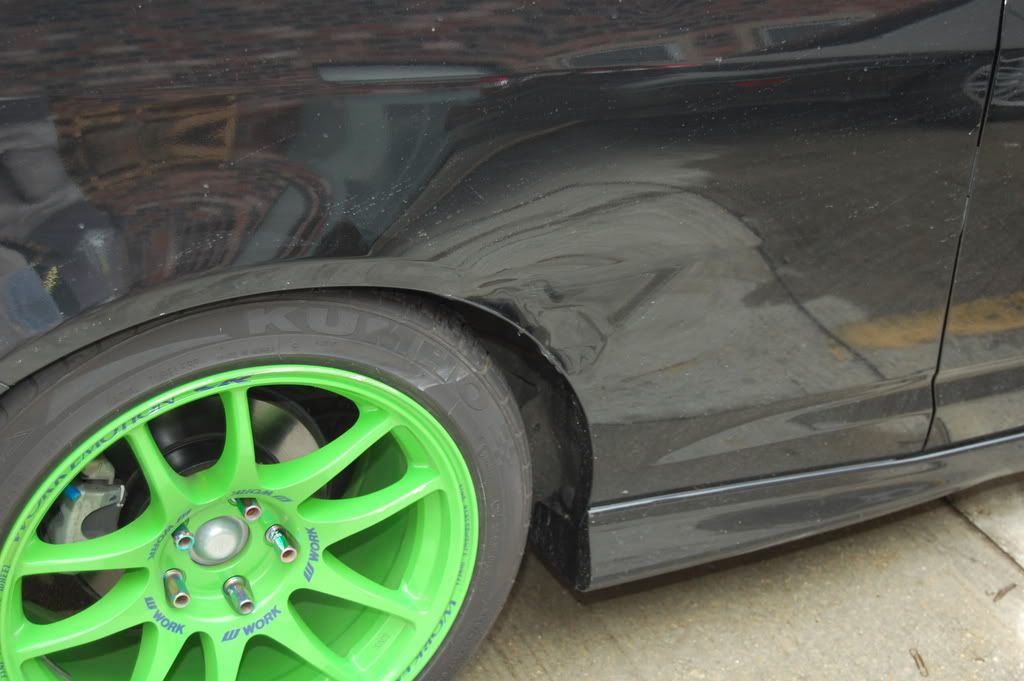 -The front bumper has rock chips and scratches from all of the highway.. 25,000 miles of the mileage has been hwy.
Other than that, the car is in wonderful shape. It was professionally buffed and detailed a few weeks ago.
Buying/Selling/Trading/Shipping:
I will deliver the car within 100 miles of my ZIP for free. Anything other than that, will be up to the buyers digression.
Shipping will be the responsibility of the buyer. My address is available for shipping arrangements.
Please have all finances in order before sale, and a $500 refundable deposit is required for all transactions. I am Paypal verified.
Contact:
David C
[email protected]
Pms
985-778-8268 (text only, ask questions and get answers ASAP.)
Thanks for looking.
NO TRADES
MUST SELL
NO TRADES
MUST SELL